Go Transcript Review – Transcription Jobs That Pay Up To $1215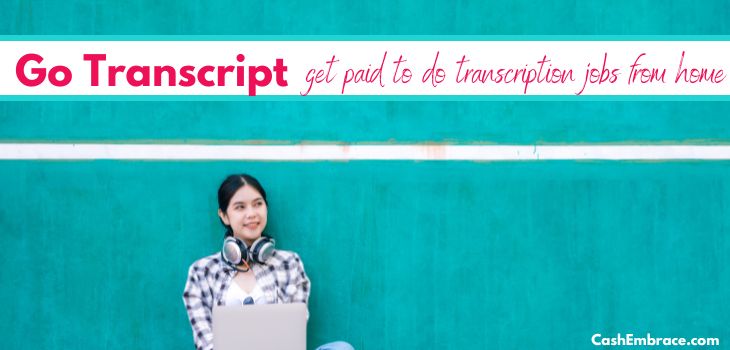 While there are tons of ways to make money online, this Go Transcript Review will introduce you to an opportunity that deserves your undivided attention.
If you're checking other GoTranscript reviews, you already know the company has an impeccable reputation online.
But is that enough to convince you that clicking the Go Transcript Apply button is the right move for you?
After all, transcribing is not the only high-paying online job you can go for nowadays.
With plenty of lucrative work-at-home jobs at your fingertips, choosing the one that will be the best fit for you is not an easy task.
To help you decide whether you should go for a Go Transcript job, I'll tell you all about the platform:
What is GoTranscript, and how does it work?
How much can you earn from GoTranscript?
Will the GoTrasncript pay rate satisfy your needs?
Is GoTranscript legit?
Most importantly, is Go Transcript worth it?
This post contains affiliate links – visit my affiliate disclosure for more info.
Go Transcript Review – The Basics
Before we go any further, I want to say a couple of words about the transcription field as a whole:
At its core, transcription is a form of a data entry job. The work of the transcriber is to convert audio or video files into text.
It might be hard to believe, but professional transcribers are always in demand:
Thousands of individuals and companies are willing to pay experts to type out audio or video files.
Working as a transcriber will allow you to enjoy flexible hours and more than a decent hourly pay rate.
Now, the question is, why should you become a transcriber for GoTranscript?
I'll provide you with an in-depth answer before this Go Transcript review is even over.
Recommended Read:
Is GoTranscript Legit?
Each time you try to earn extra money online, you're risking stumbling upon a scam.
Unfortunately, many money-making ideas seem like good options to earn cash while, in reality, they are not.
To avoid wasting time and effort, you should always make sure the earning idea you have in mind is legitimate.
Long story short, it doesn't matter if you plan to start a side hustle or go after a side job you can do at night:
Don't move a muscle until you know that the working option in front of you doesn't operate illegally.
With that said, you'll be glad to find out that GoTranscript is 100% a legit company.
Checking the GoTranscript reviews on Reddit will erase any doubt you might still have about that.
Feel free to visit GoTranscropt Glassdoor, GoTranscript Trustpilot, or GoTranscript.com reviews for further reassurance.
What Is Go Transcript?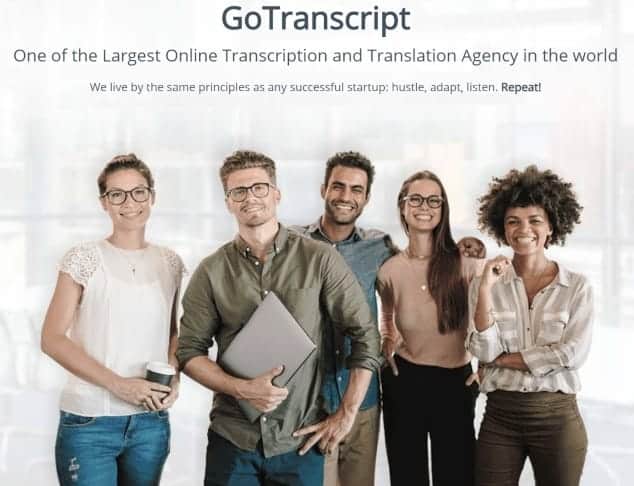 First and foremost, GoTranscript is a company with quite a long history:
Since its launch in Scotland in 2006, GoTranscript has provided high-quality services for nearly 20 years.
Starting with only 37 transcribers and 15 proofreaders, the company has grown so much over the years:
Up until now, Go Transcript has delivered over 140 million minutes of work, courtesy to thousands of transcribers and proofreaders operating worldwide.
The company's core business now provides freelance services to clients from different industries looking to hire freelancers.
These services include translation, subtitling, captioning, transcribing, and proofreading.
An interesting fact about GoTranscript is that it uses AI (Artificial Intelligence) to evaluate the manual work of its transcribers.
As you can imagine, a machine is not perfect, and that's why a human touch will always have a place in the working process.
GoTranscript's clients are BBC, Bose, Stanford University, University of Cambridge, and even Netflix.
Who Uses GoTranscript?
Considering many of you might be complete beginners in the online working field, I want to make sure that everything you read in this Go Transcript review is clear.
So, the business model GoTranscript involves two parties – clients and freelance workers.
Basically, a client may be a business, organization, or individual who wants to hire someone to convert audio/video files into text.
And freelance workers are the people who offer their services to earn money online – that would be you.
Alright, let's take a look at the type of Go Transcript jobs you'll be able to do when this Go Transcript review continues!
GoTranscript Jobs
I know that not all GoTranscript reviews care to explain what kind of jobs you can choose from once you start working for the company.
Hopefully, you won't mind me taking a minute to talk about the nature of every Go Transcript online job available right now.
Go Transcript Jobs:
GoTranscript Subtitling And Captioning Jobs
Subtitling and captioning jobs require work on video files that will create text anyone watching a screen can read.
More often than not, that involves high-paying files like Forex, software, or legal/technical engineering videos.
Usually, these jobs are all about generating captions in a different language than the language on the original file.
GoTranscript Translation Jobs
At this point, there is no need to explain that a transaction job will put you in a position to work on a text or audio/video file.
Thousands of businesses are constantly looking to hire translators in an attempt to reach a wider audience.
Sometimes, an English native speaking person might need a translator to help them understand papers written in a foreign language.
These days, GoTranscript gives a job to translators in more than 15 languages, such as French, German, and Spanish, to name a few.
Related Read:
GoTranscript Audio/Video Transcription Jobs
As you already know, transcription is converting an audio or video file into text.
It might come as a surprise that more than one transcriber can work on one document at a time when the file is quite long.
Some of the highest paying GoTranscript transcription jobs are financial, legal, and medical works.
Apply For GoTranscript Jobs Here
How Does GoTranscript Work?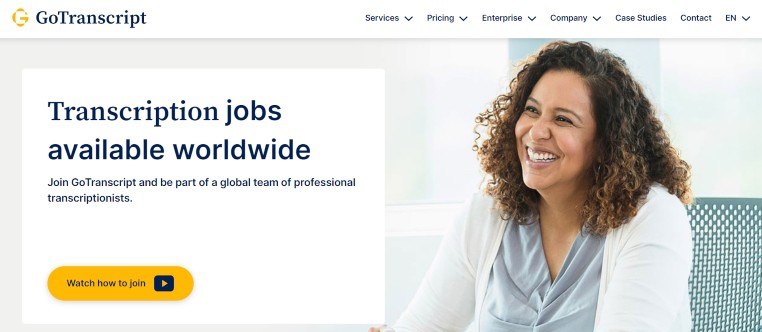 By all means, the way GoTranscript operates is pretty simple:
The website charges a fee to the businesses who want to use any of the available services. But that's not your concern:
I mean, you're reading this Go Transcript review to learn how to make money as a transcriber for the company and not how to hire freelancers yourself.
With that said, let me state something loud and clear:
GoTranscript employs only the best transcribers and will put you through a vetting process before it hires you.
Unless you pass the test with flying colors, you wouldn't be able to start working for GoTranscript.
Do yourself a favor and read the company's guidelines before you begin preparing your application.
High-Paying Careers You Can Start With No Experience:
GoTranscript Requirements
Before I walk you through the application process of GoTranscript, let's make sure that you're eligible to get a job on the platform.
At the time of writing this GoTranscript review, you have to meet the following requirements:
You must be of legal age.
Having above-average English language skills is a must.
Fast typing skills: While you'll have six hours to complete the transcription of a six-minute-long audio file, you should be typing faster than that. Transcribers earn per audio minute, so the faster you're, the more money you'll make.
It goes without saying that you need to have an access to a computer and internet connection every time you get to work.
Passing the test is non-negotiable: If you fail to pass the test the first time, you can re-apply in a couple of days again.
How To Use GoTranscript?
Alright, it's time for my Go Transcript review to show you everything you'll need to do to become a transcriber for the company.
Again, the application process is pretty straightforward.
Here is what to expect once you decide to get a Go Transcript online job:
1) Sign Up For GoTranscript
Use this link to visit the official website of the company
Click the Apply Now button
Choose a language from the list
After picking a language, the site will redirect you to the main sign-up page
Provide your email address
Create a password
2) Take The Go Transcript Exam
Basically, you'll have to pass the GoTranscript test to prove you can handle a professional transcription job.
Don't forget to get quite familiar with the company's guidelines before you go through the exam.
Now, you'll need to work on the assessment test for about three minutes.
Once you complete it, it will take around two weeks to hear back from GoTranscript and receive further instructions.
How To Provide Excellent GoTranscript Quiz Answers
First and foremost, you'll not have to deal with the company's exam completely on your own:
No, GoTranscript will give you access to old transcription tests. Take advantage of that and practice your skills on them.
As soon as you complete an old test, you'll be able to see your mistakes and learn by correcting them.
The tests are for transcription and editing jobs.
3) Complete A Transcription Audio Test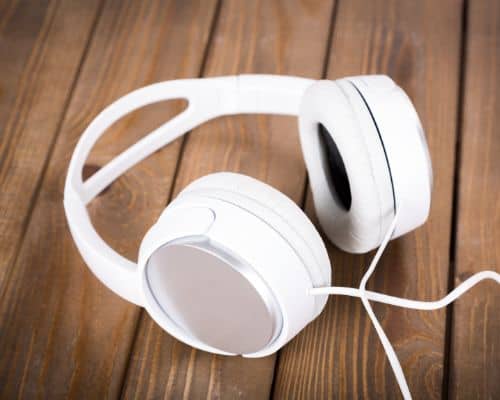 Assuming that you did a good with the assessment test, your next step will be to do a transcription audio test in English.
Most likely, there will be a non-native English speaker to put you through that test.
While that might not make any sense to you, it does to the company:
Some of the jobs available inside GoTranscript will require you to deal with low-quality videos or speakers with strong accents.
A piece of advice:
Before you get to the audio test, practice your transcription skills on Otter – an app that converts conversations into text.
Sure, its results are not 100% accurate, but the practical side of such an exercise will help you polish your abilities.
Tips and Ideas To Help You Pass The GoTranscript Audio Test
Use a noise-canceling headset so there would be no outside distractions during the test.
Don't rely on transcription software that might mishear specific words.
Take a bit of tie to research the topic you're transcribing.
4) Get Your First GoTranscript Online Job
OK, what happens if your Go Transcript application gets approval?
Well, you'll be on your way to getting your first official job with the company.
Each transcriber can pick an available job from a list that gets daily updates.
More Ways To Earn Online:
Go Transcript Job Review – What To Expect After You Apply For Transcriber Position At GoTranscript
Now, how about I share some essential information about the inner workings of GoTranscript?
Have a look at a couple of facts you should be familiar with before you become a transcriber for the company:
Each time a client uploads a file for transcription, you'll receive a notification by email.
GoTranscript provides in-depth descriptions of all available jobs. Visit the jobs page to learn more about a job's turnaround time, text format, file length, etc.
Your Stats Page will allow you to see your earnings to the moment.
What Will Working For GoTranscript Look Like?
Quite frankly, there are many things about GoTranscript that will make your job as easy as it can get.
For example, the company will let you listen to any audio or video file you want to work on before accepting the job.
To start listening to a file, click on the video icon appearing on every new transcription opportunity.
Once you're confident that you can manage it, click on the Make My Job tab and start working.
While the turnaround time is pretty good, you can extend your working time from the portal.
You'll only receive a payment if your work gets approval from the moderator. An editor will leave comments on your work to help you improve it where that is necessary.
Clients will give you a start rating – you should always aim for a rating that is at least 4.5 (the maximum you can get is 5).
GoTranscript will give you access to the final edited script that will go out to the client. Don't forget to compare your work to the editor's version and learn from the changes you see on the page (find your final work under Finished Jobs).
I have to mention that the company might close accounts that keep submitting low-quality work that gets ratings under three stars. So, make sure that you always provide the best draft possible.
Start Working For GoTranscript Today
GoTranscript Rating System
As I already mentioned, you have to do your best to keep your star rating above 3.5.
Have a look at the connection between a star rating and accuracy:
1 Star (0%-83% accuracy)
2 Stars (83%-88% accuracy)
3 Stars (88%-92% accuracy)
4 Stars (92%-96% accuracy)
5 Stars (96%-100% accuracy)
How To Use The GoTranscript Transcription Tool?
By all means, this Go Transcript review will not be complete unless I talk about the company's transcription tool.
With that said, you have the option to download any specific job and work on it offline while using third-party transcription tools.
However, I recommend using GoTranscript's very own transcription tool.
The GoTranscript Transcription Tool will automatically save your work every 30 seconds.
On top of that, it will take care of your formatting.
Go Transcript Editor Jobs
Except for transcribing positions, GoTranscript will allow you to go after editing ones as well.
Nowadays, every transcriber working for the company will have the opportunity to become an editor.
To start working as a GoTranscript editor, you have to keep your star rating between 4.5 and 5 stars.
Before you create a Go Transcript application for an editing position, you'll need to complete at least 15 transcription jobs.
Also, you'll have to pass an exam.
Go Transcript Pay: How Much Can You Earn From GoTranscript?

Let's be honest – learning about the GoTranscript pay rate is why most of you are reading this Go Transcript review.
Shall we take a look at the specific numbers?
How Much Does GoTranscript Pay Transcribers?
According to the official website, the transcribers working for the company earn between $150-$1,200 per month.
More specifically, the company will pay you $0.60 per audio or video minute.
However, beginner transcribers might earn a bit less than that.
As soon as you gain experience and your typing speed improves, you'll be able to start making the maximum amount of money you can receive from GoTranscript.
Long story short, newbies transcribers will earn around $3 per hour, while experienced professionals can get over $13 per hour.
GoTranscript Editor Pay
Now, the GoTranscript editors earn more than the transcribers.
On average, you'll make between $12-$50 per editing job.
Currently, the company uses a bonus system to reward its top 10 transcribers and editors.
The best transcribers will get a bonus payment of $1-$10, and the best editors will receive between $2-$20.
GoTranscript Payment Method
At the time of writing this Go Transcript review, the company will pay you every Friday.
Yes, working for the company means you'll have an online job that pays weekly!
You can receive your earnings via PayPal or Payoneer. If you don't have an account with either of these companies, you should create one now.
It's worth mentioning that GoTranscript will cover your PayPal fees, so you'll get all your earnings.
There is no minimum threshold, so you can withdraw your money without waiting to meet any requirements.
Easy Ways To Make Money Fast:
What I Like About GoTranscript
Anyone Can Get A Job At GoTranscript: All working positions inside the company are available worldwide.
GoTranscript Offers Flexible Hours: Considering you'll be working from home, you can decide how much of a workload you want to manage.
Signing-Up For The Company Is Simple: Plus, the application process is not challenging either.
Both PayPal and Payoneer Are Payment Options: Feel free to receive your earnings every week.
Tools And Support Are Available For All Workers: In case you need any help, you'll be able to get it in no time.
Choosing A Job Is Up To You: As you already know, GoTranscript offers different types of legitimate online jobs.
Top Workers Get Bonuses: The better you're at your job, the more money you'll make out of it.
What I Don't Like About GoTranscript
Beginner Transcribers Can't Earn A Lot: Of course, that will change as soon as they gain more experience.
Some People Will Find Transcribing Challenging: In my opinion, a transcription position is not suitable employment for everyone.
GoTranscript Reviews And Complaints
Generally, no company is perfect, and GoTranscript is not an exception.
Furthermore, no organization can satisfy all its users.
With that said, let's discuss GoTranscript user reviews for a minute and address the most common complaints they share.
On the bright side, most people working for the company appreciate the flexibility of working from home. Also, they state that the editors go above and beyond in their desire to help.
However, there are a couple of complaints as well.
For example, transcribers often have problems with the quality of the files and working with accents.
Another complaint I see is that you can earn more than $1,200 per month. Therefore, GoTranscript is not a suitable replacement for your full-time job.
Well, here is my two cents on that:
By all means, the complaints GoTranscript gets are no different than the dissatisfaction people express about other transcription companies.
Most importantly, the company is pretty transparent about its pay rate.
So, if anyone sees the potential earnings GoTranscript offers as low, maybe they shouldn't sign up in the first place.
Who Should Get A Job At GoTranscript?
To be honest, I believe that anyone would be able to handle working for GoTranscript.
As long as you have decent English language and typing skills, you'll be able to earn money as a GoTranscript transcriber.
Let's not forget the editing positions as well – they pay even more than the transcription ones.
GoTranscript opens its door to workers from all over the world.
Add the fact that you don't need previous transcribing experience and deciding whether you should work for the company is getting easier.
Is GoTranscript Worth It?
In my opinion, getting a job with the company is worth the time and effort.
While the GoTranscript pay rate will not make you a millionaire, it's still nice extra cash that will boost your monthly income.
The company has a long working history, and many see it as the leader in the transcription field.
It will provide you with tons of help and support, so you won't have to navigate the working process on your own.
Is GoTranscript A Scam?
No, GoTranscript is not a scam.
On the contrary, the company provides well-paying transcription and editing online jobs.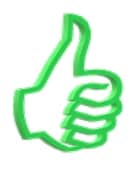 Anyone can become a worker for GoTranscript free of charge.
And since you're not paying anything for the opportunity, there is no way for the company to scam you.
Go Transcript Review – My Closing
I hope that you find this article helpful and informative.
Again, GoTranscript is worth the shot.
Giving it a try will allow you to see that for yourself.
Now, what questions do you have on that topic?
Is there something in this Go Transcript review you don't understand?
Write them down in the comments section, and I'll answer them to the best of my abilities.
More Ideas From Cash Embrace You Might Like: