Affiliate Marketing For Beginners: What It Is + How To Master It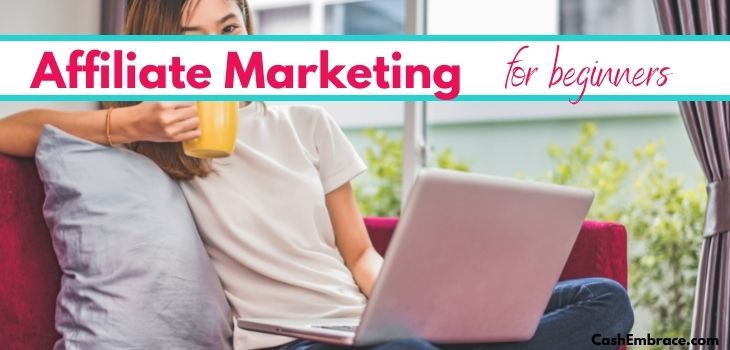 It seems like everyone wants to learn what affiliate marketing for beginners is these days.
And that's everything but a surprise:
If you're a fan of Statista, you already know that USA businesses will spend around $8.2 billion on affiliate marketing until the end of 2022.
To say that the affiliate marketing industry is lucrative would be the understatement of the year.
Do you want a piece of it?
Have a look at everything this article is going to cover:
What is affiliate marketing?
How does affiliate marketing work?
Why should you do affiliate marketing?
Can you start affiliate marketing with no money?
And how much money can you make with affiliate marketing?
I'll also talk about a few other topics relevant to affiliate marketing for beginners 2022.
This post may contain affiliate links. Read my affiliate disclosure.
What Is Affiliate Marketing?
In short, affiliate marketing is one of the most popular ways to make money online right now.
It's a business model that will let you earn without creating products or services yourself.
Instead of launching products on your own, you'll focus on promoting products that are already out there.
Yes, affiliate marketing is a process where you'll promote someone else's products or services online.
You'll do that to earn an affiliate marketing commission:
Every time a person purchases something through your unique affiliate link, you'll make an affiliate sale.
Quite frankly, this is the easiest way to explain what affiliate marketing for beginners is.
With that said, feel free to visit this beginner's guide to affiliate marketing if you want to read more about it.
Why Should You Do Affiliate Marketing?
Honestly, I have no idea how to start answering this question.
Probably because the better one would be why you should not do affiliate marketing!
The way I see it, affiliate marketing is as close as you can get to the perfect business model.
Why do I think of it this way?
Chances are, because of one of the following reasons:
1) Starting Affiliate Marketing For Beginners Is Suitable For Everyone
Again, that's not an exaggeration of the truth:
No matter where you live, what you do for a living, or how old you are, you can become an affiliate marketer at any time.
Once you gain an understanding of what that entails, you'll be good to go!
Seriously, doing affiliate marketing is possible even if you have no previous experience with the business model.
As long as you're willing to master the craft behind it, there is no reason why working as an affiliate shouldn't replace your current nine-to-five job.
Recommended: Start Your Affiliate Marketing Training For Free
2) Building Affiliate Marketing Business Is A Low-Cost And Low-Risk Career
Let's face it:
Most businesses require start-up costs and investment on your part.
Especially if you're thinking about starting a physical business.
However, doing affiliate marketing requires a laptop and access to Wi-Fi.
Now, you're probably wondering:
Is there such thing as affiliate marketing for beginners free?
Actually, there is, if you choose to do affiliate marketing without launching a website.
Even if you decide to be an affiliate marketer who owns a blog, your expenditures will be on the very low end.
What about the risk factor?
When the amount of cash you'll invest is slim to none, what is there to lose other than a bit of time?
3) The Business Model Is Easy To Grow And Scale
Think about it:
Typically, a salesperson promotes products or services of just one company.
As an affiliate marketer, you can promote the products and services of as many companies as you wish.
Nowadays, there are tons of lucrative affiliate programs you can join.
Many of them happen to be affiliate programs that pay recurring commissions.
Do you know what that means?
Well, it means that you'll be able to earn repeatedly from a single sale.
Speaking of that:
4) Affiliate Marketing Is A Way To Build Passive Income
First and foremost, what does a passive income mean?
To sum up, it's a stream of income that doesn't require you to work actively for it.
If you think that I'm talking about the possibility of making money while you sleep, you'll be totally right:
Once you establish your affiliate marketing business, the job will get easier.
Working hard to increase the conversion rate of your website will produce results.
So, prepare for the day when you'll wake up and see an email letting you know that you have affiliate sales already!
You tell me – what could be better than that?
How Affiliate Marketing Works?
Should I let that image do all the talking?
While the screenshot is pretty much self-explanatory, this article is about affiliate marketing for beginners.
Assuming you're a newbie looking to learn the process of affiliate marketing, I should take the time to explain it.
Here is what your working process will look like once you start acting as an affiliate:
You promote a product/service to an audience.
A member of your audience clicks your affiliate link.
That link leads the person to the product they desire.
They place a purchase.
The company/affiliate network records the transaction.
Once the purchase gets confirmation, you'll receive a commission.
At this point, you may be wondering:
How would the company or affiliate network know that any particular sale comes from you?
When someone clicks on your affiliate link, a small file (cookie) finds its way on that person's device.
That cookie is what helps the merchant to attribute the sale to the marketer responsible for it.
How Much Money Can I Make As An Affiliate Marketer?
Isn't that the most important question every newbie affiliate marketer has on their mind?
Unfortunately, no one can tell you how much money you'll be able to make doing affiliate marketing online.
By all means, your monthly affiliate income will depend on many factors.
Some of these facts are how hard you're willing to work, the time you have to spend on improving your marketing skills, etc.
By all means, don't expect to earn thousands of dollars right off the bat:
Affiliate marketing as a business model is a slow burn.
Meaning, it takes time to develop a newly created affiliate business into a profitable one.
I Earn Such Affiliate Commissions Every Month. Learn How You Can Do The Same!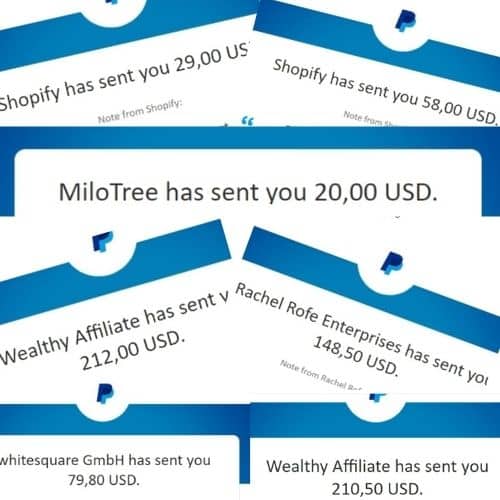 How To Start Affiliate Marketing For Beginners
Let's not stretch this article longer than we should, shall we?
Here are the steps you'll need to take to begin making money as an affiliate marketer:
1) Choose A Platform
Generally speaking, you can do affiliate marketing on every platform imaginable.
These days, even Instagram is a valid option:
Thousands of people take the time to build an audience on Instagram and monetize their accounts through affiliate offers.
With that said, Instagram is a visual search engine. Therefore, it won't work equally well for all niches.
So, what platform works regardless of the industry you'll choose to conquer as an affiliate marketer?
In my opinion, there are two platforms you should focus on while developing an affiliate marketing business – a blog or YouTube channel.
Option one is the preferable choice if you ask me. Starting a blog nowadays is easy and affordable. All you have to do is purchase a domain name and pick a reliable hosting. BigScoots offers more than affordable hosting plans.
And what about YouTube?
Uploading content on YouTube is free of charge.
Still, you'll have to learn quite a lot about creating videos, adding relevant keywords, and disclosing your affiliate links.
Keep in mind – a well-optimized blog article will bring you more traffic than a YouTube video, in most cases. That's why the majority of affiliate marketers prefer to build a website than a YouTube channel.
2) Pick A Niche
Next on your journey of mastering affiliate marketing for beginners is the step that requires you to choose a niche.
Considering thousands of new blogs pop up online every single day, you have to prepare for facing tons of competition.
How will you stand out in a sea of competitors?
Launching a website that is niched-down will provide you with better odds of success.
Now, what does a niche blog mean?
It means that your site focuses on a very specific topic.
Subjects like weight loss are too broad.
However, if you go with something like slimming down tips for women in their 40s (an example), your content will appeal to a specific audience.
With that said, a common affiliate marketing mistake is choosing a niche solely because of its profitability.
Don't do that!
Instead, pick a topic that interests you. After all, you'll have to write about it for years!
3) Join Affiliate Programs
Nowadays, you can find all kinds of affiliate programs relevant to your niche and target audience.
Literally, all affiliate programs fall into one of these categories:
High-Paying Programs With Limited Potential Customers – To clarify, these are programs that may pay you hundreds of dollars per affiliate sale. Due to the low-volume search of their products, however, they don't provide a large pool of potential buyers.
Low-Paying Programs With Unlimited Reach – Here, we're talking about affiliate programs that pay little per sale. But their product appeal to a massive audience, so marketing them gives you a great chance for success.
Well-Paying Programs With Unlimted Reach – As you can guess, these are the best affiliate programs you can join. They will allow you to earn a lot per affiliate sale and reach a large audience at the same time.
4) Publish Valuable Content
How can you make sure that the content you're writing will serve you well as an affiliate marketer?
Above all, don't publish content unless your article is:
SEO-Optimized – SEO stands for Search Engine Optimization. Every piece of content you get out there has to be optimized in a way that allows the search engines to rank it higher online.
Affiliate-Friendly – If you want to make affiliate sales, your content has to circle the products you'll be promoting. Product reviews, listicles, and how-to articles should be your best friend as a marketer.
Valuable To Your Readers – An article will be valuable if it solves the problem your audience has. The best-case scenario for you as an affiliate is if all of your articles solve problems for your readers.
5) Bring Traffic To Your Affiliate Website
To be able to earn affiliate commissions from your content, you need as many people to see it as possible.
There are a couple of ways to drive traffic to your affiliate offers:
Use Organic Traffic – Organic traffic means free traffic from the search engines. Such traffic will become an option when you master SEO, keyword research, link building, and a few other blogging techniques.
Pay For Traffic – Investing in PPC (Pay-Per-Click) Ads will deliver this kind of traffic. I don't recommend this option if you're a beginner. It's better to learn as much as you can about using paid traffic before you create your first ad campaign.
Build An Email List – Gaining a large number of email subscribers is something you should work on from day one. Your email leads will be the first to visit your new article if you learn how to nurture your email list effectively.
6) Make Your Readers Click On Your Affiliate Links
Quite frankly, many newbie affiliate marketers believe that driving traffic is enough to earn affiliate commissions.
Unfortunately, that's not true:
Thousands of people may read your content. But this doesn't mean that you'll get thousands of clicks on your affiliate links.
Basically, there are a few things you can do to increase the number of these clicks:
Place Your Affiliate Links Strategically – How many clicks do you think you'll get if all your affiliate links are in the last paragraph of your article? I can assure you – not many. The same will happen if you turn every second sentence into an affiliate link. So, be smart and go for balance while placing your affiliate links.
Add Affiliate Links To Relevant Products Only – Promoting products with a huge payout will not do you any good if they're irrelevant to your audience. Don't let greed cloud your judgment!
Don't Forget Calls-To Action – Prompting your readers to act on your offers is the most essential tip from this article about affiliate marketing for beginners. Use buttons, special offers, and everything else that makes sense for your campaign.
7) Convert Clicks Into Affiliate Commissions
Alright, how do you convert link clicks into sales?
Here are a couple of ideas:
Firstly, you can research blog income reports from marketers that work within your niche. Knowing which products convert well for them will help you adjust your own affiliate marketing strategy.
Secondly, feel free to use tools and programs that will help you increase your conversion rate. Many of them are available at affordable prices.
Personally, I like Affiliate Bots and Affiliate Titan X. Check them out when you have a minute.
My Closing
OK, this is all I have for you today.
The topic of affiliate marketing for beginners is never over, though.
That's why I'll keep adding more info to this article in the future.
Until then, I would like to hear your thoughts about it.
Let me know if you have any questions in the comments section below.