How To Make Money On Wealthy Affiliate (Free Earning Methods)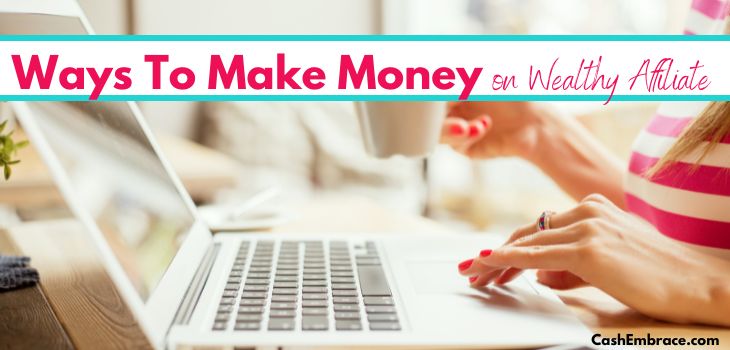 If you want to learn how to make money on Wealthy Affiliate, you can do so in the next couple of minutes.
Unfortunately, most people who are not members of Wealthy Affiliate yet have the wrong idea about the way the platform functions:
Some see it as a web hosting company, others believe it helps marketers with keyword research, and the last category of people think it's an MLM.
None of these explanations completely covers Wealthy Affiliate and how you can use it to make money online as a beginner.
As a long-term member, I can explain in detail all the ways you can earn money with Wealthy Affiliate and what to expect before you click the Wealthy Affiliate sign-up button.
Today, I'll tell you everything you need to know about making money with Wealthy Affiliate:
What is Wealthy Affiliate all about?
Can you learn to make money online with Wealthy Affiliate?
How much money can you make with Wealthy Affiliate?
Is Wealthy Affiliate worth it?
This post contains affiliate links – visit my affiliate disclosure.
Recommended Read:
What Is Wealthy Affiliate All About? How Wealthy Affiliate Works?
Considering time is money, I won't waste yours by explaining every little thing about Wealthy Affiliate (WA).
Instead, I'll keep this one sweet and short:
WA is a training platform that teaches beginners how to make money online by creating an online business.
The platform focuses on affiliate marketing and ways to use this business model to earn a full-time income from home.
In addition, WA provides its members with everything they need to develop a profitable business online: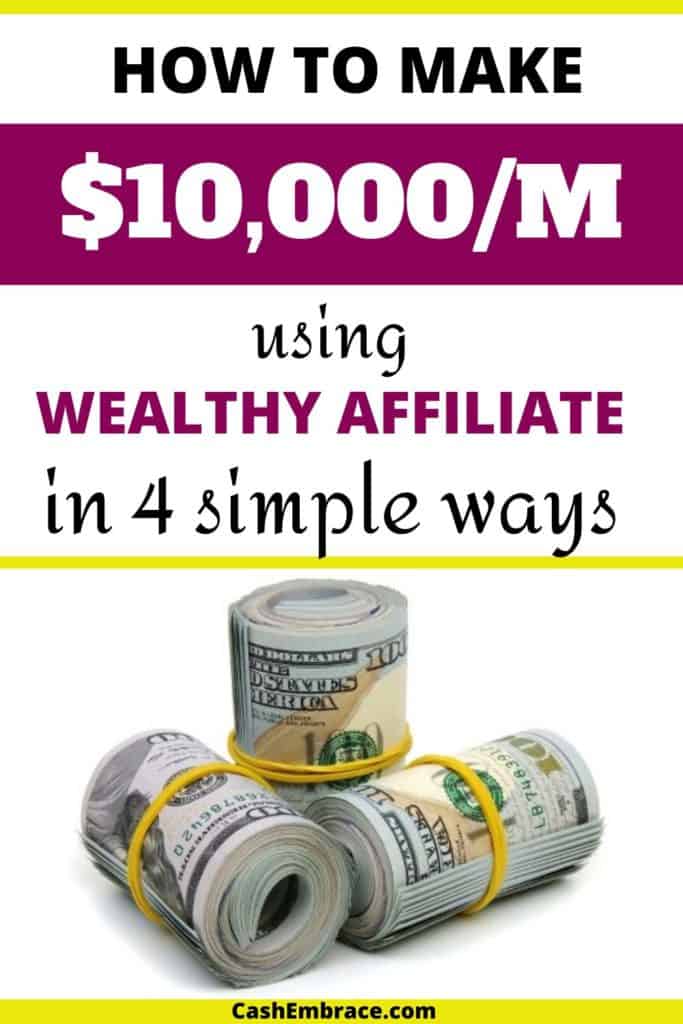 For example, every member gets professional training, keyword research tool, web hosting, tech support, and many other perks.
Anyone can join Wealthy Affiliate for free – creating a Wealthy Affiliate account comes at no cost to you.
Of course, upgrading to premium Wealthy Affiliate membership will give you so much more than using the free one, but it's not necessary when you're just starting to work online.
Most importantly, Wealthy Affiliate will allow you to start making money on its platform from the day you join it.
Feel free to read my Wealthy Affiliate Review to discover every single detail about the platform.
Related Read:
Is Wealthy Affiliate Legit?
Before I show you how to make money on Wealthy Affiliate, I have to answer a burning question.
And that question is about the legitimacy of Wealthy Affiliate.
To sum up, Wealthy Affiliate is a legit online platform – you can join it without putting yourself at any risk.
As a starter member, you're not paying anything to be a part of the community. Subsequently, you can just log out if you decide that WA is not the right place for you.
But what about premium members?
Well, they'll be glad to find out that Wealthy Affiliate has a fully-functioning refund policy.
So, if you upgrade to premium Wealthy Affiliate membership and decide to leave, you'll do so after getting your investment back.
Wealthy Affiliate has been operating for nearly twenty years.
Currently, the platform has over 1.5 million members.
I suggest visiting the Wealthy Affiliate Trustpilot Page (here is a link) for further reassurance:
On Trustpilot, WA has a 4.9 stars rating, and that says a lot, in my opinion.
How To Make Money On Wealthy Affiliate – Ways To Earn With Wealthy Affiliate
Basically, there are four main ways to make money on Wealthy Affiliate:
Build A Profitable Online Business
Use The Wealthy Affiliate Affiliate Program
Create A Training
Earn From The Account Set-Up Of Your Referrals
Let's discuss each of these earning methods, shall we?
1) Build A Profitable Online Business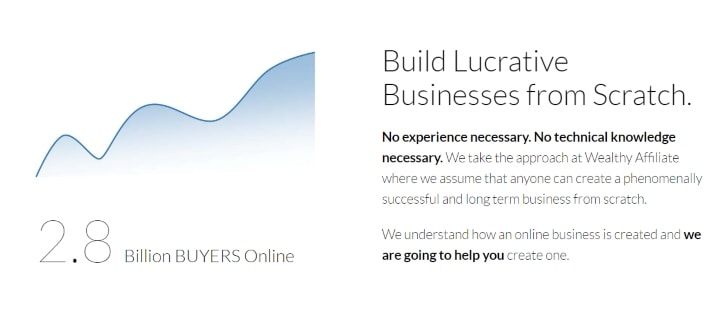 You already know that Wealthy Affiliate is a business training platform:
Its primary focus is teaching the members to earn money by launching, building, and developing an online business.
These days, WA provides everything you might need to become a successful online business owner.
Depending on the interests you have, you can create a website or an online store.
Website
If you want to own a blog, the money-making process requires taking the following steps:
Choosing A Niche: Deciding what your site will be about is the first thing you must do before you launch an online business. Go for a niche you're passionate about, and it comes with plenty of monetization opportunities.
Launch Your Website: Nowadays, launching a site takes less than five minutes. Follow the video tutorials inside Wealthy Affiliate – they will walk you through the process from start to finish. Once your site is live, WA will monitor it 24/7. Plus, the platform will give you a free SSL Certificate and daily backups.
Drive Traffic To Your Blog: A large part of the video training tutorials of WA teach SEO (Search Engine Optimization) and other ways to drive organic traffic to your website. As a member, you'll have access to a premium keyword research tool that will help your site rank online.
Monetize Your Website: There are many ways to monetize your blog, and Wealthy Affiliate will cover them. Expect to discover the most profitable affiliate programs, affiliate programs that pay recurring commissions, etc.
Online Store
While building a website is what most people do to earn online, you might prefer having an online store.
Owning an online shop will let you make money in a variety of ways.
For example, you can sell your own physical products, buy/resell other people's products, offer digital downloads, etc.
Shopify is the most popular platform to build an online store – it comes with a free trial, so you don't have to pay anything to begin.
You can launch an online shop and use the Wealthy Affiliate's training to learn how to monetize it.
2) Use The Wealthy Affiliate Affiliate Program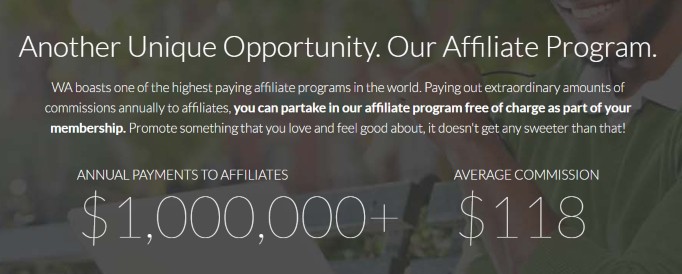 So far, we've talked about WA as an online training platform that teaches making money with affiliate marketing.
It shouldn't come as a surprise that Wealthy Affiliate has its own affiliate program:
Quite frankly, the Wealthy Affiliate affiliate program is one of the most lucrative referral programs you can join these days.
An interesting fact about the WA affiliate program is that it will allow you to refer people by using resources other than just your affiliate link:
Basically, you can use an affiliate link for every piece of content you find on the platform.
Considering most of this content ranks on Google on its own, you can imagine how many opportunities you'll have to refer and earn.
Related Read:
How Much Money Can You Make With Wealthy Affiliate Affiliate Program?
By all means, the Wealthy Affiliate affiliate program offers different payouts to its members:
Depending on your membership, your affiliate commissions will bring you different amounts of income.
If you use the WA affiliate program as a starter member, you'll earn $4/month per premium referral (for the first month). However, if your referral stays a premium member, you'll make $11.75 in the following months.
Now, premium members make much more money from their referrals:
$8 (for the first month if the person uses the special offer for new members)
$23.50 for each month your referral stays a premium member of WA
You'll earn over $175 if your referral decides to pay its membership yearly.
In addition, promoting WA as a premium member comes with other perks, including a free trip to Las Vegas (all expenses paid).
Recommended Resources To Increase Your Affiliate Sales:
Make Money With Wealthy Affiliate By Creating A Wealthy Affiliate Training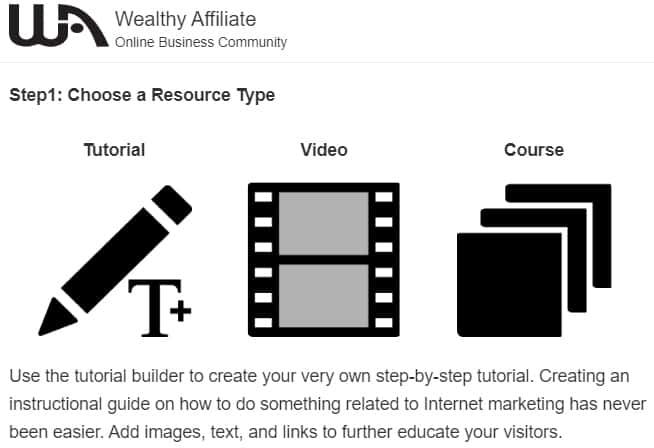 Hopefully, you still want to learn more about how to make money on Wealthy Affiliate because I'm ready to share the third option:
To sum up, Wealthy Affiliate lets premium members create training or tutorial on different subjects.
Each member who has expertise or knowledge on anything that will help others become successful online can share it with the community.
With that said, the platform offers monetary incentives to members who come up with training.
Your income from the tutorials you upload depends on the engagement the training will get (views, likes, comments, etc.).
Currently, you can create a video training or written step-by-step tutorial.
In other words, uploading a written tutorial is a way to make money online writing with Wealthy Affiliate.
4) Earn From Referral Set-Up Account
Last on my list of earning ways on Wealthy Affiliate is the opportunity to make money when your referrals set up their accounts.
Here, there isn't much to explain about the process:
Generally, every person who joins WA as your referral has the option to complete setting up their accounts.
That entails uploading a profile picture and sharing a couple of words about themselves.
Once that happens, you'll receive two credits, each of which will bring you $0.50.
Long story short, you'll earn $1 for every referral that sets up a Wealthy Affiliate account.
Can You Make Money On Wealthy Affiliate?
Well, after reading this article thus far, you already know that you can make money with Wealthy Affiliate.
As one of the most popular and well-respected training platforms in the world, Wealthy Affiliate takes care of its members in an ultimate way:
By allowing you to make money on its platform, Wealthy Affiliate will help you start earning cash from day one of joining it.
Whether you wait until your business becomes profitable or try to earn by promoting WA, the opportunities to make money on Wealthy Affiliate are there.
Does any of these opportunities seem like the right fit for you?
If it does, you can create a free account on WA right now and begin earning as soon as today.
How Much Money Can I Make With Wealthy Affiliate?
Unfortunately, no one can say how much money you'll be able to earn once you become a member of WA.
Will you use the platform as a starter or premium member?
Do you plan to create a training or tutorial at some point?
Can you spare the time to encourage your referrals to complete setting up their accounts?
All of these questions and their answers will impact the number of your Wealthy Affiliate earnings.
But if you still want to gain an idea, here is a screenshot of some of my monthly earnings: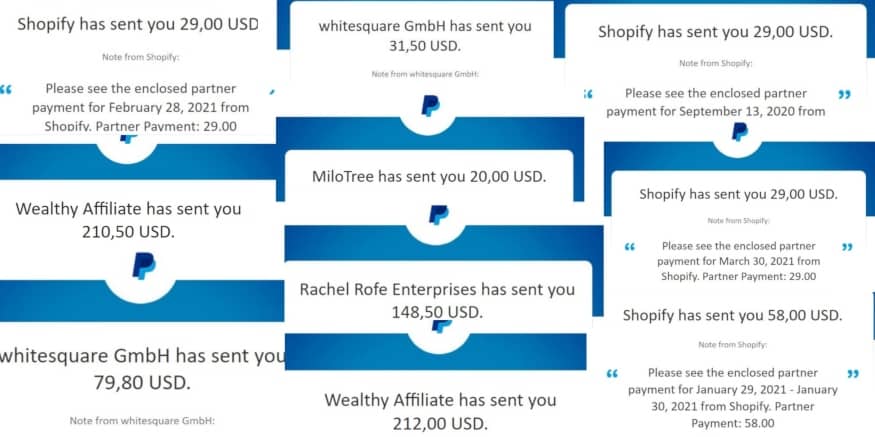 How To Make Money On Wealthy Affiliate – Frequently Asked Questions
How Long Does It Take To Make Money With Wealthy Affiliate?
Each member of Wealthy Affiliate can begin making money from their first day on the platform.
For example, if you refer a new member to WA today and that member sets up their account, you'll earn $1 before the day is over.
Is Making Money With Wealthy Affiliate Easy?
Making money with Wealthy Affiliate can be easy if you put enough effort into promoting the platform's affiliate program.
The Wealthy Affiliate affiliate program pays recurring commissions, so it will become a source of passive income.
How Much Is Wealthy Affiliate Premium Membership?
Members who upgrade to premium in the first week after joining the platform have to pay only $19 for the first month.
Afterward, the premium membership of WA will cost you $49 per month.
Of course, you can pay way less than that if you use the yearly premium membership option – that option will cost you around $0.80 per day.
My Closing
Folks, we're officially done talking about how to make money on Wealthy Affiliate.
No matter what, the process is simple, and you can take advantage of it as many times as you would like.
By all means, using the platform will help you become a successful affiliate marketer.
Most importantly, though, it will provide you with world-class affiliate marketing training and fast money-making opportunities.
And as long as you keep taking action and developing your skills further, there will be no stopping you!
What do you think about the ways to earn with Wealthy Affiliate?
Do you have an opinion you would like to share or a question you would like to ask?
If yes, you know what to do!
Other Business And Marketing Training Platforms You Might Like: