How To Make Money On Wealthy Affiliate – A Piece Of Cake?
Ready to find out how to make money on Wealthy Affiliate?
Judging on the fact that I've been asked this question on a daily basis ever since I started my blog, it's safe to say that you are.
It looks like certain topics are stuck in your mind – topics you don't have enough information about.
Well, today you'll discover every little detail about WA and you'll get more than you've bargained for:
Is Wealthy Affiliate worth it? Can you earn a full-time income thanks to the training? If yes, how much we're talking and can you make money on the platform itself?
Most importantly, is the Wealthy Affiliate affiliate program as lucrative as people say it is?
Yeah, there is a lot to be said and done in this article so let's get to it.
This post may contain affiliate links, this is my disclosure.
What Is Wealthy Affiliate?
First thing first, a huge part of what we're going to discuss today will be wrapped around the affiliate marketing business model.
I won't be explaining what affiliate marketing is here, because I believe that you're already familiar with it.
Still, if you need detailed content to learn more about it, you can visit my beginner's guide to affiliate marketing.
With that being said, let's keep the focus on WA.
In short, Wealthy Affiliate is free to join an online training platform that teaches its students how to make money online with affiliate marketing.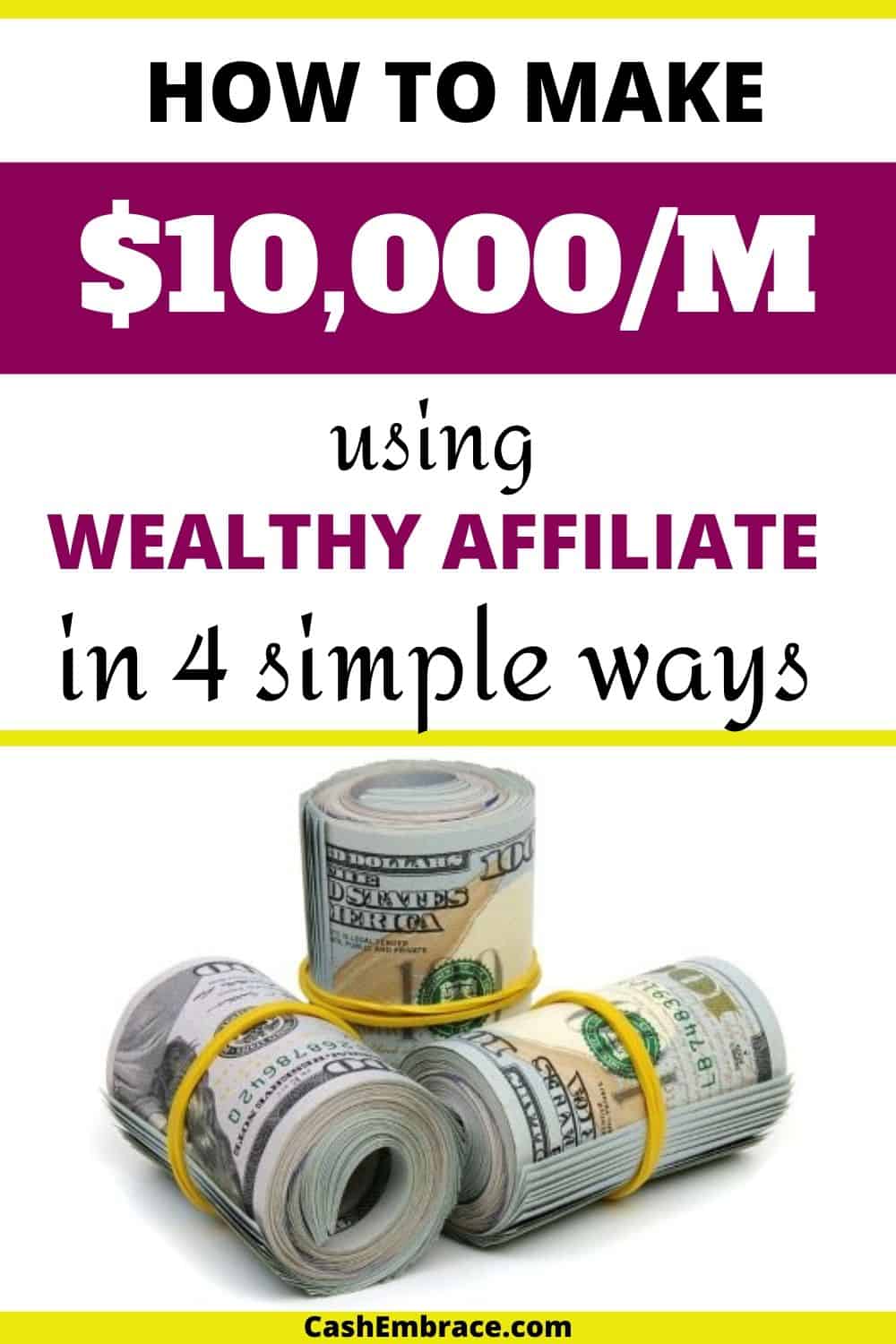 However, this explanation barely scratches the surface of what the platform is and how it does what it does.
So, allow me to elaborate further:
To sum up, what WA does best is transforming ordinary people from complete newbies into money-making affiliate marketers.
All that is done by providing the members with a top-notch blogging/marketing training, tools, and resources so they would be able to build a profitable online business.
As a member, you'll have access to tons of perks for FREE – keyword research tool, blog hosting, 24/7 tech support, and so much more!
Above all, Wealthy Affiliate is not just a teaching platform.
It's a whole community of like-minded individuals, helping and inspiring each other on the path to success.
What Wealthy Affiliate Is Not
Before I show you how to make money on Wealthy Affiliate, I want to make sure that I have just the right people on this page.
Nowadays, a lot of content has been published about this platform.
Some of the statements being made are controversial to say at least.
After hours of research, I was able to find out that the majority of them are coming from people who haven't a part of WA for a long time or have never been members at all.
Anyhow, to avoid any sort of confusion, I would like to clear some things out.
Since you already have an idea about what WA is, let me tell you precisely what WA is not:
scam that will steal your hard-earned money and leave you empty-handed
pyramid scheme that operates in an illegal manner
get-rich-quick scheme that will make you a millionaire overnight
magic bullet you can use to become wealthy with no work at all
In other words, if you think that Wealthy Affiliate will deliver thousands of dollars into your bank account in a day, that's not going to happen.
Moreover, if you believe that the platform will reveal to you some "money-making secret formula" to quick financial independence, that's not going to happen either.
By all means, WA will teach you a legit way to create a successful online business from scratch. And you must know by now such a process will take time, hard work, and commitment.
Related Read To Learn More About Wealthy Affiliate:
How To Make Money On Wealthy Affiliate – Ways To Earn With The Platform
OK, it's time to get to the most essential part of this article.
As I've already said, there are numerous ways to earn an online income through WA.
Here is a preview of what these money-making opportunities are:
Make money by creating a website
Get paid from your referrals (account set-up)
Earn From the platform's affiliate program
Score extra income by creating training.
Some of those ways will require a good amount of your time until you start to see any remarkable results.
Others, though, will allow you to start earning almost immediately.
Now, there is a lot you'll need to know about those methods and how you should be using them.
That's why I think it's better to devote enough time and space to each one of them.
Make Money Online By Creating A Niche Website
Needless to say, those of you who already own a blog should skip this paragraph and jump straight to the next one.
But if you've been thinking about starting a website and you haven't done it yet, you better pay attention.
I'll walk you through the process and show you the right way of launching an online business.
Of course, this is going to be the brief version and just a small part of everything the training will teach you.
That being said, there are 4 simple steps you'll have to take to begin your journey:
1) Choose A Niche
Basically, you can't start a blog until you decide what you're going to blog about.
Therefore, the first step to becoming an online business owner is picking your niche.
In my opinion, choosing a niche is not a hard task to complete if there are certain things you love to deal with.
For example, do you love to sew, play guitar, talk about cleaning/parenting/homeschooling, etc.?
Whatever may be the thing you have some knowledge about or you like to discuss, that should be the main topic of your website.
Keep in mind, developing a blog and making it profitable takes time. Likewise, the topics you'll be writing about for years have to be able to hold your interest for a long time.
The good news is that literally, any niche can be profitable as long as the topic attracts a big enough audience.
2) Build Your Website
Once you've decided on a niche, it's time to build your first website.
Above all, don't let the thought to intimidate you if you have no prior experience or you're not tech-savvy.
Nowadays, there are a lot of awesome tools that make the job as easy as it can get.
Even more, the Wealthy Affiliate training will walk you through the process step-by-step.
Following the video tutorials, you'll learn how to build a blog on WordPress in minutes, choose a website theme, and complete the basic set-up.
As a member of the platform, your newly created site will receive a free SSL certificate, free daily back-ups, and will be monitored 24/7.
3) Drive Traffic To Your Blog
Up until now, your blog is up and running. And you're fast writing high-quality content as we speak.
What comes next?
Naturally, it's time to attract visitors who would read and appreciate your awesome content.
Even if you're newbie, I bet you're aware of the fact that earning blogging revenue is impossible without traffic.
How you'll get that traffic and what Wealthy Affiliate can do to help you with such a difficult task?
Firstly, the training will teach you how to do proper keyword research. Subsequently, you'll learn how to use the premium keyword tool Jaaxy.
To clarify, that tool will assist you every time you need to pick a winning keyword to target and to rank for. Again, as a member, you can use it for free.
Secondly, the platform will train you on everything you should know about SEO. According to WA, free Google traffic is the most targeted traffic and the lessons are focused on that.
4) Make Money Blogging
At this point, your blog will be receiving a good amount of free traffic.
It looks like it's time to monetize it, isn't it?
Wealthy Affiliate will show you how to do that in multiple ways.
For instance, you'll learn how to add affiliate links to relevant products and the best practices for reaching a high conversion rate.
Also, which affiliate programs to join for bigger commissions and so much more!
In addition, you'll have access to weekly webinars, live training, engaging forums, and classrooms that will improve your affiliate marketing skills constantly.
Claim Your Free Spot On Wealthy Affiliate
How To Make Money On Wealthy Affiliate – Earn When Your Referrals Set Up Their Account
Honestly, the earning method I'm about to share with you is one of the easiest ways to make money online nowadays.
Earlier, I've mentioned that the Wealthy Affiliate affiliate program will play a huge rule a bit later in this article.
Meanwhile, there is a small aspect of that affiliate program that is easy to be over-looked money-wise.
I'm talking about your referrals – the people who will get to join the platform through your unique affiliate link.
Let's say that you've just got your first referral.
One of the first things any new member is asked to do after joining WA is to complete the set-up of their account.
What that entails is uploading a profile picture and writing a couple of words to introduce yourself.
You don't have to upload a personal photo if you're not comfortable doing so.
Instead, you can use any of the generic images you'll be provided with.
Wondering why that matters?
Well, by introducing yourself you'll make it easier for the rest of us to network with you and to recognize you in our future conversations.
Anyhow, let's stay focused on the earning part.
As soon as your referral completes its account set-up, you'll receive 2 credits.
Each of them is paying you $0,50, so you've just made your first dollar.
Hey, $1 doesn't seem like a lot, does it?
Actually, your profits will quickly begin to pile up when you start getting 10, 20, 100 referrals – you can do the math yourself!
The bottom line is, you'll be getting paid every time you introduce a person to Wealthy Affiliate, without putting any additional efforts.
How To Earn From The Platform's Affiliate Program
Now, this is the real deal when talking about how to make money on Wealthy Affiliate!
Considering the whole training is dedicated to the affiliate marketing business model, it makes sense for the platform to has its own affiliate program.
By all means, this affiliate program is one of the most lucrative affiliate programs in the industry.
I won't be discussing every little detail about how the WA's affiliate program works here.
The training itself provides a lot of content on that and you'll get to learn everything you need to know.
What I'll do right now is to give you the most essential facts:
1) How Much Does The Wealthy Affiliate Affiliate Program Pay?
Basically, it pays really well.
Above all, the affiliate commissions you're going to earn are not a one-time payment.
No, there are recurring commissions as well.
Meaning, you'll be paid month after month for a single affiliate sale – as long as your referral stays a paying member of the platform.
​
Another fact I need to mention is that your main affiliate link is not the only one you'll be allowed to use.
You can have an affiliate link for every piece of content ever created on the platform. Even if you haven't created that content yourself.
All you'll need to do to promote a particular page is to grab that page's own affiliate link – you'll find it under the page's title.
2) How Much Can You Earn?
First and foremost, that depends on whether you are a starter member or a Wealthy Affiliate premium member.
I've explained all of the details and the different pay rates in my WA review.
However, if you don't feel like reading it now, you can get an idea here too:
​
Let's not forget:
At the end of the day, the amount of money you'll be able to make depends mostly on how hard you're willing to work.
Also, there are other factors that will affect your earning potential:
For instance, how competitive your niche is, what is your promotional strategy, how much time you can invest in your training, etc.
With that being said, if you're serious about your business, you can start making affiliate sales sooner than you think.
3) You Can Win A Free Trip To Las Vegas
Be honest about it:
Have you heard of another affiliate program that will fly you to Vegas?
No matter where you live, all expenses paid…
Actually, the affiliate program of Wealthy Affiliate is the only one that does this.
Here is how it works:
Once you manage to score 300 premium referrals in 1 year, pack your bags.
You're going to Las Vegas to attend the Super Affiliate Conference held by Kyle and Carson, the owners of WA.
So, not only you'll expand your affiliate marketing knowledge, but you'll get to have some fun like that:
​
That video is from the conference that was held in 2017 and it belongs to Alex Sol, one of the members attending.
Not a bad time to be an affiliate, correct?
Personally, I wouldn't mind going to the next one.
How about you?
How To Make Money On Wealthy Affiliate By Creating A Training
Alright, this is the final chapter of this article.
Hopefully, you're one of those people who love to create content all the time.
Because inside Wealthy Affiliate, the owners of the platform are not the only ones who get to train the members.
On the contrary, once you hit the 3rd month as a premium member, you'll be encouraged to create training.
And you'll be paid for it.
No matter what your area of expertise is, you'll be allowed to share your knowledge with the rest of us.
​
As you can see, your training can take the form of a video or written step-by-step tutorial.
The more people engage with your training (view it, like it, or comment on it), the higher your work will rank.
Of course, a higher rank of your training means more money for you at the different levels.
Each level will add to your account 10 credits ($0,50 for one).
Still wondering is Wealthy Affiliate worth it?
My Closing
Folks, we're officially done with talking about how to make money on Wealthy Affiliate.
No matter what, the process is simple and you can take advantage of it as many times as you would like.
Using the platform will allow you to become one of the rich affiliate marketers nowadays.
Most importantly, though, it will provide you with a world-class affiliate marketing training and education.
From there, the road to a successful online business is clear.
And as long as you keep taking action and develop your skills further, there will be no stopping you!
What do you think about the ways to earn with Wealthy Affiliate?
Do you have an opinion you would like to share or a question you would like to ask?
If yes, you know what to do.