What Is Dropshipping And How Does It Work? (Step-By-Step Guide)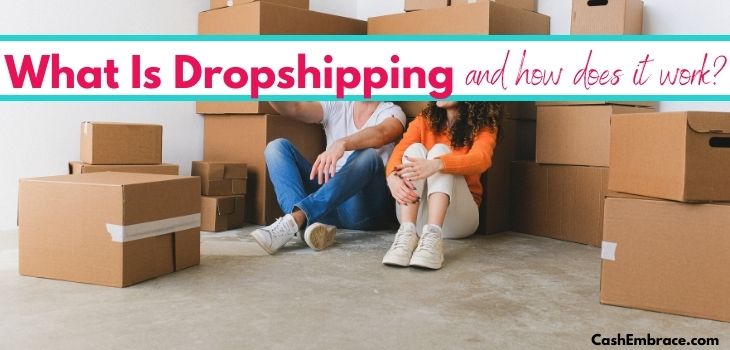 What is dropshipping and how does it work?
That's one of those questions that require at least a thousand-word long answer.
And that's not an exaggeration, not at all:
Dropshipping is a complex business model to master if you have no previous experience.
But you can do it.
All you need to start is a basic understanding of the fundamentals:
Is dropshipping worth it?
How does dropshipping work step by step?
Can you do dropshipping for free?
This post contains affiliate links. Take a second to see my affiliate disclosure.
What Is Dropshipping And How Does It Work?
Actually, let's forget about the second part for a minute and focus on defining dropshipping first, shall we?
Dropshipping is a business model where you'll sell products without keeping them in stock.
Think of it as an order fulfillment method you can use to earn money as an online store owner.
So, you'll own an online shop, you'll purchase items from a third party, and they'll ship it to the customer.
To clarify, the third party in that equation might be a manufacturer, a wholesaler, or another retailer.
The bottom line is, you won't have to deal directly with the products you'll be selling in your store.
Of course, that's the most simple definition of drop shipping ever!
Plus, there is a lot more you need to learn if you want to succeed in the industry.
We're just getting started!
Is Dropshipping Worth It?
Before I jump to explain the working process to you, let's take a second and try to see the big picture.
Why is that necessary?
Well, do you think it's a good idea to start a business without making sure that your new venture will be worth it?
After all, you'll have to spend lots of time and energy to develop a profitable online store. Therefore, being confident while laying its fundaments is mandatory, in my opinion.
With that said, I can tell you over and over again that dropshipping is more than worth it. However, that's not going to be very effective, I believe!
You need data, you need numbers.
Here are some:
According to TorchBankz, the dropshipping field is not just profitable – it's more than lucrative.
Dropshipping is expected to hit a market valuation of over $550 billion by 2025 (CAGR of nearly 30%).
Looking at these numbers, you tell me – is dropshipping worth it in 2022 and beyond?
I think that it most definitely is!
Benefits Of Dropshipping
Until we're still on the subject, let's discuss it a bit further for those of you that need more convincing, shall we?
In other words, it wouldn't hurt to point out the advantages of building a dropshipping business.
Have a look at them:
Accessibility – That business model will let you try out your idea without the risk of losing too much. Starting an online store on Shopify will not cost you a cent considering the platform offers a free trial.
Affordability – Dropshipping is a type of business that will not get you broke while you try to maintain it. Shopify has plans that will ask you to spend no more than $29 per month for having an online shop.
Flexibility – One of the main advantages of doing dropshipping is the opportunity to avoid the traditional business structure. Not needing a physical location will let you run a store from every location in the world.
Variety – Owning an online shop eliminates the need for physical inventory. Subsequently, you'll be able to start offering your favorite trending products to your customers.
Simplicity – There are a lot of things you don't have to worry about once you decide to launch a dropshipping business. For example, managing a warehouse, shipping products, tracking inventory, and handling returns are not any of your concerns.
By all means, starting an online business nowadays doesn't get any better than that!
How Does Dropshipping Work Step By Step
Now that you have a better understanding of dropshipping as a business, let me walk you through its working process.
As you already know, the business model is all about supply chain management.
To clarify, a supply chain is a web of suppliers, manufacturers, and retailers. All of them play a role in the creation and distribution of a product.
With that said, dropshipping becomes possible thanks to the following parties:
Manufacturers – These are the people that create the products. Usually, they don't sell to potential customers but retailers and wholesalers instead.
Wholesalers – Think of them as individuals who purchase products from manufacturers, stock them, and then resell them to the retailers.
Retailers – You guessed right – the retailers are the ones to sell directly to the clients.
OK, but what is dropshipping and how does it work for you? Meaning, what your working process will look like once you launch a dropshipping business?
Well, it will look like that:
A person finds your store online, likes a product, and places an order to buy it.
You'll let your dropshipping partner (wholesaler or manufacturer) know about the order.
They'll ship the product to the customer.
Whoever your dropshipping partner is will charge you.
And then you'll charge the customer.
Long story short, this is how dropshipping works.
Speaking of shortness:
Always keep in mind that the shorter the supply chain is, the better.
It's a question of simple math:
When fewer people take a cut out of your profits, you'll earn more money.
How awesome is that?
However, dropshipping is not without its flaws:
Challenges Of Dropshipping For The Newbie Business Owner
Say what you will, but dropshipping is one of the best ways to make money online these days.
Its benefits are countless, and the time you'll spend until you reach the moment to enjoy them will be worth it.
Still, you need to know all about the downside of that business too.
Here are some of the essential disadvantages you should prepare to face:
Less control over the customer experience – Since you're not the one to ship products to the clients, you won't be able to control the shipping process. If there are delays or problems around that shipping, there isn't much you can do to deliver the purchase to its owner on time.
Problems with suppliers – You better take the time to build a solid relationship with your suppliers! Otherwise, you may live to regret it. Choose your suppliers wisely and always pay them on time to avoid any headaches.
Possible issues with inventory – There is no physical inventory with dropshipping, remember? So, if you choose to work with more than one supplier, it may prove difficult to make sure the products you need are available at any given time.
Smaller profit margin – There are a couple of parties involved in that business model, and each of them has to earn some profit. As a result, your own earnings will be less as well.
Dropshipping Suppliers – How To Choose Them?
We can't talk about what is dropshipping and how does it work further unless we take the time to discuss the suppliers.
Make no mistake – the suppliers you'll choose to work with will have a huge impact on your business.
Again, working directly with the manufacturers of the products you want to sell is the best-case scenario, in my opinion.
It's all about cutting the many more middleman as possible!
Basically, what can you do to make sure you'll work only with the best dropshipping suppliers?
I have a couple of ideas:
Contact manufacturers – Ask them about the products you're planning to sell and demand a list of the suppliers they work with. Such a step will always work to your benefit.
Do extensive research – Goole each item you want to sell and take a look at the search results. Once you do that, you'll see a few names of suppliers to consider.
Ask questions – You have a right to know details about charging fees, shipping process, etc. before you make a choice.
Related: Why Salehoo Is The Best Supplier For Your Dropshipping Business
How To Start Dropshipping For Free
First and foremost, is it possible to launch a dropshipping business without paying anything at all?
Well, it turns out that it is!
It depends on which online platform you'll choose for your shop, though.
Unfortunately, some of them will charge you.
But you're not here to talk about them and think about that:
Let's keep our focus on the options that won't affect your bank account, shall we?
Shopify Dropshipping
Quite frankly, I doubt that Shopify is a choice that will come as a surprise to anyone.
At the beginning of this article about what is dropshipping and how does it work, I mentioned that Shopify has free plans.
While the platform has many advantages other than its plans, I think we should zoom in on them:
The goal here is to build a business with as little expenditures as possible, correct?
Well, Shopify will allow you to do that.
You can take advantage of the free trial the platform offers to all its users.
That free trial will last for 14 days.
During that time, you'll have the chance to build your store and get familiar with everything Shopify is making available for its members.
And that is a lot!
Related Read:
What Is Dropshipping And How Does It Work – Frequently Asked Questions
What Exactly Is Dropshipping? – Dropshipping is a business model that will allow you to sell products without creating them. People use it to earn online by selling products without shipping them on their own.
Is Dropshipping Profitable? – Having a successful online store is more than a lucrative online business. Of course, you'll have to work hard to develop it first. Once you do that, you'll be in a position to make thousands of dollars in profit every month.
Who Pays For Shipping In Dropshipping? – Many online shop owners avoid paying that cost themselves. Using Shopify will let you include the shipping cost into the MSRP. That way, the cost will go to the customer and not the shop owner.
Is Dropshipping Illegal? – No, it isn't. It's a legitimate business model thousands of people use to make money online. Be careful when choosing your suppliers to avoid any activity that may be illegal.
Dropshipping For Dummies – How Do You Start? – Visit the official website of Shopify and sign up for the free trial. Build your online store and learn as you go from the enormous educational database of Shopify.
My Closing
I think you know enough about what is dropshipping and how does it work right now.
Again, dropshipping as a business is more than worth the try.
It's suitable for beginners, and there is so much free information online you can use to master it.
Now, is there something you don't understand about dropshipping?
Ask me anything on that topic – I'm here to help at all times!
More Business Ideas From Cash Embrace: