Easy 1 Up Review: Scam Or The Perfect Way To Make Money Now?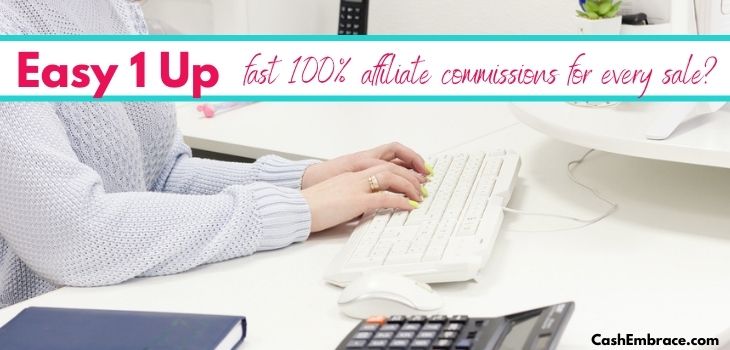 This Easy 1 Up Review will dissect an online training platform that claims to help its students earn tons of money fast.
Allegedly, being a member of Easy One Up is not at all different than having access to your personal ATM.
Such a statement sounds outrageous, to say the least.
However, the team behind the program seems ready to back the sales pitch up with actual proof.
Today, you'll learn if Easy1Up.com is the right place to be if you want to earn a legitimate online income for years to come.
You'll find out everything you should know about the system:
What is Easy 1 Up, and how does it work?
Can you make money with Easy 1 Up?
How much does Easy 1 Up cost?
Is Easy 1 Up legit or a scam?
Disclaimer: I'm not an Easy1Up affiliate. Every fact you'll read in this article comes from research on information available in the public domain.
Easy 1 Up Review – The Basics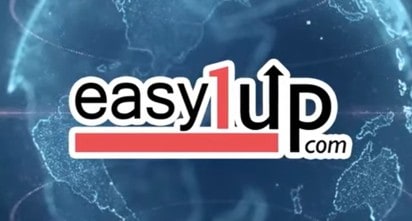 When you type Easy 1 Up Reviews in Google's search bar, Commission Academy Review and Traffic Authority keep coming up as related searches.
I have no idea why that is – there doesn't seem to be any obvious connection between these three search queries.
Anyhow, the first thing I'll say about Easy1Up is that it knows how to sell itself.
The marketing pitch is loud, and clear, and pushes the right buttons to achieve its goal. And that goal is to convince you that Easy1Up will turn you into one of the most successful entrepreneurs in the world.
Who would say no to the opportunity to create an online business that will be your ticket to financial freedom for the rest of your life?
Believe it or not, the claims of Easy 1 Up get even better:
According to the official website (easy1up.com), the platform will do all the telling, explaining, and selling for you.
In other words, Easy1Up presents itself as earning opportunity that will allow you to build a massive source of passive income.
Let's find out if you should put your trust in any of that, shall we?
Is Easy 1 Up Legit?
Before I knock this Easy 1 Up review out of the park, I want to address the program's legitimacy.
Spending time reading about a product that will turn out to be illegal is not an enjoyable experience. I don't want to put you through it.
So, here is the deal with Easy1Up:
Yes, the program is legit. It will provide you with a legitimate opportunity to make money online.
Previously, Easy 1 Up was available for sale on the marketplace of ClickBank. Right now, you can look for it on JVZoo.
Both JVZoo and ClickBank sell products that have a money-back guarantee.
If you purchase Easy1Up and you're not happy with the results it will deliver, you can ask to get your investment back.
As a result, I have no choice but to see the platform as legitimate.
Is that enough to convince you that investing in Easy 1 Up is something you should definitely do?
How about I provide you with more details before you make your mind up?
What Is Easy1Up?

Basically, Easy 1 Up is an online training platform that teaches people how to make money by creating a profitable business from home.
Peter Wonfling is the founder of the company. He launched it in 2016.
Once you become a member, you'll gain access to video lessons that will show you how to earn online.
The training covers the process of selling digital products online to earn commissions. Some of the topics you'll master are email marketing, social media marketing, funnel marketing, blogging, and lead generation.
Now, what makes Easy 1 Up the extraordinary system the sales pitch introduces to the audience?
Well, that would be the fact that you'll be able to sell the training packages as products themselves.
Don't worry if the working process of Easy One Up is still a bit confusing:
Everything will become crystal clear when this Easy 1 Up review continues.
Related Read:
How Does Easy 1 Up Work?
According to its website, Easy1Up is the perfect online business training for beginners. All you need to make it work is a laptop and an internet connection.
However, that's not true:
Upon further investigation, I can confirm that you have to buy at least one of the company's products before Easy1Up allows you to build a business around it.
In other words, you'll need to purchase one of the membership levels to receive the training it contains.
I want to make sure that you understand what I'm saying:
By all means, you can't start promoting the affiliate offers of Easy One Up unless you invest in one of its products first.
And that is a troubling sign:
All legitimate affiliate programs are free to join. Likewise, the fact that this one isn't is a cause for concern.
Recommended Read:
Easy 1 Up Review – Inside The Members' Area
Generally, the training content depends on the membership level you'll decide to get.
With that said, let's look at those membership levels and see what to expect:
Easy1Up Products:
1) Elevation Basic

As you can guess from the name, Elevation Basic is the basic-entry course that will introduce you to the fundamentals of building an online business.
It contains 24 training videos that cover plenty of topics, such as:
Network Marketing Basics
Why Should You Do Network Marketing?
Which Network Marketing Company Should You Join?
Scaling Your Online Network Marketing
Pros And Cons Of Doing Network Marketing
Generating Leads
Creating Your Lead Capture Page
Email Cultivation Series
Affiliate Kickstarter Video Series
Signing Up For An Email Auto-Responder Account
Configuring Your Email Auto-Responder
Offering Bonuses
Techniques For Writing Powerful Reviews
Coming Up Free Your Free Offer
Building An Affiliate Marketing Empire
Choosing Profitable Products To Promote
Another Email Cultivation Series
2) Elevation Elite (e1ulite)
The second membership level is mostly about doing video marketing online using the platforms of YouTube and Udemy.
In my opinion, the YouTube training is slightly better than the one you'll get from similar products like YouTube Secrets, Easy Cash Club, and Profit Injector.
Expect to learn how to generate affiliate sales from your video content.
These are the main topic Elevation Elite will cover:
QR Codes Offline Traffic
Udemy
Forum Signature Marketing
Product Creation
Solo Ads
Live Events Google Hangouts
YouTube Video Marketing
Intro To Social Media (Facebook And Pinterest)
Copywriting Conversion/Increasing Conversion Rate
Lead Generation
Market Research
Home Base Your Website
If you purchase this membership, you'll gain access to the training of Elevation Basic for free.
Other Marketing Tools To Increase Your Sales And Conversion Rate:
3) Vertex
Vertex will teach you how to master the affiliate marketing business model.
Also, you'll see how to sell a product that is not your creation. That's the kind of content that Six Figure Success offers its audience.
There is also a step-by-step guide to launching a product and finding affiliates to promote it.
See for yourself:
Starting A Home-Based Business
Your winning mindset
Business Systems/Passion For Profit
Irresistible Offers ( Part One And Part Two)
Lucrative List Building/Email Relationship Mastery
Traffic Generation Secrets
Affiliate Marketing Survival (Part One, Part Two, And Part Three)
Profitable Relationships/JV Partners
Launching Process
Buying Vertex means you'll automatically receive both Elevation Basic and Elevation Elite.
4) Vertex Elite

Basically, Vertex Elite contains video series that will direct your attention to two business aspects – starting a dropshipping business and traffic generation.
All lessons on blog traffic will show you how to drive thousands of page views to your offers without paying for ads.
Here is a summary of everything you'll learn:
Money Counts Live Business Building Course (Part 1 And Part 2)
Dropshipping Counts
Zero Cost Traffic
50 Non-Stop Traffic Methods
Vertex Elite will open the door to all the previous memberships.  
5) Vertex Pro Connect
To sum up, Vertex Pro deals with plenty of topics.
For example, the videos will show you how to create Facebook Ads for barely any cost, target the right audience, and use Snapchat, Reddit, and other Social Media platforms.
See a breakdown of the teaching material:
WhatsApp Marketing
USFreeAdsTraffic
Video Sales Funnels
Membership Authority/Streaming Profits Authority
Snapchat/Reddit/LinkedIn/Instagram Marketing
Google Hangouts Marketing
Facebook Ads And Remarketing
Coaching/Blog Authority
Recurring Business Models
As you can probably guess, Vertex Pro Connect will give you access to every piece of training from the previous levels.
6) Vertex Live
Finally, my Easy 1 Up review will introduce you to the last membership – Vertex Live.
It might be hard to believe, but Vertex Live provides nearly 20 hours of online marketing training.
Have a look at some of the topics Vertex Live will cover:
How To Build Sales Funnels
Launch Your Product And Use SEO
Turbo Cash Live Series
Content Marketing Blueprint/10K Blueprint
IM Strategies
Internet Marketing And Lifestyle For Business People
Dropshipping 101
Amazon Affiliate Profits
Be A Top Blogger
CPA/Periscope Marketing Excellence
Replay Of Live Events And Post-Events
Choosing Vertex Live will grant you access to all previous Easy1Up levels.
Easy1Up Extras And Bonuses
Actually, Easy 1 Up won't shower you with tons of bonuses.
But you'll receive one extra feature that is quite valuable:
I'm talking about the opportunity to integrate the program with Multiple Income Funnel.
In short, Multiple Income Funnel is a system you can use to promote multiple income streams with one link.
To take advantage of that, add your Easy One Up details and start sending traffic to your link.
Popular Platforms That Offer Marketing Training Online:
How Much Does Easy1Up Cost? (Easy1Up Levels Price Structure)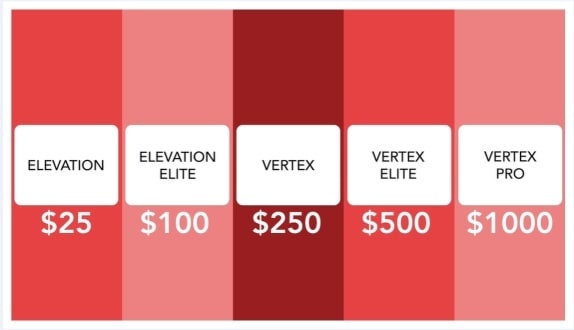 Quite frankly, the screenshot above is self-explanatory.
However, there is something that you can't see in that photo – each membership level comes with an admin fee.
So, here is how much you'll have to pay for each Easy 1 Up package:
| | | |
| --- | --- | --- |
| 1) Elevation | $25 | $5 admin fee |
| 2) Elevation Elite | $100 | $10 admin fee |
| 3) Vertex | $250 | $25 admin fee |
| 4) Vertex Elite | $500 | $50 admin fee |
| 5) Vertex Pro | $1,000 | $100 admin fee |
| 6) Vertex Live | $2,000 | $500 admin fee |
As you can see, most of the Easy1Up products come at a considerable cost.
With that said, there are extra expenditures you'll need to consider, and my Easy 1 Up review has the numbers:
Easy1Up Monthly Cost
By all means, every online business has monthly expenditures. Likewise, the one you'll build through Easy 1 Up will have some too:
domain name – $12-$15 per year (optional)
web hosting service – $15 per month (optional)
email autoresponder – around $20 per month 
Solo Ads – over $100 per month
Paid Ads (on Google, Facebook, or YouTube) – over $100 per month
Right now, you have a rough idea about the expenses you'll have to meet if you decide to join Easy 1 Up.
Will any of them be worth it, though?
Well, it's time for my Easy 1 Up review to begin discussing your potential earnings as a member.
Can You Make Money With Easy1Up?
First and foremost, yes – you can make money with Easy 1 Up.
More importantly, you'll be able to begin earning pretty soon after you use the Easy1Up sign-up page.
Each training package will teach you different ways to build a profitable online business.
Depending on the membership level you'll choose, your monthly income will vary from hundreds to thousands of dollars.
Now, using the training to earn from an online business is not the only way you can make money with the program:
There is another one as well:
How To Make Money With Easy 1 Up
These days, building a lucrative business after going through Easy1Up training is not the most popular way to earn through the platform.
No, the majority of Easy 1 Up members make their money by promoting the system online.
To clarify, I'm talking about the opportunity to become an Easy1Up affiliate.
If you join the Easy 1 Up affiliate program, you'll have to recruit people and sell them a training package in order to receive a commission.
Should You Become An Easy1Up Affiliate?
At this stage of my Easy 1 Up review, you already know that the membership packages of the program are expensive.
Add the monthly cost of running your business, and you're looking at hundreds, even thousands of dollars you'll have to invest in the company.
While developing a profitable business after the training might happen, that will take a long time.
What should you do to start earning from the system immediately?
Unfortunately, there is only one thing to do to see some income fast. And that would be becoming an affiliate of Easy1Up and taking advantage of its compensation plan.
Easy1Up Compensation Plan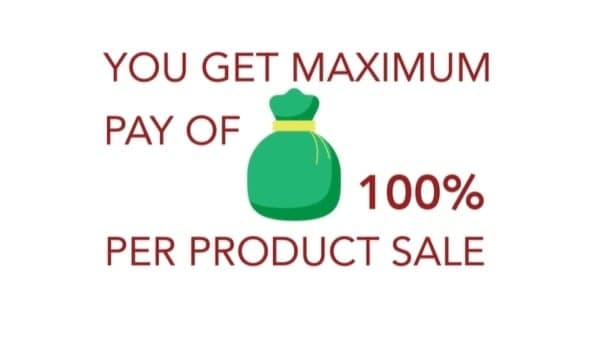 Once you join the Easy 1 Up affiliate program, you'll start selling the training membership levels to other people.
According to the official website, you'll receive a 100% commission for your sales.
However, that's not entirely true – the Easy 1 Up Compensation plan paints a slightly different picture:
You'll receive a 100% commission for your first sale, minus the admin fee. Your second sale will go to your recruiter.
Easy 1 Up calls this system a pass-up sale.
Anyway, every sale after the second one goes to you. On top of that, you'll also get a pass-up sale from all your referrals.
For example, let's say that someone buys the Elevation Basic plan through your affiliate link – you'll earn $25 (a 100% commission on the membership's price).
Keep in mind that you can't sell the Elevation Basic to anyone unless you purchase it yourself first ($25+$5 admin fee).
Even after receiving your 100% commission, you'll still lose the $5 admin fee.
At the same time, if someone buys from you Vertex Live, but you have only the Vertex package, you won't receive $2,000 in commission – you'll only get $250.
Long story short, the compensation plan of Easy 1 Up looks a lot like a pyramid scheme.
Is Easy1Up A Pyramid Scheme?
By all means, Easy 1 Up uses the Multi-Level Marketing (MLM) structure to allow its members to earn money.
That's not a guess – it's a fact.
But MLM and pyramid schemes are not the same things.
With pyramid schemes, you'll be in a business model that recruits members via a promise of payments for referring other people.
A pyramid scheme doesn't sell any products or services – it only sells the idea of making money.
On that note, Easy1Up is not a pyramid scheme since the company offers digital products and services. We can't deny that it operates similarly to one, though.
Furthermore, Easy 1 Up doesn't offer a free trial, and every sale is final – there are no refunds!
I Make Affiliate Sales Like These Every Month.  See How You Can Do The Same!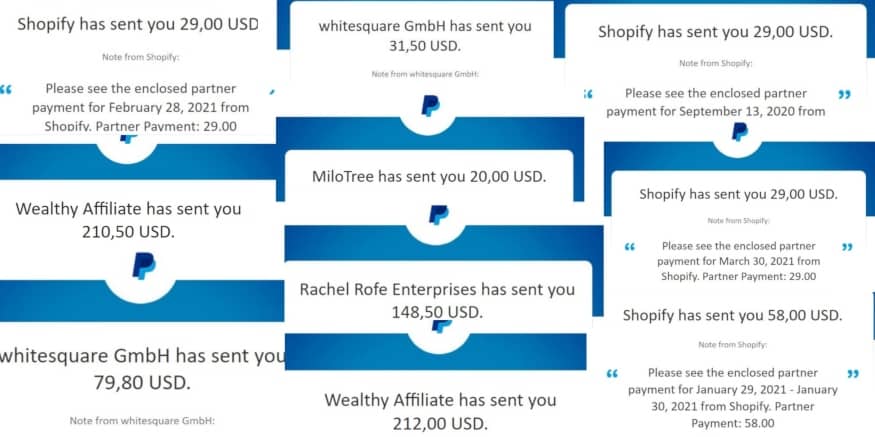 What I Like About Easy 1 Up
Honestly, there isn't much I like about this company.
That is the best I can do to describe its advantages:
The training is not so bad: You'll get plenty of videos that will teach you the foundation of starting an online business.
There is an opportunity to earn huge commissions: Easy 1 Up is a company that will allow you to make thousands of dollars per single sale.
What I Don't Like About Easy 1 Up
As many of you can probably guess, this paragraph of my Easy 1 Up review will be much longer than the previous one.
Have a look at all the facts about the company you should consider red flags:
1) You Can Earn Well Only By Recruiting People
Unfortunately, the only way you'll be able to make lots of money with Easy1Up is by promoting it as an affiliate.
While the Easy1Up affiliate program offers generous commissions, I strongly suggest avoiding it.
After all, you'll have to sell a membership package to someone else to be able to get your investment back.
Knowing the quality of the packages, do you really want to advertise them as invaluable services?
I have to mention that you can't promote the Easy1Up products unless you buy at least one of them:
That's a big no-no in the world of affiliate marketing.
More Earning Systems To Avoid:
2) Easy 1 Up Has A Pyramid Scheme Alike Structure
Again, the company is not technically a pyramid scheme.
Be that as it may, its whole structure resembles a pyramid scheme way too much for us to ignore.
Think about it:
What would you call a business model where you have to pay the person above you before you're able to earn anything for yourself?
3) There Are Hidden Charges
Before you proceed to the Easy1Up sign-up button, take a moment to look around the site.
It won't take long to notice the company's claim that there are no hidden charges.
Unfortunately, that's not true:
Each member of Easy 1 Up has to pay a third-party payment processing fee.
Other Low-Quality Earning Platforms You Should Know About:
4) There Is No Free Trial And No Refunds
Well, I already mentioned the lack of a working refund policy a bit earlier in this Easy 1 Up review.
Still, I want to direct your attention to this troubling sign once again:
No matter what you buy, there has to be a way for you to receive your investment back in case you're not happy with your purchase.
Easy 1 Up, however, will not give you that opportunity. And that's unacceptable, in my opinion.
5) Peter Wolfling Has A Questionable History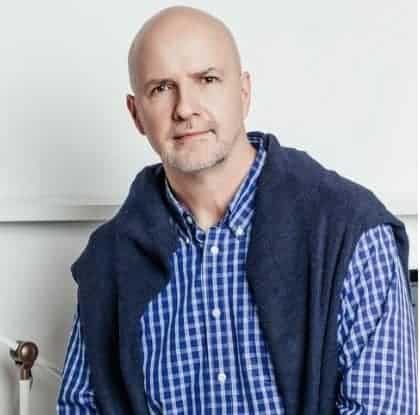 Actually, the owner's history is more shady than questionable.
Peter Wolfling is an internet marketer with over 25 years of experience.
His name pops up in association with companies like Pay Me Forward, Turbo Cycler, National Wealthy Center, and Business Toolbox.
Do you know what all these companies have in common?
Each of them claims to provide instant 100% commissions, just like Easy1Up does.
These days, most of the companies you see above don't even operate any longer.
6) The Training Doesn't Bring Enough Value For Its Worth
Now, let's discuss the training materials of Easy 1 Up for a minute.
One teaches affiliate marketing, another will introduce you to drop shipping, and the rest mainly cover the craft behind internet marketing.
While the video lessons will show you the process of building an online business, they don't deliver enough value to justify the price tag.
Nowadays, there are much better training platforms that will even allow you to start your business education for free.
Wealthy Affiliate comes to mind – feel free to learn more about it:
Is Easy 1 Up A Scam?
No, Easy 1 Up is not a scam.
The company offers products and services, so you'll receive something in exchange for your money.
However, I don't think joining Easy1Up is the best thing you can do if you want to make money online:
Investing that much cash into a pyramid scheme-like company is too big of a risk that will not bring you a satisfying payout.

Popular Scam Systems Online:
How To Make Passive Income
Don't get me wrong – affiliate marketing is a business model that works.
Programs like Easy1Up don't make the best of it, to say the least.
It might be hard to believe, but you're capable of building an affiliate marketing business on your own.
Even if you have no experience, you can learn how to develop a profitable business once you put your mind to it.
I suggest starting your journey by reading my guide to launching a business from home.
That guide contains all the steps you have to take to build an affiliate marketing business venture in no time.
My Closing
Alright, my Easy 1 Up review is at its end.
Avoid this earning platform, and you won't regret it.
Does anyone feel differently about the company?
Let me know in the comments section, and we'll talk further about this topic.
More Ideas From Cash Embrace You Might Like: