Jaaxy Keyword Research Tool Review: Why This Keyword Tool Kicks Ass!
A lot of serious stuff is coming in this Jaaxy Keyword Research Tool Review, that much you should know from the start!
If the very idea of doing keyword research is freaking you out, I get where you're coming from.
Contrary to what too many newbie bloggers believe, the process is anything but simple.
There are always so many factors to consider when hunting for a keyword to target.
And unless you have the best keyword research tool at your disposal, your content may never reach the top spot of the search engines.
Today, we'll be talking about Jaaxy – one of the most popular keyword tools available.
Is Jaaxy as good as marketers make it out to be?
Or maybe it's all hype and no substance?
Stick around and you'll find out!
This post may contain affiliate links, don't fall asleep while reading my disclosure.
The Productive Keyword Research In Today's Online Business World
I have no intention to sugar-coat the truth for you:
Nowadays, the competition online is fierce, savage, and will eat you alive.
When you think about it, that's the way it's supposed to be:
More than 4 billion people are using the Internet all around the globe daily.
Make no mistake, a lot of those people are not just browsing around aimlessly.
No, they purchase products/services, more often than you probably imagine.
Meanwhile, the number of online businesses being created every 24 hours increases progressively as well.
Gone are the days when the ordinary person believed that making money online is a waste of time and an impossible goal to achieve.
In 2020, if you have no tech background or previous experience, you can still learn how to earn on the web with the right training and education.
The question is, should you even bother?
On one hand, billions of active Internet users translates into thousands of lucrative business opportunities. Plus, there must space for everyone under the web sun, right?
However, on another hand, the more the opportunities, the bigger the competition.
What does all that mean for you?
How could you possibly leave a mark when everyone and their grandmother are buying domain names and launching businesses in 2020?
Most importantly, what kind of magical keyword research you'll have to implement so your business would outrank theirs?
Actually, magic has very little to do with it!
How Proper Keyword Research Can Help You Outrank The Competition
Let's face it, if your blog is less than 6 months old, the chance to claim the top spot on Google is slim to none.
And that's just normal:
The search engines don't know you yet.
Likewise, they have no reason to believe that your business is here to stay.
Therefore, you can expect your site to breathe the dust of more established blogs, even if the content they're putting out there is mediocre at best.
In case that's where you're right now, patience is a virtue, people!
But not only – your articles would never crawl to the first page of Google if all you have to show for is a charming personality.
No, you'll need to focus your attention to the best combination where keyword research is being concerned:
High Traffic Keywords That Have a Low Competition.
Quite frankly, this type of keywords (also known as golden nuggets) is nearly impossible to find – the keyword here is nearly!
Because we all know (or at least we like to believe) that nothing is impossible in this world.
With that being said, here is the first good news:
Once you find such a keyword, your blog will finally get decent organic traffic. Needless to say, more free traffic = bigger blog income.
Next, the second good news:
If your choice of a free keyword research tool proves to be a smart one, you'll never be short of winning keywords to target.
And that brings the conversation to our main topic today – Jaaxy and what this tool can do for your business.
Recommended:The Best Way To Start A Profitable Affiliate Marketing Online Business
Jaaxy Keyword Research Tool Review – The Basics
Website:www.jaaxy.com
Product Type: Keyword Research Tool Created To Assist Bloggers With Finding The Best Keywords To Target
Price: Free For Your First 30 Searches, Then Depends On Your Chosen Plan
Cash Embrace Says:
The Best Keyword Tool Any Marketer Can Ask For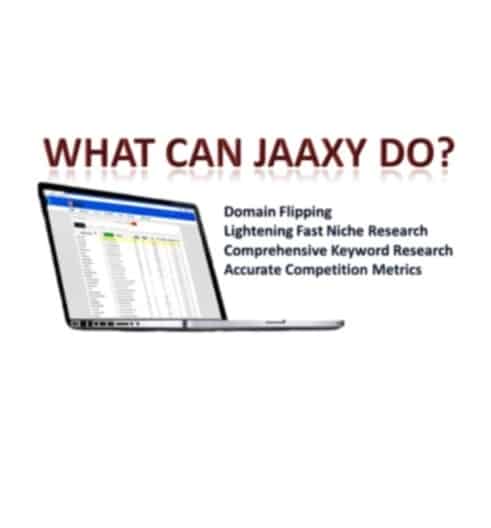 Basically, Jaaxy is a keyword research tool that was designed with a single goal in mind:
To reduce the time and work volume that normally go into finding profitable keywords to the absolute minimum.
Maybe you're on the verge of starting a blog and you're about to write your first blog post ever.
Or maybe you have an impressive body of content already being published.
Whatever the case, Jaaxy exists to make sure that you'll have access to all of the necessary keyword data in a simple click.
What Is Jaaxy?
As you already know, this is a keyword tool you can use to help you decide on a keyword to write about.
But this definition is way too simplified to reflect fully what Jaaxy is all about!
Above all, Jaaxy differs in quite a big manner from most of the keyword tools you may be familiar with.
For instance, let's take the Google Keyword Planner.
Great tool by all counts, but there is some room for improvement in my opinion.
Because the GKP doesn't bother with displaying for you the competition score or with letting you know how easy/difficult it's to rank for a particular keyword.
And if a keyword tool doesn't do that, it's not really that helpful, is it?
Thankfully, Jaaxy will provide you with all of the data the Google Keyword Planner is not able to.
What Are The Tool's Features?
First thing first, Jaaxy collects search data from the biggest search engines – Google, Bing, and Yahoo.
Then, it displays all of that data in a way even complete beginners will understand.
I'll explain in detail how that happens with a practical example a bit later in this Jaaxy keyword research tool review.
Right now, let's have a look at some of the features Jaaxy has and what they can do for you:
Show you which previously untapped blog niches are getting lots of traffic
Invite you to brainstorm niche and keywords ideas
Protect your current keywords ideas by saving them in lists – and those lists are organized by topic
Help you buy new domain names so you would be able to flip them for a profit later
Discover for you the most profitable affiliate programs in your niche
Stop you from going into a niche that won't really be able to make you a full-time income online
Overall, there are a lot of extra features, closely related to your keyword research process.
The conversation about them starts right this second!
How Does Jaaxy Work?
OK, it's time for my Jaaxy keyword research tool review to show you how to use the tool before you start writing your content.
Thinking, thinking… How about we use "yoga for beginners" as an example?
Considering yoga is one of the most profitable blog niches, I believe that many of you will benefit from the following exercise.
So, here is what happens when I run our chosen keyword on Jaaxy:
​
Here is what all that data means:
AVG – the average number of searches the keyword has per month. To clarify, the AVG shows the total search traffic on Google, Bing, and Yahoo combined. You should always be looking for a keyword with a search volume of at least 50. "Yoga for beginners" has 5,287 searches/month which is awesome!
Traffic – the amount of traffic your blog post will get if you rank on page 1 for the keyword. In our case, that's nearly 900 visits – not bad!
QSR – the number of websites you'll have to compete with to rank for that keyword. That's the most important feature of Jaaxy that not too many other keyword tools provide! Now you can see that "yoga for beginners" has too much competition and it will be very difficult to rank for it.
KQI – a keyword quality indicator. Long story short, the difference in the color makes it very easy for you to choose a keyword. Just go for the green!
SEO – score based on traffic and competition. Needless to say, the higher the score, the most likely is for you to rank well.
By all means, let's look at the big picture with "yoga for beginners":
It doesn't take a genius to realize that this keyword is not the smartest choice.
Instead, I would go for "yoga for beginners DVD" or "yoga for beginners video".
According to Jaaxy, you'll have a much better chance to rank for them.
But what it none of these keywords will work for the article you're preparing?
Well, that's where Jaaxy's other features are coming in!
As you can see on the screenshot above, right beside the main section, there is a related/brainstorm column.
You can pick a related keyword that suits your needs better and run it through Jaaxy again.
In addition, you can also take advantage of Jaaxy's extra features:
Alphabet Soup – this feature of the tool is focused on using Google to give you a hand. It's all about playing with Google Instant to come up with long-tail keywords.
Search History – with Jaaxy, you don't have to remember every single keyword you're thinking to write about. The tool keeps all of your previous searches in a safe place – your search history.
Site Rank – with a single click you'll be able to see how your articles are performing and on what position they are currently ranking.
Search Analysis – or how to spy on the sites that are ranking on page 1 of Google for the keywords you're interested in. Find out how long their articles are, how many backlinks they have, etc.
Jaaxy Keyword Research Tool Review – Pros And Cons Of The Product
Pros:
User-Friendly – Jaaxy is incredibly simple to use. All of the data is easy to digest and it's presented in a beginner-friendly manner.
Super-Fast – the tool takes second to display all the info you're searching for. There is no need to lose time that would be better spent on a different aspect of your business.
More Than Accurate – Jaaxy will present to you the most up-to-date search data, collected from the 3 biggest search engines in the world.
The Go-To Place To Find Keywords With High Traffic And Low Competition – the most important fact from my Jaaxy keyword research tool review. This ability of the tool is priceless!
Compatible – works on both PC and Mac
Mobile-Friendly – you know what that means, right?
No Download – no software installation either!
Support Provided – all of the updates are done in the background and you can ask the support team anything.
Free Trial – you don't have to pay anything upfront – run your first 30 searches completely For Free!
Cons:
You Can't Choose Whether You're Targeting Global Or Local Searches – sometimes and for some businesses that matter.
There Is No Option To Change The Language – Jaaxy is available in English only.
Not Completely For Free – after the free trial is over, you'll have to pay to keep using the tool. Unless you become a member of Wealthy Affiliate – then it's free of charge.
How Much Does Jaaxy Cost?
Alright, let's talk about the price, shall we?
At the time of writing this Jaaxy keyword research tool review, there are 3 membership options available.
Free Plan – $0
Pro Plan – $49/Month
Enterprise Plan – $99/Month
​
In my opinion, the free plan will allow you to test the waters, see for yourself how Jaaxy is working and what the tool can do.
If you're actively working on your blog and you're gaining some serious experience as a marketer, the Pro Plan will be the perfect choice for you.
Finally, if you already blog for a living and you want to take advantage of everything Jaaxy can offer, then you should go for the Enterprise Plan.
Again, you can have free access to Jaaxy when you create a free account on Wealthy Affiliate.
Who Will Have The Best Use Of This Keyword Research Tool?
Well, this is going to be a long list!
Generally, the tool will be of great benefit to a lot of people who are trying to make money online.
Such as bloggers, affiliate marketers, freelance writers, domain/site flippers, YouTube marketers, local businesses, SEO companies…
The list can go on and on!
Above all, doing proper keyword research with the best keyword tool available is one of the fundamentals of on-page SEO.
Therefore, anyone who is interested to drive tons of free traffic from the search engines should look into Jaaxy and give it a try.
With that being said, let's talk for a quick minute about a Jaaxy alternative.
You already know that Google Keyword Planner doesn't show the blogs you'll have to compete with.
But what about Jaaxy Vs. SEMrush for example?
SEMrush also offers a free trial, but it's only 7 days long. And through that trial, the keyword data you'll receive is limited.
Once the free trial is over, you'll have to pay $99,95/M for the Pro Plan, $199,95/M for the Guru Plan, $399,95/M for the Business Plan.
That's a lot of money to be spent on a keyword tool alone, don't you think?
I have no doubt that you can do the math yourself and realize that Jaaxy is way cheaper!
Who Is The Owner Of Jaaxy?
Actually, it's two of them – Kyle and Carson, the founders of Wealthy Affiliate.
They spent a long time developing the tool and the results speak for themselves.
Given the fact that the whole Wealthy Affiliate Community uses the tool for free, there is 24/7 professional tech support provided.
On top of that, Jaaxy goes through updates regularly to keep its high standards intact.
Need Help With Starting an Online Business? Read My Free Guide To Give You a Hand!
My Closing
Hopefully, my Jaaxy keyword research tool review has delivered info that will be of great use to you.
Make no mistake, doing keyword research the right way with an excellent tool is an important part of your job as a marketer.
Therefore, you should always aim for the best tools to make that job easier!
Do you have any questions about Jaaxy?
Is there something you didn't really understand about the tool?
Let me know in the comments section and I'll explain everything!