Six Figure Mentors Review: Scam Or A Bad-Ass Affiliate Course?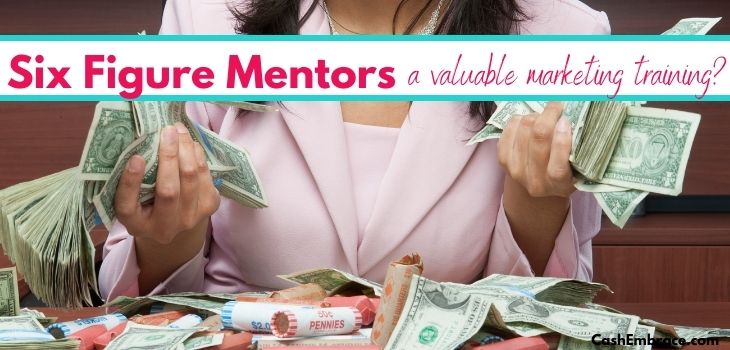 This Six Figure Mentors review is long overdue.
Even though the search engines are overcrowded with tons of content about 6 Figure Mentors, most of it is a total waste of a webspace, in my opinion.
Where is such a statement coming from?
Well, it's due to an in-depth knowledge of the facts:
Currently, the majority of the Six Figure Mentors reviews are creative works of the platform's affiliates.
Considering the Six Figure Mentors affiliate program offers thousands of dollars per sale, I wouldn't trust those affiliates if I were you.
Strangely enough, taking the claims of the program's affiliates at face value is the least of your problems if you're seriously thinking about becoming a member.
Don't do that before you read everything I have to say on today's topic:
What is Six Figure Mentors, and how does it work?
Can you make money with Six Figure Mentors?
How much does joining the Six Figure Mentors cost?
Should you join the Six Figure Mentors affiliate program?
6 Figure Mentors scam – or maybe it's legit?
Disclaimer: You'll not find the Six Figure Mentors affiliate login in this post – I'm not an affiliate of the system. Everything you'll read today comes from hours of research on facts available in the public domain.
6 Figure Mentors Review – The Basics
Before I give this article a real go, a few clarifications are in order.
Firstly, the official website of the product we'll be discussing today is sixfigurementors.com.
Secondly, some people confuse SFM with BAM University (Bad Ass Marketers).
I have no idea why that is, but these two are separate programs.
With that said, if you're looking for a Bad Ass Marketers review, you'll have to find it elsewhere.
Now that the coast is clear, let's proceed with the review:
Quite frankly, it's not that difficult to understand why thousands of people are willing to give SFM the time of the day.
Nowadays, many wannabe marketers are fast-moving in its direction, unable to resist what seems like a magnetic pull.
Well, I see the attraction as well:
After all, Six Figure Mentors presents itself as a professional online training platform you can use to build a profitable digital business and design a life you'll love.
But how much of that is actually true?
Is Six Figure Mentors Legit?
Do you know what happens once you start researching this program?
Typing relevant keywords in Google's search bar will deliver results such as Stuart Ross online business, Stuart Ross scam, and Six Figure Mentors pyramid scheme.
Let's forget about Stuart Ross (one of the creators) for a minute and focus on the rest:
So, is Six Figure Mentors a legitimate system?
Unfortunately, there isn't just one simple answer to that question.
Whether you'll see SFM as legitimate or now, your perception of the platform will depend on the way you think of Multi-Level Marketing.
Meaning, if the only way you see MLM is as a scam, that's the way you'll look at the SFM too.
However, MLM and pyramid scheme is not the same thing:
The first one is legal, and the second one is not.
On top of that, Six Figure Mentors doesn't describe itself as a Multi-Level Marketing company. That doesn't mean its structure is not similar, though.
To avoid confusing you early on, I'll address this matter again further in this review.
What Is The Six Figure Mentors?
Basically, SFM is an online training platform anyone can join to learn how to build a profitable business online.
Launched in 2010, the program has made quite a name for itself:
Many see it as somewhat of a controversial teaching system – and they have a point. More about that a bit later in this Six Figure Mentors review.
For now, let's take a look at the fundamentals:
Firstly, the training is suitable for complete beginners. In other words, if you have no idea how to start making money online, SFM should be your top choice of a guiding light.
Secondly, the platform provides easy-to-follow training and step-by-step lessons. It looks like you won't have to try too hard to make the training work. Especially considering SFM will reveal to you the creator's formula for success.
Finally, SFM advertises itself as an all-in-one package. Once you choose a Six Figure Mentors membership, you'll gain access to top-notch marketing education, tools, resources, and support.
OK, what do we have so far?
Well, it seems like SFM is the best place to learn the ins and outs of affiliate marketing.
Related Read:
Inside Six Figure Mentors
As you can guess, this is the moment to step inside the members' area and show you the platform's features.
Have a look at what is waiting for you once you decide to become a member of Six Figure Mentors:
1) Step-By-Step Training
To sum up, SFM exists to help two types of individuals:
Business owners who want to bring their current source of income to an entirely new level
People who want to create an online business from scratch
Apparently, SFM possesses the know-how to assist marketers from both categories.
The easy-to-follow video modules will push all the necessary buttons to help you be on top of your game.
2) Exclusive Private Community
Currently, a Six Figure Mentors membership will guarantee you access to a 24/7 live chat.
Any question you may have will receive an answer in a matter of minutes.
Also, there is a private chat you can use to create a discussion on any business topic you wish to master.
Generally speaking, this exclusive private community is here to let you know that you're not alone and there is help nearby every time you need it.
3) Personal System Consultant
Nowadays, SFM allows its members to take advantage of one-on-one professional guidance.
Yes, the system's consultants will help you resolve every issue in every aspect of your digital marketing business.
Quite frankly, such assistance will eliminate the possibility of getting too overwhelmed by the number of training materials.
And that is crucial when you're a beginner, and you don't know what you're doing yet.
4) Dedicated System Support Team
This dedicated system support team deals specifically with the tech side of running your business.
Make no mistake – professional tech support is something you'll need quite a lot in the early days of launching a business. Especially if being tech-savvy is not how you'll describe yourself.
Feel free to ask for tech assistance via live chat, phone support, or knowledge base.
5) Weekly Training Webinars
Many digital marketing experts are willing to share their knowledge in the weekly webinars.
During these webinars, you'll have the opportunity to improve your marketing skills and learn new strategies you can easily apply to your business.
As soon as you become a member of the platform, you'll gain access to the weekly webinars from the get-go.
Related: Huge Affiliate Marketing Mistakes You Should Avoid
6) Live Events
In short, the idea behind the live events is for you to learn the secrets behind the success of the leaders of the SFM community.
It seems like these leaders won't be holding anything back:
On the contrary, you'll have your fair share of all support and motivation you may need as an aspiring marketer.
With that said, let's continue this Six Figure Mentors review, shall we?
Who Are Jay Kubassek And Stuart Ross?
Jay Kubassek and Stuart Ross are the creators of the Six Figure Mentors.
Don't bother googling stuff like Stuart Ross review, Stuart Ross webinar, Stuart Ross affiliate marketing, or even Stuart Ross online business:
I have all the juicy details about the owners right here!
What can I say about these two?
While they are both prominent internet marketers these days, their background is a bit concerning.
Starting with YourNetBiz – the program Stuart Ross was heavily promoting back in 2009.
There are two things you should know about this program – it doesn't operate anymore, and many people saw it as a pyramid scheme at its finest.
Surprisingly enough, the structure of YourNetBiz is way too similar to 6 Figure Mentors.
And do I have something to say about Jay Kubassek? You bet I do:
Up until 2009, he was putting all of his efforts into selling the products of Liberty League International company.
At the time, LLI was considered one of the biggest MLM companies. Furthermore, the company was having so many troubles with the law that it had to be closed!
Does all this mean joining SFM will get you in legal trouble as well?
Not necessarily, but it wouldn't hurt to keep the history of the creators in mind before you decide to join SFM!
Six Figure Mentors Review – How Does The Training Work?
Most of the time, you have to sign up and pay a fee to gain access to an online course.
However, that's not how things will go down once you decide to join SFM.
Here, you'll face a slightly different process.
Allow me to tell you all about it:
1) Gain Access To The Free Six Figure Mentors Membership
These days, the team behind the platform is marketing it in a variety of ways.
The most popular ones are sending emails to potential leads and using YouTube ads.
Quite frankly, it doesn't matter how you'll hear about Six Figure Mentors for the first time.
As soon as you do, you'll have a chance to begin the course by signing up for the free membership first.
Now, the creators like to call the first stage of the marketing cycle of their product a free membership.
However, that free portion of the course is nothing other than a few emails.
These emails will simply introduce you to the platform of Six Figure Mentors.
Stuart and Jay will welcome you by demonstrating their marketing skills. Also, they'll give you more than enough reasons to become a member of SFM.
If you want to go further with the training, your next step has to be purchasing the first level of membership.
2) Investing In A Membership
Currently, the platform offers three different levels of membership. I'll tell you all about them a bit further in the Six Figure Mentors review.
For now, let's focus on the first level since that's the one you'll have to buy if you want to continue with the course after its free portion is over.
After you pay for the first membership of SFM, you'll get your own private coach to help you navigate the platform.
While that person is assisting you, you'll hear over and over again why you should invest in the next level.
Yes, your private coach will also act as a recruiter trying to persuade you to upgrade your membership.
And the thought will be hard to resist, considering the first level of the course is pretty basic.
Sure, it will introduce you to the world of affiliate marketing. You might even learn what affiliate programs to promote and how to increase your affiliate sales.
But that's about it.
To make the best of the training, you'll have no choice but to keep paying more:
3) Upgrading Your Six Figure Mentors Membership
Let me give it to you straight:
Upgrading your membership is unavoidable if you want to gain access to everything the platform has to offer.
Investing in the course further is the only way to receive the advanced training materials, tools, and resources.
To clarify, you won't lose access to the program if you decide to keep the first level of the membership without upgrading it.
However, that level won't teach you nearly enough to be able to build a successful business online.
No matter how you want to look at it, constantly upgrading your membership is your only chance to get everything out of the training.
Six Figure Mentors Price And Discount Info
Right now, Six Figure Mentors offers three membership options:
I know the screenshot doesn't tell you that much, so I should do that instead.
Have a look at the cost of the three levels of membership:
Student Access – $29,90
Essential Membership – $297 fee + $97/month
Elite Membership – $2,500 + $97/monthly
With that said, there are a few other things you'll have to pay along the way. Here is how it goes:
Student Access Membership
Well, you already know that's the first level of training you'll need to invest in.
As soon as you begin the free training, you'll receive an offer to join the Essential Membership for $100 off.
Again, the Student Membership is just a basic introduction to earning online with affiliate marketing.
Essential Membership
Say what you will, but there is no point in being a member of SFM unless you pay for the Essential Membership.
After all, that's the level that will grant you access to the necessary training, tools, resources, webinars, and the Private Facebook Group.
Pay attention to its cost, though:
Aside from the initial fee, that membership will cost you a recurring fee of $97 per month as well.
Elite Membership
Alright, let's see what the most expensive membership has in the store for you, shall we?
Paying $2,500 + $97 monthly recurring fee will open all doors for you. Meaning, it will give you the chance to use everything Six Figure Mentors has to offer.
From the exclusive webinars to the top-notch training of some of the most successful marketers in the world, you can have it all as an Elite Member.
But it will cost you quite a lot.
As a matter of fact, the Elite Membership will ask you to pay much more than the $2,500 initial fee and the $97 monthly recurring fee.
What does it mean?
Well, it means upgrading to Elite Membership comes with joining Digital Marketing Experts as well.
Digital Marketing Experts is another course Jay and Stuart own. It offers four levels of membership:
Silver – $2,500
Gold – $8,000
Platinum – $11,000
Black – $20,000
Do you see what I see here? If you don't, just do the math, and you'll understand how much the Elite Membership of SFM will really cost you!
How Can You Make Money With Six Figure Mentors?
Unfortunately, there aren't many ways to earn with this platform – the reasons will become obvious later.
Still, some members manage to make money through Six Figure Mentors.
And they do that by following a simple blueprint:
Join the Six Figure Mentor affiliate program
Promote the training via Facebook Ads
Convert leads into members
Earn commission every time referrals upgrade their membership
Long story short, the most popular way to earn with Six Figure Mentors is by joining its affiliate program.
The Six Figure Mentors Affiliate Program
First and foremost, you should know that the course's affiliate program is one of the most lucrative ones nowadays.
If you become a Six Figure Mentors affiliate, you'll be able to make thousands of dollars per single sale.
For instance, if you recruit a person who upgrades to the Essential Membership, you'll earn $200 upfront and $20 for each month that person keeps paying the membership fees.
Next, if you recruit a person who upgrades to the Elite Membership, you'll make $250 upfront and another $250 for each year that person stays an Elite Member.
And if you manage to recruit another Elite Member, you'll earn $1,000 upfront and another $1,000 for each year that person stays an Elite Member.
What I Like About Six Figure Mentors
The course teaches affiliate marketing – and that business model provides a legitimate way to make money online.
There is a money-back guarantee – you can receive your investment back if you ask for it during the first 30 days after joining the first two membership levels.
What I Don't Like Six Figure Mentors
By all means, this is going to be the longest part of my Six Figure Mentors review.
While the course may seem promising at first, I don't think you should take it.
Have a look at all the reasons why:
1) The Platform Has A Multi-Level Marketing Structure
As I've already mentioned, doing Multi-Level Marketing is not illegal.
Be that as it may, relying on this business model to earn online is not such a good idea.
Even if you pay for all levels of memberships inside SFM, you'll still come to the same conclusion:
Basically, the platform will mostly teach you how to promote its affiliate program rather than making money through promoting anything else.
Affiliate marketers are supposed to be free to choose the affiliate programs they wish to offer to their readers.
However, the only way for the members of SFM to earn a significant amount of money is by recruiting new people into the program.
Unfortunately, applying the training of SFM won't allow you to build a profitable online business – unless you agree to promote the platform itself.
Moving on this Six Figure Mentors review further:
2) There Are Hidden Costs
In all fairness, SFM doesn't hide the fact that members need a start-up budget to make the program work.
Alright, but nobody from the team behind the course will bother to tell you how big that budget must be.
Sure, you'll have no choice but to realize how much you'll need to pay once you start upgrading your membership.
However, you'll be unpleasantly surprised once you find out about the extra costs that will come along once you join Six Figure Mentors.
For example, you'll have to spend thousands of dollars on Facebook Ads alone.
Maybe you can avoid that?
Considering promoting the course is the only way to earn lots of cash, I don't think you'll be able to!
3) The Upsells Are Too Agresive
I understand why the creators of the course like to call themselves affiliate marketing mentors.
But many people see them as way too aggressive with pushing their own agenda.
If you take the time to browse around the Six Figure Mentors reviews online, you'll most likely notice a disturbing fact:
Previous members of the platform are vocal about the constant push to upgrade their memberships.
Even more, most of them will tell you that the only way to earn a good amount of money through SFM is by investing in the Elite Membership.
Meaning, you'll have to spend around $20,000 just to be able to make some of that money back.
Will somebody argue with the fact that the upgrades are way too expensive?
I Earn Such Affiliate Commissions Every Month. See How To Do The Same!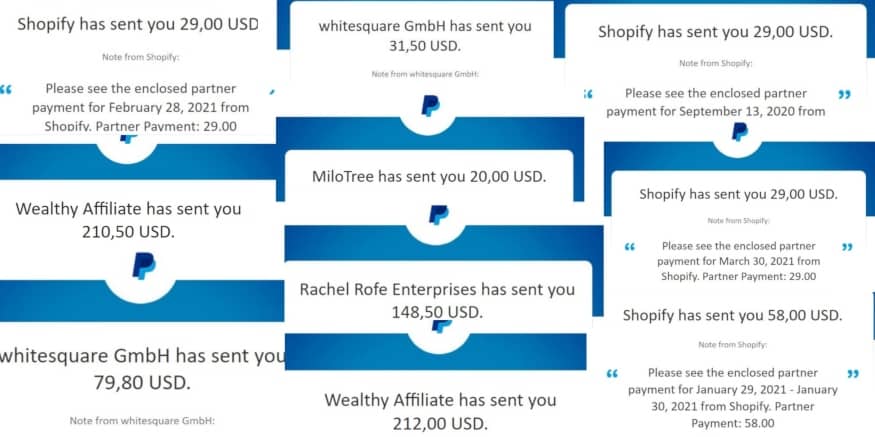 Who Should Join Six Figure Mentors?
Quite frankly, I don't think anyone should become a member of this platform.
After reading this Six Figure Mentors review so far, you already know why you should stay away.
In my opinion, investing so much into a course that will mostly teach you how to sell it to other people will be a waste of your time and money.
Especially considering there are so many better ways to start earning online:
A Better Way To Make Money Online
Here is an idea:
Why don't you launch an online business on your own?
You don't need Six Figure Mentors to show you how to do that.
No, you can learn how to build a profitable business from home for free:
These days, there is so much information available online, like free business tutorials on YouTube and Google.
Or you can skip the research time and get everything you need from this Free Guide.
It will walk you through the steps you need to take to launch a business and show you exactly what you need to do.
Is Six Figure Mentors A Scam?
Actually, Six Figure Mentors is not a scam.
There is a money-back guarantee, so I can't call Six Figure Mentors a pyramid scheme or something in the like.
Still, I would strongly encourage you to think of it as one.
The course is too expensive, and the value it provides is just not worth it.

Right now, there are better business training platforms that will allow you to start learning affiliate marketing for free.
How about you use them instead of making the owners of SFM richer than they already are?
Scam Systems To Avoid:
My Closing
That's all I have for you today – my Six Figure Mentors review is coming to an end.
Again, don't bother investing in the course – you'll be better off without it.
Maybe you don't feel the same?
Let me know in the comments section, and we'll discuss the platform further.
More Ideas From Cash Embrace You May Like: