How To Make Money On Shopify: Gain Easy Profits Dropshipping
What's up, future business owners? Ready to expand your horizons? If you're, you couldn't possibly pick a better timing. Today, I'll introduce you to the magic of dropshipping. More specifically, we'll talk about how to make money on Shopify.
In other words, prepare yourself. Because at the end of this article you'll be one step away from having your own kick-ass online store!
This post may contain affiliate links. See my disclosure here.
What Is Dropshipping?
First and foremost, before you get to see how to make money on Shopify, I believe that we'll need to go back to the beginning. Meaning, let's look at what exactly dropshipping is for those of you who are complete beginners.
By definition, dropshipping is a supply chain management method in which the retailer doesn't keep goods in stock. Instead, he transfers the customer orders to the manufacturer, another retailer, or a wholesaler who will ship the goods directly to the customer.
Sounds confusing and intimidating? Well, the by-book definition kind of is!
However, in reality, doing dropshipping is as easy as it can get.
For instance, let's say that I have my eyes on certain items from Bonanza. So, I'll display those items on my own site and I'll be selling them for a higher price.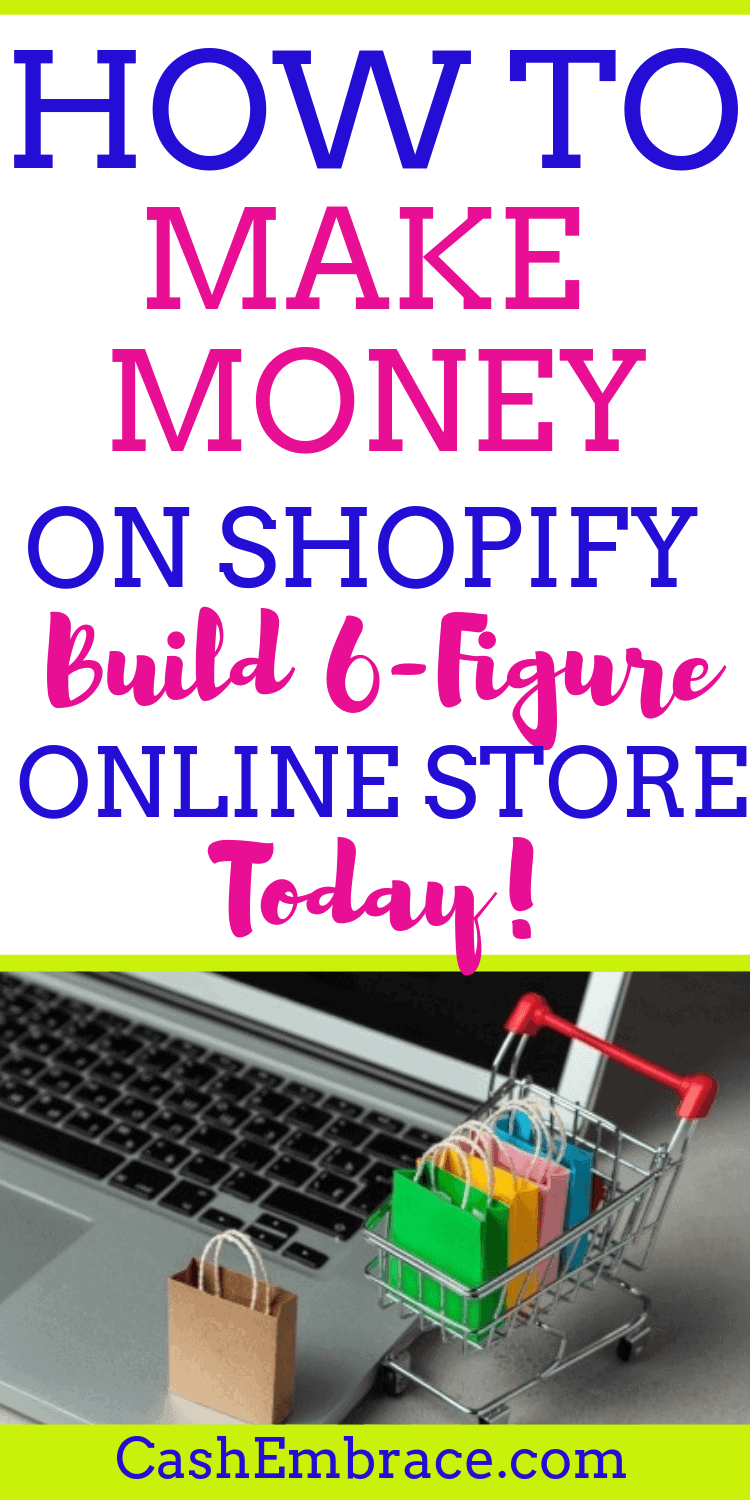 As soon as a customer purchases any of them from me, I'll buy the item from Bonanza and send it to that customer. Subsequently, the difference between the item's original price and my selling price is my new delicious profit.
And that's what dropshipping is in its core!
See My Top Recommended Way To Make Money Online
Is The Dropshipping Even Profitable?
Honestly, you have no idea how much earning potential the e-commerce sector has. Chances are, you'll have a hard time to wrap your mind around the actual numbers!
Way back in 2014, retail e-commerce worldwide produced $1.3 Trillion in sales. In 2018, that number was already replaced by a much bigger one – $2.8 trillion!
If you want to know what the future of e-commerce will look like, then you should know that the numbers expected in 2021 are $4.9 trillion.
By all means, it's safe to say that if you're interested in dropshipping, your financial future looks brighter than ever!
That being said, let's see what kind of role Shopify will play in all that, shall we?
What Is Shopify?
Now, considering that Shopify is the best option for your dropshipping business in my opinion, how about we start from the very beginning?
In short, Shopify is an e-commerce platform that will allow you to build your own online shop. Likewise, in this online shop, you'll be able to sell anything you can think of (products and/or services).
To clarify, you can use this platform from any place in the world. As long as you have a good internet connection, your online store is just a click away!
Long story short, here are the benefits of choosing Shopify for your dropshipping business:
Your website and online store will be fully customizable
More than 100 available templates (themes) to get you started quickly
Easy to use website builder – no coding or any kind of experience required
Tons of features – SEO, email integration, inventory features, secure checkout systems, abandoned checkout recovery…
Flexible payments – your customers will be able to use all of the major credit cards
Safe and fast shipping to almost everywhere in the world
Back up and hosting options
Customer support, available 24/7
Honestly, I can go on explaining why Shopify is a MUST for your dropshipping business all day long.
For the full info about it, just click to read my Shopify Review.
How Much Does Shopify Cost?
Above all, Shopify offers 14 days free trial. Meaning, you'll be allowed to try out this platform for free for 2 whole weeks and make your decision whether it's the right fit for you or not.
While using the free trial, you'll have access to all of the features that are available for premium users only. So, you'll grab a taste of everything that Shopify has to offer.
If you decide to continue with Shopify once your trial is over, the next step is to choose your paid plan:
Basic Plan – $29/month
Shopify Plan – $79/month
Advanced Plan – $299/month
Start Your Free Trial On Shopify Today​​​​​
How To Make Money On Shopify – Building Your Dropshipping Business From Scratch
So far, you've decided to give Shopify a chance to prove itself, right?
OK then, what happens next?
Well, now you're on the verge of starting your brand new dropshipping business. And you'll build that business brick by brick.
To be more accurate, your virtual bricks are actually the steps that you'll need to take.
Quite frankly, those steps are not that many.
But to assure the future success of your business, you better don't skip on any of them!
1) Decide What Your Shopify Store Will Be About
In other words, what kind of products you'll be selling in your online store.
Make no mistake, this is probably the most important decision you'll have to take as a dropshipper. Even more, it's best if you've made your mind up before signing up for Shopify.
This way, you won't lose any days from your free trial!
However, what you should do if you really want to own an online store but you have no idea what to sell?
Then, devote a good amount of your time on in-depth marketing research.
For instance, check what kind of online stores are the most successful and turning the biggest profits. Subsequently, what products they're selling. Plus, which is their target audience, etc.
Personally, I believe that you should do your research even if you're well aware of what you would like to sell.
The more prepared you're about what to expect, the better!
By all means, there're tons of awesome products just waiting to be sold.
So, if you're still finding it hard to decide, there's help on the way:
Working together with Oberlo, Shopify has created a manual that will assist you in making your choice.
What You Need To Keep In Mind When Choosing Products To Sell
Believe it or not, Shopify's manual is not the only thing that can help you when deciding on your products.
That being said, I might just be able to give you a few important points to consider as well!
Evaluate The Size Of Your Potential Market
Actually, it's kind of a no-brainer that the market you're going to target is not supposed to be too small. On the contrary, make sure that your field will have high keywords searches.
Therefore, your products have to be able to reach an enormous customer base. And to do that, the best course of action is to go after products that are considered evergreen.
If your chosen market is more than profitable (and it better be!), you won't be the only one targeting it. Meaning, the better the market, the more competition you'll have.
But don't despair, there are certain ways to leave the rest of the marketers behind you. Shopify has a whole chapter devoted to helping you accomplish that.
Make Sure Your Products Are Not That Available In Your Local Area
For example, if the product you'll be trying to sell is something people can buy from the nearby shop, don't expect tons of sells.
Still, if your heart is set on exactly this type of products, you'll have to try harder. Your products will need to offer more than what the local shops do.
Have a Clear Vision On What Your Costs Will Be
Here, the most important thing to keep in mind is your shipping costs.
So, if you don't want your potential customers to abandon items already in their shopping carts, you should choose products which shipping don't cost a lot.
2) Find The Best Products To Sell
Now, considering that our topic today is how to make money on Shopify, allow me to give you the main answer ready:
By all means, you're not going to. Not unless you roll up your sleeves and find winning products to sell on your store.
Easier said than done, isn't? Actually, it's not as hard as you may think!
Let's say that you would like to sell a coconut oil (an excellent choice, no kidding!).
Firstly, find out who is your biggest competition, a.k.a the most popular online stores selling coconut oil.
Subsequently, explore them as if you are a regular customer:
What makes those online stores successful? Why are they so popular among its target audience? And what's their approach about marketing the coconut oil?
Secondly, discover the coconut oil on Social Media.
Meaning, who is doing an impressive job promoting this product on Social Media? By all means, which campaigns wrapped around coconut oil draw the most attention (comments, likes, and shares).
In addition, have a look at the trending products to sell in 2019.
Generally, it won't hurt to know what is expected to sell the most this year. Plus, it will certainly help you in answering the question about how to make money on Shopify!
3) Buy Your Products
Finally, your store is ready to welcome your awesome products!
At this point, there is only one question that remains – from where to buy them?
These are the most popular dropshipping suppliers to choose from:
AliExpress – the number 1 choice of users worldwide, offers millions of products in more than 40 niche categories, and it's free to sign up
SaleHoo – not a bad choice, but works with suppliers that are mainly serving the USA, UK, and Australia. Also, not free to sign up ($67/year), but it offers 60-days money back guarantee
Wholesale2B – with this system you can choose from 1 million products which you can sell on Amazon, eBay, Shopify, and a custom website. Personally, not my favorite one considering it's a bit expensive to use
Dropship Direct – jump on it if you're interested to sell products in the sport, electronics, and health and beauty niche – the sign up is free
Sunrise Wholesale – your best bet if your store will focus on home decor, fitness, garden decorations, or jewelry
MegaGoods – give it a shot if you'll sell kitchen stuff, television products, clocks, or cameras
Basically, you can't go wrong when working with any of the above options.
And here is the place to mention one more big player that is worth the look – eBay.
However, keep in mind that eBay won't be obligated with your clients in any manner. Likewise, you'll be the one to make sure that your items are delivered safely and on time.
Start Your Free Trial On Shopify Here
How To Drive Traffic To Your Shopify Store
Currently, most of the hard work is already done – you've chosen your ideal products and your shop is all set up and ready for business.
Make no mistake, marketing your store is not easier than everything you had to do so far.
On the contrary – get ready to break a sweat or ten in order to find out first hand how to make money on Shopify!
That being said, here are some options that will help your online shop to reach a wide audience:
1) SEO
Above all, getting tons of organic traffic from the biggest search engines is always the best way to advance any business.
Even more, Shopify will give you a hand in that department.
As I already said, the platform comes with strong SEO features like meta tags and keywords selection.
Related: How To Do Keywords Research The Smart Way
After all, it makes sense that Shopify is interested in all of its users to rank high on Google and Bing.
But that doesn't change the fact that SEO takes a lot of time to work. Likewise, you won't see any decent rankings instantly.
Moving on to alternative ways to market your store – Social Media.
2) Facebook Ads
To be honest, no one can't deny that there are certain aspects of Facebook that can greatly benefit your business.
For instance, this platform has the data of all its users. Meaning, Facebook knows your age, gender, geographical location, interest, etc. thanks to the info you provided when you signed up.
​
Before you commit to your first ad though, you'll need to have a business page on Facebook.
Once you're done with it, the best thing you can do is to use Facebook Pixel.
In case this is the first time you're hearing about it, Facebook Pixel is an advanced tool that will allow you to track the users you're targeting.
Therefore, you'll be able to adjust your marketing strategy accordingly to your audience's behavior.
3) Pinterest
Personally, I think that Pinterest is awesome no matter what kind of website you're trying to drive traffic to.
Moreover, it will allow you to start gathering attention to your offers pretty much from the start.
So, don't waste any valuable time, get your store's products on this platform as soon as possible.
Considering Pinterest is a visual platform, high-quality photos of the products you're selling can advance your business a lot.
And you should definitely take full advantage of that.
4) Instagram
Again, one more Social Network that is big on visuals!
On top of that, tons of drippshipers swear by the statement that using Instagram Shoutouts is not only cheaper but more efficient than Facebook ads as well.
Now, here is a strategy you can try out in order to market your shop successfully:
Firstly, stalk, stalk, and then stalk some more! Meaning, find an influencer who is having huge success on Instagram.
To clarify, huge success here equals a person who has at least 50K followers and his/her content is enjoying plenty of interactions (like, share, and comments).
Secondly, make sure that those followers are real – you may want to spend some time checking their profiles.
Lastly, contact that influencer and lay out your preposition – marketing your product through their account.
Then, run the shoutouts for some time and decide if it will benefit your business to pay for that ad.
In addition, such a promotion on Instagram will cost you between $10-$70 depending on different factors.
Tips And Tricks About How To Make Money On Shopify
So far, you're already familiar with the process of building a successful dropshipping business.
Still, there is always more that I can do to help you develop a profitable online store.
As a result, here are some extra tips I believe will be useful to you while you're exploring how to make money on Shopify:
1) Don't Hesitate To Use Dropshipping Apps
Above all, you'll be more than busy with laying the foundation of your online business.
Therefore, why shouldn't you receive all the help that you can get?
Obviously, the best thing to do about that is taking advantage of the dropshipping ads.
For example, Conversio, Spin a Sale, and Hurrify Countdown Timer are awesome – they won't disappoint you!
2) Oberlo Is a Must-Have!
Basically, this article on how to make money on Shopify will never be complete without mentioning Oberlo.
Oberlo is an app that will allow you to import dropshipped products directly into your store and then ship them to your clients. Plus, you'll be able to do that with just a couple of clicks!
Think about it, it will save you tons of time, it's super simple to use, and it has a free plan.
3) Pay Extra Attention When Choosing Your Products
Quite frankly, it's a common knowledge that people are visual creatures. But what that has to do with the success of your dropshipping business?
Actually, it has everything to do with it. Because if your products are not that appealing to the audience, you won't make that many sales.
Like it or not, that's the ugly truth about the e-commerce business – your online book will be judged by its covers!
On that note, here are a few tricks to use so your online store will shine brighter than anyone else's:
a) Offer products that hard to find – your profits will be guaranteed if you sell products that people are having a hard time to find elsewhere
b) Focus on your product's benefits, not just its features – that's the oldest trick from every copywriting book. Likewise, use it to come up with irresistible product's descriptions
c) Don't forget that you're building a business – as such, you have to treat your store like one.
Is a Shopify Store The Best Choice For Your Online Business?
In other words, we'll have a look at the pros and cons of doing dropshipping with Shopify.
The Pros
1) The most trusted and popular platform to build an online shop so far
2) It's strictly focused on dropshipping which proves to be more than a profitable way to do a legit online business
3) When building a store on Shopify, rest assured that this shop is pretty customizable
4) Tons of useful features – which you already know, so I won't repeat them again here
5) Accepts all of the major credit cards
6) Easily connected with all of the biggest wholesalers
7) 24/7 customer support
8) Offers a free plan, so you can test the waters before you decide to commit to it
9) Even the paid plans are affordable – the basic plan only costs $29/month
The Cons
1) If you use too many dropshipping apps, it may get expensive considering some of them have monthly fees
2) Transferring your online store won't be an easy task because the themes only work for the Shopify platform
As you can see, Shopify is not a perfect platform.
Be that as it may, it's advantages are still way more than the disadvantages!
My Closing
Hopefully, all your questions regarding how to make money on Shopify found their answers.
By all means, building a profitable online store is not an easy task.
However, that doesn't mean that doing dropshipping on Shopify is not worth your time and efforts.
Any thoughts on this topic?
Feel free to share anything that's on your mind in the comments section below.