How To Make Money On Shopify: 15 Ways That Work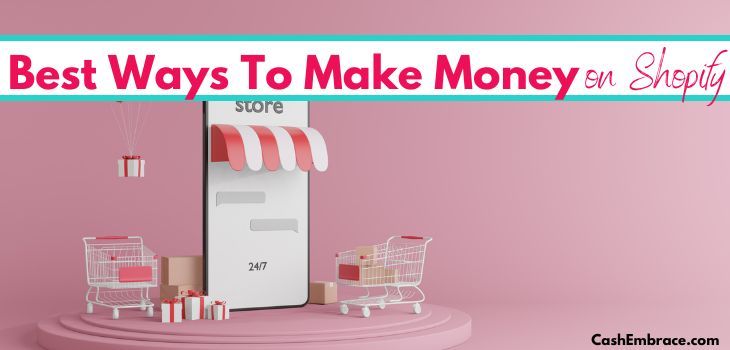 Considering 1.8 million businesses use Shopify, learning how to make money on Shopify seems like a great idea.
After all, Shopify is one of the largest e-commerce platforms with a popularity that keeps climbing daily (and even hourly).
That has a lot to do with the fact that shopping online is the new normal for billions of people worldwide.
As a result, owning an online store will put you in the advantageous position of earning enormous online revenue.
All that sounds great, but is making money on Shopify relatively easy?
Well, it is easy if you take the time to learn how to do it efficiently.
It doesn't matter if you already own a small business or you're looking to build one on Shopify:
There are proven ways to utilize the power of Shopify and become a successful seller online. And I'll cover them in detail today.
This post contains affiliate links – see my affiliate disclaimer.
Recommended Read:
What Is Shopify?
Assuming that some of you might be unfamiliar with Shopify, I want to explain what Shopify is for a quick second:
To sum up, Shopify is one of the most popular e-commerce platforms in the world.
Shopify is incredibly easy to use for both sellers and consumers.
More importantly, the platform allows merchants to sell products (or services) through an interface that works with all major web hosting providers.
Nowadays, setting up and launching a Shopify store is a straightforward process that takes minutes to complete.
Adding products and tracking inventory won't cause any headaches either.
You can learn everything there is to know about Shopify here.
Now, let me cover real quick the Shopify pricing and its available plans.
Shopify Plans And Pricing
Starter Shopify Plan ($5 per month): Going with the Shopify Starter Plan is the best option if you want to test the platform – using it will let you sell products on Social Media and through email.
Basic Shopify ($29 per month): Think of the Basic Shopify Plan as an option for anyone who needs more than what the Starter Plan provides.
Standard Shopify ($79 per month): The Standard Shopify Plan brings everything the Basic Shopify Plan does, plus stuff accounts, performance reports, and a POS terminal.
Advanced Shopify ($299 per month): This plan is the perfect solution for large businesses that require plenty of support and every Shopify feature available.
How To Make Money On Shopify
In short, there are plenty of ways to make money on Shopify.
Some of them deal with selling homemade crafts, while others are about offering professional services.
Here are the best ways to earn on Shopify:
1) Start An e-Commerce Store
By all means, launching an e-commerce store is, without a doubt, the top way to make money with Shopify.
As you already know, the platform is easy to use and beginner-friendly:
Even first-time shop owners can quickly add items, track orders, and allow customers to checkout fast.
Believe it or not, you can sell anything on Shopify, such as crafts you make, services you provide, or items you resell.
I recommend starting a blog that will allow you to drive tons of organic traffic to your Shopify store.
Assuming that you'll go with the Shopify Basic plan, owning an e-commerce store will cost you only $29 per month.
Of course, you don't have to pay anything yet – take advantage of the free trial and launch your Shopify business with no start-up cost.
2) Start A Dropshipping Business
Unless you're living under a rock, you already know how popular the dropshipping business model is these days.
Dropshipping is a retail business that allows people to sell products without keeping them in stock.
Instead of purchasing and storing inventory, you'll outsource the shipping and fulfillment of orders.
Developing a dropshipping business is an excellent decision – owning such a business is more than a convenient way to sell merchandise online.
Betting on the dropshipping business model won't put you in a position where you'll have to worry about finding warehouse space or unsold stock inventory.
Setting up a dropshipping business via Shopify is simple:
Once you create a Shopify account, you can easily set up a product catalog and decide on product prices.
Related Read:
3) Launch Your Own Clothing Brand
Are you, by any chance, an aspiring fashion designer?
Chances are, some of you are dreaming of becoming a force to be reckoned with in the fashion world.
Why not test your abilities by starting a clothing line through Shopify?
It doesn't matter if you'll create every single piece of clothing yourself or if someone else will help you with building your fashion empire:
In both cases, Shopify will make the start of your clothing brand an easy process.
This business idea will work if you design something other than clothing, such as accessories.
Another way to make money to monetize your fashion talent is to place your designs on print-on-demand products.
Nowadays, Shopify has partnerships with Printful, Printify, and other major print-on-demand companies.
By connecting a Printful account to your Shopify store, you can place your designs on different items, and Printful will print and ship the products on your behalf when orders come in.
4) Sell Print-On-Demand Products
Speaking of print-on-demand, let's see how to make money on Shopify if you don't want to create original clothing or other fashion items:
Well, you can focus on creating only the designs, and you'll still manage to turn such a business into a profitable online venture.
One of the best things about developing a print-on-demand business is that you won't have to cover any costs for inventory.
With that said, Shopify will provide you with everything you need to slay your print-on-demand business:
Many Shopify Apps will help you boost your sales and bring them to an entirely new level.
Basically, you can sell many products via the print-on-demand business model, such as T-shirts, mugs, pillows, towels, books, art prints, stickers, etc.
5) Sell Digital Products And Downloads
Another obvious answer to the question of how to make money on Shopify is by selling digital products and downloads.
Any type of digital product you can think of can become an item for sale in a Shopify store.
For example, you can start offering digital products such as e-books, PDFs, apps, stock photography downloads, games, etc.
By all means, Shopify will provide you with everything you might need to make more than a decent income from selling digital products:
As you already know, the platform offers easy integration with third-party tools and apps.
Plus, Shopify comes with built-in SEO tools that will help you drive more traffic to your digital product listings.
6) Sell Your Services
More often than not, most people assume that Shopify is a suitable platform for selling only physical or digital products.
But that's not true:
If you're a freelancer offering specific services, you can list these services in your own Shopify store.
This idea will work if you're a freelance writer, graphic designer, illustrator, or web/app developer.
Such a business (drop servicing) is easy to set up:
List your services as products, disable shipping, and you're good to go!
7) Create And Sell Online Courses
Quite frankly, one might argue that an online course should belong to the category of a digital product.
While I won't disagree with such a statement, I'm giving the online course creation a separate paragraph for a reason:
Creating and selling an online course is one of the best ways to build a passive income stream (and begin making money while you sleep).
Chances are, there is at least one area where you have enough expertise to develop an online course.
Here is how to make money on Shopify by creating and selling an online course:
First, upload your course or tutorial to your blog as a restricted page.
And then start selling the membership to the readers who want to access your content on Shopify.
8) Start An Affiliate Marketing Business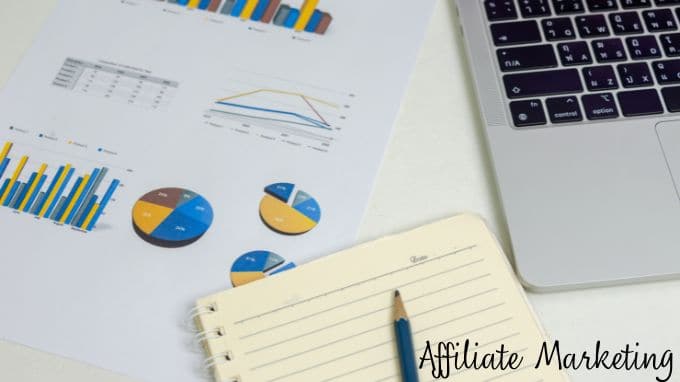 Basically, there are two popular ways to make money on Shopify while using the affiliate marketing business model:
Create An Affiliate Marketing Program
Sell Affiliate Products
Whether you'll go with option one or option two is up to you.
With that said, don't underestimate the power of affiliate marketing, especially if you combine it with the possibilities Shopify provides:
Nowadays, affiliate marketing is probably the most popular way to make money online – millions of people are earning an income as affiliate marketers.
If you want to do affiliate marketing but have no knowledge or experience with the business model, I recommend signing up for this free training.
How To Make Money On Shopify By Becoming A Shopify Affiliate
In addition to doing affiliate marketing as a whole, you can also become an affiliate of Shopify itself.
Have a look at how to become a Shopify affiliate and make money by promoting the Shopify Affiliate Program:
Join The Shopify Affiliate Program
Get your Shopify affiliate link
Start promoting Shopify to your audience
Earn a commission when a person buys a Shopify plan through your affiliate link
9) Monetize Social Media
How many of you have a large, loyal following on Social Media?
Assuming that at least some of you do, how do you feel about monetizing your influence on Social Media?
Believe it or not, monetizing a Social Media account is an incredible option to consider while researching how to make money on Shopify.
Think of monetizing your Social Media presence as working with an affiliate program:
It's all about transforming your Social Media following into an income stream.
The Shopify Lite Plan is an excellent option since it will allow you to use Call-To-Action buttons (Buy Now) on Facebook or Instagram posts.
10) Build And Flip Shopify Stores
I'll push this article about how to make money on Shopify to a brand new level by talking about building and flipping Shopify stores for profit.
First and foremost, developing a Shopify shop you intend to flip later is a lot of hard work – you should know that from the start.
But if you don't mind doing it, you can make tons of money by flipping already-developed Shopify stores:
Flipping established Shopify shops can earn you up to six figures in income!
On that note, you might want to think about creating Shopify apps as well:
Helping Shopify merchants build their own apps may become a formidable source of income.
How To Make Money On Shopify: (Extra Ways)
Set Up A Local Online Grocery Store: If you already own a grocery shop, you should find more customers online by setting up a Shopify store. Take advantage of SEO, target profitable local keywords, and watch your sales go through the roof!
Monetize Your Shopify Expertise: Once you know Shopify inside and out, you can earn money by assisting merchants with building and developing their businesses. Learn how to make money on Shopify by becoming a Shopify Partner here.
Develop A Niche Product To Market: You can always develop a unique niche product that aims at a specific audience and market it via Shopify.
Sell Art Prints Or Original Paintings: These days, Shopify provides an excellent way to sell art through your own website or blog.
Offer Merch To Your Fans: Are you a popular figure on YouTube or a musician who has their own fans? Generally, If you have a fandom, consider selling merch through Shopify so your fans can buy it.
How To Make Money Dropshipping On Shopify – Step-By-Step Guide
So far, you have plenty of ways to make money on Shopify to consider.
Still, I would like to direct your attention to the most popular of these ways – earning money from dropshipping on Shopify.
Here is an in-depth explanation that will teach you how to do that:
1) Decide What Your Shopify Store Will Be About
Deciding what products to sell in your future Shopify store is an important step.
To make sure that you won't mess that decision up, I suggest doing a lot of marketing research.
Check what kind of online stores are the most successful and turning the biggest profits.  Pay attention to the products they're selling.  
Working together with Oberlo, Shopify has created a manual that will assist you in making your choice.
What You Need To Keep In Mind When Choosing Products To Sell
Evaluate The Size Of Your Potential Market: Actually, it's a no-brainer that the market you're going to target is not supposed to be too small.  On the contrary, make sure that your field will have high keyword volume searches.
Stalk Your Competition: If your chosen market is more than profitable (and it better be), you won't be the only one targeting it.  But don't despair – Shopify has a whole chapter that will help you beat your competition.
Sell Products That Are Not Available In Your Local Area: When the product you'll be trying to sell is something people can buy from the nearby shop, you won't make tons of sales.
Have a Clear Vision of Your Costs: Take the time to calculate your shipping costs.
2) Find The Best Products To Sell
Now, considering the topic today is how to make money on Shopify, allow me to give you the main answer ready:
You're not going to make a lot of money on Shopify unless you roll up your sleeves and find winning products to sell in your store.
For instance, let's say you would like to sell coconut oil (an excellent choice, by the way).
Firstly, find out who is your biggest competition (the most popular online stores selling coconut oil).
Secondly, explore these stores as if you are a regular customer:
What makes them successful?  Why are they so popular among their target audience?  And what's their approach to marketing coconut oil?
Lastly, discover coconut oil on Social Media:
Who is doing an impressive job promoting this product on Social Media? Which coconut oil ad campaigns draw the most attention?
3) Buy Your Products
Finally, your store is ready to welcome your products!
At this point, only one question needs an answer – from where to buy them?
These are the most popular dropshipping suppliers to choose from:
AliExpress
Wholesale2B  
Dropship Direct
Sunrise Wholesale
MegaGoods
Basically, you can't go wrong when working with any of these dropshipping suppliers.
4) Drive Traffic To Your Shopify Store
Here are some traffic sources that will help your online shop reach a wide audience:
SEO: Shopify has strong SEO features, such as meta tags and keyword selection.
Facebook Ads: You'll need to create a Facebook Business Page for your Shopify store and learn a lot about using Facebook Pixel.
Pinterest: Spare a minute to read these Pinterest tips for business creators.
Instagram: Many Shopify store owners rely on Instagram because they know the platform works well for that type of business.
Tips And Tricks About How To Make Money On Shopify
It goes without saying that launching an online store is not enough to start making money on Shopify.
Here are a couple of tips and ideas that will help you increase the earnings of your Shopify shop:
1) Use The Best Shopify Apps
Starting an online business from scratch is a lot of work:
You'll have plenty to do with your Shopify store to keep you busy.
So, why shouldn't you get a bit of help?
I'm talking about the best Shopify Apps available to business owners.
Do your research and decide what Shopify Apps will best serve your business.
2) Upload Clear And High-Quality Product Images
When you have a Shopify store that offers products to sell, their images matter a lot:
By all means, your product images have to be clear and professional, and they should make your products even more desirable than they already are.
Also, take some extra time to work on your product descriptions:
Write them in a way that will establish a strong connection with your target customers.
Don't forget to add colors and sizes, so the clients will know what they are getting when they order your products.
3) Offer Great Customer Service
Basically, a successful Shopify business is a business that manages to attract a large pool of repeat customers.
And how do you keep shoppers coming back?
Well, providing an outstanding shopping experience and great customer service is one of the ways to achieve that.
Provide your shop visitors with an easy way to reach you when they have questions about the products you sell.
In addition, leave your contact information on your site or store so people will have a way to connect with you.
Is a Shopify Store The Best Choice For Your Online Business?
Long story short, let's look at the pros and cons of dropshipping with Shopify.
The Pros
1) The most trusted and popular platform to build an online shop
2) Shopify focuses on drop shipping, and that is more than a profitable way to do a legit online business
3) When building a store on Shopify, rest assured that this shop is pretty customizable 
4) Tons of useful features
5) Accepts all of the major credit cards
6) Easily connects with all of the biggest wholesalers 
7) 24/7 customer support
8) Offers a free plan, so you can test the waters before you decide to commit to it
9) Even the paid plans are affordable – the basic plan only costs $29per month
The Cons
1) If you use too many dropshipping apps, it may get expensive, considering some of them have monthly fees
2) Transferring your online store won't be an easy task because the themes only work for the Shopify platform
As you can see, Shopify is not a perfect platform.
Be that as it may, its advantages are still way more than the disadvantages.
How To Make Money On Shopify – Frequently Asked Questions
Can You Make Money On Shopify?
Nowadays, there are many ways to make money on Shopify.
For example, you can sell products/services, offer online courses, build a dropshipping business, and launch a clothing brand.
How Much Does The Average Shopify Store Make Per Month?
According to statistics, the average Shopify store makes around $2,000 per month.
Of course, the amount of your Shopify earnings will depend on many factors, such as your niche, the products you sell, how hard you work, etc.
Is It Hard To Make Money On Shopify?
Starting a Shopify store means that you'll be building an online business.
Turning a new online business into a profitable venture requires time, effort, and commitment.
How To Make Money On Shopify With No Money?
The best way to make money on Shopify with no money is to start doing dropshipping with Shopify.
Take advantage of the free trial and launch your Shopify dropshipping business for free.
My Closing
Hopefully, all your questions regarding how to make money on Shopify have their answers now.
By all means, building a profitable online store is not an easy task.
However, that doesn't mean that starting a Shopify business is not worth your time and effort.
Do you have any thoughts on this topic?  
Feel free to share anything that's on your mind in the comments section below.