How To Start A Dropshipping Business With No Money (4 Simple Steps)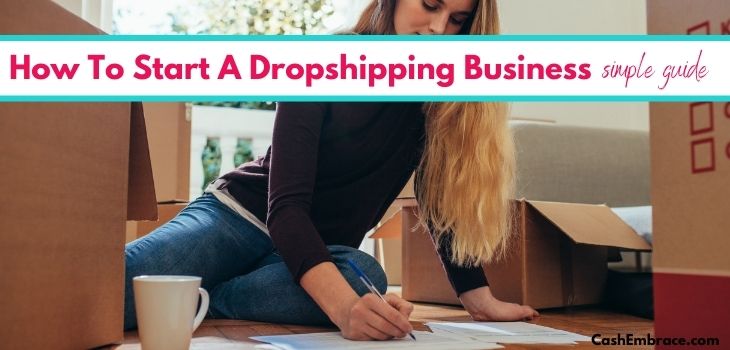 If researching how to start a dropshipping business is not on your mind, then you haven't been paying attention to what's going on.
By the end of 2020, the eCommerce industry in the USA alone reached nearly $850 billion in sales.
That's more than 40% growth in the dropshipping field compared to 2019.
Numbers don't lie and the ones I've just provided you with are mind-blowing to say at least, aren't they?
Maybe you've been thinking about building an online store and the only thing that's holding you back is the start-up costs?
Well, if that's the case, you can sigh with relief:
Today, I'll show you how to start dropshipping even if you have no money to invest.
You'll see how to build a profitable dropshipping business without spending much further down the road.
We'll talk about the best dropshipping business opportunities, dropshipping wholesalers, and so much more.
This post may contain affiliate links, take a second to read my affiliate disclosure.
What Is Dropshipping? – The Dropshipping Business Model Explained
Chances are, you're already familiar with this business and you don't need one more dropshipping definition.
Since this article is specifically designed for complete beginners, though, I'll give one just in case:
Basically, dropshipping is a business model that will allow you to run your own online store without doing a lot of heavy lifting.
Meaning, the most difficult and time-consuming tasks associated with dropshipping are something you'll never have to deal with.
For instance, storing, packaging, or shipping your products is not any of your concerns.
Handling any inventory is not either.
Simply said, dropshipping is a type of eCommerce business that is all about selling products without keeping stock.
How Does The Dropshipping Business Model Work?
Again, this is a dropshipping for dummies sort of article, so I'll keep it as simple as possible:
There are 3 parties involved each time a dropshipping activity takes place – a manufacturer, a retailer, and a customer.
Manufacturer – if you've ever heard about terms like AliExpress USA or AliExpress dropshipping, then you already know what I'm talking about. A manufacturer takes care of the inventory, creates, and ships products to customers on your behalf. Other responsibilities a manufacturer has include restocking products and replacing defective ones.
Retailer (that would be you) – you'll have to find, choose, and sell a manufacturer's products on your online store. Some of your responsibilities will be marketing those products, setting shipping costs, and prices in order to make a profit.
Customer – your customers will be buying products they find in your store. Once an order has been placed, the manufacturer will take care of everything related to that order, including shipping the product to its destination.
Here is the place to mention that a manufacturer won't charge you any fees for displaying their products in your store.
Why You Should Start A Dropshipping Business?
Truth be told, there are plenty of reasons why dropshipping should be your number 1 choice of a business to build.
The fact that is quite lucrative is just one of them.
Earlier, I've mentioned the numbers, so I won't speak about the profits you'll be able to earn.
Instead, let's look at what else makes launching a dropshipping business such a smart decision.
Firstly, there are barely any start-up costs involved. Moreover, I'll show you how to build your online store today by paying absolutely nothing in a minute.
Secondly, you don't need to do most of the work yourself. As I've already said, you don't have to create products, ship them, or deal with the inventory. No, most of your energy will go into marketing your chosen products and building your own brand.
Ultimately, there is a zero risk involved.
I mean, I can't be talking about how to start a dropshipping business without saying the most essential fact:
What matters the most is that you don't risk anything at all.
You'll be working with products that customers have already paid for, so what exactly could you possibly lose?
Can You Make Money Dropshipping?
OK, I know that we've already discussed the money potential of the dropshipping business.
However, the numbers you saw at the beginning of this post were scored by brands that have made a name for themselves in the dropshipping industry.
But what about you?
Will you be able to start making a decent income from your online store considering you're a newbie with no experience right now?
While I couldn't possibly predict how many sales you'll welcome once you begin, I can tell you this:
Yes, you can make money dropshipping – even if this is your very first try.
You see, this business model will allow you to work with products that have an enormous potential to bring in profits.
As a result, you'll be more motivated than ever to do your best to market and sell them.
Showing products that are proven to sell well will push the odds in your favor.
At the end of the day, how successful your store will become and how much money you'll earn depends on you.
The model works, but you'll have to put in the effort too.
Is Dropshipping Worth It?
Before I move on to show you how to start a dropshipping business, let's talk for a quick minute about how worthy is this business.
In short, the dropshipping is more than worth it – but only if you jump in the field with the clear understanding that you'll be building a business.
What does this even mean?
It's pretty simple, actually:
Unless you work your butt off, spend a lot of time developing your store, and stay consistent, you shouldn't get into it.
Just like any other type of online business, seeing satisfying results will not happen in a day or two.
No, you'll have to try as hard as possible – and then try even harder.
One of the biggest reasons why many people give up on their stores is that they underestimate how crucial consistency is.
Hopefully, you won't be one of them!
How To Start Dropshipping Business – Dropshipping Business Plan For Winners
A lot of work needs to be done before this article comes to its end.
Considering the general introduction to the topic is over, let's get into the specifics of each step you'll need to take.
Starting with:
1) Research, Evaluate, And Choose Your Dropshipping Business Idea
Every exciting new journey starts with an equally exciting idea.
With that said, exciting is just one of the traits your idea needs to have where building a 6-figure dropshipping business is being concerned.
So, how are you supposed to decide? There are hundreds, maybe even thousands dropshipping business ideas that are attractive, to say at least.
Well, the first thing you'll need to do at this point is lots and lots of research.
While the dropshipping idea you have in mind may seem like the best thing ever, you may not be.
The most common advice you'll find online is to simply choose a niche you're passionate about and go from there.
Personally, I disagree with that advice to a certain extent.
Being passionate about the products you're planning to sell is important, but it's just half of the equation.
Is there a huge enough market for those products and how well they will sell?
Yes, that's the other half – and the one you should care about more.
Because it will be easier to be passionate about your business if the products you're showing sell like hotcakes compared to if they don't.
By all means, the best-case scenario here is to find an idea that combines passion with profitability.
How To Make Sure That Your Business Idea Is Worth The Try? – The Evaluation Process
As I've already said, doing proper research is crucial at this early stage.
After all, my goal today is not only to show you how to start a dropshipping business, but how to build a profitable one as well.
With that said, here is everything I need you to do:
Use A Keyword Research Tool – you can spend some time on Ubersuggest, but I don't really recommend this option. While I have great respect for Neil Patel, I found that his tool is not that accurate. Instead, what I personally trust is a keyword tool called Jaaxy. It has a free trial, so you use your free searches wisely. Find out what's the search volume for your chosen keyword, how much competition you'll have, etc. Learn more about how to do keyword research when you have a second.
Research Already Successful Stores/sites In Your Niche – let's say that you have decided on a niche. Great, now have a look at what the biggest players in that niche are doing. How does their shop look like? What are their best-selling products? Do they have a section devoted to their trending products? I'm sure you're getting the idea.
Visit Google Trends – this step is just to help you find out if your niche is doing better or worse currently. Keep in mind, though – a trend is not a whole dropshipping idea on its own, but a part of it.
For instance, specific nail polish may be a trend within the beauty niche at this moment, but it shouldn't be a niche on its own.
The smartest business decision here is to have trends as products you're selling, but not as your whole store.
2) Research And Analyze Your Competition
Up until now, you must have decided about what products you're going to sell.
Hold on, though – no selling will take place at this moment – not just yet.
Instead, you'll need to find out who you'll be up against.
No article about how to start a dropshipping business will ever be complete unless there is a serious talk about competition analysis.
Just think about it, how you'll be able to come up with a winning strategy unless you know who your competitors are, what they sell, and how they go about selling it?
There are a couple of ways to gain information about your competition:
Research The Products You'll Be Selling On Google – I would suggest starting with one. Type the name of the product and have a good look at the results. Study them carefully, especially the ones that are showing on the first page. This will give you a clear idea about which brands are already quite successful with selling the products you're planning to sell.
Spend Some Time On Social Media – both Pinterest and Instagram are favored by brands that are selling psychical products. Take notes on all the important metrics. For instance, how many followers a company has, what board names this company is using (for Pinterest), how engaged its audience is (comments on Instagram), etc.
Find Out What Type Of Content Performs Best For Your Competitors – BuzzSumo will allow you to do that. Researching a competitor of yours with this tool will show you what work of theirs is getting the most shares on Social Media.
Sign Up To Their Email Lists – this is a really smart move that will give you an inside look into the way your competitors are doing their email marketing campaigns. How often do they introduce a product to their email subscribers? What marketing strategies are they implementing while doing so? Do I even have to mention how useful knowing those facts will be to you?
3) Research Dropshipping Suppliers
OK, the next step to take in the dropshipping process is choosing the best supplier possible.
Chances are, you may have heard a couple of names over the years.
Such as:
Wholesale Central
Dropship Direct
Doba
To name a few!
By all means, you shouldn't rush this step. It's really important to take your time and learn as much as possible about the different dropshipping suppliers.
When you narrow your list down to a few names, you'll have to do a bit more than just reading about them.
Contact each one of them and don't hesitate to ask any question you may have.
After all, you're currently learning how to start a dropshipping business so no amount of research is too much research.
Some of the questions you should definitely be asking have to be about shipping times and minimum/maximum order quantities.
4) Build Your Dropshipping Business Store
Finally, we've arrived at the most exciting part – building your first dropshipping store.
Remember at the beginning of this article when I mentioned that you'll learn how to start dropshipping for free?
It's time for me to deliver on this promise!
Before I do that, a quick clarification is in order:
One of the most popular options to develop a profitable dropshipping business is purchasing products from a supplier and selling them through Amazon FBA.
In other words, moving your business in the direction of Amazon dropshipping.
We're not going to do that today.
While this business model has its advantages, it also requires a huge start-up investment on your part.
Again, I'm here to show you how to start a dropshipping business with literally no money.
So, if anyone is interested in learning how to start dropshipping on Amazon, sorry – you're not going to learn that here!
Instead, I'll walk you through the process of building a kick-ass online store with Shopify.
Let's get started with Shopify dropshipping, shall we?
How To Build A Shopify Store – Step-By-Step Guide
Decide On A Domain Name – you're not buying it yet, you're just thinking about it.
Keep in mind, the name you're going to choose will become the name of your brand.
While spying on your competition you were able to see what names your competitors are using to represent their brands. Therefore, I'm sure you have some ideas already stored in your memory.
Always aim for a .com domain (those ones are considered the most authoritative) and avoid using your own name.
Sign Up For Shopify – Shopify is the number 1 eCommerce platform available online and it has been for a really long time.
Most importantly, you don't have to pay anything to start your store on it.
Yes, Shopify offers a free trial – you can use the platform and everything it has to offer for 14 days completely free of charge.
With the latest features, tools, and 24/7 tech support, Shopify will provide you with anything you may need to launch your dropshipping business. And then some!
You can buy your chosen domain name inside the platform.
Get A Shopify Theme – don't waste your time researching which Shopify theme is the best, I'll tell you right here – Debutify.
At the time of writing this article, Debutify is considered the best theme you can have for your online store.
<p "="" data-empty=" true" it's="" not="" just="" because="" of="" its="" clean="" design="" or="" how="" cool="" it="" will="" make="" your="" business="" look.="" pp="">No, it's mostly because Debutify is proven to be the theme with the highest conversion rate. <p "="" data-empty=" true" meaning,="" setting="" up="" a="" href="https://cashembrace.com/recommends/debutify-theme/" target="_blank" rel="nofollow" debutify="" properly="" and="" letting="" it="" run="" on="" your="" store="" will="" guarantee="" you="" more="" sales="" -="" that's="" the="" most="" important="" thing,="" isn't="" it?="" pulli="">Install Oberlo – Oberlo dropshipping will let you discover products online that you'll be able to sell on the same day in multiple niches.
Quite frankly, it's almost impossible to imagine doing Shopify dropshipping without Oberlo.
<p "="" =""="" data-empty=" true" on="" that="" note,="" a="" really="" smart="" idea="" is="" for="" you="" to="" have="" look="" at="" aliexpress="" usa.="" pp="">AliExpress dropshipping is probably the most popular retail service provider. <p "="" =""="" data-empty=" true" with="" that="" said,="" you="" don't="" need="" to="" use="" aliexpress="" directly="" add="" products="" your="" store.="" pp="">Instead, that's what Oberlo is for – it will make the whole process as easy as it can get.
Learn More About Shopify:
<li "="" =""="" data-empty=" true" a="" href="https://cashembrace.com/what-is-shopify-and-how-does-it-work/" style="outline: none;" what="" is="" shopify="" and="" how="" does="" it="" work="" lili="">