Explode My Payday – Shameless Scam Or Chance For $1076/Day?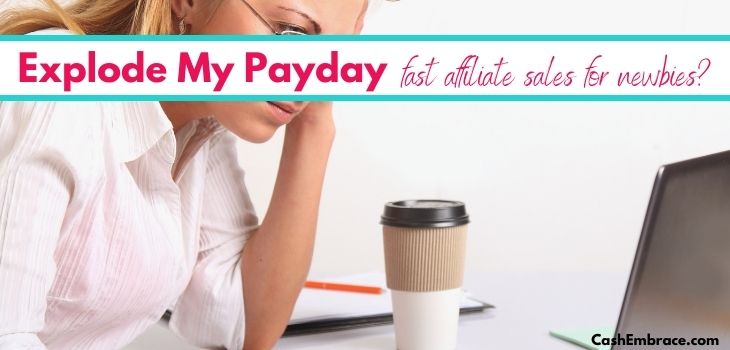 This Explode My Payday review will introduce you to an online platform that allows its members to earn thousands of dollars a day with minimum work.
These days, hundreds of money-making systems promise to do the same for you.
Unfortunately, most of them don't provide any legitimate way to earn a full-time income from home.
And what about Explode My Payday?
Should you trust it to show you the way to fast online income, or should you avoid it at all costs?
Today, I'll tell you everything you need to know about this program:
What is Explode My Payday?
How does it work?
Can you make money with Explode My Payday?
Is Explode My Payday legit or a scam?
Disclaimer: I'm not an affiliate of Explode My Payday. All facts you'll read in this article come from information available in the public domain.
Explode My Payday Review- The Basics
First and foremost, you can find the product we're discussing today on its official website www.explodemypayday.com.
Interestingly enough, the system is not brand new on the online market:
It has been a fact for a couple of years now.
One would think that most people trying to make money online are paying more attention to newer products.
But that's not what's happening right now:
Lots and lots of newbie marketers enthusiastically are giving EMP a try.
Their decision makes sense if you think about it:
When a single program is able to deliver over $1,000 in your bank account overnight, why should you look for an earning method elsewhere?
However, how much of that is actually true?
Will you really see thousands of dollars in your bank statement if you join the system?
Or maybe you'll face a slightly different situation once you become a member?
Keep reading this Explode My Payday review, and you'll find out!
What Is Explode My Payday?
According to the official site, Explode My Payday is a fully automated system you can use to make money online fast.
Meaghan Harper, the creator, will tell you that her product will do almost all the work for you.
As a result, you'll only have to deal with EMP for 45 minutes each day.
Furthermore, the program doesn't require any special skills or previous experience from its members.
Considering your profits will become a reality with what seems like a click of a button, the platform is suitable for pretty much everyone.
By taking advantage of an Internet loophole, Explode My Payday will allegedly have you cashing three checks a week.
On that front, the product looks similar to Bulletproof Profits, Auto chat Profits, and 7 Minutes Daily Profits.
To clarify, none of these platforms are of high quality.
Does this mean that EMP is of low quality too?
Let's find out, shall we?
Inside Explode My Payday
OK, how about we take a look at what happens if you want to get in the members' area?
When you visit the official website, the first thing you'll see is a form you'll need to fill.
All you have to provide is your name and email address.
At this stage, you don't have to use your credit card yet.
Once you type in your personal data, you'll be able to watch the second part of the promotional video.
That second video will show you what Explode My Payday does in real-time.
Firstly, Meaghan will tell you that you now own a brand new live account. Since you're just starting, the balance of that account is still zero.
Secondly, you'll finish watching the orientation video.
During that time, Meaghan will go back and forth to your new account. And each time she does that, you'll see your earnings piling up.
That's right – your profits are going from $0 to $240 until they eventually reach $620.
In other words, the creator is showing you how easily you'll earn over $600 as soon as you provide your email address.
However, to receive your earnings, you'll have to purchase the product. I'll tell you all about its cost and price structure a bit later in this Explode My Payday review.
Before I do that, let's talk about everything the product shows you in the orientation video.
Similar Fast Earning Online Systems:
How Does Explode My Payday Work?
Be honest – you didn't think it would be that easy, did you?
I mean, if a simple click of a button is all that it takes for people to earn $1,000 daily, everyone would be doing it.
Upon further investigation, making money with Explode My Payday turns out to be a bit more complicated than that.
Basically, the product is software that automatically creates your website and sends traffic to its pages from social media platforms like Facebook and Instagram.
Are you wondering how you'll make money with that website?
Well, you'll be using affiliate marketing to earn online.
Yes, Explode My Payday provides you with a site and training that will show you how to money online through affiliate sales.
With that said, let's not forget that the expectation here is to earn over $1,000 a day from affiliate commissions alone.
Unfortunately, you'll not get to see it happening in reality.
And this Explode My Payday review will tell you why in a minute!
What I Like About Explode My Payday
Quite frankly, there isn't much I like about this system.
Sure, there is a money-back guarantee that goes together with the product.
At least, you can rest assured knowing that you'll be able to receive your investment back if you're not happy with the platform.
Also, Explode My Payday relies on affiliate marketing to earn money for its members.
Since affiliate marketing is a legit business model, you can look at that fact as another plus.
But that's about it.
As much as I would like, I can't find any other positives of working with the program.
What I can do, though, is show you all the negatives!
I Make Such Affiliate Commissions Every Month. Learn How To Do The Same Here!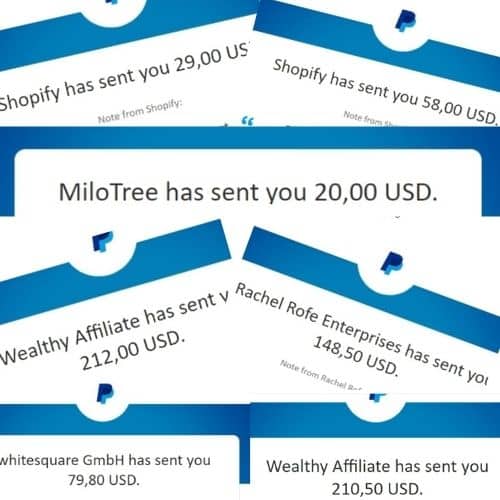 What I Don't Like About Explode My Payday
I have so much more to say here!
The statement that a done-for-you website will earn you over $1,000 a day with no work and no effort is ludicrous, to say at least.
It's not how the internet marketing world works.
Believe it or not, this false promise is not the only lie that comes out of the creator's mouth.
There are other untruths as well:
1) There Is No Such Thing As An Automated System That Gives Away Free Money
Above all, the whole sales pitch relies on the premise of a money-making machine that runs on autopilot.
During the official video, you're watching your earning happening live on screen, remember?
Starting from zero, all you have to do is activate Explode My Payday to let the money come in.
Hate to be the one to break it to you, but that's just utter nonsense.
By all means, there is a reason why Meaghan is pausing the video repeatedly:
She has to prepare fake screenshots to feed them to you as real bank statements proving the earning power of Explode My Payday.
Every person with a bit of common sense will catch on to that.
Trying hard to keep your attention fixed on the numbers is what the owner bets on to sell her product.
Considering that the product keeps finding clients even today proves that her strategy works to some degree.
Most newbies can't resist the thought of earning fast money easily, and they tend to overlook all the rest of the troubling signs.
Hopefully, you'll not follow in their footsteps.
2) The Sales Video Creates Unrealistic Income Expectations
Here is a crazy idea:
Let's pretend for a minute that Explode My Payday is not as bad as it is.
So, we'll judge the product solely on its features and earning potential.
When you become a member of the platform, you'll receive a website with pages that contain plenty of affiliate offers.
Many marketers use affiliate marketing to monetize the content of their blogs, myself included.
Therefore, making money from yours shouldn't be that different, right?
Actually, wrong – there is a huge difference between what I do to earn from this site and what you'll do on yours.
What might that difference be?
It lies in the fact that I create original content, and I know how to rank it on Google.
Will you have the chance to do the same?
Not at all – the site you'll get is the same as what every other member of Explode My Payday will receive.
Meaning, your affiliate offers will go together with duplicate content that will never rank on the search engines. No ranking means no traffic, and no traffic means no affiliate sales!
Unless you invest in paid traffic, you won't make a dime with this platform.
3) The Testimonials Are Fake
At this stage of that Explode My Payday review, you should expect to face more bad news.
One of them is that the testimonials you see during the sales presentation are not real.
How could they be?
No real user trying to make the product work will ever achieve satisfying results.
Then, what is Meaghan supposed to do about the testimonials?
She does what every other owner of a low-quality system do:
Hiring actors from Fiverr to impersonate members of her platform.
That's what happens when nobody is willing to lie on camera and testify on something that is not true.
Happily for us, discovering such fraudulent behavior is so easy to do.
A quick jump to Fiverr and the whole truth will come out!
4) The Product Uses Scarcity Tactics To Force You Into A Purchase
If you visit the official website of the product, you'll instantly see that you'll need to act fast.
According to the page, the owner is accepting only 45 new members at this time.
It looks like Explode My Payday will be yours only if you manage to be one of the first 45 people who will register at the platform today.
Naturally, you'll feel that you need to purchase it as soon as possible or you'll miss your chance.
None of that is true – the product is available for sale at all times.
Using scarcity tactics happens a lot online, especially with the low-quality systems:
Their owners are trying hard to force your hand into a purchase before you have the time to check the product's reviews online.
5) Meaghan Harper Is A Fictional Character
Speaking of product owners, let's take a look at who is behind Explode My Payday.
Allegedly, the creator is Meaghan Harper, a self-made millionaire sharing her marketing and business knowledge online.
Once again, that is not true:
Explode My Payday uses a stock image from Shutterstock to present to you a person that doesn't exist.
Yes, Meaghan Harper is just a pen name the real creator is hiding behind to protect their identity.
Why would that be if the product is such a revolutionary system earning thousands of dollars for its members?
Shouldn't the owner wish the whole world to find out how genius they are?
I'll let you draw your own conclusions.
6) There Is No Valuable Marketing Training
Earlier in this Explode My Payday review, I mentioned that the product comes with training.
That training covers driving traffic to your offers through Social Media.
Generally, that's all you'll get out of this platform.
Needless to say, such training is nowhere near enough.
If you're serious about making a full-time income online, you'll need to go through high-quality training that will teach you how to do that.
​A knowledge about doing proper keyword research, SEO, driving free traffic, and many other topics are mandatory if you want to become a successful marketer.
I got my business training thanks to this platform that allows everyone to begin learning for free.
7) There Are Upsells
Currently, you can buy Explode My Payday for $47.
But that's not the end of your expenditures if you decide to invest in the system.
In addition, there are two upsells you can get as upgrades:
Big Bundle ($195)
Campaigns ($99)
It's pretty much self-explanatory that none of them will add any extra value to the core product.
Instead, these upgrades exist simply to get you to spend more on a product that underdelivers.
Right now, it's easy to see why the system's affiliates are publishing Explode My Payday reviews online that misinform their readers:
They earn quite well from selling the system – it's all about making money!
Is Explode My Payday A Scam?
First and foremost, I don't have the right to call Explode My Payday a scam because there is a money-back guarantee.
However, I would like you to think of it as one.
After all, Explode My Payday is of very low quality, it doesn't work as promised, and it will only waste your time and money.

Remember, when something is too good to be true, it most likely is.
Also, it's worth mentioning that such systems always sell your personal data for profit.
So, buying them will result in your email receiving tons of spammy offers.
Scam Products To Avoid:
How I Make Money Online
If this is not your first time visiting my blog, then you already know:
The best advice I can give to anyone who wants to make money on the web is to start an online business.
You don't have to rely on low-quality systems to earn a living from home.
Instead, pull up your sleeves and build something that eventually will be able to support you for years to come.
Is that what you would like to do?
Then start by reading my Free Guide.
It will walk you through the steps one by one, and it will explain the whole process in detail.
By the way, what my guide doesn't contain is hidden upsells – just saying!
My Closing
To sum up, Explode My Payday is one of those products you need to avoid at all costs.
Regardless of what the sales video wants you to believe, the get-rich-quick schemes simply don't work.
No matter how shiny a money-making opportunity may seem, do yourself a favor:
Don't skip the research before you buy anything online!
With that said, how about I give the word to you?
Care to share your opinion about our topic today?
I'll keep an eye on the comments section!