20 Lucrative Online Businesses You Can Start With No Money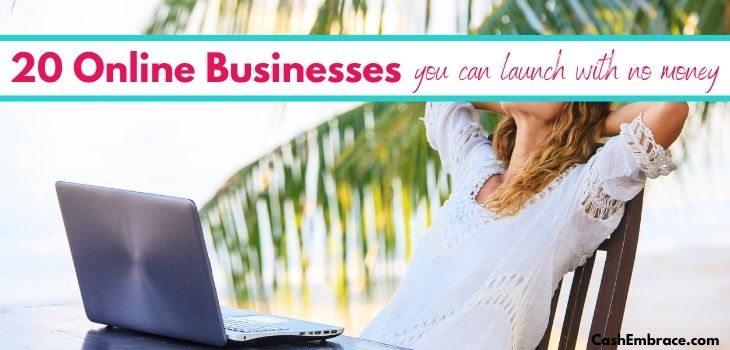 The whole notion that there are businesses you can start with no money seems too good to be true.
Most people truly believe that they can't build something substantial without any investment.
Well, most people are wrong.
At least, they are where the money is being concerned.
While you'll definitely need to invest a lot, you can narrow your contribution down to time and effort.
Today, we'll discuss the hottest business ideas you can start, and I'll answer the biggest questions you may have.
Such as what's the best business to start with little money?
And what is the cheapest business to start right now?
This post may contain affiliate links. Fee free to read my affiliate disclosure.
Can I Start A Business With No Money?
Quite frankly, I could keep telling you over and over that you can.
But maybe that's not helping, and it's not enough to put your mind at ease.
Chances are, you're having a difficult time wrapping your brain around the idea.
Still, bear with me, and let's look at the fundamentals of any successful business together.
What a business has to accomplish in order to become profitable?
Offer something no one else in the world is offering?
Discover something previously unknown that will improve the lives of humankind?
Keeps its prices more affordable than its competition?
Actually, the correct answer is none of the above options.
In short, to launch and develop a successful business, you'll have to complete three simple steps:
Identify Who Your Target Audience Is
Understand What Problems Your Readers Need To Solve
Help Them Solve Those Problems
You tell me – which one of these steps requires you to pay even a single cent?
That's right, none of them do.
The Best Business To Start With Little Money – 20 Business Ideas You Should Seriously Consider
"I want to start a business, but I have no ideas."
If a similar thought is passing through your mind quite often, you don't have to sweat it anymore.
Instead, let go of all the uncertainties and insecurities – there is no place for them in an entrepreneur's mindset.
Once you do that, browse through the businesses you can start with no money below until you pick one:
1) Start A Blog
It may be hard to believe, but blogging is still one of the most profitable businesses you can start with literally no investment.
Think what you will about the near future and how people choose to digest information nowadays:
Blogging as a way to reach a wide audience is not going anywhere anytime soon.
While lots of people prefer to watch a video to learn something, there are just as many who are using Google to find the answers they are looking for.
With that said, starting a blog and turning it into a powerful source of income is not something you can achieve over the weekend.
No, building a lucrative blogging business takes a long time – at least 6 months until you start seeing some results.
How well those results will translate into real cash – that depends on many factors.
For example, how competitive your chosen niche is, how hard you're willing to work, how much time you can devote to it, etc.
As I've already mentioned, you can start a blog for free – platforms like WordPress or Blogger won't ask you for any money.
However, it will be really hard to monetize a blog that is built on a free blogging platform.
So, if you can afford to invest a tiny amount of money to have a self-hosted blog, I highly recommend you do that.
BigScoots will allow you to launch your business for just a couple of bucks – their hosting services are outstanding, in my opinion.
To learn more about blogging, read this related content:
2) Start A SEO-Based Online Business
Since we're still on the subject of blogging, let's talk about one of the secrets that makes a blog successful – SEO.
SEO stands for search engine optimization – something that every blogger needs to learn when writing for the web.
Without in-depth SEO skills and a profound understanding of what Google expects from your content, your site will fail to receive significant organic traffic.
And that's the last thing you want to face as a business owner.
Make no mistake, a deep knowledge of SEO is what helps one site outranks another.
That's why bloggers spend a long time learning and improving the on-page and off-page SEO they do for their websites.
Let's say that you know SEO like the back of your hand.
If that's the case, then not offering SEO services is a waste of time, money, and your abilities.
Bloggers are busy – there is always so much to do, especially at the beginning.
Helping them optimize their content for the search engines will allow them to beat the competition.
Subsequently, I can assure you that you'll never be short of clients.
After all, millions of new blogs come to life every single day.
And if you do the math, your pool of potential customers looks better than ever!
3) WordPress Developer
I know, it seems like the businesses you can start with no money keep circling around blogging.
There is a reason for that – many aspects of the blogging world are capable of turning you into a wealthy individual.
One of these aspects is WordPress development.
According to statistics, more than 60 million blogs live on WordPress.
That shouldn't come as a big surprise – WordPress is the best website builder there is.
How could it not be when it allows complete newbies to build a blog in minutes without any coding or tech experience?
Well, if WordPress is that good, that's because the people behind it are better than good.
Are you one of those people?
Do you have programming skills that make designing WordPress themes and plugins seem like a child's play for you?
Because if you do and you're not taking full advantage of such skills, you're committing a crime to your bank account.
Your abilities will turn quite lucrative if you put them to work, no doubt about it.
Selling themes and plugins on a market that attracts millions of clients can and will bring you millions in profit.
4) Mobile App Developer
Apparently, many people don't see a big difference between a WordPress developer and a smartphone app developer.
While there are similarities for sure, the contrast between these two business models does exist.
Yes, programing skills are a must for both.
But in my opinion, that's where the common ground ends.
By all means, building a profitable mobile app development business is an extremely challenging task to tackle.
An excellent coding and programming skills are nowhere near enough.
On the contrary, you need to have extensive marketing experience and knowledge of your chosen field.
At least, you have to be willing to work hard to examine the market and the odds of your app idea becoming a huge success.
With that said, if you have what it takes to come up with the next ground-breaking mobile application, I would say don't hesitate for a minute.
The amount of money you'll be able to make as an app developer will most likely surpass your initial expectations.
5) Graphic Design Business
Moving further down the list of businesses you can start with no money, it's time to talk about graphic design.
I believe many of you will see this type of online business as one of the most suitable options for beginners.
Obviously, you need to have professional graphic design skills to make this business work.
But even if you don't right now, you can develop them in a short period of time.
There are a lot of free resources that will help you do that – just research the topic on Google and watch tutorials on YouTube.
Another reason why you should think about this business idea seriously is that there is no start-up cost, none whatsoever.
You can learn the skills for free, and you can use the free version of Canva to create the graphics at the beginning.
Also, the niche will allow you to create products in many different categories.
Such as brand logos, web design, promotional banners, infographics, etc.
Subsequently, you'll be able to find clients that need services in each of these categories.
As bigger is the pool of potential customers, the bigger your chance of earning a full-time income will be as well.
6) Advertising Agency
If you're shooting for the stars financially speaking, launching an advertising agency should be on the top of your list.
Don't succumb to intimidating thoughts just because you lack significant digital marketing skills.
Believe it or not, Google itself offers a dozen of marketing courses you can take completely for free.
It gets even better – once you conclude any of these courses, you'll receive a certificate from Google.
By the way, you don't have to pay anything to grab your well-deserved badge – it will also arrive free of charge.
In your opinion, isn't that enough to see advertising as one of those unique business ideas that are worth the effort?
Working to increase marketing sales and reduce your client's costs is going to fun!
Not to mention, you can take on as many clients as you wish, adding more and more streams of income to your newly created business.
7) Resume Writing Business
Honestly, I can clearly see why some of you won't dive into the world of advertising after all.
No matter how lucrative this field is and how easily you can master it, being an advertising manager is not for everybody.
And that's understandable – different strokes for different folks, isn't that right?Then, how do you feel about the resume-building business?
To sum up, starting such a business means that you'll be writing other people's resumes for them.
Many people don't feel comfortable writing about themselves.
That's why they prefer to hire professionals to do that for them.
Before you dismiss this business idea as not good enough of an opportunity, let me tell – it actually is.
This niche is not as over-saturated as some of the other entries on my list.
Less competition is a favorable situation to find yourself in, especially at the early stages of your business.
Once you prove yourself as a capable resume writer on the market, I bet you'll be surprised by the amount of money you'll be able to make.
8) Copywriting Business
We're already talking about writing, so directing your attention to the copywriting field seems like a natural transition.
Don't confuse copywriting with free-falling with words.
Good copywriters have their way with the phrases they're using to achieve what the copy is supposed to achieve.
And great copywriters know that if they lack natural talent, they can develop it through practice and training.
So, if you're interested in launching a copywriting business but you doubt your abilities, there is a simple solution to your problem.
Choose one of these free resources that will help you become an in-demand copywriter.
It's more than a profitable field, especially if you pick the Business-to-Business (BTB) sub-niche.
More importantly, you can master it while using free processing software like Google Docs, for example.
9) Freelance Writing Business
How good a list of business ideas you can start with no money could possibly be if freelancing is not a part of it?
Considering that good writing skills will deliver more than a decent income for you, we need to talk about that.
Moreover, you don't have to invest anything other than time and effort to make it work.
Chances are, some of you may doubt your writing abilities and don't see yourself as a capable freelancer.
If that's the case, you should free yourself of any anxiety.
Freelancing is one of those fields where you'll pretty much get paid even if you're a newbie with no previous experience.
Beginners writers earn around $50 per article, but that's just for a start.
Once you polish your writing skills and gain more experience, you'll be able to earn anywhere between $250-$1,500 per single writing piece.
With that said, if you don't have the slightest idea about freelancing and how to write convincingly for the web, I suggest you take an online course.
My Freelance Paycheck is quite affordable (less than $50), and it will help you become a professional freelancer who earns more than $3,000 per month.
10) Write And Sell eBooks
As you know, eBooks are digital products – as such, they can be sold over and over again.
The beauty of creating and selling digital products is that you're doing the work once and keep profiting from it constantly.
After all, isn't make money while we sleep what we all hope for?
Nowadays, creating eBooks from scratch is one of the easiest things a person can do.
Tools like Sqribble will help you create high-quality eBooks in minutes.
There are plenty of online platforms that will sell and market your product for you for free.
For instance, Amazon Kindle, Google Play, and iBooks Author are some of the most popular sites you can count on.
Your future eBook can be about anything – a personal experience, fiction, or a topic you know well.
If you have $7 to spare, you might want to invest in the Kindle Money Mastery – online training that will teach you how to earn $10,000 with Kindle Publishing.
11) Online Coaching
By all means, online coaching is one of those businesses you can start with no money that is not suitable for beginners.
Yes, you might have what it takes to coach people online, regardless of the skill you're happy to pass along.
But an extensive knowledge of a particular topic is not enough to build a profitable coaching business.
Here, you'll need experience and marketing insights on building a client base.
Since online coaching is usually one-on-one, you'll need as many clients as you can get.
In my opinion, you should look at online coaching as more of a side hustle idea than a source of a full-time income.
It might be the cheapest business to start, but the return on your time investment will not be extraordinary.
12) Create And Sell An Online Course
Basically, if you're ready to teach, it makes sense to do it through an online course rather than coaching one-on-one.
Why teach just one person when you could reach thousands?
Furthermore, why should you receive a single fee when you could receive thousands?
I'm pretty sure that you understand where I'm going with this!
Make no mistake, though – creating a high-quality course that truly helps its audience solve a problem requires a lot of hard work.
Then again, the best businesses you can start with no money that could make you a wealthy person do.
Assuming that you're ready to commit time and effort to this business idea, don't waste valuable hours.
Platforms like Udemy, Skillshare, and Teachable will accommodate your course and will help you reach a wide audience.
13) Start A YouTube Channel
The fact that there a YouTubers who make thousands of dollars each month is not lost on anyone.
YouTube has grown tremendously in recent years, and that growth makes perfect sense.
These days, people prefer to watch and listen to than to read.
So, if you have something to say on camera, why you're not doing it already?
You don't even have to show your face if you're not comfortable doing so.
Many of the videos I personally watch are just a voice narrating and explaining what's going on on the screen.
Whether I see a face or not, such videos still resolved my problem.
And that's all that counts.
Keep in mind, building a successful YouTube channel will take some time – at least a couple of months.
Also, the algorithm will favor you if you post consistently.
If all that is OK with you and you're happy to do it, you'll be able to earn anywhere between $100-$500 per day.
Nobody can give a specific number of what your earnings will look like – that depend on a couple of factors.
Your monetization strategy matters as well – Google AdSense and affiliate marketing are both preferred choices for vloggers.
Related: 30 Businesses You Can Start On Instagram
14) Affiliate Marketing
Speaking of affiliate marketing, I'm glad that I can finally share my personal preference with you.
In my opinion, affiliate marketing is the best online business to start with no money.
It just is, for more reasons than I could ever write down.
Here are some of them:
This business model is perfect for beginners, and it will allow you to start earning from day one.
You don't have to create and sell products – you just need to concentrate your efforts on promoting them.
Most importantly, you don't have to pay a cent to become an affiliate marketer.
With that said, making thousands of dollars from affiliate commissions is not something you can achieve in a day or two.
But going through free affiliate training that will help you develop the necessary skills will improve your chance of marketing success.
15) Dropshipping Business
Dropshipping is another favorite of mine where businesses you can start with no money are being concerned.
This business model is pretty awesome on so many levels.
For example, you don't have to bother with creating your products or services. You'll be selling other people's products.
Plus, you won't ever have to think about inventory, shipping, or any other activity that will deliver the purchased product to its client.
All you need to do here is open an online store, stock it with high-quality goods, and resell them at a higher price.
Currently, dropshipping is one of the top 10 most successful businesses to start.
Considering the bigger part of any shopping activity is happening online, web stores are not just surviving – they're thriving.
Shopify is the industry leader in the dropshipping field.
This platform will allow you to build your online store for free – there is a 14-day free trial you can take advantage of.
Once that trial is over, the basic plan will cost you only $29 per month.
By all counts, that's a small investment compared to the thousands of dollars you'll be able to make in profits once you develop your online shop.
Related Read:
16) Selling Art
Basically, artists who are taking their work online instead of just the local gallery are killing it right now.
Reaching a worldwide audience will give you a much bigger chance to sell your art – that goes without saying.
If you have a couple of paintings completed, it's time to dust them off.
Financially speaking, it doesn't make a lot of sense to keep them hidden from the world, does it?
With that said, you can build a shop on Etsy – the platform will give great exposure to your art. And you can start selling pretty much immediately.
Or you can build a store on Shopify – this option is preferable if you would like to have the ultimate control over your business.
No matter which platform you'll launch a store on, selling art is one of the best businesses you can start with no money.
17) Selling Printables
Now, let's talk about how you can make money if you're good at creating printables.
In my opinion, Etsy is the place you should be heading to as we speak.
During my research for this article, I was surprised to find out how well printables are selling on the platform.
Items such as monthly calendars, weekly planners, and daily checklists are as popular on Etsy as they have ever been.
Keep in mind, printables are much easier and faster to create than most of the other products you could be selling online.
Even if you don't know how to create them, you can learn in no time – there is so much information available online for free.
18) Print-On-Demand Business
Print-on-demand is another one of the businesses you can start with no money you have to consider.
Zero start-up cost and less responsibility are just a few of the advantages of this business model.
Generally, most of your work will go into creating the designs.
Platforms like Teespring and Redbubble will do all the rest.
Meaning, you don't have to print or ship the ready product.
Instead, you just have to focus on creating interesting designs the audience would love to see on a product.
If you prefer to do this business with your own Shopify store and do all the work yourself, you won't be sharing any of the profit with a third party.
However, you'll have to invest in a printer and a shipping partner.
19) Baking Business
Baking delicious treats could be so much more than just an activity you do for your loved ones.
How do you feel about baking for strangers?
You better get on board because launching a baking business has the potential to turn into a quite lucrative side hustle.
Sure, you'll have to invest a bit in the necessary ingredients. But I doubt that this will cost you a fortune.
Showing your work on visual platforms like Instagram will bring you much-needed brand awareness.
Once you get the word out there, you'll be in the position to have serious conversations with different businesses that would love you to stock their shops.
20) Knitting Business
The last entry on my list of businesses you can start with no money belongs to the knitting business.
Personally, I can't knit to save my life.
But if knitting comes naturally to you and you enjoy doing it, then you should start thinking about the potential profits it could bring you.
Spreading the word about your products on Pinterest and Instagram will advance your business big time.
Knitting is quite a popular topic on both of those sites.
Regarding a platform to accommodate your shop, I think Etsy is an excellent choice.
Again, you don't have to pay anything to start a knitting business.
You just have to create the best knitting items you possibly can!
My Closing
Quite frankly, these are not the only businesses you can start with no money.
On the contrary, the list can go on for a long time.
That's why I'll do my best to update it every time I find a new and interesting low-cost business you may love.
Until then, which business do you like the most?
And which one will be the best fit for your lifestyle and abilities?Let me know in the comments section, and we'll continue the discussion.