YouTube Secrets Review: Scam Or Certain $10K/Month?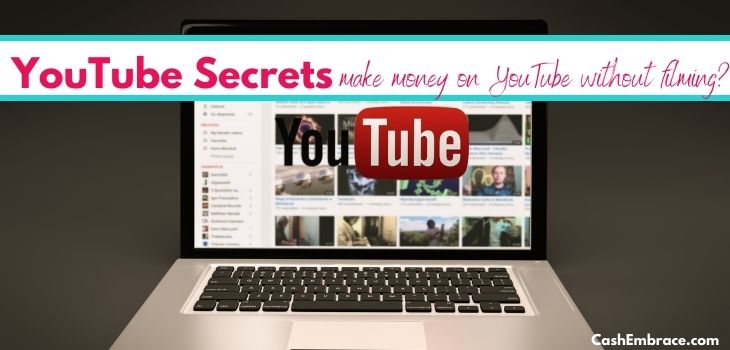 This YouTube Secrets Review will cover a program that claims to make you $10,000 a month on YouTube without filming.
Apparently, earning that much on YouTube without creating your own videos is a legitimate money-making opportunity these days.
Should you take advantage of it?
Considering YouTube is the second biggest search engine, making sustainable profits on it is the reality for thousands of people.
Will YouTube Secrets help you become one of those people?
Today, I'll share with you everything there is to know about YouTube Secrets:
What is YouTube Secrets, and how does it work?
Can you make money with YouTube Secrets?
How much do YouTube Secrets cost?
Is YouTube Secrets legit or a scam?
Disclaimer: I'm not an affiliate of the YouTube Secrets platform. Every fact you'll read comes from research on information available in the public domain.
YouTube Secrets Review – The Basics
Before we go any further, a couple of clarifications are in order:
The YouTube Secrets program I'll review today is an earning system you can find on the marketplace of ClickBank.
It has nothing to do with another product that happens to have the same name.
I'm talking about the YouTube Secrets Audiobook by Sean Cannel that is currently selling on Amazon.
Except for the name, these two systems have nothing in common.
So, if you're looking for the YouTube Secrets book summary, YouTube Secrets PDF, or YouTube Secrets Audiobook free download, feel free to exit this page:
You'll not find them here.
Now that I have this in the open, let's focus on today's topic, shall we?
Is YouTube Secrets Legit?
Reading this YouTube Secrets review will be a waste of your time if it turns out that the product is not even legit.
That's why I want to address the platform's legitimacy early on.
Here is the deal on that:
As you already know, the system is on sale on ClickBank – one of the largest e-commerce platforms in the world.
ClickBank is also an affiliate marketplace that offers hundreds of products for promotion.
Each of these products comes with a money-back guarantee.
Why am I telling you that?
Well, I have to see a product as legitimate if the marketplace that sells it allows you to receive your investment back.
Does this mean that YouTube Secrets is worthy of your consideration?
Keep reading, and you'll be able to form your own opinion about that.
Recommended Read:
What Is YouTube Secrets?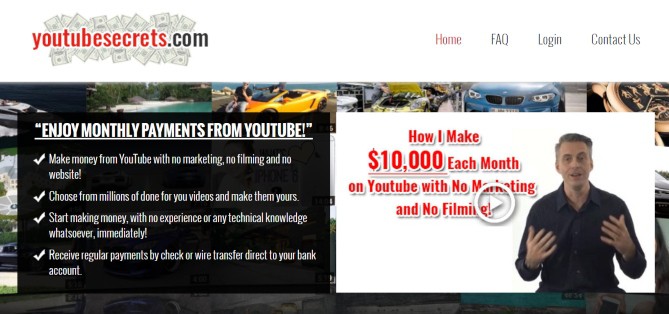 For starters, YouTube Secrets was created in 2016 by Mike Williams.
Many of you will see the fact that the product is still selling well today as a good sign.
You may have a point in there – more about that a bit later.
At a first glance, the system seems quite similar to the Viral Cash App, Profit Injector, and Easy Cash Club.
All three of these platforms teach people to make money with video content.
However, a closer inspection confirms that YouTube Secrets is worlds apart from them.
And that would be because the program focuses on showing you how to earn on YouTube without creating videos yourself.
Allegedly, YouTube Secrets will help you make at least $10,000 a month.
According to the sales page, anyone can take advantage of the opportunity even with no work online experience.
Using YouTube Secrets doesn't require doing any Internet Marketing or creating a website.
Up until now, the system looks like a revolutionary program:
After all, producing high-quality videos to build your YouTube channel is necessary if you want to monetize your effort later on.
But YouTube Secrets claims to cut this process short and get you straight to the monetization part.
Who Is Mike Williams?
Before I tell you all about the inner workings of YouTube Secrets, I believe we should take a look at the man behind it.
While researching this YouTube Secrets review, I stumbled upon many people with that name.
None of them has any association with the product, though.
If you visit the official website (youtubesecrets.com), you'll have the chance to watch the sales video.
During that presentation, a guy introduces himself as Mike Williams, the creator of YouTube Secrets.
However, there is no chance the person you'll see is the actual owner of the system:
He works as a spokesperson on Fiverr.
Yes, anyone can hire him to read a script on camera.
What does this mean? Should you stay away from YouTube Secrets because the team behind it chooses to hide the real identity of the creator?
I think we should give a fair chance to the program to prove itself before we make any conclusion.
Inside YouTube Secrets
As soon as you purchase the product, you'll gain access to the members' area.
Once inside, you'll discover that actually, YouTube Secrets brings quite a lot to its users:
You'll receive video training materials, tutorials, tools, resources, and full tech support.
Here is what you can expect from the training sections:
YouTube Secrets Main Training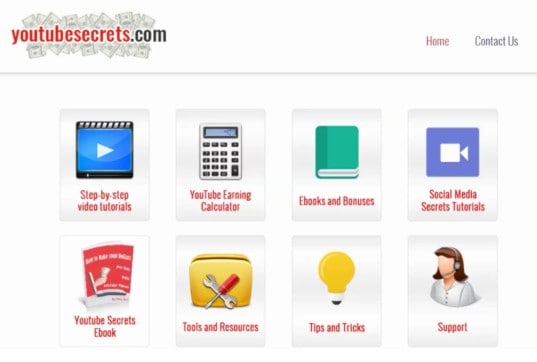 Step-By-Step Video Tutorials: This section will provide you with 31 training videos.  They'll introduce you to the process of making money on YouTube.  Also, they'll teach you how to edit videos and reveal to you some advanced YouTube settings.
YouTube Earning Calculator: Feel free to use this feature to gain a general idea about how much money you'll be able to earn.
eBooks And Resources: These eBooks cover the keys to YouTube success, the right attitude, niche marketing keywords, phrases that sell, and how to get viral traffic.
Social Media Secrets Tutorials: They will show you the type of content you have to create to succeed on Social Media and how to duplicate the creator's success.
YouTube Secrets eBook: That eBook is "How To Make $1,000/Day With YouTube".
Tools And Resources: Expect to gain access to TubeChop, DragonTape, TubeMogul, YouTube Captions, etc.
Tips And Tricks: Mike's tips will go deeper in covering the process of developing a successful YouTube channel.
Tech Support: It will allow you to get help if you have any questions or problems while using the program.
Also, the training of YouTube Secrets will cover niche research, video editing, ways to make other people's videos your own, and saving time while working.
YouTube Secrets Additional Training Materials
How to access between 5 to 25 million YouTube videos: See how to do that without facing any copywriter issues.
Make money from every video: Find out how to monetize each piece of video content.
Smart ways to repurpose videos: Discover how to repurpose videos legally.
YouTube editing settings: Learn little-known tricks that will show you how to make YouTube create videos for you.
Your access to thousands of hours of free music (no royalties): That section will also teach you when not to use the free music feature.
Good keywords ideas: Here, you'll learn what keywords to target to rank well on the YouTube search engine.
Why titles are so important: Start mastering the craft behind click-worthy titles.
The biggest mistakes people make when writing video descriptions (and how to avoid them).
Make sure that YouTube will not penalize you (using keywords and tags correctly).
Communicate with your subscribers (why timing is everything).
Increasing your views without using black hat techniques.
Spying on your competition (and how to utilize reverse engineering),
Boosting your comments and engagement.
Target demographics (and who your most loyal viewers are).
On top of all that, you'll receive an extra 17 PDFs that contain more learning materials to go through on your own time.
How Does YouTube Secrets Work?
Basically, working with the program will put you through a simple process.
For starters, you have to complete the training. Once you do that, you can move on to the practical portion of the business.
You'll set up your YouTube channel and choose keywords to target.
Next, you'll pick one of the million videos already available on YouTube.
Then you'll repurpose this video and make it your own.
When you upload these new videos on the platform, you'll start gaining traffic that will develop your channel.
Of course, you'll rinse and repeat the process with other videos until you have enough subscribers and pageviews to monetize your YouTube channel.
Placing ads and doing affiliate marketing are some of the ways to do that.
Related Read:
What I Like About YouTube Secrets
The training will teach you how to make money on YouTube: While Mike's method is not the most popular one, it might work well enough to allow you to earn on YouTube.
YouTube Secrets relies on affiliate marketing to make you money: Affiliate marketing is one of the most common business models you can use to earn online.
There is a money-back guarantee: In case you're not happy with the system, you can receive your investment back.
What I Don't Like About YouTube Secrets
Unfortunately, this is going to be the longest section of my YouTube Secrets review.
While the product may seem like a revolutionary earning system at first, a closer look will convince you otherwise.
Here is everything about YouTube Secrets I consider a red flag:
1) The Sales Pitch Creates Unrealistic Income Expectations
According to the creator, anyone who uses his product will start earning at least $10,000 every month.
Allegedly, you'll make such an amount of money even if you work for only half an hour each week.
Mike makes it sound like creating a hugely successful YouTube channel is as easy as it can get.
In reality, though, that's not true:
As a YouTube content creator, you need 4,000 hours of watched time and 1,000 subscribers in the last 365 days to monetize your channel with ads.
Chances are, you won't hit that goal as fast as YouTube Secrets claims you will.
On that note, the sales presentation of the product is over-hyped at best and misleading at worst.
Similar Earning Programs To Avoid:
2) The Income Proof Is Fake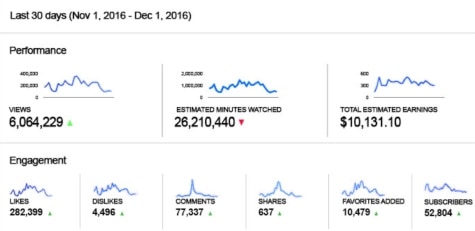 If you decide to spare a minute to watch the sales video, you'll have the chance to see the income proof the creator provides.
However, there are a lot of issues with that income proof.
Just look carefully at the screenshot above and try to answer the following questions:
Firstly, what is the YouTube channel that produces such earnings?
Secondly, how can you be sure that the channel belongs to the owner?
Most importantly, what proof do you have that YouTube Secrets has anything to do with the money this channel delivers?
These are all valid questions with no satisfactory answers.
By all means, Mike's income proof is no proof at all:
Due to its lack of basic information, it doesn't convince me of the earning power of YouTube Secrets.
3) The Training Is Incomplete
Don't get me wrong, YouTube Secrets will provide you with basic training about making money on YouTube.
Some of its information is valuable if you're a complete beginner.
For example, the video tutorials are easy to follow, and they will teach you a lot about doing keyword research on YouTube and the tools you should be using while working on your channel.
Be that as it may, the training leaves a large room for improvement, in my opinion.
Considering repurposing videos is the centerpiece of the teaching materials, I believe YouTube Secrets should go to a greater length to protect you.
You can't just use every video you discover on YouTube and remake it as your own.
Sure, there are free-to-use videos you can legally repurpose and monetize with ads later on.
But there is a lot you need to learn about working with Creative Commons to make sure you'll stay out of legal trouble.
Nowadays, you can start a much better business training for free if you join the Wealthy Affiliate platform.
Learn More About Wealthy Affiliate:
3) The Testimonials Are Fake
Hopefully, you won't mind me mentioning the sales pitch once again!
I want this YouTube Secrets review to be complete, so I have to bring another troubling sign to your attention:
All testimonials you'll see when you visit the official site of the system are fake.
These are not images of happy students sharing their enormous monetary success after purchasing the product.
No, every screenshot is a random photo of a person who has nothing to do with YouTube Secrets.
And a quick Google Image Search confirms it.
4) The Creator Uses A Pen Name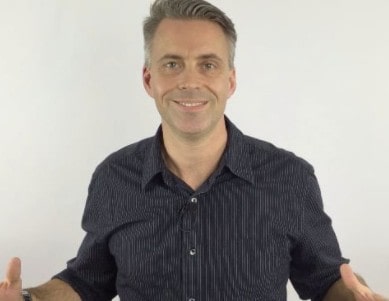 Since you already know that an actor from Fiverr pretends to be Mike Willimas, let's discuss that fact for a minute longer.
After all, I can't help but wonder:
If YouTube Secrets is such an outstanding earning system, why does its creator feels the need to hide their identity?
It doesn't look good, and it doesn't do to gain the trust of the audience.
With that said, you should know that most creators of low-quality earning systems use pen names to shield their identities.
Other Programs That Hide Their Owners:
How Much Does YouTube Secrets Cost?
At the time of writing this YouTube Secrets review, you can have the product for $1 for the first seven days.
Once the week is over, you'll need to pay $27 each month to keep your access to the system.
Again, there is a 60-day money-back guarantee you can use if you're not happy with your purchase.
Don't hesitate to ask for your investment back when YouTube Secrets turns out not to be what you expect it to be.
Who Will Have The Best Use Of YouTube Secrets?
In my opinion, nobody should buy YouTube Secrets.
The training delivers a certain amount of value – there is no argument about that.
Still, following the lessons will not allow you to start earning thousands of dollars every month.
While you might be able to earn some cash, it will be no way close enough to $10,000.
Another issue with the product is the amount of misinformation it brings.
For example, the creator is trying to convince you that you'll barely have to do a thing to earn well on YouTube.
Repurposing videos doesn't take as long as creating new ones, but it requires time you'll need to devote to editing.
I Earn Such Affiliate Commissions Every Month. Find Out How To Do The Same!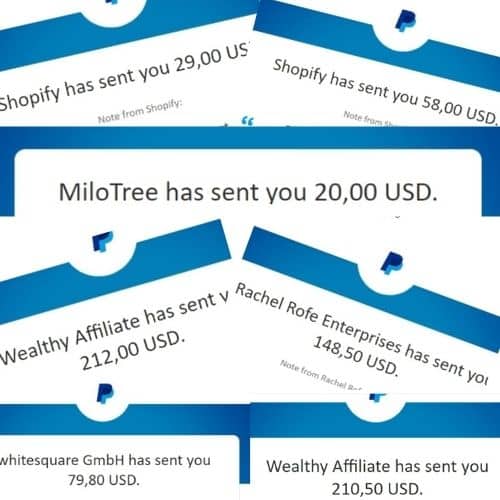 Is YouTube Secrets A Scam?
Technically, YouTube Secrets is not a scam.
As you already know, the product comes with a money-back guarantee.
Therefore, we can't see it as an illegitimate earning platform.
However, trusting YouTube Secrets to deliver the amount of money it promises will lead you to disappointment.

Let's not forget that the income proof, testimonials, and the identity of the creator are not trustworthy either.
Scams To Avoid:
A Better Way To Earn Online
Earning a full-time income online is a real opportunity these days, but it won't happen overnight.
No, it takes time and lots of hard work to build something that will make you money for the long haul.
The good news is that you can achieve that even if you have no experience at the moment.
You don't need products like YouTube Secrets to help you gain financial freedom.
Anyone can create a source of passive income.
To achieve that, you'll need to launch an online business first.
If that's something you want to do, I suggest reading my Free Guide To Building A Successful Business Online.
That guide will walk you through the working process and show you the necessary steps you need to take.
My Closing
Well, it's time to wrap up this YouTube Secrets review.
Hopefully, your mind is clear, and buying this product is out of the question.
Now, is there anything you would like to share or ask about today's topic?
Feel free to do so in the comments section, and I'll get back to you as soon as I can.
More Ideas From Cash Embrace You May Like: