Day Job Killer Review: Scam Or Effortless $347/Day?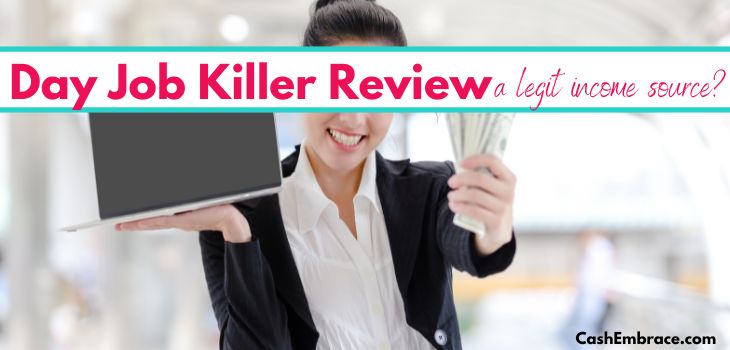 There are many reasons why it's hard to find a Day Job Killer review online right now. I'll cover these reasons in a second.
As the name suggests, Day Job Killer is supposed the help you quit your nine-to-five job by providing you with an alternative source of full-time income.
Day Job Killer presents itself as an educational platform anyone can join to learn how to generate money passively. More specifically, the system alleges that each of its users can earn nearly $350 daily.
Many money-making systems have similar claims. Unfortunately, most of these systems are low-quality programs that can't deliver on their promises.
Today, I'll tell you everything you must know about Day Job Killer:
What is Day Job Killer, and how does it work?
How much does Day Job Killer cost?
Can you make money with Day Job Killer?
Is Day Job Killer legit or a scam?
Disclaimer: I'm not an affiliate of Day Job Killer. Each fact in this article comes from research on information available in the public domain.
Recommended Read:
Day Job Killer Review: The Basics

Before this review goes any further, a couple of clarifications are in order:
First and foremost, you can find the product I'll cover today at dayjobkiller.com.
Knowing that is necessary for one simple reason:
Due to similarities in the titles, three different products look like one of the same, and most people often mistake one for the other. Aside from the Day Job Killer, we also have the Day Job Killer Book that is selling on Amazon and the Job-Killing educational course.
Considering the latter is way more popular than the former, I want to say a few words about it:
In short, Job Killing is a lead generation course that has nothing to do with Day Job Killer. So, if you're looking for a Job Killing Review, find it elsewhere by typing search queries like Job Killing course cost, lead gen reviews, or even Ippei lead generation review Reddit.
Now that the cost is clear, we can move on and take a closer look at today's topic.
What Is Day Job Killer?
Generally speaking, Day Job Killer is an entirely different product today than its original version that was launched years ago:
The first version of Day Job Killer was an online training covering Pay-Per-Click (PPC) advertising.
Over the years, Day Job Killer went through a couple of massive updates. Today, the product focuses on one area – selling digital products online.
Calling Day Job Killer a product is not accurate:
By all means, Day Job Killer is an educational platform that contains lessons, coaching, and software tools.
Its primary goal is to teach you how to make enough money from selling info products so you can quit your nine-to-five job for good.
According to the sales pitch, using Day Job Killer will allow you to make around $350 a day. Since thousands of people earn passive income while selling digital products, the Day Job Killer's claim is not far-fetched.
That's the overall introduction of the system. Now my Day Job Killer review will get deeper into the details.
Inside Day Job Killer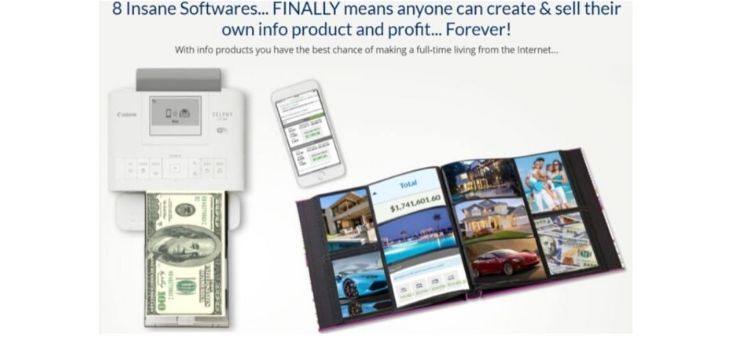 Each student gains access to the members' area immediately after joining.
Once inside Day Job Killer, members can begin the training that contains in-depth information about selling digital products such as eBooks, apps, software, WordPress themes, etc.
A total of 50 videos will walk you through the training process, and the teaching materials fill sections for your convenience.
Let's look at sections, shall we?
1) Welcome Video
Most training platforms online open with an introductory video, and so does Day Job Killer.
While the welcome video is brief, it does take enough time to explain why doing info marketing is a lucrative way to make money online these days.
During the welcome video, you'll have to set realistic goals and find out the steps to take toward achieving them.
2) Day Job Killer Overview
The second section of the training will focus your attention on the four stages of product marketing:
Choosing a niche
Creating a sales letter
Developing your product
Driving traffic to your offer
Of course, Day Job Killer goes further than mentioning the steps of product creation and marketing – it covers each of the stages in detail:
Choosing Your Niche
Working in one niche when building an online business is crucial if you want to achieve ultimate results.
DJK will help you pick a profitable niche – the platform's software CB 5000 will show you the most lucrative niches on ClickBank and JVZoo.
Expect access to a case study of three of the most profitable niches nowadays. One of these niches has earned over $12 million for Chris, the creator of Day Job Killer.
Chris offers one-on-one assistance to any student that needs extra help when picking a business niche.
Other Valuable Tools To Use When Building An Online Business:
Creating A Product And Sales Letter

Once you complete the previous training sections, feel free to start working on your first digital product. Day Job Killer's product creation section will teach you about JV partnering, outsourcing, and automation.
Another case study will show you how Chris creates his best-selling digital products.
Now, do you consider yourself a decent copywriter? Don't worry if copywriting is not your strongest suit – the creator won't leave you to deal with it alone.
You may not know that yet, but Chris holds the record for most sales on both ClickBank and JVZoo, including 15 number-one launches.
He will show you how to legally borrow words from sales letters that convert the most while using the platform's AI Copywriter.
Driving Traffic To Your Offer
My Day Job Killer review has disappointing news for you – the traffic generation section of the training can use some improvement.
While Chris goes in-depth about paid traffic, email marketing, and affiliates, he doesn't teach ways to gain organic traffic to your offer.
3) Advanced Section
Here is everything you'll find inside the advanced section of the training:
Branding and naming products
Funnels and upsells
Affiliate promotions and contests
JV partnerships
4) Additional Features
Launch Case Study: That case study explains how Chris made $170,000 in 24 hours and broke the highest gravity score.
Copywriting, Email, And Solo Ads Case Studies: These studies cover successful marketing/solo ad campaigns and flawless sales letters.
PPC $500/Day Case Study: Learn how three keywords delivered consistent $500 daily for Chris via Google AdWords.
$500K Secret Sub-niche Case Study.
How Does Day Job Killer Work?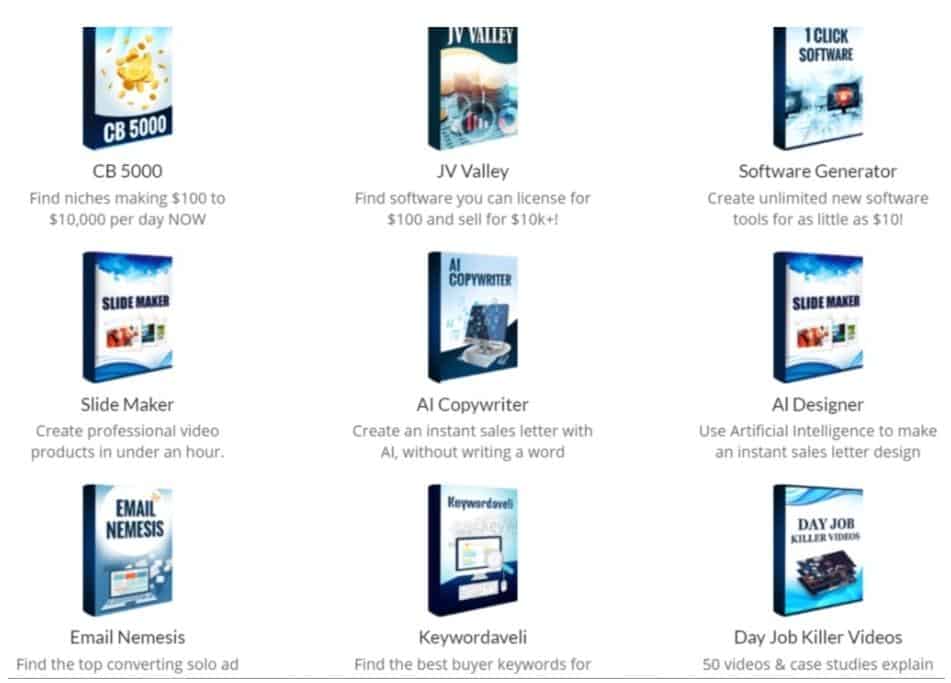 At this stage of my Day Job Killer review, you already know that the platform provides video lessons, training sessions, and software tools to help you develop a successful online business.
Once you become a member, you'll receive training videos and the software tools you see above.
Let me provide you with a brief explanation of what these tools do:
CB 500 will give you access to over 1,600 products and 100 profitable niches that earn thousands of dollars in affiliate marketing revenue.
JV Valey contains 1,600 tools you can license and resell.
A software generator will allow you to create your software tools.
Slide Maker will help you create slide types of training videos.
AI Copywriter/Designer is a tool to create sales letters and turn any of them into a product template.
Email Nemesis is the tool you'll use to write email marketing campaigns.
And Keywordaveli is a tool that will generate the most profitable keywords you can implement to increase your sales.
It's worth mentioning that none of these tools can replace the step-by-step training of the platform but will supplement it and make the learning process easier.
Related Read:
Day Job Killer Review: Pros And Cons Of The Product
Pros:
DJK offers valuable training about earning an income via info marketing.
The platform provides a legitimate way to make money online.
All lessons are easy to digest and beginner-friendly.
You'll receive many bonus materials.
Chris McNeeney (the creator of DJK) is a successful marketer with best-selling products behind his back.
There is a 60-day money-back guarantee.
Cons:
Day Job Killer doesn't teach free ways to generate traffic to your offer.
Not everyone will be able to afford the course:
How Much Does Day Job Killer Cost?
Anyone can become a member of Day Job Killer for a one-time fee of $297.
Again, the platform offers a 60-day money-back guarantee – if you're not happy with the training, you can ask for your investment back, and you'll receive it.
I Earn Such An Income Every Month. Check How You Can Do The Same!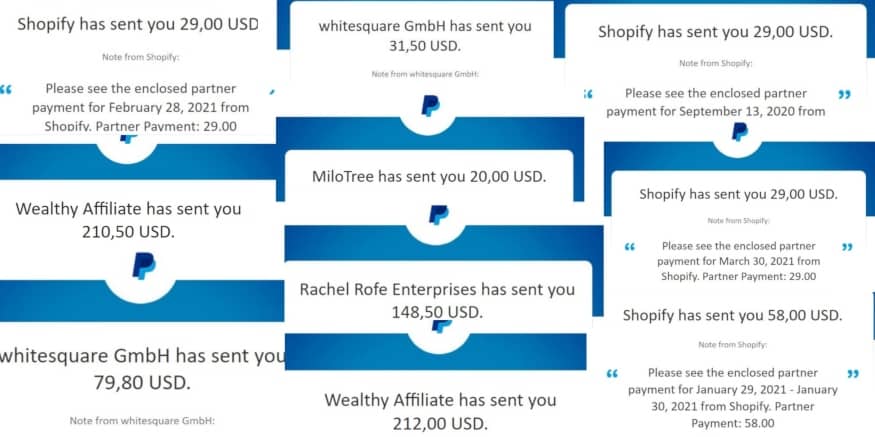 Who Will Have The Best Use Of Day Job Killer?
Nowadays, many of Chris's students have become online course creators after completing the training. They teach digital product creation to beginners who want to get into the info marketing business field.
However, that doesn't mean the Day Job Killer should be your go-to platform when you're ready to learn about making money online.
Many other courses and teaching programs train their members to earn from home for less money and provide more comprehensive learning materials.
Some of these platforms are:
Day Job Killer Alternatives
Is Day Job Killer a Scam?
No, it isn't.
Above all, Day Job Killer is a legitimate training from one of the most well-respected marketers nowadays.
Don't get me wrong – I still think it's a valuable product.

Then again, I'm just not that impressed by it to pay $300 to get it, and I don't think you should either.
After all, there are better options to make money online.
For instance, isn't it better to start with affiliate marketing instead of digital products?
You'll need $15 for a domain name and the right blogging community to guide you.
Just something to think about!
Related Read:
My Closing
I really hope that my Day Job Killer review will help you when trying to decide whether you should get the training or not.
Chances are, you won't hate the product once you give it a try.
But I still believe you don't have to pay so much money to build a successful business from scratch.
What do you think about Chris's course?
Do you feel like it's an excellent value for money, or do you share my opinion that there are better options?
Let me know in the comments section below!
Similar Content You Might Enjoy: