Million Dollar Replicator Review – $1 M In 365 Days Or Scam?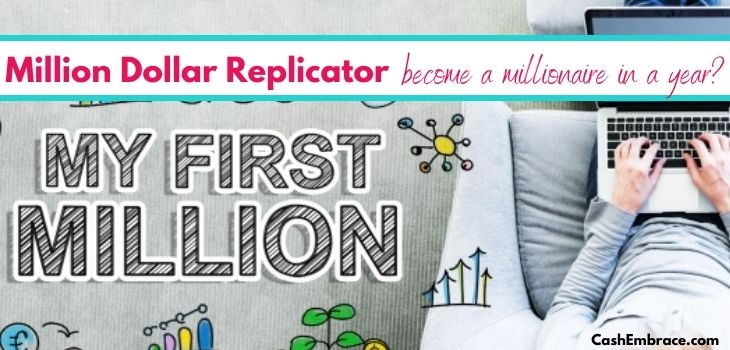 It's about time I do my own Million Dollar Replicator review.
Considering how hard the people behind the product are promoting it, there is no escape.
Maybe that's not such a bad thing.
After all, this system allegedly contains a blueprint you can replicate to earn your first million in a year.
Who wouldn't want to have access to something like that?
At the same time, every thinking person can't help but wonder how efficient such a program might be.
More importantly, does the product allows its members to build a fortune in a legitimate way?
Today, I'll share with you what's the deal with this platform. You'll learn the truth about:
What is the Million Dollar Replicator?
How does the Million Dollar Replicator work?
Can you make money with the Million Dollar Replicator?
Is Million Dollar Replicator legit or a scam?
Disclaimer: I'm not an affiliate of the program. All facts you'll read in this article comes from information available in the public domain.
Million Dollar Replicator Review – The Basics
To clarify, the official website of the product I'll be discussing today is www.milliondollarreplicator.com.
If you decide to visit it, it won't take you long to learn a couple of things about the system.
Firstly, you'll find out the name of the creator is Michael Sachs.
Secondly, you'll listen to an official presentation that claims the program will help you earn a million dollars in the next 365 days.
Lastly, you'll discover that all you need to do to earn this amount of money is to replicate the system you'll receive and let it do the work for you.
In other words, it doesn't get any better than that when you're shopping for a platform to help you make money online.
I mean, Million Dollar Replicator presents itself as a quick earning solution that doesn't require time, effort, or hard work on your part.
Knowing that you can take advantage of it for $9 probably makes your purchasing decision process a no-brainer.
With that said, I'll advise you to keep your credit card intact until you read this Million Dollar Replicator review to the end!
What Is The Million Dollar Replicator?
Basically, the Million Dollar Replicator is an automated system that allows its members to make the best of their earning abilities.
Keep in mind – the program will not teach you how to make $1 million in a year – it will do it for you.
Michael Sachs and his team of developers and digital marketers have spent years working to create outstanding software. That software is capable of finding the most profitable opportunities and replicating them for you.
Allegedly, the Million Dollar Replicator has earned Michael over $35 million in three years. Even the beta testers managed to cash in $1 million each for a little over a month of work.
So, we're talking about a money-making platform anyone can join to grow an incredible wealth fast.
Apparently, you don't need any tech skills or previous working experience to become a member of the Million Dollar Replicator.
Now, the product seems almost identical to the Millionaire Society and Easy Retired Millionaire.
Unfortunately, both of these products are low-quality systems that don't work as advertised.
Does this mean that the MDR is just as bad?
Keep reading my Million Dollar Replicator review to find out:
How Does The Product Work?
There is no need to visit the official web page of the platform – it won't tell you a lot about your working process once you join it.
Sure, you'll read again that the system operates on autopilot – you'll barely have to touch it every day.
Also, you'll be reassured that you'll earn with the Million Dollar Replicator even if you have no marketing experience.
However, the product's website doesn't say a word about what line of work you'll need to commit to earn that first $1 million.
As you probably can guess, that's a marketing tactic the owner is using to push you into a purchase before you have any clear idea about the program's content.
Well, you'll learn from me what Michael is supposed to be telling you himself:
The Million Dollar Replicator will not ask you to create a digital product or start an email list.
Instead, you'll allegedly build a source of passive income by letting the software replicate the most profitable affiliate offers for your benefit.
Meaning, the product will hunt the most lucrative affiliate programs and will earn affiliate commissions for you.
In other words, the Million Dollar Replicator will use affiliate marketing to make you money online.
Related Read:
Can You Make Money With The Million Dollar Replicator?
Quite frankly, you can profit from the product, but not in the way you probably expect.
I mean, you'll not earn millions of dollars if you follow Michael's advice and put your trust in his system. More about that a bit later.
For now, let me tell you the only way you could possibly make some cash with this program:
Basically, you'll need to become an affiliate of Million Dollar Replicator if you want to see some sort of earnings.
How do the product's affiliates earn their income?
You see, the official page will tell you that the Million Dollar Replicator can be yours for a one-time fee.
However, once you pay that fee, the page will redirect you to another one where all the upgrades are.
If a client purchases all the upsells, that person will end up spending over $750 on the platform.
According to the product's policy, every affiliate will earn a 60% commission. Doing quick math will tell you an affiliate will make $450 from a client that buys the software and all its upgrades.
Hopefully, that explains why some Million Dollar Replicator reviews online are not as transparent as they should be:
They come from affiliates of the system that will try to get you to buy it, so they'll earn commissions. Meanwhile, they'll spare you the truth about the earning abilities of the platform.
But I'm not going to!
How Much Does The Product Cost?
Since I've just touched on the topic of the price, let me elaborate further on it:
Officially, the price of the Million Dollar Replicator is $37.
Trying to leave the page without clicking on the buy button will offer you the system at the discounted price of $17.
One would think that such a magical software that can earn millions of dollars will cost much more than $17, but apparently, that's not the case!
Anyway, you already know that the platform offers a couple of upsells to all its potential members.
Investing in all of them will result in a total of $750 charge to your credit card.
So, you're looking at a sales funnel that is here for the sole purpose of getting you to spend on a miracle system that doesn't exist.
Unfortunately, most low-quality money-making systems use sales funnels to grab as much money as they can from newbies that want to earn online fast.
Other Earning Programs That Are Basically Sales Funnels:
What I Like About The Million Dollar Replicator
As a matter of fact, I don't like this product at all.
With that said, I have to mention the features you can see as positive:
There is a 60-day money-back guarantee – the program is selling on Clickbank, so at least it comes with an option to receive your investment back.
Affiliate marketing is a legit business model – I use it myself to monetize this site, and so does the software.
What I Don't Like About The Million Dollar Replicator
Well, I have so much more to say in this paragraph of my Million Dollar Replicator review!
To sum up, this is an over-hyped system that makes big promises without being able to back them up.
Here are all the red flags you need to keep in mind if you're still wondering whether to invest in the product or not:
1) The Product Has Unrealistic Income Potential
Going back to the official presentation, one would wonder how stupid does Micheal thinks we are.
Let's get real about it:
No one will ever sell you a little-known secret all millionaires are using to build their wealth for $37.
Especially, considering there is no such a secret – earning millions of dollars passively without working at all is not possible.
For a source of income to become passive, you'll have to put in the work first. And that takes time and effort.
While earning $1 million in a year is not out of the question, it's never going to happen if you rely on systems like Million Dollar Replicator.
2) You Will Not Make Money Unless You Promote The Product
So far, you're well aware of the misleading income claims of the sales page.
But let's imagine that you'll go against my advice and you'll purchase the software anyway.
I bet it will take you less than a week to realize that you'll not earn any money with it, let alone a million dollars.
What are you supposed to do in that situation if you still want to make some cash out of the platform?
The only thing you can do is become an affiliate and promote the program hoping to earn affiliate commissions.
However, this means that you'll have to lie to people the same lies that were fed to you.
Are you OK with that?
Even if you're, such mow-quality systems have huge refund rates. Don't be surprised if the affiliate sales you manage to make are few at best and non-existent at worst!
3) The Testimonials Are Fake
Chances are, the curiosity got the best of you, and you watched the sales presentation.
During that video, you noticed a couple of satisfied customers that can't praise the Million Dollar Replicator high enough.
These testimonials seem genuine, right?
Actually, wrong:
​Hate to be the one to break it to you, but none of these people are real members of the platform.
No, they work as actors on Fiverr – anyone can get them to say anything for $10.
And that's what the owners of scam systems do to provide the audience with what seem like honest testimonials.
4) Million Dollar Replicator Uses Well-Established Brands In an Unethical Manner
Now, let's discuss for a moment another troubling fact about the product – the usage of the names of worldwide brands without authorization.
A quick look at the official website will tell you that the Million Dollar Replicator has been featured on global companies such as CNN and Forbes.
None of that is true, though.
You can take the time and look through their pages, but you won't find a single mention of the platform there.
By all means, there is no way any of these brands know about the existence of the Million Dollar Replicator. Advertising it is even more out of the question.
Above all, my Million Dollar Replicator review has to shed light on that!
Displaying the logos of widely known brands is a desperate marketing tactic Michael uses to give authority to his product.
Speaking of him:
5) The Identity Of The Owner Is Unknown
According to the sales video, the Million Dollar Replicator comes from the brilliant mind of a man called Michael Sachs.
Hey, you'll even have the chance to see him during the presentation!
Actually, what you look at is a photo of a person that has nothing to do with the system:
That image is available for a free download on Pixabay – a website anyone can use to get royalty-free images.
What does all that mean?
Well, it means that Michael Sachs is just a random name the creator of the product is hiding behind.
Unfortunately, we'll never know who the real owner of the software is.
Again, using pen names and random photos is a common trait most scam programs share.
6) There Is No Valuable Training Or Support
Quite frankly, the lack of professional affiliate marketing training and tech support shouldn't surprise you at this point.
When a money-making system is of such low quality, what else do you expect?
Still, the sales pitch puts a lot of effort into convincing you that the product comes with tons of training and all the support you may need.
Once again, that's not true:
All you'll find inside your dashboard is a link you can use if you need any assistance.
Do you know where that link will lead you?
I'll tell you where – to the page that offers the upgrades.
Yes, it looks like you'll have to buy an upsell if you don't want to be left on your own devices!
Million Dollar Replicator Review – Who Will Have The Best Use Of The Product?
In my opinion, no one will have any use of the platform.
Looking at the sales pitch and the whole marketing funnel, I can see clearly what type of audience the program is trying to target:
Million Dollar Replicator aims to attract newbie marketers with no experience who don't know how to protect themselves yet.
After all, the thought of making a million dollars in a year is hard to resist, especially if you dream of instant cash you don't have to work for.
Thankfully, after taking the time to read this article, you now know that there is no such thing.
I Make Such Affiliate Commissions Every Month – See How To Do The Same Here!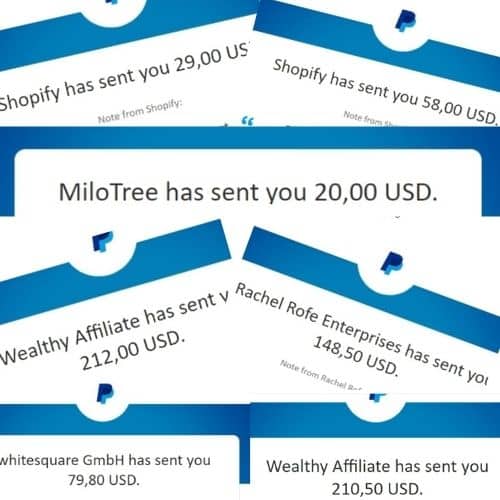 Is The Million Dollar Replicator a Scam?
The fact that the product comes with a money-back guarantee prohibits me from calling it a scam.
However, I'll strongly encourage you to think of it like one:
Nothing you see on the sales page is true.

On the contrary – it's a pure fiction that exists to bully you into a purchase you'll regret.
More Scam Systems To Avoid:
How To Make Money Online As A Beginner
By all means, you should never rely on products like Million Dollar Replicator to build a sustainable online income, in my opinion.
After reading this Million Dollar Replicator review, you already know why that is!
Such systems tend to disappear as quickly as they pop up on the web. And they will take your business with them when they go.
So, a better way to earn online is to start your own business.
These days, anyone can do that – even if you have no previous experience building a source of passive income from nothing.
How do you go about launching an online business?
Well, you'll need some guidance – that's for sure.
I suggest reading my Free Guide To Starting A Business.
It will walk you through all the steps I took when I was working on this business of mine.
The steps are easy to follow, and you'll have no problem taking action on them.
My Closing
Hopefully, this Million Dollar Replicator review will be of great use to you when you're working online.
Knowing which money-making systems to avoid at all costs can't be bad for the balance of your bank account, correct?
As long as you remember that there is no such thing as easy money with no work, you will be safe online.
Now, it's time to give the word to you:
What are your thoughts about the product?
Do you find something that might be worth the try?
Or do you share my opinion that this system will only waste your time?
Let me know in the comments section, and we'll discuss the topic further!