The Best Affiliate Programs To Promote (Even If You're A Total Newbie)
All marketers who join the best affiliate programs to promote do it to make money online. And they should:
Affiliate marketing is undoubtfully the best way to monetize a new website before you have the skills to create your own products or services.
Partnering with affiliate marketing programs will deliver you a steady monthly income and plenty of exclusive deals to offer to your audience.
However, the affiliate marketing industry is constantly changing and evolving.
As a result, you might face difficulties while finding your way through the different affiliate programs you'll be able to promote.
To help you not lose yourself in the process, I'll share my list of best affiliate products to promote 2022 (and beyond).
You'll explore the best affiliate programs for beginners in the highest-paying affiliate niches.
This post may contain affiliate links – read my affiliate disclaimer when you have a second.
Recommended Read:
What Is An Affiliate Program?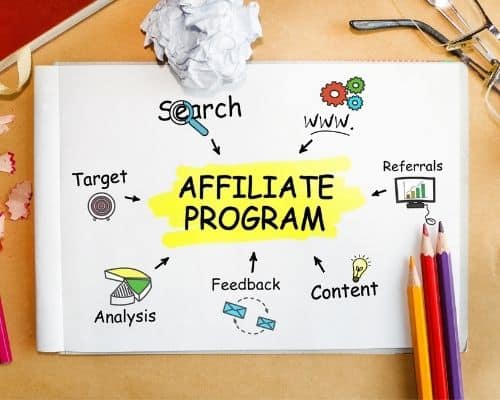 Before we proceed to the best affiliate programs to promote, we should cover the basics for those of you who are complete beginners.
With that said, let's begin by explaining what an affiliate program is:
An affiliate program is an agreement in which online merchant websites agree to pay other businesses or influencers (affiliates) a commission in exchange for traffic and sales.
Think of affiliate programs as huge networks that offer hundreds, sometimes even thousands of products available for promotion.
How Do Affiliate Marketers Make Money?
Now, what is the process you'll need to go through to start working with an affiliate program?
That process is quite simple:
Find a product that can solve a problem for your readers.
Check if that product has an affiliate program. If it does, sign up to become an affiliate.
Once you're an affiliate of the product, you'll receive a unique affiliate link.
Write a high-quality piece of content where you recommend the product to your audience.
When a reader clicks on your link and purchases the product, you'll get an affiliate commission.
The affiliate program will track the clicks on your affiliate link. More often than not, that happens by using cookies.
A cookie is a small file that carries information from one website to another. It's also the tool that will make sure commissions go to the affiliate responsible for them.
Each cookie has a length that will determine the time window for tracking the online activity of a user.
For example, if a cookie has a length of one month, your referral has to complete the purchase within 30 days after clicking on your affiliate link for you to receive a commission.
Related Read:
Things To Consider When Choosing An Affiliate Program To Promote
Cookie Duration: Always try to find affiliate programs with longer cookie duration. It goes without saying that the longer the cookie life is, the better chance for sales you'll have.
Recurring Commissions: Does the affiliate program offers the opportunity for recurring sales? Working with affiliate programs that pay recurring commissions will help you build a passive income stream.
Free Affiliate Products/Programs: You should never pay to sign up for an affiliate program. All legitimate affiliate programs are free to join.
Types Of Affiliate Programs
Do you think you're ready to promote your products and services?
In case you're, you need to be well aware of the different types of affiliate programs that exist.
Knowing all about them will help you choose the one that makes the most sense for your business.
Have a look at the general types of affiliate programs nowadays:
1) Coupon Sites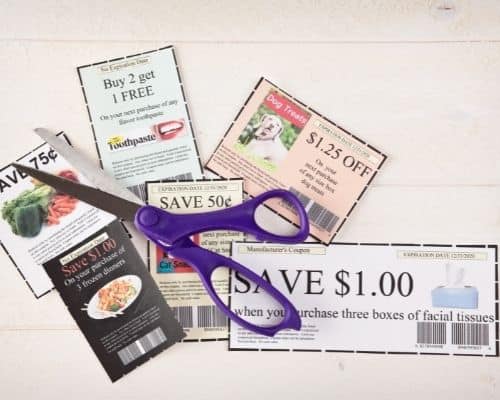 Currently, coupon/deals sites are the most popular type of affiliate sites.
Most potential customers online wouldn't say no to a deal or a discount.
Consider partnering with a coupon site for a certain amount of time.
Offering a coupon or a discount code is a smart way to attract buyers, especially if your product is new and not yet popular on the online marketplace.
2) Loyalty Or Cashback Sites
Cashback sites will give money back to the people who have made purchases using the affiliate links of the site.
While working with them will result in a lower profit, cashback sites are worth the effort:
They implement different promotions and incentives that encourage the members to make more purchases.
3) Shopping Comparison Sites
These days, most comparison sites allow their users to research thousands of products while looking at the relevant results.
Every time a person wants to buy something on a merchant's page, that person will do it through an affiliate link.
That's how a shopping comparison site earns all its affiliate commissions.
Other Types Of Affiliate Programs:
News And Media Sites
Content Sites
Review Sites
Bloggers
Search Affiliates
The Best Affiliate Programs To Promote
1) Fiverr Affiliate Program
The top spot on my list of best affiliate programs for beginners goes to Fiverr.
It's hard to imagine something you wouldn't be able to promote on Fiverr. From business services to programming to writing, your opportunities to earn affiliate commissions are endless.
But none of that should come as a surprise. After all, Fiverr is the largest marketplace for digital services right now.
As an affiliate of Fiverr, you'll earn up to $150 CPA for every first-time buyer. More importantly, Fiverr will offer you a lifetime attribution, no referral limit, and commissions of up to $1,000 per sale.
Feel free to choose from over 3 million different digital services – you can promote each of them individually.
Join The Fiverr Affiliate Program
2) HubSpot
By all means, HubSpot exists to help millions of businesses grow as fast as possible.
Joining the platform will provide you with everything you may need to satisfy your customer base. Promoting it will give you access to all sorts of advertising materials, such as videos and banners.
Once you become a HubSpot affiliate, you can take your pick of the type of affiliate commission you would like to receive.
You can either go for 100% of your referral's first-month revenue or a 15% recurring commission for one year.
Join The HubSpot Affiliate Program
3) Pabbly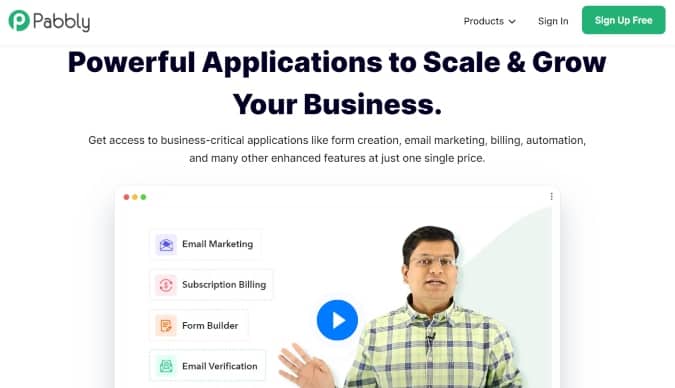 Another online platform that will shower you with tools for building a successful business is Pabbly.
Whatever you might need to push your business to the next level, Pabbly has it. We're talking about email marketing, app integration, and subscription-billing type of tools.
These days, Pabbly is more than generous with its affiliates. I mean, the lowest commission you can get for promoting any of the products is $180.
Pabbly will pay you a 30% commission within 40 days of scoring the sale.
Join The Pabbly Affiliate Program
4) Systeme.io
As you can probably guess, Systeme.io is also a platform that will assist you with launching and developing an online business.
Quite frankly, you can use Systeme in so many different ways. Inside the platform, you can build your sales funnels, create online courses, deal with affiliate programs, and automate your whole business.
Up until now, Systeme has paid over $2 million to its promoters.
Every affiliate will earn a 40% lifetime commission on all subscriptions. On top of that, you might make an additional 5% commission if your referrals choose to promote the platform.
Join The Systeme.io Affiliate Program
Tools To Use If You Want To Automate Your Affiliate Marketing Business:
5) GiddyUp
GiddyUp will connect you with some of the most popular brands in the world.
It won't be an exaggeration of the truth when I tell you that establishing connections through GiddyUp will be quite a lucrative venture for you.
While the opportunities to earn via the platform are countless, not everyone will be able to benefit from them.
Currently, GiddyUp is very careful with who they allow to promote them. Still, trying to get approval is worth the effort.
6) Widitrade
In my opinion, Widitrade deserves far more recognition than the one it currently has.
This e-commerce and lead generation platform has so much to offer. All its users get to enjoy beautiful pre-landers that will over-deliver in the high conversation rate department.
To be more specific, Widitrade will help you attract more customers through its content creation and distribution platform.
Who can deny that promoting such a valuable platform is an excellent idea?
7) AffiliaXe
One of the best affiliate programs to promote if you're starting to work online as a marketer is AffiliaXe.
That platform is incredibly easy to use. Plus, every promoter has its own affiliate manager to help them through the process.
Nowadays, AffiliaXe will allow you to market hundreds of high-quality products.
You'll receive your payments via bank transfer, checks, PayPal, or Payoneer.
8) Algo Affiliates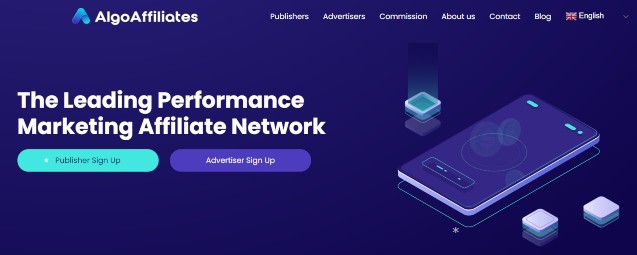 Think of Algo Affiliates as one of the top affiliate marketing networks you can join right now.
The products you'll find inside belong to some of the highest-paying affiliate niches.
For example, you'll be able to promote offers about insurance, loans, banking, real estate, finance, education, etc.
Add top-notch customer support, advanced tracking, and conversion optimization, and you'll get an idea of how Algo Affiliates operate.
9) ConvertKit
Chances are, most of you are already familiar with ConvertKit:
It looks like every second blogger and marketer trusts the company with their email marketing campaigns.
Yes, ConvertKit is an email autoresponder you can use to further your email marketing efforts.
Previously, ConvertKit was offering the opportunity for recurring commissions. However, right now, you'll receive a one-time payment for every customer you send to the platform.
10) AWeber
Just like ConvertKit, AWeber is an email autoresponder company you can take advantage of for your email campaigns.
With a long history behind its back, AWeber is trusted by millions of marketers.
Its affiliate program will allow you to earn 30% lifetime commissions.
That's not a bad amount considering AWeber has plans that cost users up to $150 per month.
11) GetResponse
Another email marketing company that has a place on my list of the best affiliate programs to promote is GetResponse.
GetResponse provides high-quality opt-in forms, landing pages, marketing automation tools, and webinar hosting.
Expect to earn more than well from the platform's affiliate program:
Promoters will receive over 30% recurring commission for every sale.
Related Read:
Best Website Builder Affiliate Programs
12) Elementor
As many of you probably know, Elementor is a drag-and-drop builder you can use to create your website.
This builder has so much to offer – page templates, widgets, tools, and integrations. It's perfect for beginners because it doesn't require any coding skills or knowledge.
If you decide to promote Elementor, you'll have the chance to earn a 50% commission on every sale.
Some of the Elementor's packages are selling for $1,000, so you can make a good amount of money promoting the company.
Join The Elementor Affiliate Program
13) Wix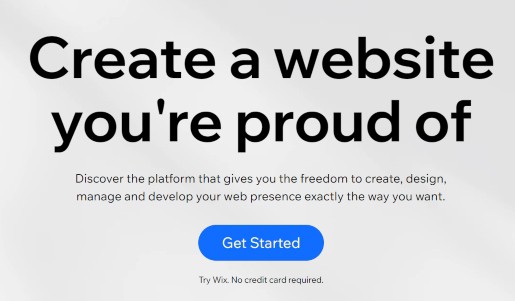 By all means, Wix has not only one of the best affiliate programs to promote.
No, Wix is also a platform that happens to provide one of the easiest ways to build a website these days. According to statistics, over 100 million people own sites thanks to Wix.
Prepare to earn $100 per sale. You have to make at least $300 per month before you're able to receive your earnings.
There is no limit to the number of users you can refer to the platform.
14) Weebly
Weebly is also a website builder with a large client base – around 40 million people are using the platform to build their blogs.
Trusting their drag-and-drop builder will allow you to launch a website in minutes.
Weebly's affiliate program will offer you the opportunity to a 30% recurring commission for every active user.
I have to mention the cookie length – it's 120 days.
15) Shopify
Normally, I wouldn't play favorites, but that's hard to achieve when the conversation becomes about Shopify.
Currently, Shopify is the leader in its respective industry. Millions of people trust it with their online stores.
With that said, Shopify is more than just a shop builder. It's a platform that comes with tons of amazing features that will help you develop a successful dropshipping business.
While Shopify doesn't accept every single person who wants to promote them, going for this affiliate program is more than worth the effort.
Join The Shopify Affiliate Program
16) BigCommerce
At a first glance, BigCommerce doesn't look like the most popular platform – it has less than 100,000 users.
Be that as it may, this e-commerce program comes with features that deserve your consideration.
Now, let's discuss the affiliate program of BigCommerce:
That program will bring a 200% bounty payment on every plan. And that means that you can earn up to $1,500 per sale.
17) AliDropship
Another e-commerce platform that deserves a place on my list of the best affiliate programs to promote is AliDropship.
AliDropship offers a full online store solution and themes/plugins.
The monetary opportunities for promoters of the program are more than lucrative:
You'll be able to earn a 50% commission on every sale.
18) Leadpages

Leadpages will let you create highly-converting landing pages at ease.
One of the best things about its affiliate program is that it often runs special offers, such as the chance to get a $5,000 bonus if you make over ten sales per month.
When there are no offers, you'll earn a lifetime commission of 30%.
High-Paying Web Hosting And Website Themes Affiliate Programs
19) BlueHost
Quite frankly, I'm not a big fan of BlueHost. I just think there are better hosting companies out there nowadays.
However, we're here to discuss the best affiliate programs to promote, and BlueHost offers one of those.
Right now, the company will pay you $100 for every new user you send its way.
20) Hostinger
Hostinger is a popular choice as a hosting company for thousands of bloggers.
Chances are, that's most likely because the company offers huge discounts on its plans.
As an affiliate, you can earn up to $150 per sale.
21) WP Engine
Basically, WP Engine offers one of the faster web hosting you can get these days.
Once you decide to promote the company, you'll have a choice about methods of payment.
You can go for $200 per sign-up or 100% of the first monthly payment of your referral.
22) Kinsta
If you want a web hosting that is fast and secure, Kinsta will deliver.
More importantly, its affiliate program will provide you with great earning options.
Affiliates can earn up to $500 per sale, plus a 10% recurring commission.
23) GreenGeeks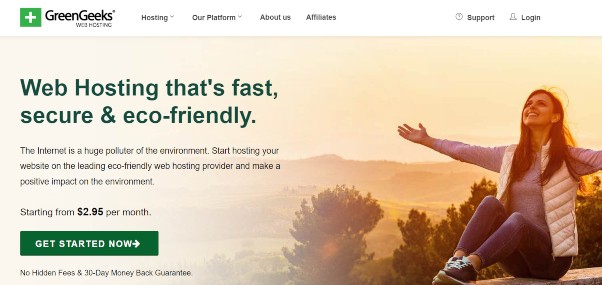 GreenGeeks will pay you different amounts of money for your referrals.
Depending on how many sales you manage to make, the company will send you $50 (for one sale) or $100 (for six sales).
So, it goes without saying that the more people you introduce to this hosting company, the bigger your bank account will become.
24) SiteGround
SiteGround is an excellent web hosting company with millions of users worldwide.
Similar to GreenGeeks, SiteGround will pay you better if you send it more customers.
Expect to earn up to $75 per referral.
25) Lyrical Host
From what I can see happening online, Lyrical Host is quickly becoming a top choice of a hosting company for many new bloggers.
Their customer service is outstanding, and the hosting plans are more than affordable.
Promoting Lyrical Host will bring you up to $80 per sale.
26) InMotion
Now, let's talk about InMotion:
Being an affiliate of this hosting company won't pay you as much as you may expect.
Still, you'll be able to make between $30-$50 per sale.
27) Elegant Themes
Who hasn't heard about Divi?
Divi is the most popular website theme that comes from Elegant Themes.
The affiliate program will pay you a 50% commission for every sale.
28) Thrive Themes
Thrive Themes is a company that specializes in creating WordPress themes and plugins that will increase your conversion rate.
Their products achieve incredible results and come at affordable prices.
Thrive's affiliate program will pay you a 35% commission for all new sales and a 25% recurring lifetime commission as long as the user remains an active client.
The Best Retail Affiliate Programs
29) Amazon Associates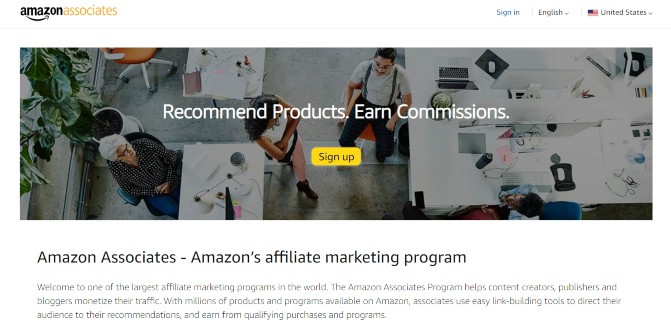 In my opinion, Amazon Associates is the most popular affiliate program in the world. It's hard to find a blogger or marketer who is unaware of all opportunities the program provides.
Considering millions of people shop on Amazon daily, promoting products that sell there is an easy way to earn a commission.
With that said, Amazon Associates offer commissions between 1%-10%.
While that might not be a lot, selling to such a large market will assure that your commission will quickly add up.
30) Target
Next on my list of the best affiliate programs to promote is Target.
Here is what you need to know about this program:
Your commissions will increase if you manage to sell more items in a short period of time.
Target offers commissions between 1%-8%.
Join The Target Affiliate Program
31) eBay Partner Network
Generally, the eBay Partner Network operates similarly to Amazon Associates.
As an affiliate, you'll be able to promote millions of products that have a high conversion rate.
Expect to receive up to 4% commission.
Sign Up For The eBay Partner Network
Other High-Paying Affiliate Programs
32) Coursera
To sum up, Coursera offers thousands of courses and different specialization opportunities.
Promoting any of them will give you the chance to earn up to 45% commissions.
Also, Coursera provides bonuses for the marketers who sell the most.
33) Semrush
If you want to earn $200 per subscription, starting with the Semrush affiliate program is a must.
Selling the company's services won't be hard:
You'll have access to all kinds of promotional materials.
34) Wealthy Affiliate
Wealthy Affiliate is an online platform that will teach you how to build a profitable business online.
Anyone can join it free of charge.
Depending on the type of membership your referrals will choose, you'll earn different amounts of money.
Prepare to receive commissions of up to $175 per sale.
Learn More About Wealthy Affiliate:
35) Tailwind
Tailwind is an automatic scheduler that will post content for you on Pinterest and Instagram.
Its affiliate program will pay you a 15% commission per paid subscriber.
Also, you'll cash in another 15% in recurring commissions.
My Closing
No matter which one of the best affiliate programs to promote you'll choose to work with, you'll have the chance to increase your marketing revenue.
Putting consistent effort into your marketing strategies is the way to go when working with affiliate programs.
Now, what are your thoughts on this topic?
Do you have any questions for me?
Drop them in the comments, and I'll take a look when I have a chance.
More Ideas From Cash Embrace You May Like: