80 Best Online Business Ideas For Beginners You Can Start Now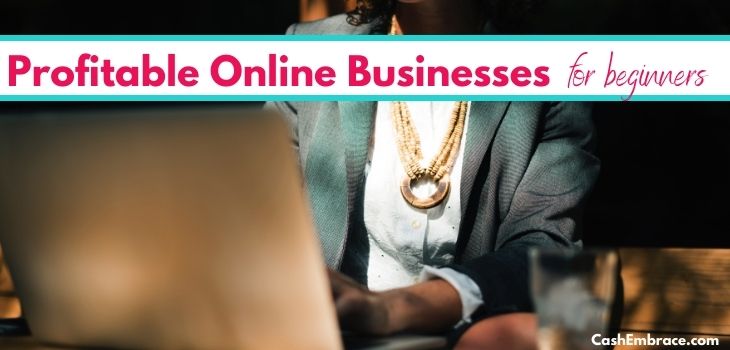 Hold on – why do you have to read about the most profitable online business ideas for beginners?
Why can't you go straight to the lucrative online businesses nowadays?
Well, you can. But maybe you should ask yourself whether you should?
Starting an online business is a step everyone who can't stand the idea of a nine-to-five job eventually takes.
However, turning a start-up into a successful source of online income is more difficult than most people think.
So, if launching a business is a first for you, you'll need to go for a business idea that matches your skills level.
Today, we'll talk about all things business for newbies:
How to start an online business from home?
What are the best online business ideas from home for beginners?
Is there such a thing as starting an online business without investment?
And the best business to start online – if you have no idea what you're doing!
This post contains affiliate links. See my affiliate disclosure.
How To Start An Online Business For Dummies
In short, the process of starting an online business goes through four essential stages:
Choosing an idea you're passionate about, launching a blog/website around it, generating traffic to your content, and monetizing it in a variety of ways.
Of course, building a profitable online business is more complicated than that. Not to mention, there will be so many twists and turns on your way.
Still, this explanation covers the basics for now. If you want to get familiar with an in-depth guide to starting a business, take a minute to read this article.
With that said, you can't move on further within the process if you get stuck on the first stage.
Yes, I'm talking about being unable to pick a business idea.
Chance are, there are plenty of things that excite you.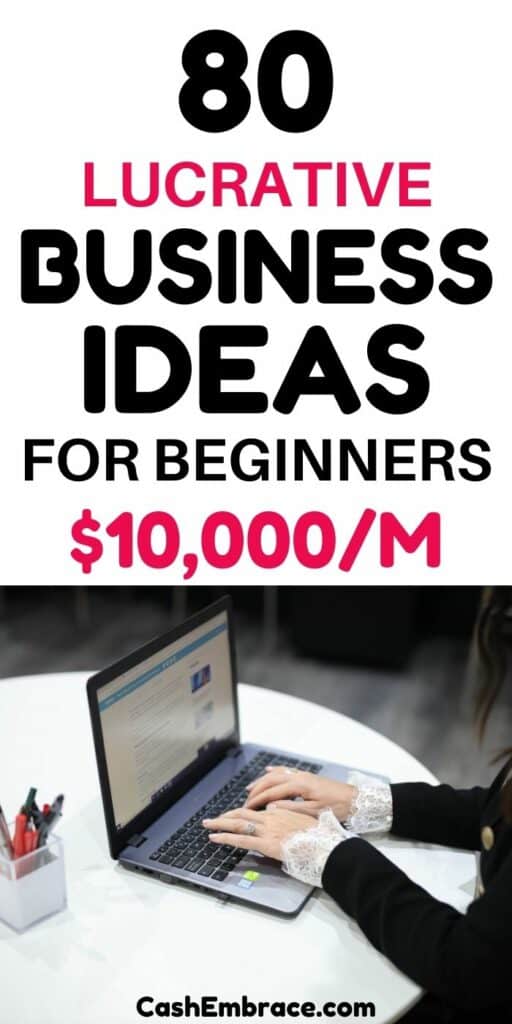 How are you supposed to choose just one?
And what should you do if you can't make a decision at all because you can't connect with any of the profitable ideas?
First and foremost, relax – there is a solution to every problem.
Giving you the opportunity to see over 50 lucrative online business ideas for beginners seems like a good compromise, isn't it?
Online Business Ideas For Beginners
Do you know that 54% of self-employed entrepreneurs are making more money now than before they were business owners?
If that doesn't give the final push to those who need the extra motivation, I don't know what will.
Actually, I do – reading more of what Small Biz Genuis has to say on the topic.
Alright then, let's dive into the list of the best online business ideas to start from home:
1) Affiliate Marketing Business
Starting with affiliate marketing is a no-brainer:
These days, anyone can become an affiliate marketer and earn money online.
The field doesn't require any previous experience or tech knowledge.
What it does require, though, is a desire to learn how to promote products and services to an audience for a commission.
Don't get me wrong – making thousands of dollars every month from affiliate sales is not an easy goal to achieve.
But you can do it – as long as you bother to learn the fundamentals of the business first.
This online university taught me everything I know about affiliate marketing – you can join it for free to start learning and receive your own website- also for free!
2) Start A Blog And Monetize It
Since I've just talked about affiliate marketing, continuing the online business ideas for beginners with blogging comes naturally.
I mean, affiliate marketing is one of the best ways to monetize a blog, after all!
You should know about the others too:
For example, you'll be able to earn from your site through displaying ads, offering services, creating online courses, etc.
BigScoots will provide you with a state-of-the-art hosting service you'll never regret having.
Most importantly, it will do that for an insanely affordable price – take advantage of it by using this link.
Once you secure such top-notch hosting, you can launch a money-making blog in minutes and start working on building it up further.
3) Freelance Blogging
OK, how come freelance blogging has its own separate paragraph?
Isn't it the same as blogging?
No, it isn't:
As a freelance blogger, you won't be writing to develop your website. Instead, you'll write for other bloggers and get paid per article.
You may wonder – why would anyone want to do that?
Well, you'll be surprised how many people prefer to offer blogging services as freelancers instead of working for ages to build a whole business.
It all comes down to personal preference!
4) Freelance Writing
Again, how is that any different than the work of a freelance blogger?
Here is how:
Freelance writers have a much bigger pool of potential clients than just bloggers.
When you get paid to write online, you can produce content for anyone willing to invest in it.
That's right – you can write for online platforms, magazines, companies – the opportunities have no limit here.
While you don't have to be a professional writer to earn money typing, you might want to polish your skills.
A great way to do that is by going through a course for freelance writers.
My Freelance Paycheck is a course I find extremely valuable for beginners. Laura Pennington (the creator) will teach you how to start making over $1,000 a month writing in no time.
5) Ghostwriting Business
What does a ghostwriter do?
They receive an outline for a piece of content that will be published under someone else's name.
Nowadays, such writing service is as popular as it is profitable:
Ghostwriters are responsible for tons of reports, manuscripts, papers – even for some of your favorite books!
Basically, this online business idea is a perfect choice for people not comfortable with standing openly behind their work.
Keep in mind, though – as a ghostwriter, you're giving away all the rights to your work to the people buying it.
6) Technical Writing
Let's keep this one short because I'm pretty sure everyone knows what a technical writer does.
No, you don't?
Alright, a technical writer is responsible for the type of content that usually goes along with electronics and software.
Do you know how to create this type of content? More importantly, do you enjoy the work enough to turn it into a whole business?
If your answers are yes and yes, then you know what to do next!
7) Speech Writer
It may be hard to believe for some of you, but writing speeches is a career on its own.
Someone has to do that, right?
Especially considering the demand for skillful speech writers keeps increasing year after year.
With that said, speech writing is somewhat of an art form, in my opinion.
Therefore, don't build a business around it before you take the time to master it first.
8) Press Release Writer
Living in the same neighborhood as speech writing, the press release writing deserves a mention on this list of online business ideas for beginners.
There are a few things about press releases you need to know before you jump into the field:
Creating a professional press release piece of content requires great storytelling skills.
Unless you can manage to tell a fascinating story in a limited amount of time, don't bother becoming a writer in that industry.
You have to force every word to do its magic to the fullest – press releases are way shorter than eBooks, for example.
Can you handle all of that?
Then go for it – the press release writing field is one of the most lucrative at the moment.
9) Grant Writing
Personally, I have a deep appreciation of grant writers:
They do such an amazing job helping non-profit organizations secure funding for years to come.
Sometimes, how well a grant writer does their job determines whether a non-profit organization will receive much-needed funds or not.
You know – the no-pressure kind of job!
As much as you may love the idea of doing this job, you need to think long and hard before you start doing it:
Breaking in and making it big as a grant writer is incredibly hard – the field is one of the toughest to succeed in.
10) Resume Writing
First and foremost, resume writing is one of the hottest and well-paid online jobs you can get these days.
The demand for a professionally written resume (and the people that do it) is higher than ever.
More often than not, your resume will influence the decision someone has to make regarding hiring you or not.
So, don't underestimate the resume writers – they have a lot to achieve and not enough sentences to achieve it.
Do you want to be one of them?
More power to you if the answer is yes – just make sure your writing abilities are as pro as they can get.
Again, you might want to look into My Freelance Paycheck – the course is an affordable investment that will pay off once you build your writing business.
11) Write And Sell Slogans
No company will ever introduce, market, and sell a product without helping itself by relying on slogans.
A slogan is a catchy phrase that has the ability to stick in your mind and make you buy the product it's attached to.
Just do it, anyone?
If coming up with slogans is what you're good at, you need to consider this business idea seriously.
Slogan Seller is a fantastic course that will walk you through the process of creating, polishing, and selling your slogans online.
12) Write eBooks And Sell Them On Your Website
Needless to say, this money-making idea is not for people who wish to stay anonymous.
Working as a ghostwriter has its advantages – I won't argue with that.
Meanwhile, making books available exclusively to your readers has even more:
You'll be the one to set up your price and determine your product's worth.
Until we're on the subject:
Is there a piece of content on your blog you feel has an incredible potential to become a whole eBook?
Great, now all you need is Sqrribble – tool thousands of people are using to create eBooks from already existing content.
13) Amazon Kindle Publishing
Apparently, there are so many ways to monetize your writing skills, so we'll stay on the topic a bit longer:
Do you have a finished book that you haven't published anywhere yet? If you do, what are you waiting for?
Amazon Kindle Publishing is an online platform anyone can use to publish a piece of written content.
Whether you want to see your product selling as a paperback or eBook, Amazon Kindle Publishing will make that happen.
Believe it or not, the process is not complicated at all.
That's why I see this option as one of the best online business ideas for beginners you can choose to develop at the moment.
14) Sell eBooks Without Creating Them
You didn't see this one coming, did you?
Not many people know that they can earn thousands of dollars selling eBooks without writing a single word.
How is that possible?
It is thanks to Amazon Kindle Publishing once again.
So, you'll use AKP as a selling playground, and you'll earn up to a 6-figure income without writing or promoting your eBook.
In case you want to learn more about this opportunity, I'll suggest looking into Mastering Book Publishing.
15) Become A Content Strategist
OK, let's get something out of the way as soon as possible:
For those who don't know, there is a huge difference between content creation and content marketing.
Without a solid marketing strategy, even the most brilliant piece of content will fail to leave a mark.
And that's why many companies are more than happy to invest in content strategists.
A content strategist is a professional that makes sure a specific content will sell.
Overseeing every step of the process (from content idea to creation to marketing), the strategist works hard to polish, improve, and market it in a way that will deliver ultimate results.
16) Content Curator
Since we're still on the topic of content, what about a curator?
To clarify, a content curator is someone who goes through online data, chooses the most relevant, and shares it on different blogs or Social Media.
Who will hire you if you become a content curator?
Actually, that's an easy one – every well-developed business that has produced tons of content through the years and needs a professional to sort it out and keep promoting it.
In other words, creating a name for yourself as a content curator is one of the online business ideas for beginners that will never leave you unable to pay the rent!
17) Copywriting
That's about enough with the topic of writing – let's move on to the copywriting now, shall we?
Professional copywriters produce high-quality content that aims to achieve a specific goal – persuade people to make a purchase.
How can you be sure that copywriting is the right business for you?
Well, if you're good with words and placing them in an order that is convincing enough for your family and friends, I'll say to give copywriting a try.
18) Editing/Proofreading Business
Now, that's one of my personal favorites from this list of online business ideas for beginners.
Especially proofreading as a business idea to develop – how could anyone not love that?
Sure, maybe not everyone entertains the idea of building a business around catching mistakes in written documents.
However, you might feel different once you learn that proofreaders earn $50,000 a year – and that's on the lower end, if I may add!
With that said, how do you become a professional proofreader if you have no experience in that area?
Going through Caitlin Pyle's Free Proofreading Course is an excellent place to start.
She will teach you how to start a proofreading business, find the most profitable clients, scale your activity further, etc.
19) Web Design Business
Web design is huge right now, probably bigger than it has ever been.
With thousands of new blogs popping up online every single, it's easy to understand why web designers are some of the most in-demand professionals.
But you need to have impressive skills in the design area to call yourself such a professional.
Therefore, don't launch a web design business until you polish your capabilities and bring them to the pro level they need to be.
20) Graphic Design Business
No, web design and graphic design are not the same things!
Many people tend to confuse one with the other.
Considering how similar they might seem, it's an honest mistake, in my opinion.
Anyway, a graphic designer relies on images, graphics, and typography to express an idea. Unlike web designers, the graphic ones only concern themselves with the creation of graphics and nothing else.
Do you see the difference now?
Hopefully, you do – and if the graphic design seems like your calling, you should know that it pays better than well!
21) Illustrating Business
Alright, let's make this take on online business ideas for beginners a bit lighter and a lot more beautiful:
We'll talk about you becoming an illustrator – and earning lots of money in the process.
Currently, people who work as illustrators online earn more than well – probably because there is an enormous demand for their services.
To one point or another, every company uses sales pages, testimonials, or tutorials to increase its product sales.
More often than not, a custom illustration will do wonders for such pages.
And that's where you'll come in!
22) Create And Sell An Online Course
For starters, let me clarify that you don't have to spend years developing a blog before you decide to create and sell an online course.
Furthermore, you don't have to start a website at all to find success as a course creator.
These days, there are plenty of platforms that will allow you to offer your course for sale to potential students worldwide (Udemy, for example).
If you have a skill you would like to teach online, you'll need help turning your abilities into a money-earning product.
My suggestion would be to look into Podia – an online platform that will provide you with everything you need to create, market, and sell your course.
23) Sell Handmade Products
Soap, candles, anything and everything that falls into the handmade category is sellable online.
Of course, you won't be able to create every single item you can see as selling like hotcake on the web.
But you don't have to!
Instead, start with one type of item (candles, for instance), make a good amount of items, and jump on Etsy to sell your work.
24) Sell T-Shirts
Basically, selling T-shirts online doesn't have to mean buying them at a cheaper price and reselling them for a higher one.
While you can do that if you go for the dropshipping business, you won't have to if you want to just create designs.
Yes, you can earn a good amount of money if you start selling T-shirts on platforms like RedBubble or TeeSpring.
Focus on coming up with gorgeous designs and leave the rest on these platforms – they'll take care of it for you.
25) Sell Photos Online
Are you a person with better-than-average photography skills?
It's awesome if you're using them for something more than just having fun.
Is there something wrong with selling your images online?
Once you see how much you'll be able to earn, you wouldn't think so!
26) Sell Services On Fiverr
Don't think for a minute that selling your skills on Fiverr doesn't deserve a spot on this list of online business ideas for beginners:
In my opinion, it does – big time, if I may add.
With that said, you better not hesitate to create a profile on Fiverr and begin selling whatever service you're capable of delivering.
Starting on Fiverr is free of charge, and it's worth the try!
27) Buy And Sell Domains
Quite frankly, there is nothing exclusive about this business idea.
On the contrary, people have been doing it for years.
Many enjoy the work since it doesn't require the creation of products or services.
Still, you might wanna learn the best practices before jumping into selling domains online.
28) Become A Facebook Ad Manager
You may wonder – what does a Facebook Ad Manager do?
Well, Facebook Ad Managers work for advertisers, mainly increasing the conversion rate of products or services.
Heads up – you need to take some time to learn the job before you try to earn from it.
Take advantage of the tons of information on the topic that is available for you to consume for free.
29) Voice-Over Business
Before you raise an eyebrow or two, let me tell you:
Doing voice-overs is not a job just for celebrities anymore. Not at all – anyone can do it to make money online.
Going through this Free Voice-Over Course is the best thing you can do for your future career.
You'll learn a lot, and you'll see what your next steps should be.
30) Online Customer Service
Have you ever thought about working as a virtual customer service representative?
If you haven't, that's fine:
You can build a business around that.
Internet connection is all you need to get started!
Online Business Ideas From Home With Six-Figure Income Potential
Don't get me wrong – some of the businesses you see above also have six-figure income potential.
However, I would like to place the most profitable and lucrative online business ideas in a separate paragraph.
Here they are:
31) Dropshipping Business
Dropshipping is a business model where you run your own online store without most of the work.
Right now, you can start a dropshipping business with no investment – isn't that amazing?
Shopify is the leader in the dropshipping field – the platform will help you build to start building your business for free.
Read More:
32) Social Media Consulting Business
Generally speaking, there isn't something too complicated about launching a Social Media-centered business:
That kind of business focuses mainly on increasing followers and brand awareness for brands, companies, and individual clients.
If that is something you can manage and enjoy doing, the income potential is incredible:
There is lots of money to be made on Social Media in 2021 and beyond – who can argue with that?
33) Virtual Assistant Business
Maybe you're not aware of it, but virtual assistance is one of the best-paying and most in-demand online jobs a person can get today.
Then why not build a business around it?
Chances are, the only thing that might be stopping you is not being a professional VA yourself.
In that case, check this Free Virtual Assistance Training – it comes from Gina Horkey, and she knows what she's talking about!
34) Digital Marketing Business
One would think that the digital marketing field will slow down eventually.
It doesn't look like something like that is going to happen any time soon, though.
The demand is bigger than ever, and many pieces of research claim that this trend is here to stay.
And yes – I do have a Free Course On Digital Marketing for you to see!
35) Coaching Business
Most people tend to think of coaching as a consultancy but they are different:
Normally, coaching goes for much longer and is about hitting specific goals.
If doing coaching seems like a good fit, you can be a personal, business, and even a spiritual coach.
There is room for many different variations here.
36) Vlogging
I'm sure that you know what I'm talking about – starting a YouTube channel.
Whatever you may feel about it at first, don't rush to dismiss this business opportunity.
Once you develop it, your YouTube channel will earn you money for years to come.
More importantly, that will be a passive income – yes, you'll earn cash while you sleep.
37) Start A Podcast
As profitable vlogging is right now, podcasting is surpassing its income potential.
Do you feel like everyone around you is starting a podcast right now?
That's probably because they are!
By the way, there are podcasters charging thousands of dollars per episode – keep that in mind.
38) Build A Podcasting Network
Doing a profitable podcast is one of the best online business ideas for beginners nowadays.
Expanding an existing podcast until you own a whole network is even better.
You can start the process by inviting fellow podcasters to join your network.
It all comes down to boosting your visibility and income potential.
39) Public Relations Business
Up until now, we talked about digital marketing and affiliate marketing earlier in this article.
Having experience in marketing will place you in a good position to start a public relations business.
But it's nowhere near enough:
You'll need to work on reputation management, influencer outreach, building connections with the press, etc.
40) Start A Dedicated Branding Business
I'm pretty sure most of you already know that, but let me say it for the newbies reading:
There are a lot of business aspects that come together to create a brand.
For example, business cards, brand colors, graphic designs are all helping to build a brand.
Owning a dedicated branding business will earn you money by helping companies launch, develop, and sustain a formidable brand.
I Welcome Similar Amounts Of Money Every Month. Find Out How I Do It!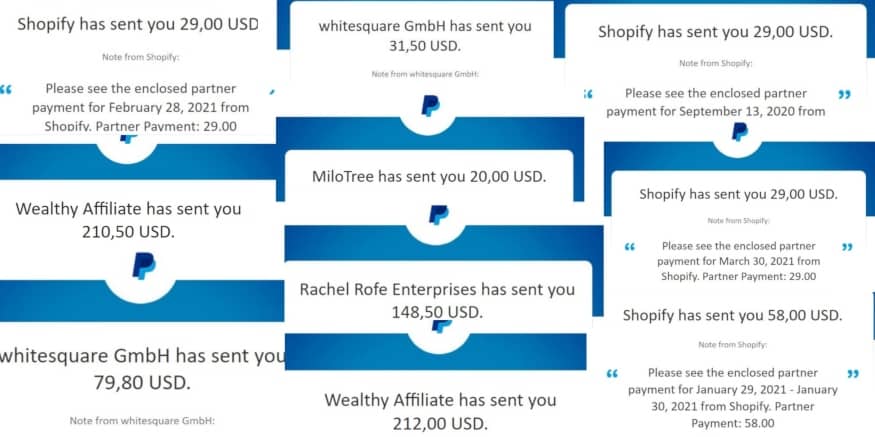 Online Business Ideas At Home That Require Specific Skills
41. SEO Consulting Business – If you have SEO knowledge and expertise, pour them into a business that will help webmasters improve the SEO of their blogs.
42. Run Membership Sites – There is a bright future for this business idea, and that's why more and more companies are actively working on it.
43. Blog Management Service – Do you think you can manage a business that offers content creation or WordPress maintenance? Great, then start a blog management service!
44. Develop And Sell Software – Hands down, that is one of the most profitable online business ideas for beginners for everyone that enjoys coding.
45. Software As A Service – Building a SaaS business is even more lucrative than just developing software. However, you'll need a solid upfront investment to make it work.
46. Testing Software – Every new software needs to go through some serious testing, so why not build a business around that?
47. Lead Generation – Businesses are constantly looking for new ways to increase the number of their leads. Help them do that, and your own business will thrive.
48. Become An Influencer – Yes, your presence on Instagram might turn into a money-making business (see how here). Sponsored posts and advertising will get you there.
49. Sound Editing And Post-Production – Can you use editing software? In case you can, there is no reason why you wouldn't be able to build a sound editing and post-production business as well.
50. Online Video Production – Put together the powers of video production and Social Media engagement, and you'll walk away with a business worth having.
51. Web Developing Business – Do you have more than enough skills to launch such a business? Don't hesitate if you do – the income potential is incredible, to say the least.
52. App Development – Chances are, you're getting paid more than well as an app developer already. Why work for someone else, though?
53. Kid-Friendly App Development – Eight out of every ten kids have access to a mobile device these days. Use that and develop a business around apps just for children.
54. WordPress Themes And Plugins Business – WordPress is not short on themes or plugins. Still, there is always room for new ones.
55. Cryptocurrency Trading – Jumping into cryptocurrency trading is tempting, but you shouldn't do it unless you know what you're doing.
56. Stock Trading – See the previous business idea – the same rule applies!
57. Online Job Portal – If you can build a professional job hunting portal, that's one business you'll never regret going into – it's more than lucrative.
58. Financial Planning – There is enormous growth in the personal finance industry – maybe you should monetize on that?
59. Tax Prep Business – Well, you need to be an accountant first. But if you're, stop working for someone else and start doing for yourself!
60. Creating Listings/Ads Business – Such a business will always earn well since thousands of companies need assistance with creating and updating their listings or ads.
Best Business To Start Online – Unique Online Business Ideas
61. Group Buying – Think of "Daily Deals" without the discounts on individual purchases. Instead, your business will offer discounts via email.
62. 3D Printing Services – The 3D Printing market is over $20 billion now. Investing in the creation of such a business is a smart idea, don't you think?
63. Chatbot Solution Business – Going into the chatbot industry without in-depth knowledge of programming and software should not take place.
64. Food Ordering System Business – While the market is getting more and more saturated every day, a unique business idea on that front will still turn profitable.
65. Interior Design Consulting – Believe it or not, you don't need in-person meetings to discuss interior design anymore. So, launch an interior design business online today!
66. Specialized Retailer – You don't need much to develop such a venture. And that's why specialized retail is one of my favorite online business ideas for beginners.
67. Freelance Translating Business – If you speak multiple languages, don't do it just for fun – make it work for you.
68. Peer To Peer Lending Business – Chances are, traditional loans might disappear in the future. However, peer-to-peer lending is here to stay.
69. Gift Basket Design Business – Many of you probably don't see designing gift baskets as a profitable business idea. Quick research online will change your mind forever.
70. Floral Arrangement Business – It's not like proms, weddings, and tons of other events don't need flowers. Someone has to arrange them, right?
71. Baking Business – If people are jealous of your baking skills, turn them into a source of income.
72. Travel Consulting Business – Do you want to help people make excellent travel plans? Great, such a business move has more than decent income potential.
73. Teaching Art Business – Let your art skills (whatever they might be) earn you money while you share them with people eager to learn!
74. College Admissions Consulting – Yes, that's a lucrative business idea as well – don't underestimate its earning potential.
75. Crowdfunding Consulting Business – Platforms like Kickstarter exist for a reason – building a business around that is worth the try.
76. Meal Planning Business – More and more people enjoy the idea of eating as healthy as possible. Assist them by starting a meal planning business.
77. Project Manager Services – Doing more in less time is all about being organized. If you have skills in that department, let them be the foundation of your new online business.
78. Online Appointment System – Quite frankly, if you're not passionate about making healthcare appointments, you should check the rest of the online business ideas in this article.
79. Amazon Reselling – Amazon doesn't need an introduction, and neither does the reselling business on it.
80. Online Auctioning – Selling products to the higher bidder is now happening online as well.
What Will Make Your Business Successful?
Well, no one can answer that question for sure.
Still, here are a couple of pointers that will help you see the big picture:
Is Your Business Idea Good Enough? – While controlling your excitement may seem impossible, try to do it and evaluate your business idea before anything else.
How Much Competition You'll Face? – Some markets are way harder to break through than others. If this is your first online business ever, you should choose a niche with less competition until you gain experience.
Do You Have The Money To Cover Your Investment? – Not all, but many online businesses will require a financial investment. Make sure that you're aware of the numbers, and you'll be able to manage the expenses.
Online Business Ideas Without Investment
First and foremost, is there such thing as an online business you can start without paying anything at all upfront?
By all means, the answer is a big fat yes:
Nowadays, there are many online business ideas for beginners you can look into even if you're out of pocket.
I suggest taking the time to read my article about Online Businesses You Can Start With No Money.
My Closing
At this point, it's hard to believe that this post is coming to an end:
It took me forever to collect all these business ideas for newbies!
Hopefully, they'll help you make the right business decision for you.
Do you have any questions on this topic?
Let me know in the comments section, and we'll talk about them as much as you would like.