6 Best Recurring Affiliate Programs – Generate Passive Income For Life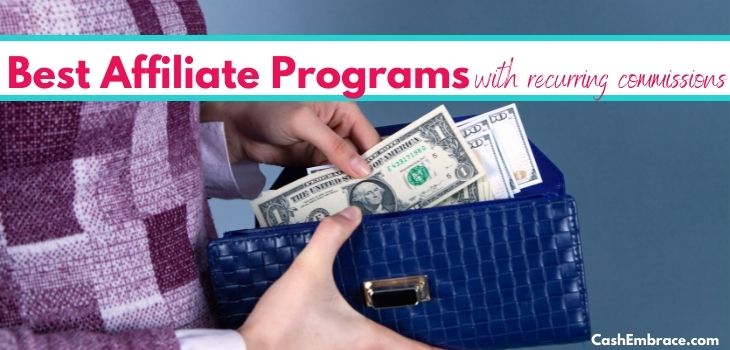 Working with the best recurring affiliate programs has to be on the top of your list of powerful marketing hacks.
As an affiliate marketer, your goal should not be to go after programs that will pay you a one-time commission. Instead, you need to promote programs that offer recurring affiliate income.
After all, that's how you'll build multiple streams of passive income. Isn't that the end game of every marketer who wants to live off affiliate sales?
Today, I'll present you with a long list of the best residual income affiliate programs to help you succeed as a full-time affiliate marketer.
I'll cover tons of info on today's topic:
What are the best recurring income affiliate programs?
Is there such thing as a high ticket recurring affiliate program?
Should you work only with the best affiliate programs for beginners?
And what recurring income do affiliate programs offer on average?
This post contains affiliate links – check my affiliate disclosure.
What Is Affiliate Marketing?
Chances are, most of you are already familiar with affiliate marketing as a business model.
But since complete beginners might be reading this article as well, let me explain the nature of the affiliate business real quick:
To sum up, affiliate marketing is a business structure that connects product owners and promoters. It's quite beneficial for both parties:
Companies agree to pay commissions to marketers in exchange for traffic and reaching a wider audience. Meanwhile, affiliates earn money for the effort of promoting products and services.
Once you become an affiliate marketer, your job will be to promote products to your audience. Every time a reader buys something through your affiliate link, you'll earn a commission.
Such a business model has countless benefits for the promoters – the biggest one is that affiliates don't have to create products or offer their own services.
With that said, it's crystal clear why doing affiliate marketing is one of the most popular ways to make money online these days.
In case you want in-depth coverage of affiliate marketing, I suggest reading these articles:
What Are Recurring Commission Affiliate Programs?
First thing first, let's insert a quick clarification of what an affiliate program is:
Basically, an affiliate program is an arrangement between online merchant websites and affiliate blogs. According to that arrangement, the merchants agree to pay a percentage of every sale to the marketer behind it.
As an affiliate, it's your responsibility to contact the merchant sites you want to work with and receive an affiliate link. After you send a considerable amount of web traffic to that link, your affiliate promotion will begin to convert into sales.
Now, what's the difference between an affiliate program and a recurring affiliate program?
Well, most of the affiliate programs will pay you just once when a reader of yours purchases through your affiliate link.
However, when working with a recurring affiliate program, you'll keep earning a residual affiliate income for a specific period.
You'll continue to make money for as long as a customer keeps using the product or service they get through your link.
First Year Affiliate Program Vs. Lifetime Commissions Affiliate Program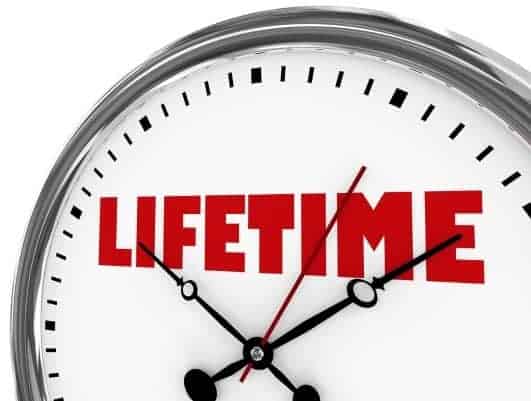 Before I get to my list of best recurring affiliate programs, I want to show you the difference between the first tear affiliate program and the lifetime commissions affiliate program.
Generally, not all recurring income affiliate programs work the same way:
Some of them will keep your commissions coming for only a year after the initial sale.
Once the year is over, so you'll be your income from that particular purchase.
If I have to guess, you wouldn't want to see that happening. And it doesn't have to if you do your best to work with lifetime affiliate programs.
A lifetime affiliate program will allow you to continue making money for as long as a customer keeps using the product or service they get through your link.
It doesn't take a genius to realize that working with lifetime affiliate programs is the most profitable strategy for every affiliate marketer:
After all, the best affiliate programs are the ones that will let you earn for years.
Related Read:
6 Best Recurring Affiliate Programs To Make Passive Income
Alright, there is just one clarification about my top picks of recurring affiliate programs I want to make:
Each of the affiliate marketing programs you're about to see is a lifetime affiliate program:
They'll keep sending affiliate commissions into your bank account for much longer than 12 months.
Let's get started, shall we?
1) ConvertKit Affiliate Program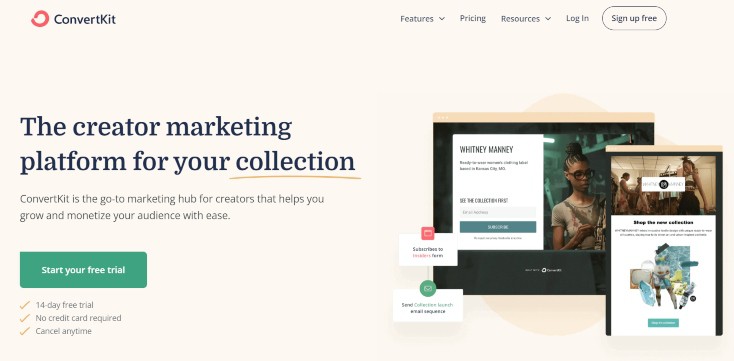 ​Those of you who do email marketing to grow their lists know what ConvertKit is.
In case someone doesn't, I'll explain what the platform does:
Basically, ConvertKit is an email autoresponder service marketers use to manage their email marketing campaigns.
Personally, I love ConvertKit – I think this platform is easy to work with and provides everything you might need to grow your email list fast.
With that said, let's focus on why you should become a ConvertKit affiliate:
Firstly, that affiliate program comes with a 60-day cookie duration period – every affiliate has a two months window to convert the web traffic.
Secondly, ConvertKit offers the first-click attribution – an affiliate commission will go to the marketer whose link gets the first click.
Lastly, there is no payout threshold – feel free to withdraw your earnings on the 2nd of the following month via PayPal.
Nowadays, ConvertKit pays 30% recurring commissions on every sale.
​
Quite frankly, we can't be talking about building an email list without squeezing Thrive Themes into the conversation.
After all, the company offers WordPress themes, tools, and plugins that focus on boosting your conversion rate.
Thrive's products will deliver visually stimulating results and a higher conversion rate for your whole business.
Whether you want to build an email list fast or sell your products, Thrive has everything you need to make that happen.
The affiliate program of Thrive Themes will pay you 35% commission for every sale and 25% recurring commission on yearly renewals.
It will offer tons of promotional materials, tools to increase your sale, and access to analytics to trace the performance of your offers.
You can receive your earnings via PayPal as soon as they reach $20.
Other Tools To Make More Sales And Double Your Conversion Rate:
​

More often than not, marketers see Elegant Themes as the biggest competition of Thrive.
I can see the logic in such an opinion:
Divi (the most popular product of Elegant Themes) is the best WordPress theme – at least, that's the most common opinion you can read online.
What about the affiliate program of Elegant Themes?
Well, that program will pay you a 50% commission for every person you refer and lifetime recurring commissions in yearly renewals.
Expect a long cookie duration (6 months) and plenty of affiliate tools and support.
4) Tailwind Affiliate Program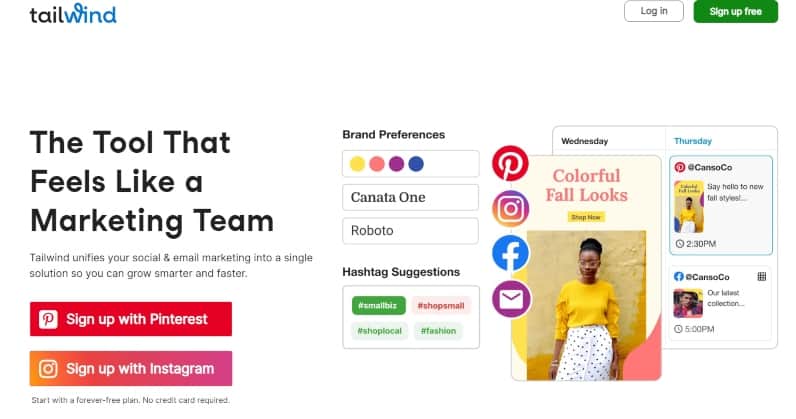 To sum up, Tailwind is a scheduling tool many people rely on to grow their business presence on Social Media (mostly Pinterest and Instagram).
One of its biggest advantages is that it saves a lot of time – the tool will post instead of you on the Social Media channel you prefer.
Considering you're here to learn about the affiliate program of Tailwind, let's talk about that:
Currently, Tailwind will pay you a 15% commission for every sale and up to 25% recurring commissions.
For example, you can earn up to $30 for every annual plan subscription of Tailwind you manage to sell.
Depending on the number of sales you make for Tailwind, you'll also receive content bonuses of up to $250.
Tailwind's affiliate program offers a cookie duration of 90 days.
​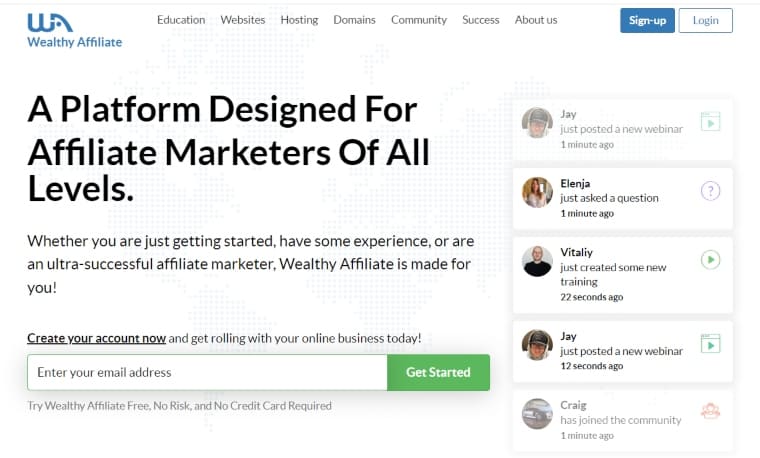 Generally, Wealthy Affiliate is an online teaching platform that provides professional blogging and affiliate marketing training.
Without a doubt, the biggest advantage of WA is that anyone can start using it for free – creating an account will cost you nothing.
There is a lot you'll receive from WA, such as training, keyword research tool, hosting, SSL certificate, and website backups, and it will be all for free.
Now, the affiliate program of WA is one of the best affiliate programs for beginners you can join nowadays.
I have to point out that the amount of money you can make promoting WA depends on the membership your referrals will choose to get.
Just one annual premium membership will earn you a lifetime commission of $121.
Take some time to learn more about Wealthy Affiliate:
6) Shopify Affiliate Program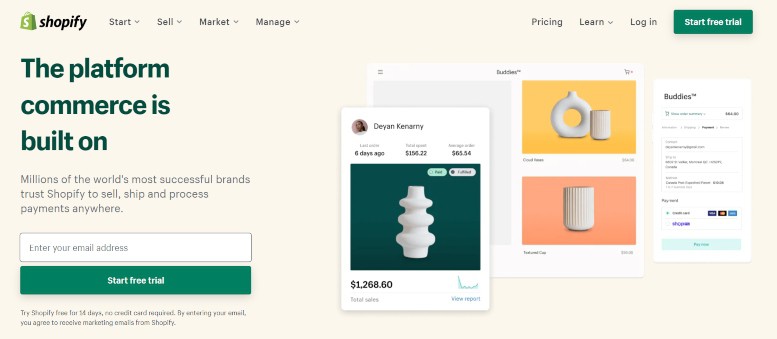 Under number six on my list of best recurring affiliate programs is Shopify.
Chances are, you already know that Shopify is the most popular platform you can use to build and host an online store.
​These days, Shopify is behind millions of eCommerce businesses. It comes with a free trial – anyone can launch an online shop free of charge.
With that said, Shopify offers different plans to all its users. And your affiliate commissions will depend on the plan your referrals choose.
As a Shopify affiliate, you'll earn between 20-30% recurring commissions on the monthly subscription fees of your referrals.
Best Recurring Affiliate Programs For WordPress
In my opinion, promoting WordPress themes and plugins is a clever strategy for every affiliate marketer:
WordPress is the most popular content management system – millions of bloggers are building their sites on it.
Subsequently, the opportunities to earn affiliate commissions while promoting WordPress are countless.
If marketing WordPress makes sense for your business niche, consider working with these affiliate programs that pay recurring commissions (RC):
MemberPress (25% RC)/MemberMouse (20% RC)
Zen WP (8% RC, plus $3,000 bonus for every 100th customer)
Superb Themes (60% commission per sale)
Premium Coding Themes (up to %50 commission)
CSSIgniter Themes/Plugins (50% per sale, plus the possibility for renewal commissions)
Access WP (10% RC)
Of course, in this category belong Elegant Themes And Thrive Themes – recurring affiliate programs you see in my top 6 picks above.
Recurring Income Affiliate Programs For Graphics And Design
Make no mistake – doing graphic design is a process millions of people have to manage daily.
Subsequently, the pool of potential clients for graphic design products and services is large, to say the least.
Feel free to promote any of the following graphics and design recurring affiliate programs:
Canva Pro ($36 per sale)
PicMonkey (50% per sale, plus 25% RC)
Designrr (50% RC)
Stencil (30% RC)
Snappa (30% RC)
Pixpa (50% commission per lead)
Best Recurring Affiliate Programs For Web Hosting
Let's face it – no site will be able to appear online without a web hosting company.
Thousands of new blogs begin to exist daily, and each of them needs a hosting provider.
Joining the affiliate programs of the best hosting companies will allow you to generate tons of affiliate sales.
Take your pick hosting providers that offer lucrative affiliate payouts:
Kinsta (up to $500 per sale, plus 10% RC)
Cloudways (up to $125 per sale, plus $30 + 7% RC every month)
Nestify ($50 sign-up bonus, plus the possibility of RC)
VirMarch (15% RC)
JixHost (20% RC)
Beyond Hosting (40% RC)
Liquid Web (up to $1,500 per sale)
Recurring Income Affiliate Programs For SEO (Top Choice – The Semrush Affiliate Program)
SEO stands for search engine optimization.
Every marketer or blogger needs in-depth knowledge of SEO to rank their content on the biggest search engines (Google, Bing, and Yahoo).
With that said, here are some high-paying affiliate programs of SEO tools you should begin promoting:
Semrush (40% RC) – that affiliate program is my top choice in this paragraph because Semrush is an invaluable SEO tool, in my opinion.
LongTailPro (30% RC)
SEO Clerks (10% lifetime commissions)
ProRankTracker (20% RC)
SpyFu (40% RC)
AccuRanker (20% RC)
Mangools ($487 per lead)
Best Affiliate Programs For Automation
Speaking of tools, the SEO ones are not the only systems that deserve your attention.
On the contrary, tools that will do wonders for the automation of your business should be a priority for you as a marketer.
Consider joining these affiliate programs:
HubSpot (100% commission of your referral's first-month revenue, plus 15% RC for one year)
Pipedrive (35% RC)
Capsule (20% RC)
Drip (30% RC)
Wishpond (30% RC)
Active Campaign (between 20-30% RC)
I Earn Such Commissions Every Month – See How To Do The Same!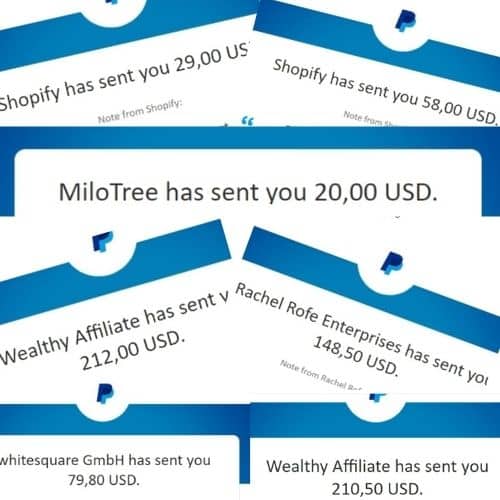 Best Recurring Affiliate Programs For Landing Pages
Quite frankly, I'm probably the biggest fan of Thrive Architect – I think this page builder is the best on the market right now.
However, other builders can do an outstanding job of creating landing pages too.
And most of them have well-paying affiliate programs:
ClickFunnels (40% RC)
InstaPage (50% first-time payment, plus 30% RC)
LeadPages (30% commission)
Landingi (up to 35% RC)
Best Recurring Affiliate Programs For Beginners (Email Marketing)
Make no mistake – email marketing is not a thing of the past, not at all.
Creating email marketing campaigns to build or nurture an email list is a non-negotiable part of the job of online business owners.
No email campaign will be possible without access to email autoresponder tools.
How about we take a look at affiliate programs of email marketing tools?
GetResponse (33% RC)
Aweber (30% RC)
Sendlane (30% RC)
MailTag (50% RC)
MailerLite (30%RC)
High Ticket Recurring Affiliate Programs For Content Marketing
Relying on content marketing is how you'll build an engaged audience.
Here, the secret to success is to produce content that answers questions of solves problems for your readers.
In my opinion, these are the affiliate programs of content marketing tools you should consider joining:
Pabbly (15% RC)
URL Profiler (25% RC)
PPC Protect (25% RC)
Sumo (30% RC)
ClickMagic (35% lifetime commissions)
TubeBuddy (50% RC)
Ninja Outreach (50% RC)
Convert Flow (30% RC)
Viral Loops (30% RC)
OptinGun (10% RC)
Recurring Affiliate Programs For Advertising
To sum up, I'll show you affiliate programs of companies that connect advertisers and publishers:
Voluum (20% RC)
RevenueHits (10% RC)
InfoLinks (10% RC)
Propeller Ads (5% commission)
Best Recurring Income Affiliate Programs For Online Courses
Does promoting online courses suit your business?
Then maybe you should begin working with these affiliate programs:
Teachable (30% RC)
LearnWorlds (25% RC)
Thinkfic (20% RC)
Best Recurring Affiliate Programs For eCommerce
Starting an eCommerce business is a direction thousands of people are going in these days.
Subsequently, it's no surprise that Shopify stock is on the rise most of the time – people need the platform to help them build online stores.
But the affiliate program of Shopify is not the only eCommerce platform you can promote:
Debutify (40% RC)
Samcart (40% RC)
Payhip (50% RC)
Spocket (30% RC)
Eggflow (20% RC)
Market Hero (50% one-time commission)
Best Beauty Affiliate Programs
Do you have a site in the beauty niche?
If you want to promote skincare, haircare, and other beauty programs, check the affiliate programs of Jade Bloom (10% RC) and doTERRA (20% RC).
Related: Why Market Health Is The Best Beauty Affiliate Program
Best Recurring Affiliate Programs – Frequently Asked Questions
What Is A Recurring Affiliate Program?
A recurring affiliate program is an affiliate marketing program that will let you earn commissions for as long as your referrals keep using the products they purchase through your affiliate link.
In other words, a recurring affiliate program will keep paying you after you make the sale.
Which Affiliate Marketing Program Is The Best?
There are many affiliate marketing programs you can see as the best if they suit your niche and the nature of your business.
Some of the best affiliate marketing programs are the referral programs of Shopify, ConvertKit, Thrive Themes, and Fiverr.
And What Is A High-Ticket Affiliate Marketing?
Long story short, high-ticket affiliate marketing is a process that entails promoting affiliate programs that offer large affiliate payouts.
Most marketers prefer promoting high-ticket affiliate programs since such a strategy allows them to earn more in a short time.
My Closing
I truly hope that you'll find my list of best recurring affiliate programs helpful.
Many programs will give you the chance to earn more than a decent income online.
With that said, I believe you should always go for the lifetime affiliate programs that will reward your marketing efforts generously.
Now, which are your favorite affiliate programs?
Share with me in the comments section, and we'll have a chat!
More Affiliate Marketing Ideas You May Like: