Best Referral Programs To Make Money: Earn By Referring People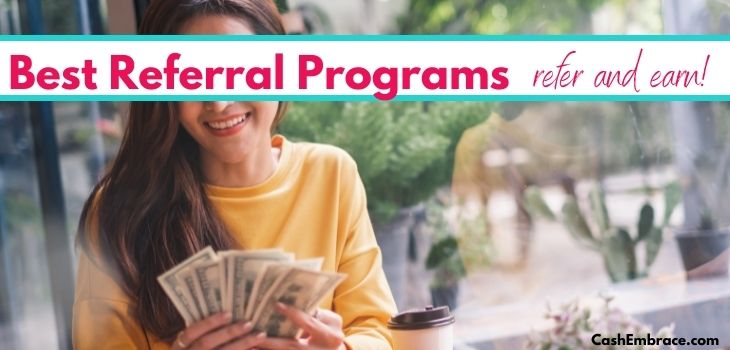 Using the best referral programs to make money is one of the clever ways to increase your income.
You shouldn't need a second opinion about that!
Whether you're trying to build an income stream from scratch or develop an existing one further, benefiting from a referral program is a must.
Thinking of a referral income as pocket money is a mistake you don't want to make:
Many high-paying referral programs will allow you to make hundreds of dollars for every individual you send their way.
Get into the right mindset as soon as possible – introducing people to different referral programs will earn you much more than any survey ever could!
Today, you'll share with you everything I know about referral programs:
What is a referral program?
How does referral marketing work?
Referral marketing vs. affiliate marketing – what is the difference?
And what are the best referral programs to make money nowadays?
This post may contain affiliate links. Check my affiliate disclosure.
What Is A Referral Program?
First and foremost, I'll do my best to make this article readable and understandable for complete beginners.
With that said, I'll try to avoid fancy words and terms that may confuse your newbie referring-loving heart!
In my opinion, this is the simplest explanation of what a referral program is:
It's the bridge that connects companies, promoters (you), and clients.
When you join a referral program, the company behind it will reward you for recommending its products or services.
The rewards may come in a different shape or form.
For example, you might earn cash, gift cards, prepaid debit cards, and many other awesome perks.
Basically, you'll benefit every time you refer someone as a potential customer to a company's business.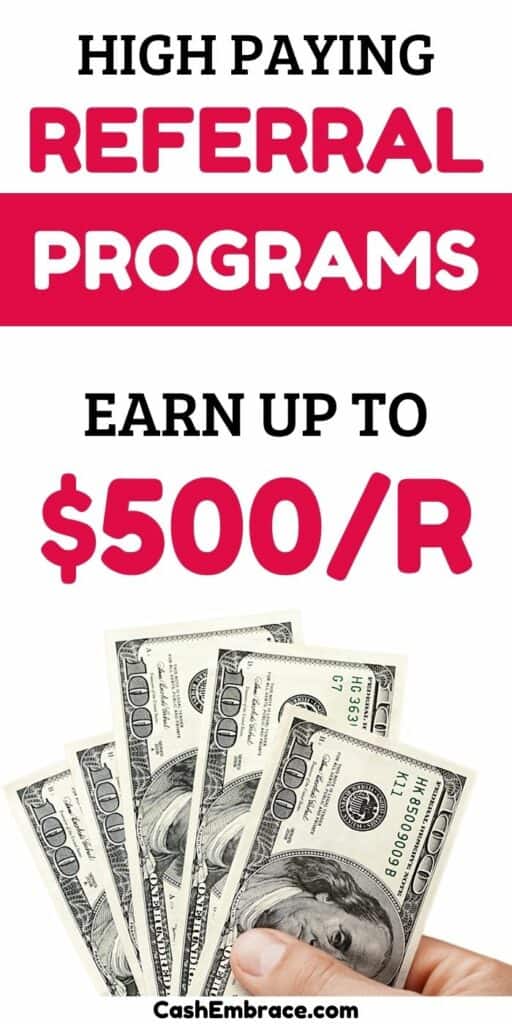 More often than not, that someone would a friend, family member, or an individual you know in some way.
Why do referral programs exist?
Well, because they provide win-win solutions for all parties involved.
Companies expand their businesses, promoters earn, and customers discover new products and services they can get at no additional charge.
What Is Referral Marketing?
To fully understand how to make the best of any referral program, we need to talk about referral marketing for a minute.
According to Wikipedia, referral marketing is a word-of-mouth strategy a company relies on to create discussions and recommendations about its products or services.
As you can guess, the primary goal behind effective referral marketing is increasing brand awareness.
Whether a company wants to enhance the visibility of its brand, product, or service, getting people to talk about it is the way to do it. An amazing referral marketing program is one of the best ways to boost the conversation to an entirely new level.
And make no mistake – word-of-mouth works every single time:
After all, sharing thoughts and experiences with other people is a part of human nature.
How Does Referral Marketing Work?
At this point, you know that the goal of referral marketing is promoting a company's goods through already existing users.
Here is how it works:
Once you choose a referral program to represent, the company behind it will provide you with a unique referral link.
That's the link you'll use when you mention products or services to new potential clients.
You may wonder – is there an incentive you can leverage to get more people to sign up?
Sure they are:
Usually, such incentives will be account credits or even discounts.
How about a quick example:
Sending a referral link to your aunt will allow her to save $15 on a purchase she is planning to make anyway.
Do you get it?
Great, let's get this article about the best referral programs to make money moving faster then:
Referral Marketing Vs. Affiliate Marketing
Many people don't see any difference between referral marketing and affiliate marketing.
There is, though – and a huge one, if I may add:
Just like the referral, affiliate marketing is a business model where you promote products and services. Instead of discounts and rewards, you'll do that for an affiliate commission.
Here, the whole process is happening online. Behind it are bloggers, marketers, and content creators who usually work online for a living.
Joining high-paying programs is how affiliate marketers secure as many affiliate sales as possible.
To fully illustrate the difference between the two business models, I have this image for you: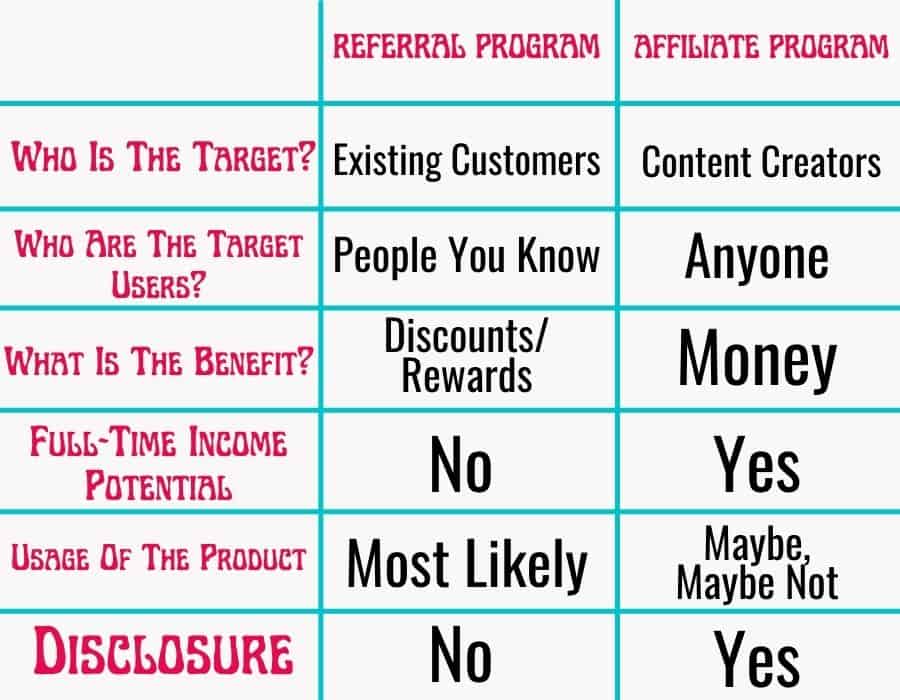 If you want to learn more about making money as an affiliate marketer, I suggest reading the following articles:
High Paying Referral Programs To Make Money
Before we go any further, I think it's a cool idea to give you an overall view of every program that will allow you to make money with referrals free.
Forget about lists of the best referral programs 2020 or even best referral programs 2021 – I have the latest roundabout on this page!
Today, you'll learn more about each of the following:
The Best Referral Programs To Make Money
Heads up – I have no plans to simply mention a referral program and how much you'll earn while using it.
That's what the previous paragraph is all about!
With that said, I'll write a few words about each entry on this list. This way, you'll find out more about the program and what to expect if you decide to join it.
1) Swagbucks
Chances are, the majority of you know what Swagbucks is.
But in case you don't, I'll tell you that Swagbucks is an online platform that pays its users to complete different tasks.
Some of these tasks are watching videos and taking short surveys.
By all means, Swagbucks is not short of fans:
Around 8,000 gift cards are going to its users on daily basis.
What about the referral fee?
Right now, the fee you'll receive is 10% of everything the person you refer earns.
2) Instacart
As many of you might already be aware, Instacart is a company that deals with delivering groceries to people.
Its workers earn well for a side activity – around $15 per hour.
But you're not here to read about them:
No, we should keep our focus on your future referral earnings.
If Instacart is available in your area, you can invite friends and family members who need help with their groceries.
Doing so will earn you $10, and the person you introduce to the company will get $10 as well.
3) Walmart Grocery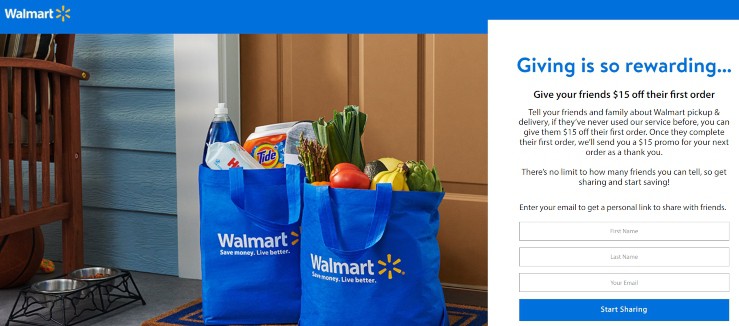 Since we're still on the topic of grocery delivery, let's not cut it short yet.
After all, Walmart is famous for its chain of supermarkets, grocery, and discounts stores in North America.
Talk to people you know about Grocery Delivery By Walmart, and they will appreciate it.
Using that service will save them time, and they'll grab a 10% discount on their first order.
You, on the other hand, will receive $15 for every person you introduce to the program.
Take advantage of this opportunity by visiting the company's site and joining its referral program:
4) StichFix
Basically, StichFix will assist you with finding clothes that will perfectly fit your body type.
Moreover, it will do the shopping for you, so you won't have to waste time doing it yourself.
A company's stylist will quiz you about your clothing preferences and send you items to try.
If they don't fit or you don't like them, you won't have to pay:
Just send them back, and you'll get another delivery soon after.
Your referral bonus from StichFix will be $25 for you and $25 for your referral.
Unfortunately, I can't provide you with a link to the referral program – it's not available worldwide.
So, I suggest visiting the official website and checking if you're eligible to promote the company.
5) ThredUp
ThredUp is an online store that will allow you to shop from top-notch brands and pay less for their products.
As far as I know, you won't be disappointed with the quality of your purchases.
Likewise, the shop's referral program is not a let-down either:
It will offer you $10 in a ThredUp credit for you, and the same goes for your referral.
See everything the store will be able to offer you and think about joining its referral program.
6) GetResponse
OK, I think my take on the best referral programs to make money is at the point where you need to see a bright example.
One such example is the referral program of GetResponse.
To sum up, GetResponse is an online platform that helps marketers on plenty of levels.
Right now, it provides email marketing, conversion funnels, landing pages, and automation services.
More importantly, GetResponse offers a lot within its referral program:
$30 account credit for both you and your referral.
7) Fiverr
Considering this is my content, I think I'm allowed to play favorites, right?
An online platform with the name Fiverr happens to be such a favorite.
Fiverr is a global marketplace that connects different businesses with freelancers looking for an online gig.
You'll find hundreds of categories if you want to use Fiverr as a freelancer.
However, if you decide to refer people to the platform, you'll get even more:
Your earnings can reach as much as $100 per single person you refer to the site.
8) FamZoo
In a nutshell, FamZoo is one of the most popular financial apps these days.
Interestingly enough, the app primarily focuses on pre-paid credit cards for kids and teens.
Yes, that's a thing right now, apparently!
So, when you open an account on FamZoo, you'll receive cards that will help your children learn to deal with their allowance.
Referring people to the program will get you $15 for each individual.
9) SoFi
Personally, I like to think of SoFi as the best referral bonus 2021.
If you decide to earn money by referral link to SoFi, prepare to can in $100 for every person you introduce to the company.
About SoFi:
It's a company that helps students with their loans, but it operates in different financial markets as well.
Meaning, you can apply for a mortgage, personal, or student loan through SoFi.
One of the things I appreciate a lot about this platform is that it offers tips and ideas to help you get out of debt.
10) Chase Bank
Evidently from the name alone, Chase Bank is all about financial services.
Credit cards, mortgages, and personal banking are some of the services you can enjoy as a client.
But do you know how much you'll benefit from the referral program?
I'll tell you the numbers – up to $500 per year.
That's not a bad amount for simply referring people to that program, is it?
You know what to do while you're exploring the website!
11) Wise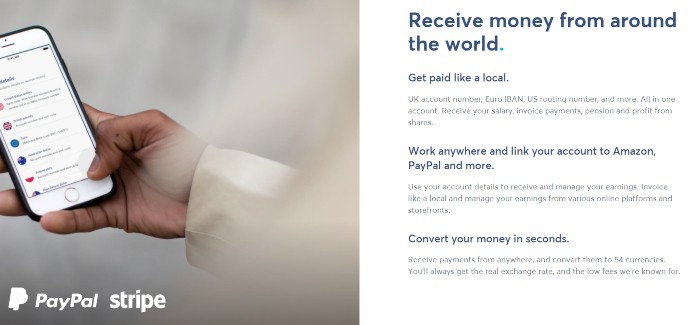 Wise is an international company that deals with global money transfers.
It also happens to have one of the best referral programs to make money:
Every person you refer to Wise will get a discount on their first transfer.
And you'll see a good amount of money once you put some effort into promoting the company:
Expect to make around 50 pounds per referral.
12) Acorns
I doubt this is the first time you read about Acorns:
That company is one of the first-ever to deal with micro-investing.
What Acorns do is get a hold of your spare change and invest it for you.
Another thing the app will do for you is to let you earn money by promoting it.
Once your referral invests as little as $5 in their Acorns account, they'll receive a $5 welcome bonus.
Meanwhile, you'll get $5 as well as a reward.
13) Casper
Nowadays, Casper sells mattresses. The prices are more than affordable, in my opinion.
With that said, the thing you'll appreciate the most about the company is its referral program:
When a friend of yours buys a mattress, you'll receive a $75 Amazon gift card.
Your friend will get a 20% discount on the purchase.
14) Uber
Is there anyone who doesn't know what Uber is?
I highly doubt that.
Still, let me say that Uber will let you get a ride at a lesser price than usual.
Also, it will allow you to earn between $5-$100 per person you refer to the company.
The exact amount of your future earnings depend on many factors.
How To Promote The Best Referral Programs To Make Money
Social Media – Regularly mention your favorite referral programs on your Social Media accounts. You never know which of your online friends will accept the invitation!
Website – These days, starting a website is easier than ever. Furthermore, promoting referral programs on your blog will give you a much better chance to earn money by referral link.
Emails – If you already own a blog, you can promote programs by doing email marketing.
My Closing
Quite frankly, my list of best referral programs to make money will never be over.
I discover new ones often – that's a fact.
So, keep an eye on this article for future updates.
Until that happens, feel free to share your own take on well-paying referral programs in the comments section.
Similar Cash Embrace Ideas You May Like: