Wealthy Affiliate Review: A Scam Or The Best Deal Ever?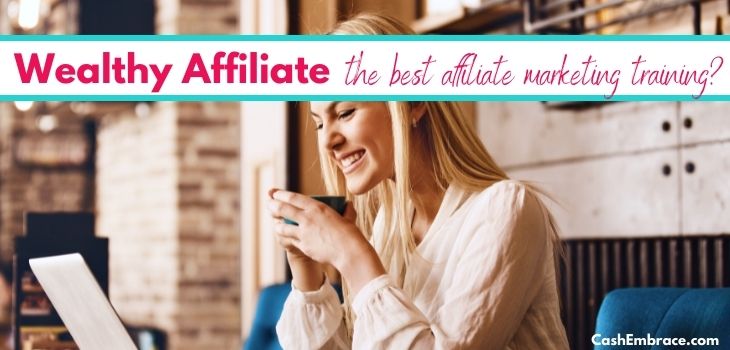 To start on the right foot, you should know that this Wealthy Affiliate Review is not going to be overly positive.
It won't be one of those Wealthy Affiliate negative reviews either.
Instead, my take on this affiliate marketing educational platform will be honest and transparent.
These days, honesty and transparency are rare. Somehow, they're almost impossible to find when a discussion about Wealthy Affiliate is happening:
People either love the platform to the moon and back or hate it with the power of thousands of suns. But not for the reasons you might think.
Going too much into one of these directions will not do anyone a lot of good, in my opinion.
So, let's look at the facts, have an honest conversation about the Wealthy Affiliate pros and cons, and allow you to make your own conclusion.
How does this sound?
If you're on board, here is an overview of today's talking points:
What is Wealthy Affiliate, and how does it work?
What does Wealthy Affiliate teach?
Can you consider the Wealthy Affiliate education valuable?
Will you make money online if you follow the Wealthy Affiliate training?
Is Wealthy Affiliate a pyramid scheme or multi-media marketing?
Why are there so many Wealthy Affiliate negative reviews online?
What's the deal with the Wealthy Affiliate lawsuit and the Wealthy Affiliate complaints?
The Wealthy Affiliate pricing and is paying the membership cost worth it?
And much more information that will help you get to the bottom of why Wealthy Affiliate is one of the most controversial marketing courses nowadays.
Make some room in your day:
Everything I have to share with you will take much longer than a couple of minutes of your time.
Disclaimer: This post may contain affiliate links. Spare a minute to read my affiliate disclosure.
Why Wealthy Affiliate Gathers So Much Attention Online?
First thing first, let's open the conversation about Wealthy Affiliate (WA) by addressing the most obvious question:
Above all, why does every second person trying to make money online feel the need to discuss this program?
By all means, there are so many other educational platforms that more or less teach the same material.
Then, what might be the reason why WA continues to be a hot topic for both newbie and experienced marketers?
Currently, a quick Google search will show you that a chit chat is going on in many shapes and forms:
You can find Wealthy Affiliate review Reddit, Wealthy Affiliate scam review, Wealthy Affiliate real or fake, and hundreds of similar variations.
Why is that?
Well, one possible explanation can be traced back to the way Wealthy Affiliate introduces itself on the web.
Steal A Glance At Wealthy Affiliate
Introducing Wealthy Affiliate
Call it a marketing pitch, if you will, but that's one of the first things you'll read about the platform if you bother to research it:
Making Money Is Easy – All You Need Is A Passion And A Website.
Now, I can understand why that first line can make your blood boiling if you have years of working online experience:
Earning through affiliate marketing is anything but easy nowadays. It's freaking hard considering how saturated the industry is.
In my opinion, though, your reaction to Wealthy Affiliate's pitch depends on the angle you'll choose to look at it.
It all comes down to whether you're a glass half full or half empty kind of person.
Because the truth of the matter is, affiliate marketing as a business model is here to stay.
Even more, the estimated earnings coming from this field tend to triple themselves every ten years. (Statistics).
So, if affiliate marketing keeps thriving regardless of its saturation, isn't it possible all you need to succeed in it is a passion for learning and a website that will allow you to do that?
And if it is, is Wealthy Affiliate really lying to you?
Just food for thought that aims to reach the program's most passionate attackers!
We, on the other hand, will dive in with both feet into the core substance of this Wealthy Affiliate review 2021!
Related Read:
What Is Wealthy Affiliate?
It's highly unlikely this is the first time you hear about Wealthy Affiliate.
If you've been researching different ways to make money online or building an affiliate marketing business, you probably stumbled upon the program at some point.
In a nutshell, Wealthy Affiliate is the most popular and igniting interest platform that teaches the art of earning online through affiliate marketing.
Feel free to think of it as an online course that walks beginners through the complicated journey of developing a successful affiliate marketing business.
However, such an explanation doesn't do WA enough justice because the platform is a bit more than that:
By all means, affiliate marketing training is just a piece of the value Wealthy Affiliate provides.
Every person who wants to join it can do so for free and receive a marketing education, a website, and web hosting (plus other perks).
To sum up, WA is an all-in-one solution for everyone who wants to become a successful affiliate marketer and needs guidance through the process.
Again, you'll gain instant access to the platform just by signing up with your name and email address:
You don't have to provide bank or credit card details to start your business training.
What Is Affiliate Marketing And Is Affiliate Marketing Stil Profitable Today?
Assuming that many complete beginners are reading this post, I should explain some basic terms before my Wealthy Affiliate review goes further.
I've already talked about how lucrative the affiliate marketing sector is earlier in this article. So, let's not zoom in on the same information again.
Instead, allow me to explain what affiliate marketing is in the simplest terms possible:
Affiliate marketing is the process of recommending another person's products or services to an audience. There is no need to create products yourself.
No, you'll just promote offers you find valuable to as many people as you're able to attract to your pages.
When a reader buys something through your unique affiliate link, you'll earn a commission for your promotional effort.
Considering affiliate marketing is one of the most common ways to make money online, it's easy to see where its popularity comes from.
Make no mistake, though – cashing in thousands of dollars from affiliate sales is not the easiest thing to achieve. That's why it's always a smart move to sign up for an affiliate marketing course that will teach you the business model inside and out.
And that brings us back to the topic of Wealthy Affiliate!
Related Read:
Who Owns Wealthy Affiliate?
Now it seems like a good time to have a word about the founders of Wealthy Affiliate.
There are two of them – Carson Lim and Kyle Loudon.
These savvy Canadians created Wealthy Affiliate way back in 2005.
With that said, WA at the time of its launch was very different than what we have today.
Initially, the platform was more of a keyword list database than a teaching community for affiliate marketers.
Over the years, Wealthy Affiliate has evolved tremendously to the point where it offers the complete start-up package for newbie marketers.
Don't get me wrong – the program still provides access to a comprehensive keyword research analysis. Its very own keyword tool, Jaaxy, has a permanent place in many round-up posts that cover the best keyword tools available online.
But WA showers its members with tons of other tools and resources that will help them succeed. More on that a bit later.
Currently, Wealthy Affiliate accommodates over 1.4 million members eager to learn and prosper in the affiliate marketing industry.
An Interesting Fact:
One of the most common complaints about Wealthy Affiliate I see online is the cost of the premium membership.
I wonder:
Do the people that complain know that the price of the premium membership has not changed since 2005?
Considering how much more expensive life has become in the last 16 years, keeping the original cost intact is kind of remarkable, isn't it?
What Is Wealthy Affiliate All About?
Well, you already know what kind of platform WA is. But everything I said earlier is nothing more than a look at the program from a distance.
To make this Wealthy Affiliate review achieve its purpose, we'll need to get closer and closer to see what is on the inside.
And that will require tons of coverage on my part!
So, I think a step-by-step approach that provides you with information gradually is the best way to construct this article.
With that said, let's begin with an overall look at what a Wealthy Affiliate membership has to offer:
A walk-through on niche selection
Web hosting + website builder
Keyword research education + professional keyword research tool
Affiliate marketing training
Training on driving traffic to your site (free and paid)
Necessary tool for affiliate and marketing success
One-on-one coaching
Extra coaching from more than 1,800 experts is available
24/7 access to tech support
Nearly 25,000 people get their questions answered and issues resolved every day
All that seems more than enough to help you build a lucrative career in the affiliate marketing industry, doesn't it?
Actually, it is not.
As I've mentioned earlier, this is not a Wealthy Affiliate negative review, but there is no way to be sugar-coated either.
WA provides a lot – not everything, though.
The truth is, the platform comes with very distinct advantages and disadvantages that will make it an amazing opportunity for some but not for others.
Just like everything else in life, looking at WA is looking at a pros and cons situation.
Joining it will make sense for you if the pros section is much larger than the cons one, correct?
Helping you determine that is what I'm trying to do today, so let's continue:
The Wealthy Affiliate Training: What You'll Learn Inside The Platform?
Basically, Wealthy Affiliate is a teaching program that provides training, education, and guidance for people who want to start an online business.
It's an all-in-one training package of blogging/business lessons, classrooms, live webinars, tools, support, community, and much more.
According to WA, you can build a business if you go through four essential steps:
Choose an interest
Build a website
Attract visitors
Earn revenue
By all means, that's actually true.
Once you decide to become a member, you'll be able to choose between two core training courses – the Online Entrepreneur Certification and the Affiliate Bootcamp.
You can do both if you wish – that's up to you.
Depending on the membership you'll have, your access to all training materials will vary.
Considering you need to know what each type of membership (free and premium) provides, I'll say we talk about that first:
The Free Membership Of Wealthy Affiliate – What Do You Get As A Free Member?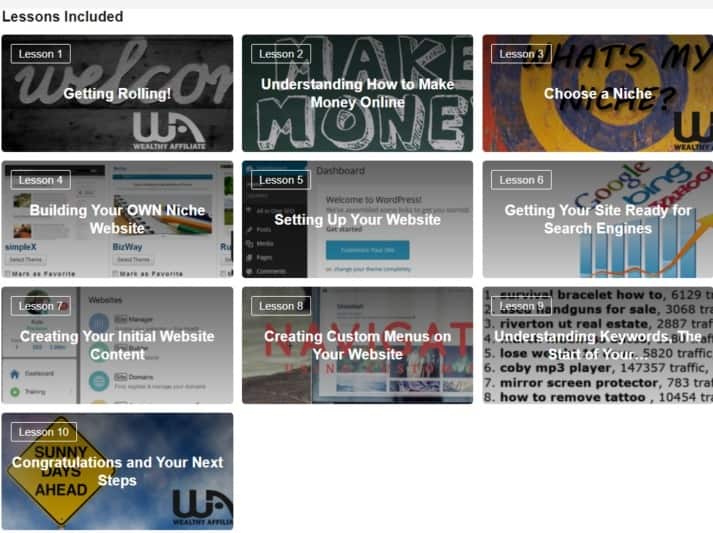 At the time of writing this Wealthy Affiliate review, here is what you'll receive when you sign up as a free member:
One website
Web hosting
30 searches with Jaaxy (the keyword research tool)
Beginner training course
Phase one of the Affiliate Bootcamp training (contains 10 lessons)
Daily website backups
Access to the affiliate program
Live help (for a week)
One-on-one coaching (for a week)
Again, you don't have to pay anything to get all that out of Wealthy Affiliate.
There won't be any charges to your credit card unless you decide to upgrade your membership.
A quick recap:
As a free member, you'll receive basic make money online education, choose a niche, build your site through the SiteRubix platform (also free), and perform 30 searches with a pro keyword tool.
Plus, you can start using your affiliate link and earn money from the platform's affiliate program right off the bat.
Create Free Account On Wealthy Affiliate
Is Wealthy Affiliate Free?
That depends on you – you can stay a free member for as long as you like.
No one is going to kick you out of the platform, nor will constantly push you to become a paid member.
To clarify, you'll be able to keep your free website, free hosting, and access to the first part of the training even if you never upgrade.
The way I see it, that's not a bad deal to begin your affiliate marketing journey.
You're getting plenty of tools and features that will allow you to build an online business, all for free.
Sure, they won't be enough to develop and advance your business to the next level.
Still, the free membership of WA will give you the opportunity to start from somewhere with no expenses whatsoever.
With that said, let's take a look at what's behind the premium membership:
The Premium Membership Of Wealthy Affiliate – What Do You Get As A Paid Member?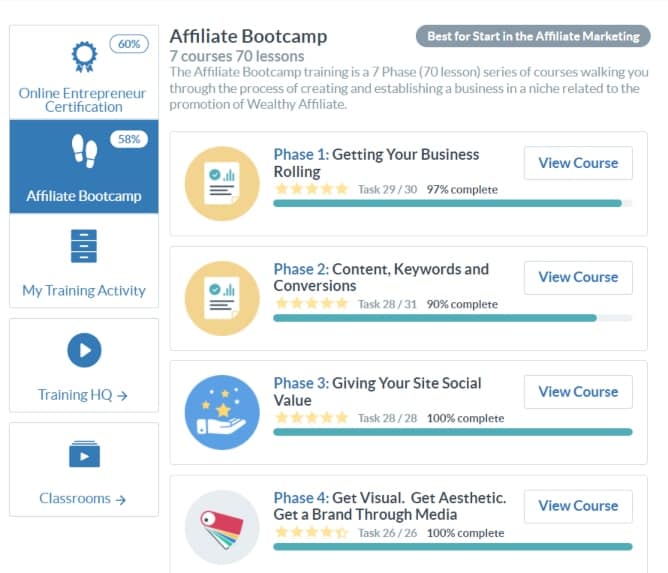 Quite frankly, a lot will go into this paragraph, so you better prepare yourself to absorb tons of information!
In short, the premium membership will provide you with everything Wealthy Affiliate has to offer, with no exceptions.
And that includes two separate training sections, unlimited access to Jaaxy, full access to the community, live events, expert educational materials, higher affiliate commissions, and plenty of other perks.
Let's take a closer look, shall we?
The Wealthy Affiliate Premium Training
Well, you already know those premium members have access to two educational platforms – the Online Entrepreneur Certification and the Affiliate Bootcamp.
Currently, the Online Entrepreneur Certification training has five levels and contains a total of 50 training lessons.
Each of these lessons comes in writing and video format. You can choose for yourself in what way to consume the learning material.
Furthermore, the lessons will put you through over 160 tasks you'll have to complete.
These tasks will place you in a position where you have to take action on everything you learn.
Meaning, the training works in a way that will allow you to educate yourself and build your business at the same time.
Moving on to the second training:
The Affiliate Bootcamp contains seven levels and will provide you a total of 70 lessons.
Your learning process will go the same way as it does with the core training – you'll create your business while the learning process is still ongoing.
Basically, the Affiliate Bootcamp is a suitable solution for people who have trouble picking a niche.
It focuses on the make money online niche since it's one of the most profitable fields to build a business nowadays.
Tools And Features For Premium Members
I doubt that I'll be able to cover every single perk the paid members of WA can take advantage of – features and materials are being added from members every day.
Yes, WA allows its most prominent and expert members to do pieces of training on their own:
The creators are not the only ones that do the teaching.
Now, let's have a look at the core tools and features the platform provides for its premium members:
Website Builder – as you know, its name is SiteRubix. That builder is an excellent solution for people who have never built a website until now. It's easy to use and will create the basics of your blog in minutes.
Keyword Research Tool – the training has a whole section that will teach you how to do comprehensive keyword research. Once you learn how to do that, you'll run your chosen keywords through Jaaxy to form a final opinion. Premium members have unlimited access to the tool. Meaning, there are no restrictions to the number of searches you can do every day.
Site Feedback And Site Comments – every paid member of WA can ask for comments from fellow members. Also, there is the option to demand site feedback – let more experienced marketers provide you with ways to improve your website.
Community – for the moment, there are over 1 million members inside WA. As a premium member, you can connect and collaborate with as many members as you wish. Not to mention, you can ask any questions you may have, and the community usually will get back to you in minutes.
Tech Support – WA has professional tech support that is available for help 24/7. Any issue that may arise while you work on your site will be addressed in a timely manner.
Live Webinars – they are happening daily. You can watch each live webinar of your choice. And if you miss it for some reason, you'll be able to rewatch it later. These webinars are created by members that have years of experience.
Affiliate program – premium members receive higher affiliate commissions. I'll explain all about that a bit later in this Wealthy Affiliate review.
Wealthy Affiliate Hosting Review
OK, I'll talk about the web hosting WA provides separately – there has to be a whole paragraph.
There are a couple of essential facts about that hosting you need to know.
Firstly, it's a managed WordPress hosting – and that is way more secured than the unmanaged one. When you host a blog on WA, the platform will take care of everything.
Meaning, you won't have to deal with data protection, spam protection, backups, security, or loading issues.
For comparison, most unmanaged hosts offer packages that will cost you between $3-$10 per month. But you'll get basic hosting. And if you want better service, you'll have to pay way more for upgrades.
Secondly, web hosting is a part of the deal when you have a premium membership in Wealthy Affiliate. You don't have to pay anything extra for it – the cost is included in the membership's price.
Most importantly, every premium member can host up to 10 websites on WA.
How much hosting 10 websites will cost you with other services?
Let's see – $115/month if you choose WPEngine and $200 per month if you go with Kinsta.
In addition, the Wealthy Affiliate hosting will provide you with instant DNS setup, Amazon c.3 large speed, and unlimited domain email addresses.
One more word about the hosting:
A common complaint about WA I see online is about that hosting's speed.
While the blogs hosted on WA might have had fast loading issues before, that is no longer a problem:
Recently, there was a huge upgrade in the quality of hosting services provided, and that improved website speed tremendously.
Start On Wealthy Affiliate For Free
How Much Does It Cost To Join Wealthy Affiliate?
Alright, let's talk about money and the cost of being a member of the platform:
As you already know, everyone starts a free member. So, you'll not pay anything unless you decide to upgrade your membership.
Yes, Wealthy Affiliate is free to join, and it will stay that way for as long as you need it to be.
With that said, it's time to have a look at the cost of the premium membership:
Monthly – $49 ($19 for the first month through this link)
6 Months – $234 ($39 per month)
12 Months – $359 ($29.92 per month)
So, what do we have here?
A yearly membership cost reduces the cost of Wealthy Affiliate to less than a dollar per day.
That money buys you hosting with all the bells and whistles, a professional keyword tool, 24/7 tech support, over 1 million people willing to help you, and everything else that we talked about up until now.
Is Wealthy Affiliate legit then? And is everything that offers worth the price?
I'll let you be the judge of that once you read this Wealthy Affiliate review to its very end.
How Much Money Can You Earn With Wealthy Affiliate?
Isn't that what everyone wants to know?
First and foremost, the most prominent line in the Wealthy Affiliate reviews complaints is that most members never earn a dime after taking the training.
Well, here is a screenshot of some of my personal monthly earnings: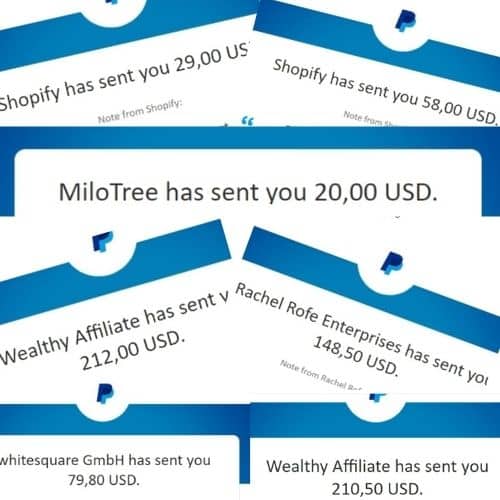 Want another one?
Have a look: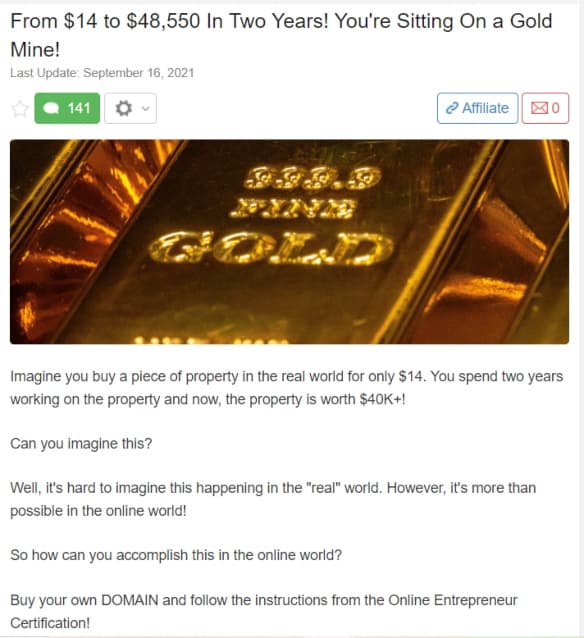 There are a lot more where these ones came from. Take a minute to read more success stories from the members of Wealthy Affiliate.
The bottom line is, the platform's members do know how to make money online with affiliate marketing. And many earn more than a full-time income once they complete the training.
How Much Money Can You Earn With The Wealthy Affiliate Affiliate Program?
Next on the list is the talk about your potential earning if you decide to promote Wealthy Affiliate.
Actually, you can see for yourself:
Not bad for an income from a platform that lets you earn while you learn, is it?
You might want to acknowledge the fact that you're looking at a recurring type of affiliate commission.
Meaning, you'll keep getting paid for as long the person you introduced to WA chooses to stay a premium member.
Yes, this affiliate program is a source of passive income if you decide it to be.
Here, I have to mention that promoting WA is not the only way you can make money on the platform itself.
See all the rest in this post about making money on Wealthy Affiliate.
Most Common Wealthy Affiliate Complaints
As I've mentioned at the beginning of this post, my take on WA is neither too positive nor too negative.
It's as honest as it can get!
Therefore, we have to discuss why many people complain about Wealthy Affiliate and the services the platform provides.
In my opinion, some of the complaints have merit, others – not so much.
Eighter way, you'll see all of them right here:
1) Wealthy Affiliate Pushes Its Members To Write Bad Reviews On Competitive Products
First and foremost, there are over a million people inside Wealthy Affiliate.
There is no way I could check the content each of those people uploads online and tell you if it's overly negative.
With that said, I could only speak for myself.
Yes, I'm a member and have been one since 2018.
Product reviews are one of the categories I have on my blog.
Here is the thing from my perspective:
While I have a good number of bad reviews on this site, they are bad for a reason.
Doing my best to be as transparent as possible with my readers, escaping a negative review is just not an option.
When a product is full of fake promises and unrealistic claims, should I not say that just because I would take the blame for calling out scams?
Blame all you want – a bad review goes where it has to go.
Even more, I've written reviews on competitive programs that are more than positive ones.
For example, take a look at my opinion about 12 Minute Affiliate, Commission Hero, or 1K A Day Fast Track.
One could argue that these systems are a competition to WA, and I gave them good reviews anyway.
The bottom line is – the truth is absolute.
Producing a negative review has to do only with a product's abilities and nothing more.
No one has ever pushed me to create content in a way that makes me uncomfortable.
My business is my responsibility, and that's how I choose to build it up.
2) Wealthy Affiliate Influences The Members To Heavily Promote It
Next, I'll shed light on the topic of how hard the platform pushes its members to promote it.
It may be hard to believe, but the creators don't hold a gun to our heads to convince us to promote WA.
Recommending the platform is a choice you would be able to make freely.
Personally, I don't see anything wrong with promoting a product I find valuable.
Isn't that how affiliate marketers worldwide earn their money?
Once you become a member, you'll find hundreds of affiliate programs you can promote on the platform itself.
Wealthy Affiliate is just one of the options.
Whether you'll take advantage of it or not, it's up to you and no one else.
3) The Training Is Outdated
Quite frankly, that used to be a valid point the Wealthy Affiliate reviews online kept talking about.
For a long time, different pieces of training were not the latest information you can find.
However, WA exists since 2005 and contains an enormous volume of educational materials.
Updating each and every one of them takes time!
Nevertheless, the issue of outdated content is no longer an issue: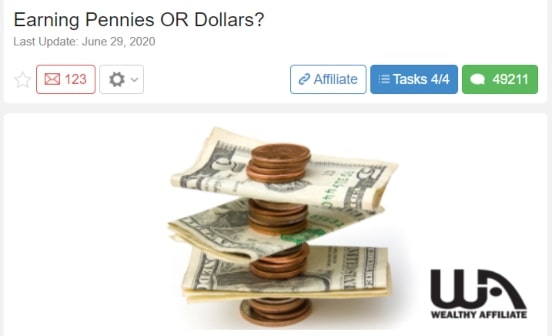 As you can see, the training sessions are getting their refreshments one by one.
You see, every training has an option that will allow you to ask for an update.
We did ask, and we did get those updates!
4) The Members Don't Make Any Money
Now, that's the one statement that always gets me furious because it couldn't be further from the truth.
No day goes by without a member blogging inside WA, excited about the paycheck they did wake up to.
Sure, results vary.
But isn't that how it is, no matter what affiliate marketing course you take?
How could we compare the results of members when so many different factors come into play?
Such as time, effort, background, family situation, work obligations, etc?
The way I see it, everyone has its own journey. And people do the best they can with what they have.
Furthermore, some of the complaints point out that members earn money only from promoting WA itself.
If you go back and look at the screenshot of some of my earnings, you'll see that I promote plenty of other affiliate programs.
One of my top-earning affiliate promotions happens to be about Shopify.
Do you think Shopify has something in common with WA?
5) Wealthy Affiliate Is Too Expensive
That one is just gold!
Let's do some math together, shall we?
I pay $0.80 per day as a premium member of WA. For that price, I use everything the program has to offer:
The keyword research tool, web hosting, training, live webinars, new daily training from fellow members, tech support, etc.
If you go and start paying for all these tools separately, how much is that going to cost you?
A professional hosting that provides fast loading time is no less $30 per month.
No, the basic $3,95 plans are not doing a good enough job.
In other words, I'm getting so much for less than the price others have to pay for hosting alone.
And what about the community?
Can you put a price on getting help and answers to all your questions in a matter of minutes?
6) The Ranking System Has No Purpose
Honestly, that might be true, but what difference does it make to you?
I've never paid attention to my ranks inside WA because I don't have to:
It doesn't harm my membership in any sort of way.
Above all, the ranking system of WA is just a measurement of your engagement with the platform.
Commenting and being active will increase your rankings.
But not doing it if you don't want to doesn't make any difference to the quality of service you'll receive on Wealthy Affiliate.
7) Wealthy Affiliate Doesn't Offer Any Refunds
First and foremost, that's true.
It's also the one area where I believe Wealthy Affiliate can and should do better.
With that said, not being able to receive a refund is a fact clearly stated in the platform's policy.
Therefore, it's not like the people signing up for premium membership don't know about it.
After all, that's what the free membership is for:
You'll have more than enough time to get familiar with WA's policies and way of doing business.
8) Wealthy Affiliate Is A Cult
Wouldn't the people badmouthing the platform just love that?
Unfortunately, that's not true.
I mean, if an encouraging environment where like-minded people support and lift each other up is a cult, then sure, WA is one.
Do you see anything wrong with members welcoming other members with warm messages?
Is that how a cult operates nowadays?
I've never been a part of one, so please – do let me know!
Wealthy Affiliate Pros And Cons
Pros:
An opportunity to start affiliate marketing training for free – you can stay a free member for as long as you want.
Easy to follow lessons – read the material or watch the videos. Plus, the training gets updated more often than ever.
Affordable premium package – you can use all tools and resources the platform has to offer for less than a dollar a day.
Plenty of extra learning materials – there is a new webinar on different topics literally every day.
Engaged community – get all the help you may need from like-minded people.
Professional tech support – you'll have access to the tech team 24/7.
50 Websites – that's how many businesses you can host on WA with no additional charge.
Direct messaging – write to the creators if you wish – that's a possibility as well.
Cons:
No training on backlinks from the platform – thankfully, experienced members are adding education on that topic.
There are no refunds – I don't appreciate that eighter, but it is what it is for now.
Start Learning With Wealthy Affiliate Free Of Charge
Is Wealthy Affiliate A Scam?
No, it isn't.
On the contrary, it's a legitimate learning platform that will introduce you to the business of doing affiliate marketing online.
Considering all the tools and resources you're getting as a premium member, I think that price of $1 a day is more than reasonable.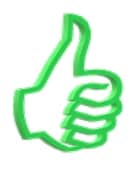 Is Wealthy Affiliate the best marketing course?
In my opinion, it's an excellent option for complete beginners, but not for more advanced marketers.
If you're just starting to work online and you want to be an affiliate marketer, WA is a suitable opportunity for you.
Well, it's much better than all the following alternatives, that's for sure:
Wealthy Affiliate Review – Frequently Asked Questions
Is Wealthy Affiliate A Scam Or What?
I've just answered this question, but let me do it once again:
WA is not a scam but a legitimate teaching platform where you can learn the basics of affiliate marketing.
The fact that you can stay a free member without paying anything at all speaks volumes.
Is Wealthy Affiliate A Pyramid Scheme?
Again, no, it isn't.
You're getting a quality training product for your money.
Hey, you're getting a product even for no money at all!
What pyramid scheme will provide you with a website, hosting, keyword tool, and training free of charge?
What Does Wealthy Affiliate Do?
It teaches the craft of affiliate marketing inside and out.
Plus, it provides training on getting free blog traffic, keyword research, and many other topics that will allow you to make money blogging.
Feel free to think of it as an all-in-one training package that will jump-start your affiliate marketing career online.
And What About The Wealthy Affiliate Pricing?
There are two membership options – free and premium.
The free one is self-explanatory, and the premium one will cost you around $1 a day.
Is There A Wealthy Affiliate Review Trustpilot?
If you still doubt the platform's reputation or abilities, you can look it up on Trustpilot.
Once you do that, you'll see that WA has over 90% of an excellent score.
Not bad for a training course that still provokes such controversy online, is it?
Can Wealthy Affiliate Make You Rich?
In all fairness, that depends on you.
While WA provides high-quality training, it's not going to do the work for you.
Only you can make yourself rich, so you might want to keep that in mind before you arrive at the Wealthy Affiliate login!
My Closing
Do all of your questions get their answers?
We can talk about WA all day long and still not cover it to the fullest.
So, maybe you want to let me know about an aspect that is missing in this article?
Drop your comments in the section below, and I'll have a look.
Don't forget to tell me if you enjoyed this Wealthy Affiliate review!
Similar Ideas From Cash Embrace You May Love: