How To Make Money With ClickBank: Earn $500 A Day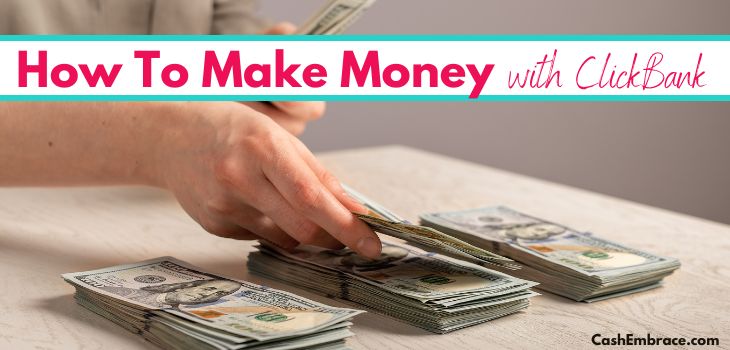 Most beginner affiliate marketers know about ClickBank and how the platform operates. However, not all these marketers know the best way to leverage the platform and how to make money with ClickBank.
There are two ways to make money on ClickBank. The first requires creating products and selling them on the platform's marketplace. And the second way entails promoting other people's products for a commission.
Believe it or not, the money-making process on ClickBank demands more than creating an account on the platform and picking a product with a high affiliate payout to promote.
Joining ClickBank is free. Before you become a ClickBank seller or promoter, though, you'll have to learn the most efficient strategies that will earn you money from ClickBank.
That's exactly what I'll teach you to do in this post, so let's get to it.
This post contains affiliate links – read my affiliate disclosure.
Recommended Read:
What Is ClickBank?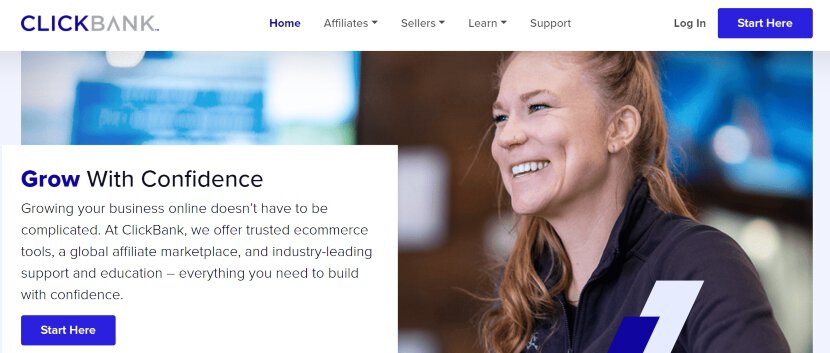 ClickBank is one of the largest and most popular platforms anyone can join to earn money online. More specifically, ClickBank is a place that operates as a middleman between product creators and affiliate marketers.
Let me clarify a bit further:
Generally speaking, you can think of ClickBank as an online platform that connects creators selling their products with affiliates who want to promote these products in exchange for a commission.
An interesting fact about ClickBank is that the platform has been operating since 1998. During the years since ClickBank was created, the marketplace has sold over 100 million products.
Currently, over 100,000 affiliate marketers work with ClickBank.
How Does ClickBank Work?
As I mentioned earlier, ClickBank acts as the bridge between product creators and affiliate marketers.
In other words, ClickBank has two main functions that serve the needs of two parties – vendors and affiliates.
ClickBank As an e-Commerce Platform For Digital Product Creators
Do you have an informational product you're ready to sell to a worldwide audience, such as software, online course, or eBook?
Hopefully, you do – ClickBank makes it incredibly easy for your product to reach thousands (maybe even millions) of potential customers.
Vendors can add their products to ClickBank's database. Once they do that, tens of thousands of affiliates will see that product and will be able to start promoting it.
Becoming a ClickBank seller is a straightforward process – you'll have to pay a one-time activation fee of $49.95. Then you'll list your product and pick a commission percentage (affiliate payout you're willing to pay to people promoting your product).
Selling your product on ClickBank has many advantages. For instance, ClickBank will handle the whole technical part of the process for you. Plus, the platform will manage the payment process and client support.
On the downside, ClickBank will charge a fee on every sale you make. That fee is between 1-8%.
Other fees ClickBank will impose on you as a seller are the payment processing fee ($2.5) and the customer refund fee ($0.50-$1.00).
ClickBank As a Product Marketplace For Affiliate Marketers
If you're an affiliate marketer and want to learn how to make money with ClickBank, here is some of the essential info you'll need:
Anyone can create an affiliate ClickBank account for free. After the registration process, start browsing through all available categories to select a product to promote.
Once you choose a product to promote, create a unique affiliate link and drive traffic to your promotion. You'll receive a commission when a customer buys the product through your affiliate link.
Affiliates don't have to go through a screening process to start promoting ClickBank products. Marketers will easily find products in different categories that match their niche and target audience.
Why Should You Work With ClickBank? Is ClickBank Legit?
While ClickBank is one of the largest and most popular affiliate networks, it's not the only one you can work with. Why you may want to choose it then?
Aside from the opportunity to join ClickBank for free and the lack of a screening process, what other reasons do you have to work with ClickBank?
Well, most of the products available for promotion on ClickBank are digital educational products. Are you aware that the e-learning market generates millions of dollars in sales each year?
Next, ClickBank offers some of the highest affiliate payouts online – affiliate marketers can earn up to 75% commission on ClickBank products.
More importantly, ClickBank is a legitimate network that has been in operation for over 20 years. Its annual revenue surpasses the $100 million mark.
I have to mention that you can be both merchant and an affiliate on ClickBank.
Pros And Cons Of ClickBank
No affiliate network is perfect, and ClickBank is not an exception to that rule.
Let's take a look at both the benefits and disadvantages of ClickBank:
ClickBank Pros
High Affiliate Payouts: Learning how to make money with ClickBank comes with lots of perks – the biggest one is the opportunity to earn high affiliate commissions. Most ClickBank products offer more than 70% commission.
Huge Selection Of Products: Once you become a ClickBank affiliate, you'll be able to start promoting thousands of products. The products available on ClickBank are in every category you can imagine, so they'll work for all niches.
There Are Recurring Offers: You'll be glad to find out that many ClickBank affiliate offers will allow you to earn recurring commissions. That's all you need to establish a passive income stream.
ClickBank Is Newbie-Friendly: Anyone can begin promoting ClickBank products since the platform takes care of the tech and customer support.
Earn Affiliate Commissions Fast: These days, most affiliate networks will send your earnings after 30 days of earning them. But ClickBank pays its affiliates weekly.
Affiliates From All Over The World Can Work With ClickBank: Assuming some of you live outside of the USA, you'll appreciate the fact that ClickBank will still work with you. Create a Payoneer account and use the direct deposit option to receive your earnings.
Many Promotional Tools Are Available: Marketing tools like email templates and banner ads are available to ClickBank affiliates.
ClickBank Cons
Not All ClickBank Products Are Of High Quality: Unfortunately, many of the products on the ClickBank marketplace are low-quality systems. Avoid wasting time promoting such products by doing research and choosing only valuable programs.
Refund Rates Are High: Low-quality systems come with extremely high refund rates. Expect to look at reduced profits if the products you choose to promote often get refunded on the platform.
Tough Competition: Since ClickBank is more than newbie friendly platform, most newbie affiliates prefer to join it. That has its own challenges – you'll have to deal with lots of competition regardless of your niche.
How Much Money Can I Make With ClickBank?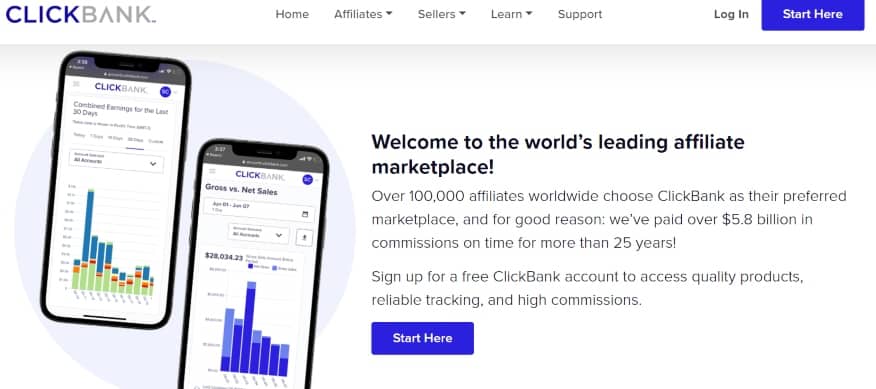 First and foremost, earning stable affiliate commissions entails combined efforts on two fronts – promoting a product people want and getting your traffic to convert.
In my opinion, many beginner affiliates fail because they don't optimize their sale funnels and put enough effort into scaling their profits.
With that said, a question about the amount of money you can make on ClickBank is more than a subjective one.
On average, ClickBank affiliates earn between $20-$50 per sale. Assuming you'll choose to promote products that offer higher commissions, your earnings per sale will be on the higher end.
So, if you promote a product that pays $50 per sale, you'll have to make six sales a day to earn $300 in 24 hours.
Long story short, making two sales a day will bring you $100 before that day is over – not a bad affiliate payout, especially if you're a beginner.
Related Read:
How To Make Money With ClickBank Step By Step
At this stage, you have more than a basic understanding of how ClickBank works and what you can expect from the platform as an affiliate.
Let's move on to the blueprint that you bring your first affiliate sale on ClickBank:
1) Create A ClickBank Account
Chances are, most of you probably already have accounts on ClickBank. Still, I'll quickly cover the account creation process for those who don't.
Follow these steps to create your ClickBank account in minutes:
Visit ClickBank
Click on Affiliates
Enter your name, email address, and country of residence
Choose a password
Push the Create Account button
An Important Info:
If you're unable to create a ClickBank account, that's most likely due to your geographical location.
ClickBank has banned certain countries, so if you live in such, you won't be able to join ClickBank.
2) How To Choose The Right Product To Promote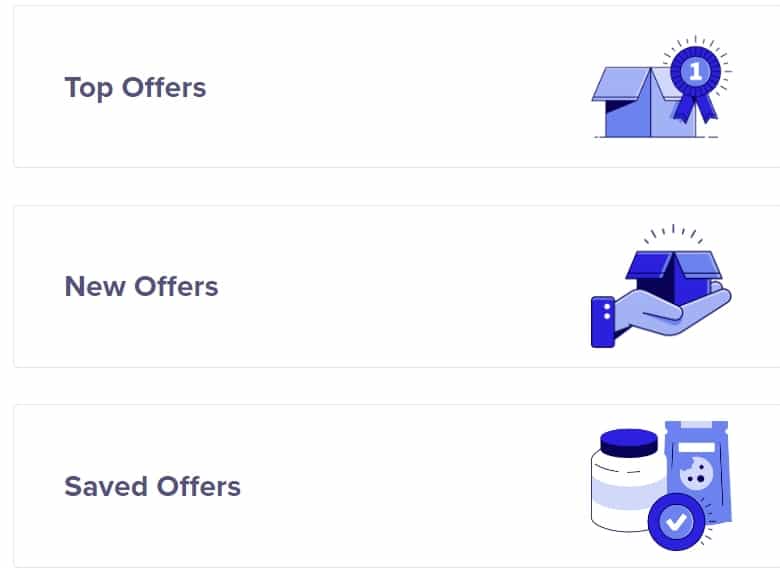 We can't have a conversation about how to make money with ClickBank without acknowledging the importance of picking the right product to promote.
Currently, ClickBank has over 20 product categories, such as health, home, garden, health loss, and educational programs. Depending on your niche, you can browse all products that make sense for your affiliate business.
Besides relevant niches, what other traits should you be looking for when picking a product to promote? Here are all the product traits I look at while trying to find a winning product:
Commission Size: Ideally, you want to promote a product that offers at least 50% commission. As you can guess, the higher the commission percentage, the better.
Gravity: The gravity score shows how many other affiliates are making money promoting a specific product. New products don't have any gravity scores yet, but that doesn't mean they are not quality products worth promoting.
Video Sales Page (VSP): Products with VSP are always an excellent option to promote because such pages engage the visitors and tend to convert well.
Affiliate Tools: Top ClickBank products come with optimized sales pages and affiliate tools to boost your promotional efforts.
Strong Call-To-Action: Make sure the sales page of the product you want to promote has a call-to-action button that does a great job of directing visitors toward a purchase.
Social Proof: A product with way more positive reviews than negative is usually an easy sell. Stay away from products with many unpleasant reviews.
Before you make a final decision, I suggest doing additional research:
Take your time with keyword research that will show you the number of people reading about the product online. Also, check the conversations happening about the product on affiliate forums and other blogs.
ClickBank Metrics: What Do They Mean?
Initial $/sale – the amount of money (on average) affiliates make per month promoting a specific product
Avg %/sale – the percentage of the sales price of product affiliates will receive
Grav – the number of affiliates that have sold the product
Avg %/Rebill – the percentage of commissions affiliates earn from rebills
Avg Rebill Total – the average percent of rebills paid to the affiliate
3) How To Promote Your ClickBank Offers
By all means, how to make money with ClickBank and market your ClickBank promotions are questions that share a lot of common ground.
It's not enough to pick a great product, give people access to it, and hope they will buy it:
No, the biggest part of your marketing efforts has to go into promoting your ClickBank offers.
Here are the most common strategies to market and promote your offers:
Banners/Direct Linking
Direct linking is probably the most basic form of promotion. It entails sending your visitors directly to the sales page of the product through your affiliate link.
That affiliate link might be in an article on your website, or it can also be embedded in a banner.
Such a promotional method works to a certain degree.
If you do an excellent job with your blog article, some readers will click on your affiliate link and may complete a purchase. Likewise, banners with relevant images will probably bring in a few customers.
In Content Links
In content links work better than direct linking and banners. Why is that?
Well, if you have enough authority with your readers and most of them trust your opinion, your in-content affiliate links will have a better-than-average conversion rate.
Keep in mind, though, that only your most vivid readers will get to see all your in-content links. Also, people's trust in you is the only factor that can positively influence their purchasing decision.
Product Reviews
Publishing product reviews is one of the best things you can do as an affiliate marketer.
While you might still be learning how to make money with ClickBank, uploading reviews will accelerate the learning process.
Take the time to master product review creation, so your reviews will have the best chance to convert into affiliate sales.
Single product reviews and roundup reviews will both work well once you know how to write them efficiently.
PPC (Pay-Per-Click)
For those who don't know, PPC is an online paid advertising that requires investing in ads Google will show in its search results.
One of the biggest advantages of creating a PPC campaign is the opportunity to display your ad in front of people already interested in the product you promote.
On the downside, PPC ads can get very expensive. Plus, you'll have to learn all you can about creating a high-converting paid ad, so your money won't go to waste.
Retargeting Ads
Retargeting ads are a type of online advertising that will allow you to show ads to people who have visited your website previously.
Using retargeting ads can be very beneficial, considering the people will see them have already expressed an interest in the product you're selling.
Facebook Ads
Facebook might not be as popular as it used to be, but its ads still work quite well.
The reason for that is these ads target specific demographics and interests. So, if you do a good job while creating your Facebook ad, that ad will target people interested in what you're selling and will convert more than well.
YouTube Marketing
Are you doing affiliate marketing on YouTube?
Assuming many of you do, think about including your affiliate links in the description of your videos.
How about creating video reviews and sending your subscribers to the product page by adding a link in the description?
Email Marketing
Doing email marketing is probably the best answer to the question of how to make money with ClickBank simply because it works!
Mastering the art behind effective email marketing takes time and effort. You'll need to learn to create an opt-in that will capture thousands of leads.
Furthermore, you'll have to set up an email autoresponder sequence that will automatically send emails to your subscribers with your product promotions.
I suggest using ConvertKit – that email autoresponder tool is beginner-friendly and will provide you with everything you need for your email marketing campaigns.
4) Build A Sales Funnel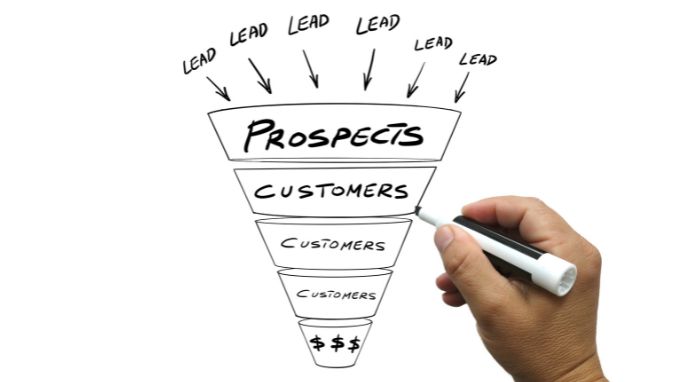 Quite frankly, all methods to make affiliate sales with ClickBank you see above work individually. However, every other affiliate marketer relies on them and that makes them overused in more than a competitive field.
Is there a different approach that can bring better results?
Yes, there is, and it's called a sales funnel.
Generally, a sales funnel contains three essential elements – a landing page, an opt-in form, and an email autoresponder service.
Your landing page can be a relevant article or even a thank you page, while the opt-in form should be a content upgrade that offers free stuff to the reader.
A visitor will read your article, subscribe to receive the free stuff (a guide, eBook, etc.), and you'll start emailing them promotions that contain your affiliate offer.
How To Make Money With ClickBank Without A Website
Up until now, I've been showing you affiliate marketing strategies that work best for people who have a blog or a website. But what about marketers who don't have a blog?
Can they still earn affiliate sales with ClickBank?
In short – yes, they can, and here are some of the ways to do that:
Vlogging: As I already mentioned, you can start a YouTube channel and promote your ClickBank offers by adding affiliate links in the video's description.
Paid Traffic: Whether you'll create a PPC campaign or use Facebook ads, you'll be able to make affiliate sales by targeting the right people.
Solo Ads: Solo ads are also an option if you prefer to do affiliate marketing without creating a website.
Related: How 12-Minute Affiliate Will Make You $460/Day Without A Website
How To Make Money With ClickBank – Frequently Asked Questions
How Much Does ClickBank Pay You?
Once you make a ClickBank sale, the platform will keep 7.5%, plus $1, from your earnings. And the ClickBank fee rate for PayPal transactions is 5%.
Do You Have To Pay To Be an Affiliate On ClickBank?
Anyone can become a ClickBank affiliate for free.
Is ClickBank Worth It?
By all means, ClickBank is a great online platform for beginner affiliates because it will give you access to thousands of products to promote.
However, hundreds of other affiliates already promote the most popular ClickBank products, so you'll have to deal with lots of competition as a marketer.
Online Training Courses That Teach Affiliate Marketing:
My Closing
Are all your questions about making money with ClickBank already answered?
Is there something about working with ClickBank you don't understand?
While becoming an affiliate on ClickBank is relatively easy, making thousands of dollars from affiliate sales is not.
Let me know if you need further clarification on any of the topics in this article.
More Articles About Affiliate Marketing You Should Read: