Market Health Review: The Best Affiliate Network For Your Beauty Blog?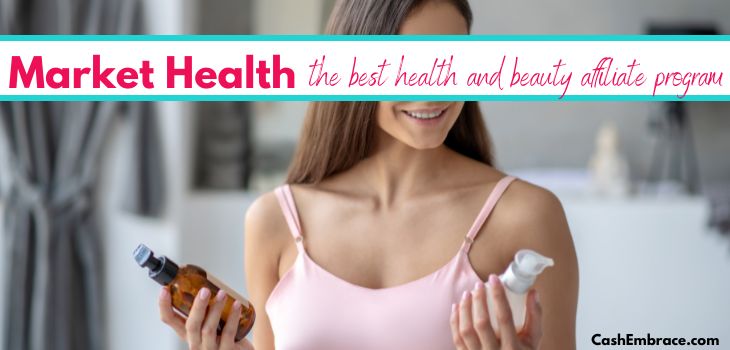 My Market Health Review will help everyone who wants to make money in the beauty and wellness industry.
As most of you probably know, that industry is worth billions of dollars.
Actually, the numbers are even bigger than that:
According to statistics, the global wellness field is reaching $4 trillion as we speak.
And the health affiliate program we'll discuss right now will allow you to cut a lucrative piece of this profit for yourself.
Today, I'll tell you everything there is to know about the Markethealth affiliate program:
What is the Market Health Affiliate network, and how does it work?
Is it worth promoting the Markethealth product offers?
Can you make money with the Market Health affiliate program?
How much money can you make with MarketHealth?
This post may contain affiliate links – you can take a look at my affiliate disclosure.
Market Health Affiliate Review – The Basics
Before this article goes any further, I have to clarify a couple of things.
First and foremost, the health & beauty affiliate network I'm reviewing today has its official website at markethealth.com.
For some reason, many people tend to confuse Market Health with the Wellness Marketer.
I'm not sure why that is, but it doesn't matter:
If you're looking for a Wellness Marketer review, feel free to exit this page – you'll not find it here.
Now that I have this out of the way, let's continue with the Market Health affiliate program review:
Chances are, I won't be the first to tell you that eating well, exercising regularly, and taking good care of yourself is a form of self-respect.
Considering that millions of people agree with that statement, it's easy to understand why the health and wellness industry is thriving.
What does this mean for you, and why should you care about it?
Well, if you're researching affiliate marketing for beginners, you probably know what affiliate programs are best for you to promote.
And going with offers that help people feel better inside and out is a winning affiliate marketing strategy.
What Is Market Health?
Market Health is a health, beauty, and wellness network with a long history behind it:
It was founded way back in 1998.
In case you're a marketer who works in the health and wellness niche, becoming a Market Health affiliate is a must:
The Market Health affiliate program will allow you to promote nearly 200 health and beauty affiliate offers.
Currently, the Market Health affiliate network is the industry leader in the health and wellness field:
Believe it or not, Market Health is the highest-paying health affiliate program with the best tracking software in the world.
So, if you have a wellness blog and want to make money from affiliate sales, the program will be the perfect fit for you.
Related Read:
What Markethealth Product Offers Can You Promote?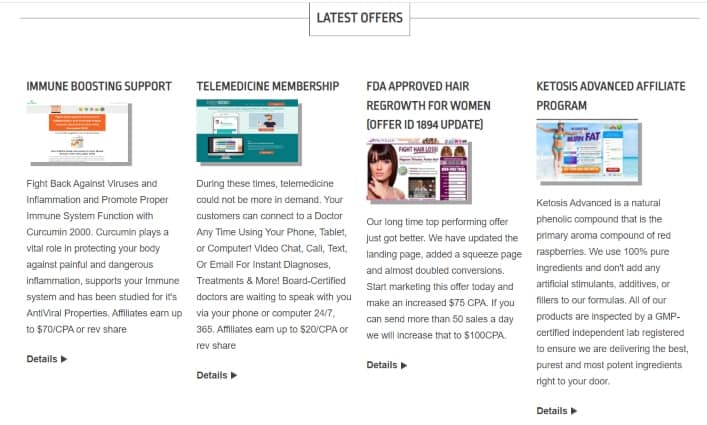 At the time of writing this Market Health review, most of the network's products are in the health, beauty, skincare, and weight loss niches.
Each of the products available for promotion can find a place in these categories:
General health products
Colon health products
Women's health products
Men's health products
Skincare products
Weight loss products
Cosmetics
Sexual health products
Sports nutrition products
Teeth whitening products
Pet health products
In addition, you'll be able to promote products that deal with issues like hair loss, acne, cellulite, stretch marks, and many others.
As you can see, you can target many niches in the health industry once you become a Market Health affiliate.
More importantly, all products Market Health provides are of high quality.
Therefore, you can rest assured that your marketing efforts will not only benefit you but the people purchasing them as well.
How Does The Affiliate Program Work?
On the surface, Market Health is not that different than other affiliate networks like ClickBank, Sell Health, and Amazon Associates, to name a few.
However, there is one key difference in the way Markethealth operates – it's a direct network.
What does a direct network mean?
Well, it means that all the products the network offers are their own (manufactured by them).
Subsequently, if you're a vendor looking for a place to sell your beauty and wellness products, you won't be able to do it on Market Health.
Related Read:
How Do You Make Money With Market Health?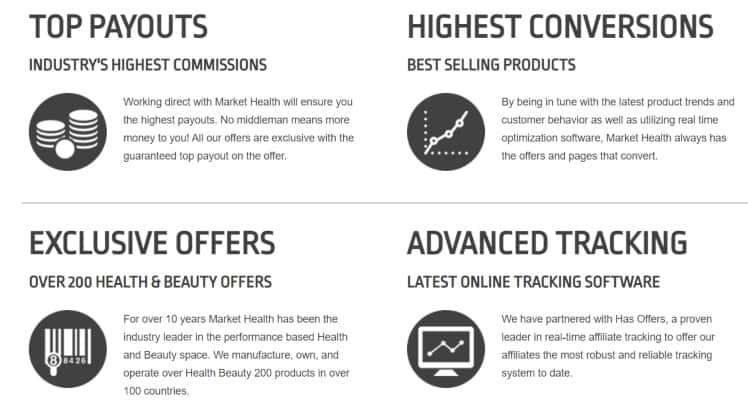 Alright, it's time for my Market Health review to get to the good stuff!
To become a Markethealth affiliate, the first thing you need to do is join the network.
You can do so for free when you type markethealth.com sign up. Or you can click here.
The sign-up process is quite simple – providing your contact details will gain you immediate access to the program.
Once you're in, feel free to browse through the available products for promotion.
For your convenience, the products are sorted out in categories based on your country.
That will cut your browsing time short, so you can focus on the essential part of your work – creating affiliate campaigns.
Now, I have to point out something almost every other Markethealth affiliate review fails to mention:
Currently, you can't promote Market Health's products unless you have a website.
Unfortunately, the sign-up application doesn't make that clear, so most marketers are unaware of it until they try to join the network.
Working only with blog owners makes sense, though:
When you own a blog, you can upload much more content than if you only have a single web page or a landing page.
Market Health's team knows that more content means more page views and visitors to your offers.
And driving more organic targeted traffic to your campaigns will give you a better chance for affiliate sales.
Market Health Commission Structure
Earlier in this Markethealth review, I mentioned that the network pays the highest affiliate commissions in the wellness industry.
Well, they do:
Expect to earn a 50% commission on all affiliate offers. But that's not all:
For each product category, you can make money through cost-per-sale (CPS) and cost-per-action (CPA).
Keep in mind – cost per action means that will earn for an action a visitor takes, such as filling out a phone number, providing an email address/phone number, completing a sale, etc.
As you already know, the CPS offers will earn you the amount of money that equals half the price of the product you're promoting.
Meanwhile, the CPA offers will pay anywhere between $30-$70.
Re-orders will make you another 50% commission.
Scoring more than 20 sales a day will allow you to negotiate a higher affiliate payout.
Recommended Tools That Will Double Your Affiliate Sales:
Receiving Your Affiliate Commissions
At the moment, the Market Health affiliate program will send you your earnings twice a month – on the 1st and the 16th.
Any sales you generate between the 1st and the 15th of the month you'll receive on the 1st of the following month.
You have to reach the minimum threshold of $20 to cash out your earnings.
Payments are available via check, bank wire, Skrill, and Payoneer (pre-paid debit card).
Every marketer who chooses to work with the Market Health affiliate network will have access to their own dashboard.
Your affiliate dashboard will let you monitor the performance of your affiliate campaigns – clicks, referrals, and conversion rate.
Banners and landing pages are at your disposal to assist you with your online promotions.
It's worth mentioning that the network's international affiliate campaigns come with localized languages and processing methods.
How To Promote The Market Health Affiliate Offers
My Market Health review would not be complete unless I provide you with tips and ideas that will help you earn more from the network.
First and foremost, don't go after every single product you'll find inside Market Health. Instead, pick a specific niche in the health/beauty/wellness industry and focus all your effort on it.
Having a niche website will allow you to reach a target audience. Subsequently, selling to the right audience will increase your chance of earning affiliate commissions.
While launching a blog is easy, turning it into a successful business is not.
In case you're a brand new marketer and need someone to guide you through the process, you can follow the same training program I used when I was starting this site.
Or you can skip that and read my free guide to launching an online business – it outlines the steps you need to take in a language even beginners will understand.
Now, let's get back to promoting Market Health and its products:
I strongly recommend reading the network's FAQ section before you create your first affiliate campaign.
Assuming that you'll do that, you'll be ready to move on to the promotional part of your work as a marketer:
Most Market Health affiliates use Pay-Per-Click (PPC) ads that will lead the visitor to a pre-sale landing page. That landing page will redirect the readers to the offer page.
Also, you can promote your affiliate offers to your email list if you have one.
Again, creating valuable content and uploading it on a niche site is the best way to make money doing affiliate marketing with Market Health – it won't cost you money for ads.
I Earn Such Affiliate Commissions Every Month. Learn How To Do The Same!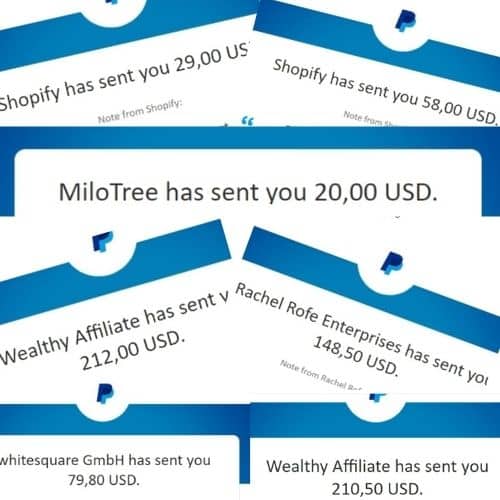 Advantages Of Market Health
Market Health is free to join: You don't have to pay anything to be able to promote the network's products.
Affiliates gain immediate access: There is no need to go through an approval process to be a member of the Market Health affiliate program.
Health/Beauty/Wellness is an evergreen niche: As such, the products you'll promote via Market Health will always be in high demand.
The commission rate of Market Health is the highest in the industry: Earlier in my Market Health review, I mentioned that there is a 50% affiliate commission for every sale.
Your promotional materials are language-specific: Landing pages are available in many other languages than just in English.
Currently, Market Health is the industry leader in its field: And that matters for those of you who want to work with the best.
Disadvantages Of Market Health
Not every affiliate marketer can join Market Health: Some restrictions exist with the network. Your access to Market Health depends on your geographic location.
Merchants/Vendors can't work with Market Health: If you create your own products, you'll have to find another marketplace that will sell them.
Is Market Health Worth Promoting?
In my opinion, Market Health is worth the try if you plan to do affiliate marketing for a living.
Firstly, the sign-up process is as easy as it can get. You'll gain immediate access to hundreds of products as soon as you provide the necessary info.
Secondly, the affiliate payout is quite lucrative. Earning 50% affiliate commissions will allow you to make a decent monthly income from Market Health alone.
Lastly, the products in the health and wellness niche will always be in demand, so you'll never be short on potential customers.
Also, it's worth mentioning that the cookie duration here is 30 days.
With that said, every affiliate network can use some improvement, and Market Health is not an exception.
By all means, the program is not perfect.
For example, the landing pages you'll receive won't suffer if they go through a major refreshment from the team behind the network.
Another issue I should point out is the lack of user testimonials.
Checking the markethealth.com reviews will tell you that there aren't many testimonials from clients of the company.
I feel like Market Health can do a better job in that department!
Market Health Alternatives
Of course, the biggest competitor of Market Health is Amazon.
This giant online platform has thousands of health and beauty products affiliate marketers can promote through the Amazon Associates program.
However, the affiliate payout of Amazon can't compete with the one of Market Health:
At the time of writing this Market Health review, Amazon pays up to 20% affiliate commission – and that's the best-case scenario.
Anyhow, Amazon is not the only alternative option for you if you don't want to work with Market Health for some reason. There are other networks you can check:
MoreNiche
OfferVault
ClickBank
Is Market Health A Scam?
No, Market Health is not a scam.
On the contrary, it's a legitimate affiliate network with an extensive history and years of success operating online.
So, if you have a blog in the health, beauty, or wellness niche, I think you should give this network a try.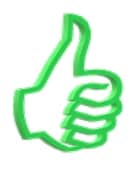 After all, the company is more than generous with its affiliates, and that's what should matter to you as one.
Looking at the easy sign-up process, I don't see a reason why joining Market Health could be a bad idea for anyone.
Visit the Market Health login and see that for yourself!
My Closing
Honestly, I have nothing left to say in my Market Health review, so that would be it for today.
Before I leave you, here is a quick question:
What do you think of Market Health?
Do you see the network as a valuable program that will allow you to earn well online?
Or do you have any reservations about joining it?
Let me know in the comments section below, and I'll address any other questions you may have.
More Ideas From Cash Embrace: