The Best Way To Start With Affiliate Marketing – Be a Super Affiliate!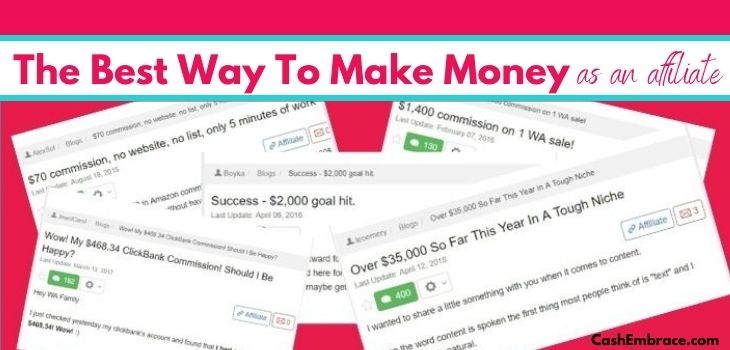 What is the best way to start with affiliate marketing?
Can someone provide a straight answer to that question?
Chances are, if you ask five affiliate marketers, you'll get five different opinions. And there is nothing out of the ordinary about that:
Every marketer is on a unique journey. A strategy that works for one may not work for another.
But we're not here to discuss advanced marketing tricks and hacks:
You'll develop an approach to making affiliate sales as you go.
With that said, knowing how to boost your affiliate commissions is more of an end result than a starting point.
That beginner's ground is where you need to focus your attention right now.
After all, the way you start your affiliate marketing business will have a huge influence on your chances of success.
Considering the field is quite saturated already, let's make sure that the odds will be in your favor, shall we?
This post may contain affiliate links – read my affiliate disclosure.
Can I Succeed With Affiliate Marketing?
Until we're still on the subject of the potential success of your affiliate business, how about we dissect it to its very end?
The truth is, making thousands of dollars in affiliate income monthly is not that easy to achieve.
While starting to do affiliate marketing is not challenging, hitting the $1K a month is another story.
As I've already mentioned, the affiliate marketing industry is a saturated niche. Almost every second person working online is doing affiliate marketing in one way or another.
To be successful with affiliate business, you'll have to work hard to build an audience, drive traffic to your offers, and get your affiliate links to convert into sales.
Before you start panicking, here is something you can use as an encouragement:
I started this blog in March 2018, and I pretty much ignored it for the first year.
OK, I didn't exactly ignore it, but I was posting sporadically and didn't take it as seriously as I should have.
Once I decided to look at it as a real business, things quickly started to change: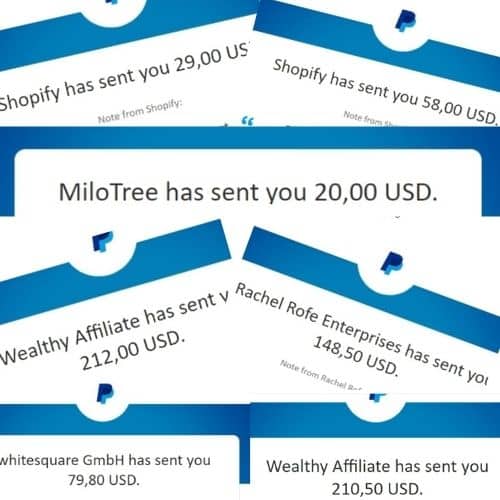 Don't get me wrong – I'm not posting a screenshot of some of my affiliate earnings to brag.
No, I'm doing it because it helps me prove my point:
Anyone (and I mean ANYONE) can start an affiliate marketing business and make money online from affiliate sales.
How Hard Is It To Be Successful In Affiliate Marketing?
Above all, being a successful affiliate marketer is not an impossible goal to reach once you learn the best way to start with affiliate marketing.
Again, I didn't know much about affiliate marketing for beginners when I launched this business.
With no marketing background or any online working experience whatsoever, you can imagine the position I used to be in.
It's worth mentioning that I don't have a college degree either.
Here is the deal, though:
You don't have to be a college graduate to build a stable financial future for yourself.
But you need to be willing to put hours, weeks, and months of hard work into your business.
Assuming that you're ready to do that, let's move on to the essential part of this article!
Affiliate Marketing Definition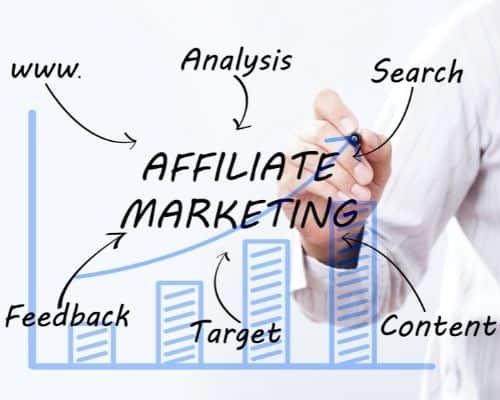 Basically, affiliate marketing is the process of recommending products and services to potential buyers for a commission.
When you do affiliate marketing, you'll have a unique affiliate link for every product you promote.
As soon as a reader purchases something using your link, you'll make your first affiliate sale.
In short, that's the basics of affiliate marketing as a business model.
You can see why thousands of people choose to work as affiliate marketers:
This business model is one of the most popular income sources nowadays.
To learn more about it, feel free to read these related articles:
What Are The Advantages Of Doing Affiliate Marketing?
Before I begin to cover the best way to start with affiliate marketing, let's take a quick second to look at the advantages of the business.
Quite frankly, working as an affiliate marketer has tons of benefits.
Here are some of the biggest ones:
There Are No Huge Start-Up Costs: Actually, launching an affiliate business has barely any costs at all. Depending on how you'll choose to do affiliate marketing, your initial investment will be next to nothing in most cases.
Everyone Can Do It: Considering the concept behind affiliate marketing is simple, anyone with access to the internet can try their luck with it.
An Affiliate Marketing Business Is Easy To Scale: Once you gain the necessary marketing experience, scaling your business further is not going to be an issue.
Earning Affiliate Commissions Might Become A Source Of Passive Income: A passive income revenue will allow you to make money while you sleep.
Creating Products Or Services Is Not Necessary: You'll be promoting someone else's products.
Feel Free To Work From Anywhere: Affiliate Marketing will allow you to reach financial independence from the comfort of your living room.
Affiliate Marketing Examples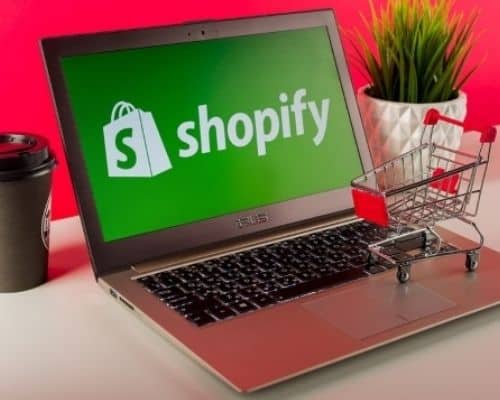 At this point, I'm pretty sure you understand how affiliate marketing works to benefit you as a business owner.
Still, showing you one affiliate marketing example will make the picture even more clear:
Chances are, most of you are familiar with Shopify.
For those who are not, Shopify is an online platform anyone can use to create an online store and earn from a dropshipping business.
Now, let's say that someone wants to launch an online shop, but they're short on cash these days.
Being an affiliate marketer who promotes the platform, you can send that person a link to the Shopify free trial.
Since your reader doesn't have to pay anything to use Shopify for the first two weeks, they'll most likely sign up using your affiliate link.
When the free trial is over, the new shop owner will have the opportunity to choose a plan and upgrade their membership to keep using Shopify.
In case that happens, you'll earn an affiliate commission – Shopify pays up to $2,000 per sale, depending on the monthly plan.
Do you realize how many earning opportunities you'll face once you start working with the best affiliate marketing programs?
But that's not the whole story:
Above all, if you've been doing affiliate marketing all your life without even realizing it.
How often has a girlfriend wanted to buy you a drink after you sent her to the shop where your new kick-ass shoes came from?
The bottom line is that you're already an affiliate marketer.  
Now, it's time for you to learn how to make money as such!
Related Read:
The Best Way To Start With Affiliate Marketing – Step-By-Step Guide To Earn Full-Time Income As An Affiliate
Hopefully, you won't mind me sharing one of the best lessons I learned after doing affiliate marketing for four years:
Around 70% of the affiliate income-related information online is useless at best and harmful at worst.
I'm talking specifically about sales presentations that try to convince you to invest in earning systems that will make you tons of affiliate income fast.
With rare exceptions (Human Proof Designs), the done-for-you affiliate systems don't work the way you would expect them to.
While you'll be able to automate your affiliate business at some point, you can't do that from the start of your marketing career.
Building a sustainable affiliate marketing business takes a lot of time.
However, you can shorten the period if you decide to go through professional affiliate marketing training.
The platform I can't recommend enough is Wealthy Affiliate, and it will play an important role in covering the best way to start with affiliate marketing.
Before I tell you all about it, let's get back to the steps you need to take once you're ready to jump into the affiliate marketing field:
1) Decide How You Want To Do Affiliate Marketing – With Or Without A Website
These days, there is more than one way to earn money from affiliate marketing.
Believe it or not, many people do their best to score affiliate sales without starting a website at all:
They pick a Social Media platform, work to create a following, and then begin with the affiliate promotions and offers.
By all means, doing affiliate marketing without a blog might work well if you bother to learn how to achieve the best results possible.
12 Minute Affiliate is an excellent platform to help you do that.
​Still, launching a website is the better option, in my opinion.
Owning a blog will provide you with all creative control and freedom to earn five and even six-figure affiliate income.
You can get top-notch web hosting with SiteGround and create your website in the next half an hour.
Or you can avoid any start-up costs and move on to the next step:
2) Get Affiliate Marketing Training With Wealthy Affiliate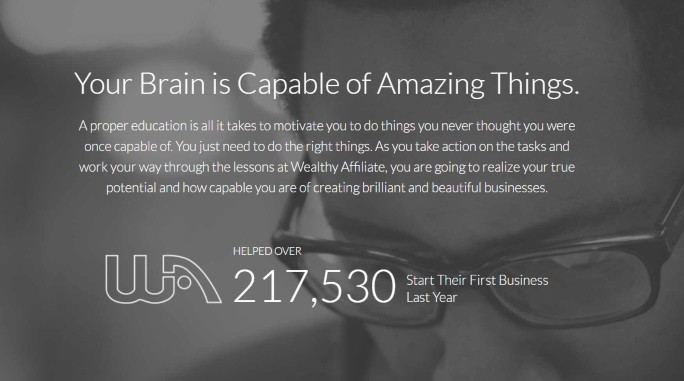 At this moment, you're probably wondering why I'm suggesting signing up for Wealthy Affiliate before you even start a blog.
Well, here is why:
Wealthy Affiliate will get you everything you need to build a profitable affiliate marketing business without paying anything at all from the start.
Even more, it will provide you with tons of perks without asking for access to your credit card information.
For example, it will show you how to build a website without any coding and launch it in less than five minutes.
Next, Wealthy Affiliate will teach you all the essential aspects of developing a successful online business, such as choosing a niche, search engine optimization, driving organic traffic to your blog, etc.
Also, it will let you surround yourself with like-minded people – the platform has millions of members from all over the world.
Most importantly, Wealthy Affiliate will allow you to receive all that free of charge.
Let's talk more about that, shall we?
Why Joining Wealthy Affiliate Is The Best Way To Start With Affiliate Marketing?
I know that everything I mentioned above is quite enticing.
Believe it or not, the prospect of joining WA will excite you even further once you see everything you'll receive as a free member of the platform:
One Website
Website Builder
Web Hosting Package
Hosting Security Suite
SSL Certificate
Jaaxy Starter (Keyword Research Marketing Tool)
Certification Core Training Level One (10 Lessons)
Bootcamp Core Training Level One (10 Lessons)
​Again, all of that can be yours – claim it today as soon as you create your free account on Wealthy Affiliate!
In case you need some more information about the platform, I'll answer the most burning question about WA:
1) Does Wealthy Affiliate Have Any Upsells?
As you already know, becoming a member of Wealthy Affiliate is free of charge.
Every starter member receives all the perks I've just mentioned above.
To clarify – you don't have to upgrade your membership if you don't want to do that.
With that said, if you decide to take advantage of everything WA has to offer, you can become a premium member.
The cost of the premium membership is $49/month, but you can get it for $19 through this link if you upgrade your membership within a week.
If you want to save some money, feel free to go for the Yearly Premium Membership, which costs $359/year – that's less than $1 a day.
To sum up, these are the membership options of WA – there are no upsells or hidden fees.
Learn everything you need to know about the platform from my Wealthy Affiliate review.
2) How Much Money Can I Make With Wealthy Affiliate?
While I have no problem showing you the best way to start with affiliate marketing, I can't tell you how much money you'll be able to make.
Sure, Wealthy Affiliate delivers on every marketing front imaginable.
Be that as it may, the number of your future earnings depends on many factors.
For instance, some of those factors are the effort you're willing to put into your business, the free hours you can devote to the training, etc.
Thousands of Wealthy Affiliate members earn part-time and even full-time income, myself included.
After all, there are multiple ways to make money with Wealthy Affiliate – spare a minute to become familiar with them.
3) How Long Does It Take Until I See Any Real Results?
People achieve results in different periods of time.
Wealthy Affiliate is the best way to start with affiliate marketing, in my opinion.
Regardless of that fact, the platform won't be able to do much for you unless you take serious action on everything it will teach you.
I made my first three affiliate sales in a few months.
Considering I was still working 80 hours per week at the time at my previous job, I think I did well!
So, the best you can do is manage your expectations and work as hard as you can.
Take a minute to gain inspiration from the success stories happening in Wealthy Affiliate.
The Best Way To Start With Affiliate Marketing – Frequently Asked Questions
What Is The Fastest Way To Make Money With Affiliate Marketing?
The fastest way to make money with affiliate marketing is to create valuable content, insert your affiliate links, drive traffic to your offers, and get your posts to convert into sales.
In addition, building an engaged email list will boost your affiliate commissions further.
How Can I Promote My Affiliate Links For Free?
You can promote your affiliate offers by writing product reviews, sending deals to your email subscribers, or offering gift guides.
Also, you can create a free online course that contains affiliate links for relevant products.
How Do I Promote Affiliate Products On Facebook?
To start promoting affiliate products on Facebook, you can create a Facebook Page or a Facebook Group.
Then, engage with your audience, and run Facebook Ads to advance your marketing campaigns.
My Closing
OK, this is it about Wealthy Affiliate and why the platform is the best way to start with affiliate marketing.
Do you still have questions on this topic?
Is there anything I don't understand?
Maybe you need some additional help and guidance?
Ask me anything you want in the comments below, and I'll be more than happy to talk to you further!
Then you can drop them in the comments section below, and I'll answer them the first chance I get.
More Ideas From Cash Embrace You May Like: