Affiliate Bots Review: Make $6K/Month From Affiliate Sales?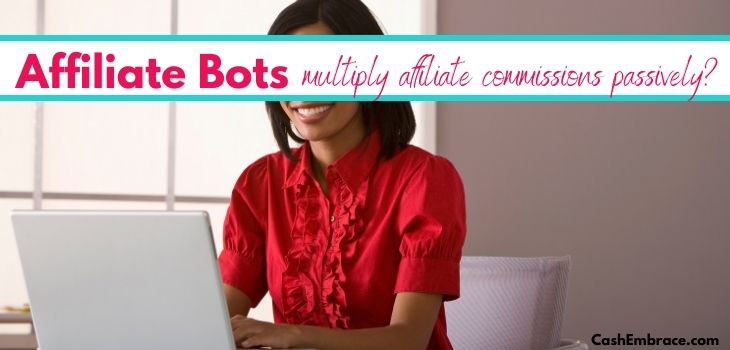 For starters, you should know that this Affiliate Bots Review covers the latest version of the product I'll discuss today:
While the first Affiliate Bots was promising its users $6,000 a month in affiliate commissions, Affiliate Bots 2.0 claims to earn you even more:
Allegedly, Affiliatebots 2.0 will help you make over $400 a day from affiliate sales.
There are many ways to earn money doing affiliate marketing. What makes AB different is the opportunity to build passive income once you start using automated bot technology.
In this article, I'll answer many questions about Affiliate Bots:
What is AB 2.0?
How does it work?
Is an auto affiliate bot even real?
Will using an affiliate marketing bot help or harm your business?
And is Affiliate Bots 2.0 a scam or legit?
This post contains affiliate links – read my affiliate disclosure.
Recommended Read:
Affiliate Bots 2 Review: The Basic Overview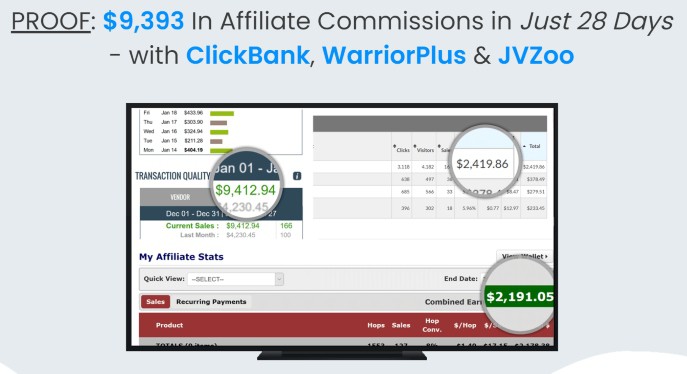 The first thing you must know about AB is where to find it – its official site is Affiliateautobot.com, and the system is for sale on ClickBank.
Chris X is the name of the creator. Those of you with some marketing experience probably recognize that name.
He owns a few affiliate marketing automation programs, with Affiliate Titan arguably being the most popular one.
Affiliate Bots 2.0 is a product that contains 37 separate affiliate marketing systems. It's an all-in-one program you can get to automate your affiliate marketing business and increase your affiliate revenue.
According to the owner, Affiliate Bots 2.0 is here to keep boosting your affiliate earnings month after month until you reach a six-figure status as a marketer.
Well, more power to Chris X for standing behind such an ambitious system, but is that system any good?
What Is Affiliate Bots?
As you already know, Affiliate Bots is not so much a product but a whole marketing system that will provide you with 37 software tools.
Each tool has a different function, but using all tools simultaneously will automate every aspect of your affiliate business.
On that note, AB works similarly to Niche Marketing Kit (a valuable tool every marketer should use to double the revenue of their online business).
Many people mistake Affiliate Bots for Scary Tool Bots – the names are similar, but the products are different systems.
If you want to learn more about Scary Tool Bots, I suggest researching queries like Scary Tool Bots Review.
With that said, I want to get back to my Affiliate Bots review:
Related Content:
Inside Affiliate Bots 2.0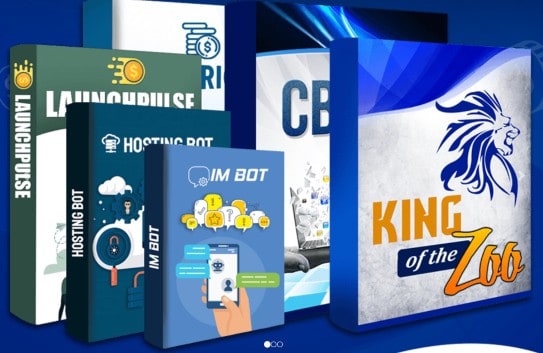 Quite frankly, writing down 37 software names without an instant explanation of what each tool does is not the best introduction to Affiliate Bots and their abilities.
Instead, I'll show you what each tool can achieve and how to use it in a few minutes.
Before I do that, here is everything you'll receive if you purchase Affiliate Bots:
10 tools that will boost the conversion rate of your affiliate offers
6 tools that will hunt the most lucrative affiliate programs for you
An entire search engine to help you with traffic generation
Over 20 extra pieces of software that will assist you with different aspects of your business (starting a blog, creating videos, content marketing, etc.)
How Does Affiliate Bots Work?
Once you gain access to the product, your working process will go through three major phases.
Each of these steps will require a few smaller ones that need to happen in the proper order.
To make money online with Affiliate Bots 2.0, you'll have to follow this path:
Step 1 – Choose An Affiliate Program To Promote
Make no mistake, completing the first step in the correct way is crucial for your success as an affiliate marketer.
Here is what to use and how to do it:
CB 250 Software (updated every 24 hours) – to display the top 250 ClickBank affiliate programs.
Launch Pulse Software – to see the most anticipated launches that are about to happen on ClickBank, JVZoo, and Amazon in the next 30 days.
King Of The Zoo – to find out about hot JVZoo offers.
IM Affiliate Bot – to see a secret database of the top-performing affiliate offers in the past six months.
Host Affiliate Bots – to discover affiliate programs that pay over $100 per sale.
WarriorPlus – to become aware of the new product launches with 50+ sales.
Step 2 – Create A Website And Increase Conversion Rate
If you own a blog already, you'll skip the launch and go straight to optimization.
But in case you don't have a website yet, Affiliate Bots 2.0 will help you build one fast.
Whatever your situation might be, step two is about transforming your site into a business with the highest conversion rate possible.
And that will happen through:
Website Widgets Tool – increase the conversion rate of any website when you copy and paste a single line of code. This code will help you to convert visitors into buyers in 10 automated ways.  You'll have to log in to the cloud software, create the widget, then copy and paste the code into your site to start building a buyers list.  The AI algorithm will flag your potential buyers – returning visitors, people who spend a lot of time on your site, etc.  It will also display coupons for people who visit your site at specific times, custom content for certain geographical locations, and so much more!
1-Click Video Pages Tool (10 pages included) – use the designs you'll be provided with and build highly converting video websites.
Rapid Website Builder Software – it will build mini-sites filled with relevant content and affiliate links. To clarify, all you have to do is enter a keyword, your ClickBank account, and click Go.  In less than 20 seconds, a unique landing page will be ready for you.
1-Click Affiliate Software – it comes with more than 100 pre-sale templates of HTML.  
Affiliate Ads 2.0 Software – load it, search through over 1,600 affiliate programs, choose up to 10 banner ads to split-test, and copy/paste the code into your blog.  Your banner ads will automatically rotate, revealing the top-performing banners and affiliate programs.  These Affiliate Ads are pre-loaded with over 1,800 text ads, banner ads, and thumbnails for the top 1,600 ClickBank affiliate programs by gravity.
Domainaveli Software – to find thousand-dollar domains in seconds + expired domains.
Step 3 – Get Free Traffic And Earn Commissions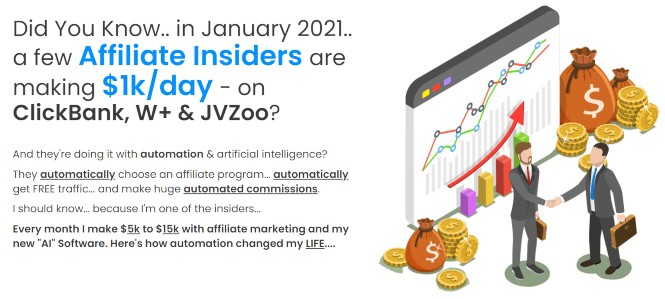 Now, it's time for my Affiliate Bots review to cover the most important part – driving traffic to your offers and earning affiliate commissions.
To make the best of this final step, you'll use an AI Search Engine.
That is a tool Chris X spent over six months developing.
While working on it, he scanned the sites online that get the most traffic.
We're talking about over 100,000 websites with 240 billion monthly visitors combined.
Each of them was scanned for 16 exclusive traffic opportunities and 20 data points, such as SEO traffic, PPC traffic, sites with advertising pages/Google AdSense, etc.
Here is how to work with the AI Search Engine:
Enter a keyword to see all the data.
Start getting 16 types of targeted traffic.
Monetize your traffic – one of the most popular ways is by displaying banner ads.  So, you'll be using the Banner Bots tool that will create for you unlimited banner images for any niche and affiliate program in just a few clicks.  When you enter a couple of words, the Banner tool will instantly build a dozen design templates.  Once that's done, you'll choose the one you like, download it, and upload it to your site.
Drive more traffic from Google and YouTube – that's where the Rapid Rank Video Software comes in.
Use FlipDb – a software that will display hundreds of websites from the auction site Flippa.
Work with ResellDB software – a database of all the top resells rights sites.
Lastly, use the AutoMail Software Bot – an unlimited autoresponder that will let you send emails for life (works similarly to ConvertKit).
About Chris X
Let's face it – this Affiliate Bots review could never be complete unless I mention a couple of words about the creator.
Diving into Internet Marketing way back in 2006, Chris has not been wasting his time.
Working hard for that many years has paid off nicely:
As of January 2020, Chris X has generated more than 2,000,000 in affiliate marketing revenue alone. That's remarkable – no argument there!
Be that as it may, all the success doesn't seem to slow him down.
Chris keeps working online to this day. Up until now, he has created over 15 training products and services.
Other Affiliate Marketing Training Platforms You Should Know About:
Affiliate Bots Cost And Price Structure
Currently, you can have all 37 software bots for $17 – purchase it here.
Staying on the official sales page without clicking the buy button will get you around five different discount offers.
Each will allow you to purchase the product for $5 less. So, the cost of Affiliate Bots 2.0 officially becomes $12.
Enough about the down sells – my Affiliate Bots review will cover the upsells now:
1st Upsell (Affiliate Traffic Bot Diamond) – $37 – an upgrade that will allegedly expand the tools and resources you already have
2nd Upsell (Done-For-You Affiliate Traffic Bot) – $67 – this upgrade will improve your campaigns with pre-made sales pages
3rd Upsell (Affiliate Traffic Bot Pro) – $27/month – paying a recurring fee will give you access to a total of 30 other software tools
4th Upsell (Affiliate Traffic Bot Extreme) – $97 – an upsell that will deliver teaching materials about creating and selling digital products online
How much will Affiliate Bots cost you after all the discounts and upgrades?
Depending on which upsells you'll decide to invest in, the total cost will vary.
You'll have to do the math yourself on that!
Do You Want Monthly Commissions Like Mine? Check This Out!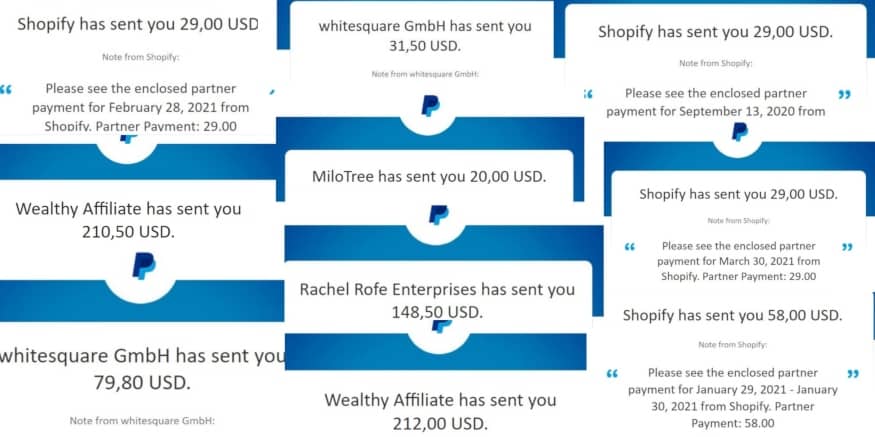 What I Like About Affiliate Bots
It's Affordable – the price of the core product is only $17 ($12 after the discount). That's more than a reasonable cost considering you're getting all these affiliate marketing bots and tools.
Provides Value – no matter how you feel about AI and software bots, there are here to stay. Implementing such technology into your business will advance it further.
Fully Automated – the whole point of having Affiliate Bots is to let them do their thing in the background. The idea here is to save you time and energy.
Chris X Is A Legit Marketer – he has years of experience and is the creator of other well-performing marketing systems.
There Is Training – the product comes with a detailed PDF to teach you about working with the system.
Works On Both PC And Mac – no need to elaborate further on that, right?
60-Day Money-Back Guarantee – you'll receive your investment back if you try the product and you're not satisfied with its results.
What I Don't Like About Affiliate Bots
The Sales Pitch Is A Bit Misleading – while the system provides value for sure, it's doubtful that it will multiply your affiliate commissions as fast as advertised.
Too Many Upsells – sometimes upgrades are necessary, but I think you can do your job without getting any here. Yes, the core product can stand on its own.
Not For Beginners – if you're just starting to do marketing online, using all AI and bots will be a too overwhelming experience.
A Bit More Training Wouldn't Hurt – there is a PDF explanation about how the product works, but not a complete guide to affiliate marketing. If you want to start business training, you can do so for free here.
Who Should Invest In Affiliate Bots 2.0?
As I've mentioned earlier, the product is not a good fit for people who now begin to do affiliate marketing.
With so much automation happening, it would be hard to handle the system without some knowledge and expertise.
But if you have marketing experience, Affiliate Bots will come in handy.
Doing tons of work for your business on autopilot, the program will save you a lot of time – we can't deny that.
However, keep in mind that Affiliate Bots is here to assist you, not replace you as the driving force behind your business.
Expecting more than that will set you up for disappointment, and you may regret making the purchase.
Is Affiliate Bots A Scam?
No, Affiliate Bots is not a scam.
At this point in my Affiliate Bots review, you already know that the system is a legitimate program that uses AI to automate many aspects of your online business.
Sure, the sales pitch is a bit exaggerated, and you should definitely take it with a pinch of salt.
Still, this doesn't change the fact that Affiliate Bots is a legitimate system that brings more than enough value to justify its cost.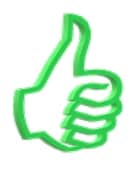 In my opinion, the best thing you can do is get the core product (wait for the discount) and skip all the upgrades.
This way, you'll receive 37 software bots for a total of $12.
The way I see it, that's a pretty good deal. And if it turns out that it's not for you, ask for your cash, and you'll get it back.
There is a 60-day money-back guarantee, remember?
Scam Systems To Avoid:
An Alternative Way To Make Money Online As An Affiliate Marketer
Quite frankly, I like Affiliate Bots 2.0. Considering its price and function, I think having it is better than not having it.
With that said, the system is still a supplement and not a whole business on its own.
You can't rely on it to do all the work for you. There is no magical program that would be able to accomplish that if these are your expectations.
So, why not start a business of your own?
It's a scary thought, I know.
Then again, no one has achieved something huge without getting out of their comfort zone, don't you agree?
If you're ready to test your limits (and to realize that you may not have any, lol), take some time to read My Business Guide.
It will walk you through the process of developing a successful business in a non-threatening manner, I promise!
My Closing
And that's a wrap for my Affiliate Bots review!
Hopefully, all of your questions about the product have their answers now.
Or maybe they don't?
Then drop them in the comments section, and I'll take a look!
More Ideas From Cash Embrace You May Love: