Digital Experts Academy Review: Scam Or A Brilliant Affiliate Training?
You don't know it yet, but this Digital Experts Academy Review is the kind of read you need to succeed in the affiliate marketing industry.
That doesn't mean the platform is the best teaching program to show you how to score affiliate commissions for a living. Because it isn't.
However, you still need to know about it.
Everything that will help you become a successful marketer that earns online efficiently is worth the look, in my opinion.
With that said, today you'll discover all the essential facts about Digital Marketing Experts:
What are Digital Marketing Experts?
Can you make money with Digital Marketing Experts?
How much does the training cost?
Is Digital Marketing Experts a scam or legit?
Disclaimer: I'm not an affiliate for Digital Marketing Experts. Everything you'll read in this article comes from research on information available in the public domain.
Digital Experts Academy Review – The Basics
According to the official website, Digital Experts Academy is all about innovative education and real mentorship.
There is nothing surprising about that:
After all, the platform presents itself as one of the most valuable and well-respected online courses on affiliate marketing.
The fact that DEA has over ten years of history adds some extra strength to this statement:
Teaching thousands of people for nearly ten years does improve your own abilities at some point – no argument here!
So, Digital Experts Academy will help you bring your unique vision to the marketing world. While doing so, the training will show you strategies and ideas to make money online as an affiliate marketer.
Up until now, the sales pitch looks more than promising:
Allegedly, the platform will empower you not just to reach your full potential but to surpass it further.
How much of that is actually true, though?
You'll find out the results of my investigation before this Digital Experts Review comes to an end!
What Is Digital Experts Academy?
First and foremost, Digital Experts Academy (DEA) goes far beyond the traditional affiliate marketing training and education.
Since the platform is a membership site, what you're looking at is a step-by-step mentorship that will cover all aspects of building a profitable affiliate business online.
Together with Six Figure Mentors (its sister company), DEA offers community, expert training, and full support to anyone who wants to utilize the fast-growing online business opportunities.
What does all that even mean?
Well, it means that the platform will provide you with a non-traditional path to turn your business vision into a source of passive income for life.
No matter what your interests and passions are, DEA will assist you with building a profitable empire around them.
Now, it seems like the course is an outstanding educational opportunity for both beginners and advanced marketers.
It does offer a lot – there is no doubt about it.
But how much is a lot?
Assuming that you can't wait to learn the details, allow me to start moving this Digital Experts Academy review a bit faster!
Inside Digital Experts Academy
Currently, DEA offers a couple of different learning programs to its students.
Depending on the learning system you'll choose, the teaching material will vary quite a bit.
To help you make a choice that will suit your business needs, I'll show you what to expect from each training program:
1) ELITE Influence
ELITE influence is a teaching course you can take to develop professional marketing skills or bring your existing ones to the next level.
Masterminding, expert mentorship and over-the-shoulder training are the essential parts of this training.
Honestly, ELITE Influence offers quite a lot:
The ELITE Influence 8-Part Series – A series that will help you understand the fundamentals of influence (nonverbal communication, storytelling). You'll develop skills that will allow you to slaughter any obstacle on your path to success.
Mastermind Environment – As the name suggests, this section is about developing the ability to mastermind with entrepreneurs with similar goals. Plus, you'll gain access to the exclusive ELITE Influence Facebook Group.
Live ELITE Influence Masterminds – Justin Woolf (influence and communication master) is the host of weekly LIVE masterminds. Under his guidance, you'll gain the digital skills necessary to transform you into a persuasive marketer.
ELITE Influence Insight Workshops – Top affiliates that take part in the digital economy every day will let you borrow their insights. Picking their brain up on tactics and strategies is not something you want to miss.
ELITE Influence Membership Options
I would very much like my Digital Experts Academy review to answer any question you might even not know you have!
That's why I'll provide you with detailed information about your membership options:
Essential Membership – Since that's the most basic membership you can get, don't expect too much. You'll receive access to the Getting Started Modules and SFM Support Team.
ELITE Influence Membership – This one will get you a bit more: LIVE ELITE, Insight Workshops, Advanced Training Series, and ELITE Influence Training Archive. In addition, you'll also lay your hands on Personal ELITE Influence Concierge and the exclusive Facebook Group.
ELITE Inside Bonus Window – The last membership brings the most value to the table. Everything included in the previous two types of membership is coming your way. On top of that, you'll get Convetri and Action Taker's Discount (a value of $200).
2) ImportXperts
Let me answer the unspoken question:
No, there is no typo in the heading – ImportXperts is the name the platform has for its second program.
That second program is all about e-Commerce. Meaning, it will teach you how to develop a lucrative e-Commerce business to sell your favorite physical products.
Here is a sneak peek of the tools and resources you'll find inside this section:
A curriculum that works for your skill level
An ability to leverage Amazon's FBA business model
Live webinars and Q and A sessions every week
24/7 support from the team
Tons of new knowledge (about how to build a website, outsourcing, growing on social media, and selling on many online marketplaces)
Access to expos and trade fairs
Media lounge – your source of constant inspiration and ideas
Jason Buster – your e-Commerce dictionary
ImportXperts Blog – a place to keep you up to date with the latest e-Commerce trends
Exclusive Community – get all the support you need from a private network of e-Commerce entrepreneurs
3) Marketing Mastery
Right now, this article will transform itself into an Affiliate Marketing Academy Review:
It turns out that DEA has comprehensive training in marketing and advertising.
We all know how crucial doing them right is for the success of your business.
So, the platform will reveal to you all of its advanced tactics and strategies in that department:
Scale and optimize your business with 1-2-3 mentoring – that specific style of mentoring comes from the program's certified mentors. They will help you work with your campaign data so you'll be able to double and even triple your ROI.
Get certified through in-depth tactical training – this training contains eleven teaching sections. You'll learn about copywriting, email marketing, search marketing, traffic generation, etc.
Virtual events – get even more out of this SEO Experts Academy training. During the course of five weeks, the virtual summits will cover many other aspects of your business.
4) Brand Incubator
As the name suggests, this training section will teach you the ins and outs of branding your business.
By all means, the main goal here is for you to launch your brand in 90 days.
And you'll do that by going through a process Jay Kubassek (one of the founders) has in the store for you.
Have a look at the steps you'll have to take:
Immersion – discover how your personal story relates to the foundation of your brand.
Inspiration – learn how to identify and articulate your unique value to create a brand that stands out online.
Identity – see how to build out various brand assets to complete your personalized Brand Style Guide.
Implementation – don't hesitate to launch and execute your brand.
5) Mastermind Experience
If you feel like this part of the training will assist you in improving your business on a spiritual level, you'll be right on point.
The Mastermind Experience exists to help you learn, inspire, and evolve.
How is that going to work?
Or, the better question would be what you'll have to press on to make it work?
Well, here is what:
Synergy – you'll connect with industry experts to learn from their successes and benefit from their experience.
Collaboration – build connections with other key players around the world to expand your own portfolio.
Transformation – receive all the encouragement and mentorship you may need to become a leader in your field.
6) All-In Package
OK, my Digital Experts Academy review mustn't mess up the facts you need to know about the All-In Package.
Considering the name gives it all away, I don't have to clarify that this package is the ultimate deal, do I?
Instead, I would like to show you the featured programs you'll find inside:
Turn Your Ideas, Interests, Or Passions Into Profits – The recommended program here is Online Business From Scratch. It will provide you with guidance on the business models and monetization strategies that are most effective today.
Source And Sell In-Demand Physical Goods – e-Commerce 101 is the core program inside this section. That program will teach you how to sell in-demand physical products online.
Earn While You Learn With Proven Marketing System – You'll need to look into the Six Figure Mentors platform to complete that section of the training. More on that a bit later in my Experts Academy Review.
In addition, the All-In Package will provide you with many other extra learning materials and resources.
For example, you'll receive access to over 10,000 courses, daily live coaching webinars, and past live event footage.
Plus, a huge bonus that will bring an enormous amount of traffic to your site is a part of the deal as well. Its estimated value is over $2,200.
About The Founders Of Digital Experts Academy
At this point, you already know their names – Jay Kubassek and Stuart Ross.
Jay has more than 15 years of experience as a digital marketer.
Currently, he works on many new exciting projects – the most notable is probably WAKEUP.
Now, his co-founder doesn't need any formal introduction.
I mean, Stuart Ross is a household name in the marketing world, in my opinion.
Just Google Stuart Ross Digital Marketing and enjoy the read.
His accomplishments speak for themselves.
With that said, Jay and Stuart are not the only two people working to keep DEA on its current level.
They have a team of around 40 experts to help them manage events, technology, product development, etc.
How Does Digital Experts Academy Work?
Up until now, my Digital Experts Academy review contains all training programs available inside the platform.
That's great, but what are you supposed to do with them?
Furthermore, what's the best way to approach this online course and use its assets to the fullest?
Basically, DEA is not one of those teaching sites where you can go, sign up for training, and start your affiliate marketing career.
Regardless of how efficient all training programs might be, you won't be able to commit straight away to neither one of them.
What does this mean?
It means that DEA will not allow you to choose one of its programs until you sign up for the Six Figure Mentors first.
Yes, the platform will give you no other choice than to go through its sister company's training first.
In other words, you can't learn from Digital Experts unless you pay to learn from Six Figure Mentors as well.
And that will cost you a lot:
Currently, the fees of SFM vary from $30 to $2,500 a year, plus a $97 monthly recurring payment.
How Much Does It Cost To Join Digital Experts Academy?
An interesting fact:
Recently, DEA went through what seems like a major update and massive revamp.
Right now, most of its teaching materials and programs are on a much higher level than they used to be.
The way I see it, that's amazing – there is nothing better for a teaching program than increasing the quality of its education, correct?
However, this update took away our ability to see the course's prices too.
If you visit the official website, you can read all about the training programs it provides.
Unfortunately, you'll not see any specific numbers other than the $97 fee you have to pay to begin with Six Figure Mentors.
By the way, your journey with SFM will start with a couple of free videos.
Eventually, you'll need to take care of the monthly fee of $97 if you want to receive everything SFM has to offer.
With that said, I can try and guess how much DEA will cost you based on the cost of its previous packages.
Not that long ago, the platform had four membership levels to choose from – Silver, Gold, Platinum, and Black.
These were their prices:
Silver (the basic learning program) – $2,500
Gold (1 year-long Digital Marketing coaching + 3 days of Bootcamp) – $8,000
Platinum ( a website, Social Media, and branding training + 3 days of workshop) – $11,000
Black (includes a ticket to the annual Mastermind Retreat + meeting with the owners) – $20,000
Again, you're looking at old numbers.
Considering DEA reinvented itself, these numbers are no longer an option.
Nowadays, I suspect you'll have to pay a much higher price to become a member of the company.
I Earn Such Affiliate Commissions Every Month. Find Out How You Can Do The Same Today!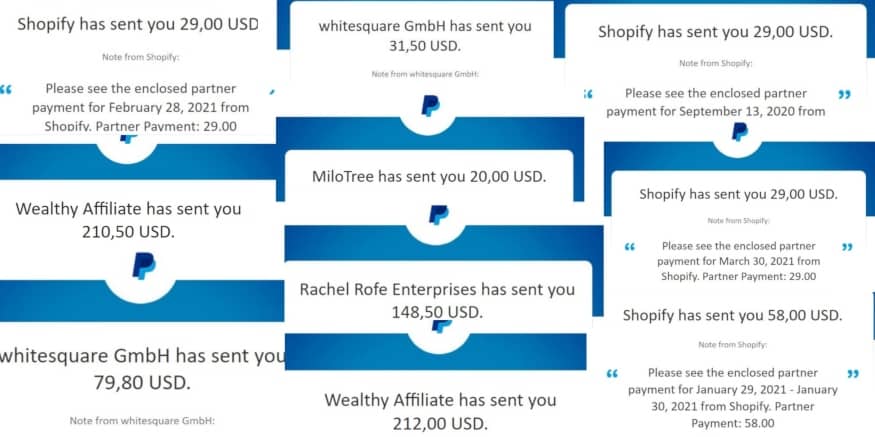 Can You Make Money With Digital Experts Academy?
Quite frankly, you can and you will.
But that's not the point right now – at least, it shouldn't be.
Above all, I think you need to ask yourself if earning online through DEA is the smartest career move you could possibly make.
Let's face it – it isn't.
You'll need to invest thousands of dollars in your education, and you'll have to spend extra on training that was forced on you (The Six Figure Mentors).
Then, prepare yourself for a considerable amount of pressure – promoting the training and selling it to new members is a must if your want to earn money fast.
I mean, does any of that feels right to you? Because it does not to me.
Not when there are so much better alternative options out there!
Recommended: See Where You Can Start Affiliate Marketing Training For FREE
Digital Experts Academy Review – Pros and Cons Of The Platform
Pros:
A detailed and professional training that teaches legit ways to earn online – affiliate marketing is one of the most common ways to make money on the web.
You can learn the fundamentals of starting an online business – the platform will provide you with a lot to make that happen.
Tons of support – let's not forget the personal mentors as well.
Cons:
The way they do their business is unethical – DEA smells suspiciously of Multi-Level Marketing (I prefer the word pyramid scheme).
It's really expensive – you can get affiliate marketing training for a much affordable price (and even for free!).
Recruitment technics are mostly being used – you'll have to go for them as well if you want to earn something.
There is no reason to buy it unless you purchase the Six Figure Mentors too – actually, you won't really have a choice in this matter!
Is Digital Experts Academy A Scam?
Technically, no – it isn't.
However, the training is not the best option for anyone who wants to master affiliate marketing.
Ultimately, it's way too expensive and is more trouble than it's worth.

With that said, DEA comes with a 30-day money-back guarantee. So, if you're not happy with the core product, you can receive your investment back.
And that fact alone is enough to place the platform in the legit category.
Scam Platforms You Need To Avoid:
A Better Alternative
By all means, you don't have to spend a crazy amount of money on products like Digital Experts Academy.
Instead, go for it and start a business of your own.
It doesn't take tons of investment:
If you can spare $15 for a domain name, that's enough to lay the foundation of your new online adventure.
Most importantly, you can get help and detailed instructions on the process with no credit charge whatsoever.
Just make some room in your day and read my Free Guide – it will show you how I've built the business you're currently on in 4 easy steps!
My Closing
OK, that's a wrap on my Digital Experts Academy review.
Remember, don't waste your hard-earned cash on training courses if they don't have your best interest at heart!
Now, is everything about today's topic clear?
Maybe there are questions that somehow I didn't manage to answer?
Let me know in the comments section below.
Similar Affiliate Marketing Platforms You May Like: