Super Affiliate System Review: Is John Crestani's Course Any Good?
This Super Affiliate System Review will cover an affiliate marketing training course by John Crestani.
Those of you who are not newbies in the Internet Marketing world know who John Crestani is:
John is a worldwide known entrepreneur and a creator of multiple marketing courses. He is an author as well:
His latest book (Work-At-Home Secrets & Scams) is already selling online.
Over the years, John Crestani managed to scale his marketing campaigns to the point of earning him tens of thousands of dollars each day.
So, if you want to learn how to become a super affiliate, he seems the right person to teach you.
Many Super Affiliate System course reviews online claim that this John Crestani course is the best affiliate marketing training nowadays. But is it really?
Today, you'll learn everything there is to know about SAS (also known as Super Affiliate System 2.0 and Super Affiliate System 3.0).
Let's get to it, shall we?
Some of the links in this post are affiliate links – take a moment to read my affiliate disclosure. 
Super Affiliate System Review – The Basics
Previously known as Internet Jetset System, the Super Affiliate System is an online training course that teaches the business of making money with affiliate marketing.
Affiliate marketing is a business model that requires recommending and promoting products/services to an audience.
Each time a person buys a product through your affiliate link, you will receive a commission.
While affiliate marketing might seem like one of the easiest business models ever, the reality is a bit different:
You'll have to learn to drive tons of traffic to your affiliate marketing promotions and campaigns before you start seeing sustainable online income.
Well, the John Crestani affiliate marketing training claims that you'll learn how to build a profitable business using paid advertising even if you have no marketing skills or experience.
In other words, SAS teaches building a lucrative affiliate marketing business through paid ads as a traffic source.
Related Read:
Is Super Affiliate System Legit?
Currently, the Super Affiliate System is available for purchase on ClickBank.
All ClickBank products come with a 30-day money-back guarantee – so you will receive your investment back.
With that said, the Super Affiliate System itself promises a money-back guarantee of 100% satisfaction.
Super Affiliate System Refund Policy
During the research process behind this Super Affiliate System review, I couldn't find any issues or complaints about SAS refunds.
Even more, the sales page claims the team behind the course will keep working with you if you don't succeed in the first 30 days after getting it.
But if you no longer want to be a member of the Super Affiliate System, you can use the refund policy to get your investment back.
What Is The Super Affiliate System?
As you already know, Super Affiliate System teaches newbies how to become super affiliates:
Each member of this teaching program will be able to start making thousands of dollars after finishing the training.
John Crestani's Super Affiliate System focuses on showing you how to make money by promoting products and services you don't own.
The training walks you through the process of creating a landing page that will easily convert your readers into buyers.
SAS is one of the most extensive affiliate marketing training courses these days:
Once you gain access to the Super Affiliate System Login, you'll receive tons of training material – 50 hours long and contains tutorials, video lessons, quizzes, and homework assignments.
Super Affiliate System lasts for six weeks.
Who Is The Super Affiliate System For?
Quite frankly, SAS markets itself as an affiliate marketing training course that can turn anyone into a super affiliate.
If you're a first-time marketer, the training will teach you the fundamentals of the affiliate business.
And if you have some marketing experience, SAS will help you scale your business to the next level.
Overall, the course will serve anyone who wants to learn to make thousands of dollars from affiliate commissions fast.
However, the Super Affiliate System is an expensive program, and not everyone will be able to afford it.
Inside Super Affiliate System (The Complete Course Breakdown)
Alright, it's time for my Super Affiliate System review to show you the course's content in detail.
John divides that training material into easy-to-follow lessons you'll have to complete in six weeks.
During that time, you'll go over 50 hours of content available in almost all languages.
Let's have a look at the six training sections (modules):
Welcome Module
Basically, the Welcome Module exists to allow John to introduce himself and his Super Affiliate System.
He will explain the reason the affiliate marketing business stands out online.
Also, John will show you how to make the best of your Super Affiliate System membership.
Get ready to hear why most beginner affiliate marketers fail and what psychological barriers hold them back.
Needless to say, the creator will help you get rid of them and he will put your mindset into the right mood – the one of an entrepreneur in the making.
In addition, the Welcome Module will help you set your business and marketing goals.
Week 1 – System Setup
Naturally, the first training module focuses on setting up your affiliate marketing business.
These are the tasks you'll work on to complete in the first week:
 Create An Account On ClickBank: ClickBank is the affiliate network John uses throughout the course, and so will you.
 Build Your Website: John will walk you through choosing a web hosting and domain name.  He recommends BlueHost, but you'll have other options as well.
 Getting Started With Pre-Built Funnels: There are two ways to work with pre-built funnels – a Clickfunnels method ($19 per month via a share funnels account) or a manual method (free, but you'll need to access your host's file manager).
The remaining videos in this module cover Facebook Ads campaigns.
Week 2 – Google Ad Campaigns Training
Super Affiliate System's second module covers everything you should know about driving traffic via Google Ad campaigns.
Here is a breakdown of that training material:
Setting up keyword search-based ad campaign
Ad splitting
Device targeting
Location targeting
Difference between website and presell, landing, and squeeze pages
Top affiliate offers to promote
John does his best to keep the second training module as simple as possible.
He recommends going with broad-match keyword search queries.
While going through this section, you'll learn how to track conversions on ClickBank products by watching the AdWords Conversion Pixel Setup video.
Week 3 – YouTube Ads Setup
Allow my Super Affiliate System review to walk you through the third training module.
That section deals with preparing and launching your first YouTube Ad campaign.
As you probably already know, Google owns YouTube.
So, John wants you to take advantage of the opportunities YouTube provides.
Some hacks you'll learn are setting up your YouTube channel, how YouTube Ads work, and the most common mistakes affiliate marketers make on YouTube.
Long story short, the third module will teach you how to start running your YouTube Ad campaign on the Google Ads platform.
YouTube-Related Content:
Week 4 – Advanced Tactics
Quite frankly, the fourth training module has a little bit of everything.
For instance, the teaching material goes over copywriting, Facebook Ads, ad compliance, and advanced marketing tricks and hacks.
Are you unfamiliar with copywriting?
Then you should know that copywriting is what marketers, sellers, and business owners call writing with intent:
A copywriter has to create a piece of content that will manage to convert readers into subscribers and customers.
Having great copywriting skills and abilities is crucial for everyone who wants to earn a full-time income from affiliate marketing.
Tools You Should Use To Double The Conversion Rate Of Your Campaigns:
Week 5 – Presell Pages And Scaling
I won't be the first to tell you that you'll need to scale your business and push you to the next level at a certain point.
And the fifth training module of SAS will teach you how to do that:
During that week, you'll discover how experienced marketers can make millions of people take the action they desire.
Presell pages are valuable marketing tools to help you achieve that.
Take your time to study the teaching material John has for you, such as working with ClickFunnels, optimizing, and split-testing your presell pages.
Each member of the Super Affiliate Network will receive presell page templates, so you don't have to build them yourself.
Related: Start Earning An Income Fast With Pre-Made Affiliate Sites
Week 6 – Selecting Products
The final week of your Super Affiliate System education contains a lot:
Here, John will direct your attention to three of the most profitable affiliate marketing niches these days – wealth, health, and happiness.
Many beginner marketers find the process of picking a niche challenging – that's why the creator narrows the search down to the most lucrative ones.
What if you want to build your marketing business around another niche?
In that case, you can watch the lesson John provides for choosing a niche that will suit you the best.
On top of that, the video lessons conclude with introducing you to other affiliate programs and networks than ClickBank.
Related Read:
Helpful Resources
My Super Affiliate System review won't do a good job if I fail to mention the resources page you can use as John's student.
Considering we're talking about the latest version of the course (Super Affiliate System 3.0), the resource page offers much more than it did before.
Aside from targeting data and pre-built sales funnels, you'll gain access to other valuable tools.
Such as:
Affiliate Ad Swipes
List of the top affiliate networks
Advertising networks
Legal Resources to use so you won't violate the policies of Google and Facebook Ads
Course Archives (watch the previous versions of the course (Super Affiliate System 2.0) to see training materials on native ads and more affiliate marketing networks)
Tech Support
It doesn't matter how many Super Affiliate System reviews you'll get to read while researching this online training:
All of them will tell you the same thing – the course offers stellar tech and non-tech support to its members.
Each time you need help or have a question, you can find quick assistance in the knowledge center.
Believe it or not, Jon Crestani answers questions himself sometimes.
Start Your Super Affiliate Training For Free
Who Is John Crestani?
A California native and a college dropout, John's early Internet Marketing efforts failed half a dozen times, but he did not quit:
Driven by the desire to escape the local low-paying jobs and earn his living online, he kept trying to earn a living online.
All his hard work was finally rewarded when he created his first hugely successful affiliate-based website for promoting health-related programs.
Today, he is already a veteran in the affiliate marketing field.
His name has been featured on giants like Yahoo Finance, Inc., Business Insider, Forbes, the Home Business magazine, and many others.
John Crestani Net Worth
Being a Super Affiliate, John Crestani hit the million-dollar mark a long time ago.
Nowadays, his net worth is over $12 million.
Are John Crestani's Students Successful?
During my research for this Super Affiliate System review, I stumbled upon tons of testimonials from members of the course.
According to these testimonials, many of John's students are already successful affiliate marketers with thriving online businesses.
Some of them managed to earn over $2,000 in affiliate revenue in less than two weeks after purchasing the Super Affiliate System.
Even more, a few of John's students have surpassed the ultimate goal for any marketer – $1 million from affiliate sales alone.
Have a look for yourself:
Now, I have to tell you that most of the SAS members earn affiliate commissions from promoting the training to their readers.
So, they increase their earnings by taking advantage of the John Crestani Affiliate Program.
Feel free to visit the official site to read more success stories and Super Affiliate System testimonials.
How Much Does Super Affiliate System Cost?
At the time of writing this Super Affiliate System review, the course costs $997.
If you can't afford to pay the whole amount upfront, you can get the training for three payment installments of $397.
Unfortunately, that will bring the cost to $1,191.
As I mentioned earlier, the Super Affiliate System is selling on the marketplace of ClickBank.
And that means investing in the program gives you the option to use the 30-day money-back guarantee.
Super Affiliate System Pros And Cons
Pros:
 Without a doubt, the Super Affiliate System is the most in-depth and comprehensive course on making affiliate sales with paid traffic – of course, there are other valuable courses as well.  A  lot of them are more affordable – no argument about that.  However, John's product stands out for plenty of reasons, the biggest one being how fast it will deliver impressive results.
 Perfect for marketers who want to become successful ASAP – while paid ads will increase your expenditures, they will save you a lot of time. Following John's lessons won't put you on the traditional path of building a business with organic traffic. It takes a lot of time for Google to develop trust in a new site, but you don't have to worry about that with the SAS. 
 Beginner-friendly – the course will educate you through video lessons you can watch at your own pace.
 Tons of teaching materials and templates – John provides plenty of his winning tools that have been pre-built and ready to be used.
 John Crestani is a veteran affiliate marketer – speaking of the creator, we can not forget that he is a super affiliate. Being a millionaire thanks to internet marketing is the only proof you need.
  Full tech support and very engaged private Facebook group and forums – you'll have assistance at any given moment. Plus, you can connect with other like-minded marketers.
 There is a 60-day money-back guarantee – the course is on ClickBank, so if you're not happy with it, you'll receive your money back.
Cons:
 Not that affordable – the Super Affiliate System comes at a price not everyone will be able to afford.
I Earn Such Affiliate Commissions Every Month. See How To Do The Same!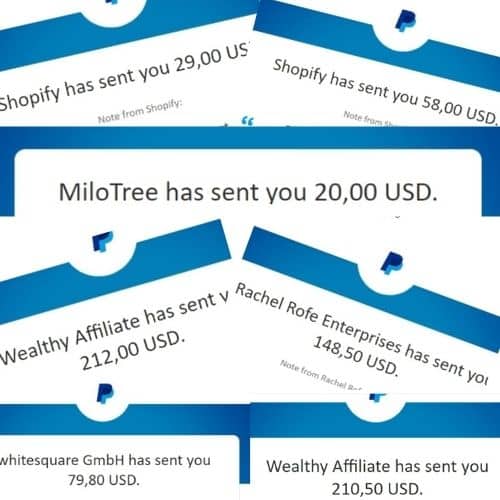 Super Affiliate System Alternatives
Nowadays, many online training courses teach affiliate marketing and starting a profitable business in the field.
Each comes with unique features, pricing, advantages, and disadvantages.
Have a look at some alternative affiliate marketing training programs:
Is The Super Affiliate System A Scam?
No, Super Affiliate System is not a scam.
It's a valuable online course from one of the most prominent internet marketers in the world.
The course offers a money-back guarantee, so you have the option to receive your investment back.
With that said, SAS has an expensive price tag, so I know that not everyone will be able to afford it.
Still, the training is legitimate and will teach you a lot about earning thousands of dollars from affiliate sales via paid traffic.
Super Affiliate System Review – Frequently Asked Questions
What Is Super Affiliate Commission?
To sum up, a super affiliate is a marketer who drives an enormous amount of traffic to a sales page or website that converts into thousands of dollars from affiliate commissions.
Sometimes, super affiliates earn over $10,000 a day from affiliate sales alone.
Is Super Affiliate System Worth It?
The Super Affiliate System is worth it for everyone who wants to become a professional affiliate marketer and earn lots of money from affiliate commissions fast.
While the course is expensive, its teaching material will train you to develop a lucrative affiliate business in no time.
However, the training is not for people who invest in many training courses without finishing them or taking action on everything they learn.
How Does John Crestani Make Money?
John Crestani earns most of his income from affiliate marketing and selling digital training products and programs.
His Super Affiliate System course is probably the most popular and high-selling teaching program.
Can You Get Rich Off Affiliate Marketing?
Affiliate marketing can make you rich, but that won't happen overnight.
Professionals with the status of super affiliates often spend years improving their skills, getting to know their audience, and bringing their affiliate income to six figures.
My Closing
My Super Affiliate System review is officially over.
I'll do my best to keep updating it every time there is new information about it.
Until then, I would like to read your thoughts about it:
Do you think SAS is what you are looking for in a marketing course?
Is there something about it you don't quite get?
Let me know, and I'll clear up the confusion!
More Ideas From Cash Embrace You Might Like: