12 Minute Affiliate Review: Scam Or Guaranteed $460 Fast?
My 12 Minute Affiliate Review will cover an online training system that gives a unique spin to affiliate marketing:
Instead of launching an affiliate marketing business the traditional way (through a website), you'll do it in twelve minutes without a blog.
Devon Brown is the creator of the 12 Minute Affiliate Marketing System (I'll tell you more about him later).
He claims his program will help you earn at least $460 in a day. Apparently, you won't have to do much to make this money:
Allegedly, 12 Minute Affiliate delivers affiliate commissions automatically.
Should you trust all that?
Well, you're about to find out since I'll tell you everything you need to know about Devon Brown's program:
What is 12 Minute Affiliate, and how does it work?
Can you make money with 12 Minute Affiliate?
How much does 12 Minute Affiliate cost?
Is 12 Minute Affiliate legit or a scam?
This post contains affiliate links – read my affiliate disclosure.
12 Minute Affiliate Review – The Basics
Product: 12 Minute Affiliate
Owner: Devon Brown
Price: $9,95 (Claim Your Spot At The Free Webinar)
First thing first, is everyone aware of what affiliate marketing is?
In case someone isn't, affiliate marketing is an online business model that allows you to earn by promoting someone else's products or services.
As you can probably guess, you don't have to create any products yourself – you'll focus on recommending them to your audience.
With that said, don't expect to master the fundamentals of affiliate marketing through 12 Minute Affiliate because the course won't teach you that:
The program will introduce you to an earning strategy to generate affiliate sales passively.
It uses Sleep-Sales Technology, and you'll learn all about it when my 12 Minute Affiliate review continues.
Related Read:
Is 12 Minute Affiliate Legit?
Before we get into the inner workings of 12 Minute Affiliate, let's discuss its legitimacy first.
These days, many online earning programs scam their users with unrealistic income claims that never materialize into substantial revenue.
If this is your first try to make money online, you don't have the necessary experience to recognize scam systems.
So, is 12 Minute Affiliate such a system?
You'll be glad to find out that 12 Minute Affiliate is a legitimate earning platform:
It's on sale on ClickBank, so investing in the product comes with a money-back guarantee.
Even more, 12 Minute Affiliate begins with a Free Webinar – you can join the program without paying anything.
An Important Info:
Some people confuse 12 Minute Affiliate with Affiliate Marketing Mastery – these are different systems.
Those of you searching for an Affiliate Marketing Mastery Review should look for it elsewhere.
What Is The 12 Minute Affiliate?
12 Minute Affiliate is an online training platform that helps beginners make money from affiliate commissions.
According to the sales pitch, the system takes more of the work a new business owner has to do out of the equation:
Once you invest in 12 Minute Affiliate, the team behind the program will complete most of the work for you.
In other words, 12 Minute Affiliate is a done-for-you marketing system anyone can use to make affiliate sales automatically.
These days, 12 Minute Affiliate provides its members with everything they need to build profitable affiliate businesses, such as email marketing series, sales funnels, and traffic solutions.
Devon Brown offers a quick start checklist to all his students. That checklist eliminates the necessity of starting affiliate marketing training from scratch.
Who Is 12 Minute Affiliate For?
By all means, 12 Minute Affiliate is primarily for beginner affiliates and struggling internet marketers.
By providing a simple setup and more or less automated working process, the program seems like the perfect solution for newbies.
Long story short, 12 Minute Affiliate might be valuable for people who don't have the time to develop a whole affiliate marketing business on their own.
Who Is Devon Brown?
As you already know, Devon Brown is the owner and creator of 12 Minute Affiliate.
Nowadays, Devon has a huge presence on Social Media – you can connect with him on many social media networks.
After graduating college with a Bachelor's Degree in Sports Management, Devon did different jobs for years.
Eventually, he got into the internet marketing business, but his success didn't come overnight:
It took years of failing, learning, and improving until Devon gathered the knowledge and experience necessary to succeed online.
Nowadays, Devon's business ventures generate over $100,000 a month, and 12 Minute Affiliate is one of his most prominent products to date.
How Does 12 Minute Affiliate Work?
Alright, it's time for my 12 Minute Affiliate review to show you the working process with the system.
Here are the steps you'll need to take to set the 12 Minute Affiliate program in motion:
1) Watch The Free Webinar
There isn't much you need to know about that first step:
Provide your email address and spare some time to watch the Free 12 Minute Affiliate Webinar.
Feel free to do that here.
2) Get The 12 Minute Affiliate Trial
Anyone can test the 12 Minute Affiliate for $9,95 for two weeks.
Once that trial is over, you'll have enough information to decide whether you want to invest in 12 Minute Affiliate further.
3) Set Your 12 Minute Affiliate Business Up
Setting up the 12 Minute Affiliate system requires taking the following steps:
Create a ClickBank account
Learn to use an email autoresponder
Drive traffic to your landing pages
Earn affiliate commissions
Let's go through each of these steps in detail, shall we?
How To Make Money With 12 Minute Affiliate?
1) Create Your Free Affiliate Account
More often than not, researching 12MA online will deliver search results such as 12 Minute Affiliate System Free Download.
Considering you can't download the program for free, my guess is that the search query relates to setting up your free affiliate account.
So, the first thing you'll need to do is create a free ClickBank affiliate account.
That will take less than two minutes of your time.
2) Get An Email Autoresponder Service
An email autoresponder is a tool you need to manage your email marketing campaigns (I use ConvertKit for mine).
12 Minute Affiliate works with Aweber.
Aweber is free to use for a month. However, once your free Aweber trial is over, you'll have to pay a monthly fee to keep using the service.
3) Receive Your Landing Pages
Each member of 12 Minute Affiliate gets landing pages.
You'll choose a landing page to work with from three niches – personal development, weight loss, and home business (make money online).
Pick a niche, use the relevant landing page, choose a template, and customize it.
Customizing your landing page won't take long – all templates are already optimized for a higher conversion rate.
Programs And Tools That Will Increase Your Affiliate Conversions:
4) Connect Your Landing Page To Your Email Autoresponder
Each 12 Minute Affiliate member receives an import code.
The import code will allow you to add auto-generated emails to your Aweber account automatically.
As a result, you won't have to create email sequence series on your own, and that will save you a lot of time.
Now, all pre-written emails you'll receive will contain promotional materials the team behind 12MA will select for you.
Your affiliate links will be added to these promotions and campaigns.
5) Send Traffic To Your Landing Page
To clarify, the done-for-you traffic generation method 12 Minute Affiliate will provide you with will cost you extra money.
After all, that's paid traffic you can't get for free.
Working with paid traffic has its advantages:
Devon's opt-in forms have around a 60% conversion rate. So, when the team sends 1,000 visitors to your affiliate offers, around 600 of them will subscribe to your email list.
All these people are potential buyers:
Each time they receive an email, they'll have access to the promotional materials that contain your affiliate links.
6) Earn Affiliate Commissions
Once an email subscriber clicks on your affiliate links and buys a product, you'll receive an affiliate commission.
The bigger your email list becomes, the more commissions you'll be able to generate.
12 Minute Affiliate Training: Inside 12 Minute Affiliate Members' Area
Basically, 12 Minute Affiliate provides five training sections to its members:
1) Quickstart Checklist
I already mentioned the quickstart checklist earlier in this 12 Minute Affiliate review.
As you can see, the checklist is self-explanatory:
It walks you through the steps you need to take to set up your 12MA system.
2) Traffic Area
The traffic area includes done-for-you traffic channels and other traffic sources.
While 12 Minute Affiliate works mostly with paid traffic, Devon has recently added free traffic generation methods.
3) Service Manager
Generally, the Service Manager is a tool you can use to help you manage your sales funnels and email autoresponder.
4) Support And Private Facebook Group Access
All 12 Minute Affiliate members have access to 24/7 tech support and a private Facebook group.
That means you can easily receive help from a professional tech team and also connect with like-minded people.
5) 12 Minute Affiliate Bonuses
Nowadays, 12 Minute Affiliate comes with many bonuses.
For example, some of the bonuses are live training replays, eBooks, an ultimate success library, and a list of the best affiliate products to promote.
Related Read:
Are 12 Minute Affiliate Members Getting Results?
According to the testimonials of 12 Minute Affiliate users, the program does indeed deliver results.
Have a look for yourself:
There are a couple of things to keep in mind when looking at the screenshots above:
While making money with 12 Minute Affiliate is possible, the sales you see are not your actual profit.
You'll have to factor in the paid traffic expenses and 12 Minute Affiliate membership fee.
And how much is that fee?
My 12 Minute Affiliate review will tell you all about the product's price now:
How Much Does 12 Minute Affiliate Cost?
Trial Period ($9,95): If you pay that price, you can test the system for 14 days
Basic Membership ($47/month or a one-time fee of $397): That's how much you'll need to pay to keep using 12 Minute Affiliate after the trial is over
Gold Membership ($97/month or a one-time fee of $797): The Gold Membership will allow you to promote products from multiple niches
As I mentioned earlier, 12 Minute Affiliate comes with a money-back guarantee.
Watch The Free 12 Minute Affiliate Webinar
12 Minute Affiliate Pros And Cons
Pros:
You can make money with the program: 12 Minute Affiliate uses a legitimate business model to help its members create successful online businesses.
Starts with a free webinar: Anyone can get a taste of 12 Minute Affiliate without paying anything.
Users can make money passively: If you decide to build a business with 12 Minute Affiliate, your revenue will be mostly automated.
Suitable for beginners: Signing up for 12 Minute Affiliate will work for newcomers and first-time affiliate marketers.
Valuable training, tools, and resources: All 12 Minute Affiliate members receive email marketing campaigns, landing pages, and other helpful resources.
Devon Brown is a successful entrepreneur: The creator of 12 Minute Affiliate is a well-known internet marketer.
There is a money-back guarantee: Feel free to use the refund policy and get your investment back if 12 Minute Affiliate doesn't work for you.
Cons:
Expensive Memberships: Both the Basic and Gold Memberships of 12 Minute Affiliate will cost you monthly fees.
Extra Expenses: Working with 12 Minute Affiliate requires spending extra money on traffic and email autoresponder service.
You'll promote pre-selected products: Don't expect to choose the products you'll recommend to your visitors – the team behind 12MA will make that choice for you.
I Earn Such Affiliate Commissions Every Month. See How You Can Do The Same!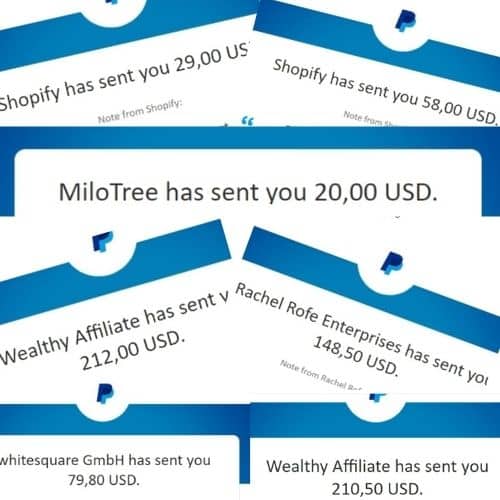 12 Minute Affiliate Alternatives
Is 12 Minute Affiliate A Scam?
By all means, 12 Minute Affiliate is not a scam:
It's a legitimate online training platform that will show you an easy way to make money online.
With that said, there is no guarantee that you'll earn thousands of dollars as soon as you sign up for the system.
So, it's up to you to decide whether 12 Minute Affiliate is worth the try.
How To Earn Money Online (For Beginners)
Here is an idea:
Instead of investing your time and money in 12 Minute Affiliate, why not build a business on your own?
Nowadays, anyone can launch an online business, even without any marketing experience.
There is a simple four-step process to start and develop a profitable online business.
Spare a few minutes of your time and get familiar with that process here.
My Closing
It looks like this 12 Minute Affiliate review is coming to an end!
We are done talking about this product – there is nothing left to say.
Still, if there is anything you would like to ask me about 12 Minute Affiliate, I'm always available to answer questions.
Let me know what's on your mind in the comments section below.
More Content About Affiliate Marketing: