The Beginners Guide To Affiliate Marketing: Your Road To Affiliate Sales
The beginners guide to affiliate marketing will explain the craft behind living off affiliate commissions.
As most of you probably know, affiliate marketing is one of the most lucrative industries you can take advantage of once you decide to make money online.
Do you think you're too late to the affiliate party? Think again:
According to Statista, affiliate marketing spending will reach $8.2 billion by the end of this year in the USA alone.
Affiliate marketing will allow you to monetize your content and create a passive income stream in the process.
Is there a better way to earn a full-time income online as a newbie?
Think of this article as an affiliate marketing explained for beginners:
What is affiliate marketing, and how does it work?
The benefits of affiliate marketing – is affiliate marketing worth it?
How to start affiliate marketing for beginners?
Can you make money with affiliate marketing for beginners?
And how do affiliate get paid?
This post may contain affiliate links. You can read my affiliate disclosure.
What Is Affiliate Marketing?
In my opinion, affiliate marketing is a business model many people over-complicate while they explain the idea behind it.
Let's take a look at their definition for a moment:
More often than not, four parties participate in the process of affiliate marketing:
Merchant – By merchant, you should image a company selling products/services and invites affiliates to promote them.
Network – Quite frankly, many times merchant and network are the same. Still, think of the network as an international or a third-party platform where a specific affiliate program operates.
Marketer (Affiliate) – An affiliate is a person that promotes products and earns a commission once a customer purchases through their link.
Consumer – A consumer (or customer) is any member of your audience that buys something after receiving your recommendation.
By all means, this is the cut-and-dry explanation of affiliate marketing.
Considering this is the beginners guide to affiliate marketing, though, let me translate everything through simple language:
Basically, affiliate marketing is a way to earn online by promoting another person/company's products or services.
When a person completes a purchase through your unique affiliate link, you'll receive a commission.
Of course, there is much more going on in a process where you'll act as both salesman and marketer.
Before we get to that, let's have a look at how affiliate marketing will benefit you, shall we?
What Are The Benefits Of Affiliate Marketing?
Quite frankly, starting an affiliate marketing business brings tons of benefits to the table.
Many of them are as obvious as they can get:
For example, turning an affiliate business into a profitable one means you'll never have to work a nine-to-five job again. And that has plenty of advantages on its own, like working from home and spending more time with loved ones.
With that said, let's discuss the other benefits of affiliate marketing you may not be able to see at first.
To sum up, these are some of the strongest and most attractive sides of affiliate marketing:
Low Risk: Say what you will, but diving into affiliate marketing is one of the most not risky moves you can make today. You don't need a lot to start doing it!
Barely Any Cost: Believe it or not, you can launch an affiliate marketing business for just a couple of dollars. I'll talk more about it later in this affiliate marketing beginners guide.
Flexibility: These days, you can do affiliate marketing more than one way. Yours will be the decision about how to promote products to your audience.
Beginner-Friendly: As an affiliate, you don't have to worry about creating products or offering the support that goes with that. Subsequently, your working process will focus your effort just on the promotional part.
Passive Income: Well, you already know that affiliate marketers are able to earn money while they sleep. So, no further explanation is necessary here.
Newbies Business Affiliate Guide – Things To Consider Before Becoming An Affiliate Marketer
Depending on a couple of factors, most people will consider different factors before they become affiliate marketers.
However, there are fundamental factors that play part in the process you'll have no choice but to take under consideration.
Such as:
Disclosing Affiliate Links: Not letting your visitors know that some of the links you provide them with might be affiliate ones are not an option. This is not just about transparency but about the law as well.
Staying Away From Affiliate Theft: You may not be aware of it yet, but there are individuals doing affiliate marketing the wrong way. Don't follow their example, and the consequences of an affiliate theft will be something you'll never have to face.
Not Selling Out: Promoting products just because their affiliate programs are lucrative is a strategy you'll end up regretting. Losing the trust of your audience will not get you anywhere as a marketer in the long run.
Learning To Be Patient: If patience is one of your strongest traits already, that's great. But if it isn't, you'll need to master it. Earning thousands of dollars from affiliate commissions will not happen in a day or two.
How Does Affiliate Marketing Work?
OK, since my goal is for this post to be the beginners guide to affiliate marketing, let's start with some essential info for newbies.
In other words, it's time to see how affiliate operates:
Each merchant you'll ever work with will provide you with a unique affiliate link.
The purpose of this link is to allow the merchant to track which sales are coming from you.
When a reader clicks on your link, a file (cookie) will be stored on that person's device.
That file has two main functions:
 Helping the merchant pay an affiliate commission to the right marketer (the affiliate responsible for the sale).
 Determines for what period of time a click or a purchase can be attributed to you.
More often than not, the second part is the confusing one among newbies.
Again, this is the affiliate newbies marketing guide, so allow me to clear the air:
Affiliate Marketing Examples For Beginners
For starters, imagine that you're an Amazon affiliate.
Next, let's say that you have an article about the best yoga leggings that attract a large number of readers daily.
Currently, readers are clicking on one of your affiliate links, and that link leads them to a product on Amazon.
Maybe they don't complete the purchase of that particular product, and they leave the laptop for several hours.
As soon as they're back online, they look for the product again.
Finally, they complete the purchase but decide to buy a yoga shirt that will go perfectly with the leggings.
Prepare yourselves – here is where affiliate marketing becomes amazing:
Hours earlier, when the reader clicked on your first affiliate link, the cookie got stored on their device.
Since the Amazon affiliate program comes with a 24-hour cookie duration, you'll now receive a commission for both the leggings and the shirt, even if you don't promote the latter.
A Word About Click-Through Attributions
Well, we're already talking about cookies, so I want to save you time on further affiliate marketing research.
Generally, there are two main attribution models – a first click and last click:
 First Click: A model that will reward you if a person visits a merchant's website for the very first time through your affiliate links.  That person may visit the website on many occasions later, through the affiliate links of other marketers.  If the cookie has a first-click attribution, you'll receive the commission – even if your reader completes a purchase six months after their first visit.  Keep in mind, the longer the cookie duration, the better chance you'll have for affiliate sales.
 Last Click: this attribution model is the most common nowadays.  In case your blog is the last one a person visits before purchasing a product from the merchant's website, you'll earn the commission.
How Much Money Can You Make As An Affiliate Marketer?
How about we do a quick recap for a second?
So far, the beginners guide to affiliate marketing did explain the following:
What is affiliate marketing, and how does it work?
Affiliate marketing for beginners – the business model explained.
How to become an affiliate marketer?
Quite frankly, you do know a few other things on the topic as well.
With that said, shall we move on?
The way I see it, it's time to take a look at the money factor.
In other words, I should probably answer the question of how much money you'll earn doing affiliate marketing online.
Here is the thing – I can't do that.
No person in the world can predict the specific number of earnings you'll see from affiliate commissions.
After all, your affiliate paychecks depend on many factors.
For instance, how much time are you willing to spend at your new business, how hard you'll work, how profitable the niche you'll choose is, etc.
Also, the quality of the affiliate marketing training you'll go through will have a major impact on your success as an affiliate.
But if you insist on numbers, I can provide you with some:
Pat Flynn from Smart Passive Income is a bright example of an extremely successful marketer. He earns 5-6 figures of online income every month.
Make no mistake, though – it will take you a long time until you begin seeing such numbers in your bank account.
Considering you're just starting, your first affiliate earnings might be just a couple of dollars at first.
Having the right mindset is very important, so do yourself a favor and adjust your expectations.
How Do Affiliates Get Paid?
Basically, affiliates are getting paid when a customer completes an action.
What kind of a consumer's action will bring you income as an affiliate?
Have a look:
1) Per Sale
As you can imagine, pay-per-sale is the most common affiliate marketing model.
Working with it means that you'll get paid for every sale you manage to generate.
2) Per Click
Actually, the name of this model speaks for itself:
You'll earn for every click you deliver, regardless if it turns into a sale or not.
3) Per Lead
Naturally, the pay-per-lead model will make you money for every lead you generate.
How To Get Started With Affiliate Marketing?
There are a couple of simple steps you'll need to take to start an affiliate marketing business.
Even though they're not hard to complete, you shouldn't rush them.
Moreover, don't skip any of the steps either.
1) Choose A Niche
Generally, almost every piece of content about today's topic will tell you that picking a niche has to be your first task.
And the beginners guide to affiliate marketing you're currently on will give you the same advice!
Deciding on a niche must be your starting point for an essential reason:
Promoting every product or service that has an affiliate program will never work.
You can't be an expert in 2 totally different subjects, and even if you're, your readers won't take it that way.
More importantly, working without having a clear niche will make the earning process way too hard.
To give yourself the best chance for success, you need to know who your target audience is.
Now, answer two essential questions while you're trying to decide on a niche:
 Am I passionate about the topic? – chances are, you'll write about it for years to come.  Therefore, being passionate about your niche is a must.
 Is the niche profitable? – if your main topic can't attract a huge enough audience, don't expect to make a full-time income as an affiliate marketer.
The best-case scenario here is to go for a topic you genuinely like, and thousands of people have an interest in it as well.
2) Decide On A Platform
Before the beginners guide to affiliate marketing goes any further, I have to clarify something:
Many affiliate marketing tutorials point out choosing a platform as the first step, including my guide to affiliate marketing.
Whether you'll do that first or second, you won't make a wrong turn:
At this point, you're still in the brainstorming stage of the process. Therefore, you can pick a platform and niche at the same time if you want.
With that said, let's talk about your early affiliate strategy.
Do you have an idea about the platform you'll use as a marketing playground?
Are you going to jump on Instagram and do your best to create a powerful business page?
Will you build a YouTube channel and rely on video marketing to bring you affiliate sales?
Or will you launch a blog?
Heads up – the last option will give you the best chance for affiliate success.
Why You Should Start A Blog As An Affiliate Marketer
Having your own website will allow you to build a powerful online presence.
It will give you the opportunity to promote as many products as you like.
And it won't stop you from boosting your brand awareness on Social Media later on.
Keep in mind, while starting a blog is definitely the smartest choice, it's also the one that is the most time and effort-consuming.
Many people have great results as affiliate marketers without websites.
In short, doing affiliate marketing with or without a blog is something you'll have to decide for yourself.
Both options can and will work!
Related: How To Make $460/Day With Affiliate Marketing Without Creating A Blog
3) Find Affiliate Programs To Join
Needless to say, the affiliate programs you'll choose to join have to be of relevant products.
You should never work with an affiliate program because the payout is more than lucrative.
Unless a product solves your audience's problem and delivers value, its affiliate program will not be a good fit for your business.
Selling out for a quick paycheck will destroy your reputation among your readers.
Once you lose their trust, it would be close to impossible to get it back.
Types Of Affiliate Programs You Can Join
Not all affiliate programs work the same way.
The beginners guide to affiliate marketing will introduce you to the main three types of affiliate programs:
 Low Paying/High-Volume Affiliate Programs: These affiliate programs offer low affiliate earnings, but the products attract a massive audience.  Think of Amazon's affiliate program – that's a perfect example. Yes, the products available for promotion will attract thousands of potential buyers, but you'll earn a couple of dollars for each sale. To profit well from such programs, you'll need tons of web traffic to your links.
 High Paying/Low Volume Affiliate Programs: Here, think of programs for niche products that offer delicious affiliate commissions.  Since the number of potential buyers is limited and the payout is high, these programs are preferred by more experienced marketers.  Likewise, they may not work for you as a beginner.
 High Paying/High Volume Affiliate Programs: Such programs are my favorite, as it is for many other marketers.  They pay more than well, and the products have mass appeal.  A great example is the Shopify affiliate program – it pays up to $2,000 per sale.
Related Read:
How To Choose Which Affiliate Marketing Programs To Join?
Well, choosing an affiliate program depends on the type of products you're planning to promote.
Another huge factor that will influence your decision is your target audience.
Will you go after consumers?
If that's the case, you'll most likely promote physical products. Subsequently, Amazon Associates will be a good fit.
What if you plan to target businesses?
Then, you'll probably promote digital products.  It makes sense to look for affiliate programs for software, eBooks, and online courses.
I recommend using Google Search while you're looking for affiliate programs to join.
Just type "product + affiliate program" and look through the results.
You can also try "best online courses affiliate programs" (example) and browse some more.
Once again, keep the greed factor in check, and don't risk your audience for the sake of higher commissions.
Promoting low-quality products will take you out of the affiliate marketing business faster than you can imagine.
Not to mention, that's one of the biggest affiliate marketing mistakes most newbies often make.
4) Create Amazing Content
Earlier in the beginners guide to affiliate marketing, I touched briefly on the importance of posting quality content.
Allow me to expand the topic further:
Yes, writing helpful articles that assist your readers with solving their problems is a step in the right direction.
However, that's nowhere near enough if you want to totally crush affiliate marketing.
The secret sauce here is to think outside of the box.
Meaning, you'll need to develop content ideas that will let your affiliate links fit naturally in the narrative.
A good place to start is to listen carefully to your audience.
While developing a body of content, pay close attention to which articles resonate the most with your readers and convert the most.
Once you gain that knowledge, your job as an affiliate marketer will become easier.
5) Drive Traffic To Your Content
Basically, even the best content ever won't have the slightest chance to convert if no one ever sees it.
In the light of this statement, we have to continue the conversation with different strategies to get eyeballs on your offers:
 SEO (Search Engine Optimization): If you have a blog, you'll need to optimize all of its content for the search engines.  This way, your articles will rank well, and they'll deliver tons of organic traffic to your pages.  User intent and proper keyword research are some of the things to keep in mind when you dive into the world of SEO.
 Paid Traffic: Relying on ads requires quite an investment on your part.  Google Ads and PPC (Paid-To-Click) Campaigns are effective ways to get more visitors.
 Social Media: Using Social Media is not the best solution for affiliate marketers. That traffic is way less targeted than the organic one.  Still, some readers are better than no readers. So, put some effort into Social Media until your Google traffic kicks in.
6) Convert Readers Into Buyers
Heads up, this is the most important paragraph of the beginners guide to affiliate marketing!
What your affiliate income would look like if your audience reads but doesn't buy?
I'll tell you – it would be non-existent.
But how do you convert readers into buyers?
Assuming you're producing high-quality content already, let's see what you can do with it to increase your conversion rate:
Correct Link Placement – do you have a single affiliate link in the last paragraph of your post? Most readers are skimmers and rarely read that far.  Add your affiliate link a bit earlier and insert it more than once through your content.
 Spamming – is there an affiliate link within every second sentence?  Not enough links don't work, but over-doing it won't work either.  Stuffing your articles with affiliate links is a big turn-off for the readers.  You don't want to chase off your audience away, right?
 Over-Selling it – going overboard with your promotional efforts is another big no-no.  Looking desperate to make a sale is self-sabotaging for any affiliate marketer.
Feel free to use high-quality tools that will help you increase the conversion rate of your content:
Popular Types Of Affiliate Marketing Channels
Alright, the beginners guide to affiliate marketing will now introduce you to the most common affiliate marketing channels.
Here they are:
Blogging
Is blogging coming as a surprise to anyone? I don't think so!
Developing a blog will help any affiliate marketer rank content on the search engines and drive traffic to promotions.
Feel free to add an affiliate link to a seller's platform in a blog post relevant to the product you promote.
Email Marketing
To sum up, email marketing is one of the oldest strategies marketers use to make sales.
If you do it right, expect a high ROI (return of investment).
Of course, that will happen only if you take the time to nurture your email subscribers and provide them with extra value.
Influencer Marketing
Think what you will, but influencer marketing is huge these days.
Millions of people follow different influencers for different reasons.
In case that's the type of marketing you prefer to do, you should create more product reviews and live videos.
Mass Media Sites
For those who don't know, mass media sites are large websites that attract an incredible amount of traffic daily.
More often than not, they post reviews and comparisons between different affiliate products.
Usually, the promotions happen via banner ads and contextual affiliate links.
Coupon Sites
Coupon sites might not be the hottest thing you can read about in the beginners guide to affiliate marketing.
Be that as it may, they still enjoy huge popularity among affiliate marketers.
Don't underestimate the chance for plenty of affiliate sales if you post your affiliate link on a coupon site.
Paid Search Microsites
First and foremost, a paid search microsite is not the same as a pre-made affiliate site.
No, such a site is a branded page that doesn't reside on your main blog currently.
Using it may result in reaching a more targeted audience than the one you already have.
The Beginners Guide To Affiliate Marketing – Do You Need Affiliate Marketing Training?
Yes, you do need top-notch affiliate marketing training.
Finding out how to start affiliate marketing for beginners is relatively easy. Developing the skills necessary to master the field – not so much!
By all means, the world of affiliate marketing is constantly changing.
To keep making a full-time income from affiliate sales month after month, you'll need to have your thumb on the pulse of this medium at all times.
With that said, let's have a look at some of the most popular courses and platforms that are teaching affiliate marketing:
How To Start Affiliate Marketing With No Money
Believe it or not, there is a way to start doing affiliate marketing without investing anything at all.
You may wonder, how do you do that?
Well, the answer is Wealthy Affiliate.
Wealthy Affiliate is an online affiliate marketing training platform anyone can join for free.
Yes, you can create a free account – you don't have to provide your credit card details.
Becoming a member of Wealthy Affiliate will give you more than just access to professional affiliate marketing training:
You'll also receive a free website, access to a keyword research tool, free-of-charge web hosting, and many other perks.
Take the time to read my Wealthy Affiliate review and the success stories of its members.
Tips And Ideas To Scale Your Affiliate Marketing Business
What the beginners guide to affiliate marketing would be without a few tips and tricks that will boost your affiliate commissions?
Take a minute to read my pick of ideas to level up your affiliate business:
Publish Product Reviews: Reviewing products you promote is the fastest way to score an affiliate sale, in my opinion. The same goes for products comparisons and list articles.
Build Trust With Your Readers: People don't buy from individuals or companies they don't trust. That's why it's crucial for you as a marketer to recommend only products you would buy yourself.
Diversify Your Affiliate Promotions: Offering the same products to your audience constantly is not a smart marketing strategy. Don't limit yourself as an affiliate to a handful of products.
Do A/B Testing: Just because an affiliate promotion works, it doesn't mean that you can't improve it. Devoting time to A/B testing of landing pages (example) is a must.
Related: 50 Advanced Affiliate Marketing Tricks To Double Your Sales
How To Make Your First Affiliate Sale
Quite frankly, there are many things you can do to earn your first affiliate commission.
Depending on a couple of factors, marketers will reach that first affiliate payout at a different time from others.
While driving more traffic to your offers will increase the chance of earning your first commission, tons of page views doesn't guarantee a sale.
With that said, what should you do to make your first affiliate sale faster?
Here is an idea:
How about you read my case study that will show you how to earn affiliate sales with less than 100 visitors a month?
Also, you can take a look at my first blog income report. It may give you a few extra ideas about the way you do your affiliate promotions.
I Earn Such Affiliate Commissions Every Month. Learn How To Do The Same!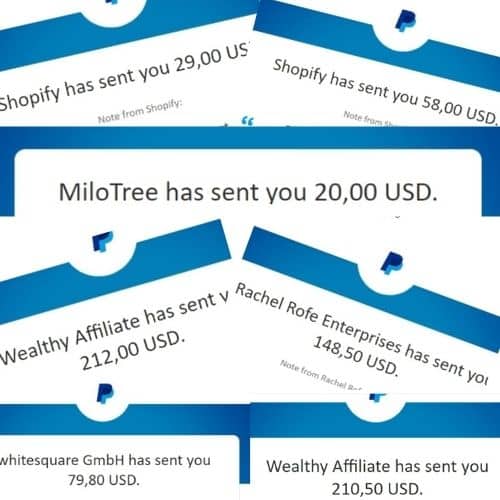 Is Affiliate Marketing Worth It?
I would say that affiliate marketing is more than worth it.
Above all, this business model is the most popular way to start making money online for a reason:
It's easy to understand its basics, and it doesn't require any previous marketing experience.
Most importantly, affiliate marketing will help you build a passive income stream.
Long story short, that's all I'll say about this topic.
The beginners guide to affiliate marketing above should be enough to convince you that becoming a marketer is worth the time and effort.
Affiliate Marketing For Beginners – FAQ
Do You Have To Disclose Affiliate Links? – yes, it's the law.  You need to add affiliate disclosure at the top of every article that contains affiliate links.  This way, your readers will know that you may get a commission at no extra cost for them if they purchase something through your links.
Affiliate Marketing Websites – Are They Different? – yes, there are different types of affiliate sites.  For instance, content sites, review sites, coupon sites, and many others.
Is There A Difference In The Commission? – of course there is.  How much you'll earn when you make a sale depends on many factors.  Always read carefully about each of the affiliate programs you're planning to join.
What's The Difference Between Affiliate Networks AndAffiliate Programs? – an affiliate network will let you choose from different programs offered by different companies.  An affiliate program will allow you to sign up directly with the company whose products you wish to promote.
Can You Buy Pre-Built Affiliate Marketing Business? – yes, you can.  Learn more about it from my Human Proof Designs review.
Is Affiliate Marketing A Legit Business Model? – yes, it is.  There is nothing illegal about promoting products for a commission.
Related: 10 Ways To Recognize Make Money Online Scam
My Closing
Hopefully, the beginners guide to affiliate marketing will help you find your way to making a satisfying online income.
Just remember, the process of becoming a successful affiliate is a marathon, not a sprint.
So, give it time, work hard, and you'll see those affiliate commissions coming!
Now, what's your take on affiliate marketing?
Do you see yourself becoming wealthy with it? Or is there something stopping you from even trying?
Let me know in the comments!
More Affiliate Marketing Ideas You May Like: