SaleHoo Review: Wholesale And Dropshipping Supplier Directory
The only reason you should be reading this Salehoo Review is that you're one step away from launching a dropshipping or e-commerce business.
Researching to find the perfect dropshipping supplier directory is also a reason to browse through the Salehoo opinions online:
According to most Salehoo Reviews, this platform is your best option to find cheap products in any niche that will reach the customer on time.
Starting a dropshipping business is an excellent way to earn online these days:
Currently, the e-commerce industry is nearing the 6 trillion dollar mark worldwide.
And Salehoo is a popular name that will keep popping up every time you study the most lucrative businesses you can build with low start-up costs.
Today, you'll learn all the essential facts about Salehoo:
What is Salehoo, and how does it work?
Can you make money with Salehoo?
How much does Salehoo cost?
Is Salehoo worth joining?
This post contains affiliate links – check my affiliate disclaimer.
Recommended Read:
SaleHoo Review – The Basics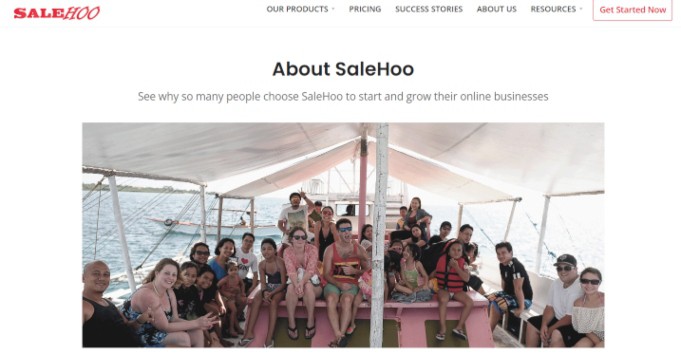 Salehoo is one of the largest global wholesale and dropshipping directories you can work with nowadays.
Actually, Salehoo is much more than that:
Aside from being a supplier directory, Salehoo is a formidable research tool and a friendly online community for beginner and experienced dropshipping and wholesale business owners.
Overall, the service Salehoo provides will be a game-changer if earning thousands of dollars from dropshipping each month is your ultimate goal.
Quite frankly, Salehoo is a must-have if you're taking your e-commerce business seriously, especially if you're just getting into the dropshipping industry:
One of the best things about Salehoo is that the platform will do most of the work for you. Its support team and outstanding training center are always there to lend a helping hand as well.
Is Salehoo Legit?
Before this Salehoo review unravels the essential facts about the platform, let's discuss the company's legitimacy for a minute.
For starters, Salehoo was founded way back in 2005 in New Zealand. While Salehoo UK and Salehoo Canada are popular search queries online, Salehoo came to life in Christchurch.
Simon Slade and Mark Ling are the creators of Salehoo. Being fed up with the inability to find a reliable wholesaler to serve their business is what pushed the co-founders to launch the platform.
Nowadays, Salehoo has nearly 140,000 members who trust the directory to help them develop successful e-commerce businesses online.
Ultimately, Salehoo goes above and beyond to satisfy the needs of all these business owners by connecting them with 2.5 million branded products and over 8,000 manufacturers and wholesalers.
So, yes – Salehoo is a legitimate company you can trust to get the job done.
If you need further reassurance, don't hesitate to research the company's rating a bit more.
Clicking this link will direct you to Salehoo Trustpilot ratings which currently enjoy 4.6 stars and mostly excellent Salehoo reviews.
What Is SaleHoo?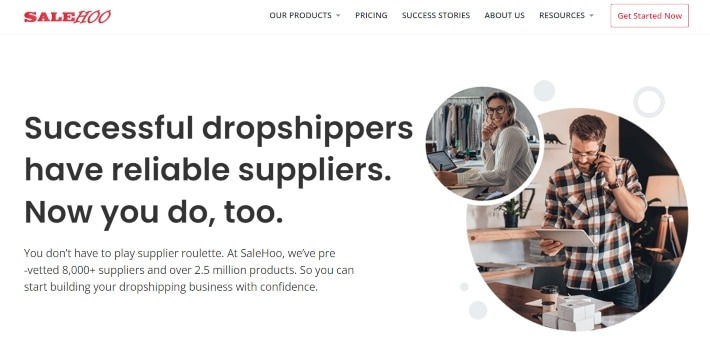 As you already know, Salehoo is one of the most powerful tools you can use to start, build, and develop a lucrative dropshipping business.
Furthermore, Salehoo is a highly-functional and extremely easy-to-use platform any online seller can join to find branded products from low-cost suppliers.
Long story short, Salehoo is a wholesale directory that will provide you with everything you need to make more than a full-time income dropshipping online.
With that said, some of the Salehoo reviews online fail to mention that Salehoo is a service and not a direct supplier.
Subsequently, you won't be able to buy products on the platform itself.
Now, most business owners rely on Salehoo to help them discover and compare product prices and suppliers. And you should follow their example:
While Salehoo is a New Zealand-based company, most of the suppliers you'll find in the directory are in the USA, UK, Canada, Australia, and China.
You'll be glad to learn that Salehoo comes at a more than affordable price – I'll tell you all about the product's cost later in this Salehoo review.
Is Salehoo Good For Dropshipping?
I can write thousands of words and share with you tons of facts that prove how effective Salehoo is and how joining the platform will benefit your business tremendously.
Still, the truth of the matter is that Salehoo is not the only wholesale directory that operates online – there are others as well.
For example, Worldwide Brands and Doba are two of the most popular competitors of Salehoo.
It's easy to stumble upon Doba Vs. Salehoo comparison posts while you're researching either one of them online.
So, what makes Salehoo the better choice of wholesale directory for anyone who wants to have a successful dropshipping business?
Firstly, Salehoo's suppliers' database is huge enough to satisfy every need of your e-commerce business.
Secondly, all suppliers are credible partners to work with – they go through an intense registration process.
Lastly, over two and a half million products fill the database of Salehoo – and you can have each of them for barely any cost.
How Does Salehoo Work?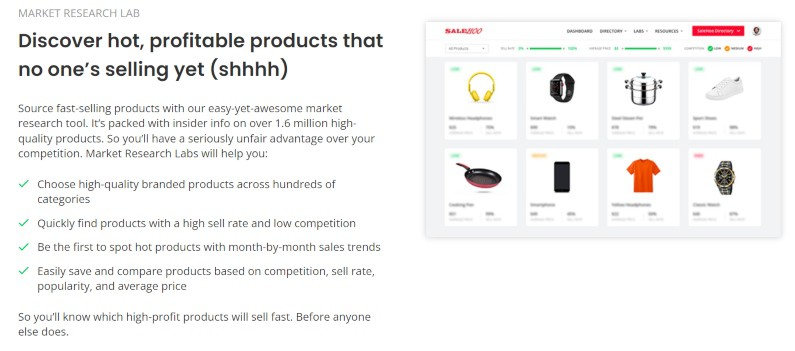 Once you realize that Salehoo is the best fit for your e-commerce business, you'll have to go through a simple process to start using it.
Here is a step-by-step guide to becoming a member of the Salehoo platform:
Sign up and set up your account on SaleHoo.
Search for products you would like to sell.
Decide which product you want to sell and find its suppliers.
Contact those suppliers (SaleHoo will provide you with outreach templates).
Negotiate prices with the suppliers – you should work with the supplier willing to offer you the best price.
Pick the supplier that offers you the product at the most affordable price.
Place your order – every supplier has a page with essential information, such as estimated shipping time, the minimum amount of orders you'll be allowed to place, etc.
Now, I would like to direct your attention to a crucial piece of information about your working process with Salehoo:
You have to decide whether you'll drop ship products directly to customers, buy them in bulk, or offer them wholesaling before you join Salehoo.
In the first case (dropshipping), you'll sell the product and then place the order to your supplier, who will ship the item to your customer (you won't have to handle the product yourself).
And in the second and third cases (bulk/wholesale), you need to purchase the product upfront from your supplier, who will ship it to your home/warehouse. Later, you'll sell this product online and ship it to the customer yourself.
Make no mistake – the second method requires more work, but it's the more profitable one.
Can You Make Money With Salehoo?
To say that you can make money with Salehoo will be the understatement of the year:
After all, Salehoo operates in so many different ways, and utilizing them will benefit your business.
Have a look at some of the things you'll be able to do once you join Salehoo:
Discover the most in-demand and trending products at the moment
Find products with the highest profit margins
Secure incredible deals with suppliers
Work with the lowest-cost and most reliable suppliers in the industry
Have 24/7 access to professional help and support team
Work smarter, not harder (Salehoo will provide you with all the necessary information in one place, and that will save you tons of time)
Review Of Salehoo: Salehoo Products And Key Features
1) Dropship Suppliers

Currently, Salehoo allows you to choose from over 1,000 suppliers.
As you already know, each of them is a legitimate business partner – Salehoo makes sure of that by putting the suppliers through intense checks and tests.
Sometimes, sellers prefer to avoid working with Salehoo and going to suppliers directly. I'll strongly discourage you from doing that:
Chances are, denying Salehoo's assistance and contacting suppliers on your own might result in losing all your money if that supplier turns out to be illegitimate.
By joining Salehoo, you're gaining access to the full wholesale inventory of best-selling products, such as skincare, haircare, etc.
Whether you want to sell products worldwide or locally, Salehoo will assist your business as soon as you sign up for the dropshipping business.
It's worth mentioning that the platform will let you sort the suppliers by minimum orders.
2) Wholesale Suppliers
Each member of Salehoo has access to over 8,000 trusted wholesale suppliers.
More importantly, you can see all the essential details about any supplier, and that information is extremely valuable:
Knowing the wholesale prices of different businesses will help you make more profits when you sell products.
Most people using Salehoo want to sell products on their sites and marketplaces such as Amazon, eBay, and Etsy.
Keep in mind that with Wholesalers, you'll need to be more specific since they'll be sending you the products.
But Salehoo will let you search for suppliers in your country and discover companies that ship to your location.
3) Market Research
Now, it's time for my Salehoo review to direct your attention to the Market Research Lab.
In my opinion, the Market Research Lab is one of the most valuable features of Salehoo:
Thanks to that feature, Salehoo is able to monitor over 1.6 million products to help you find a popular, trending, and profitable niche.
Don't be surprised if you stumble upon a trending product and decide to sell it, but plenty of other stores are already offering it.
To avoid such a situation, use Salehoo's data (competition and sell rate) to find products with low competition.
If you do that, you'll manage to stand out on the market and keep the profits coming in.
Also, the platform will give you access to monthly sales reports – use them to catch seasonal trends and not waste money on unused inventory.
Feel free to save any item you like and scan it on metrics such as competition, sell rate, price, trending, etc.
4) Salehoo Training & Support
At this point in my Salehoo review, you already know that the platform is an excellent choice for beginners:
Considering Salehoo provides step-by-step training and has a stellar support team, you'll have tons of help and assistance while building your e-commerce business.
Nowadays, members of Salehoo can reach the customer support team via phone, email, live chat, Twitter, and Facebook.
With that said, signing up for Salehoo will give you access to 50 training videos and step-by-step teaching guides.
Many of Salehoo's users build selling businesses on Amazon and eBay, and the platform's guides focus on training you for that.
Nowadays, Salehoo allows its sellers to offer advice and help fellow members – they do that in an online forum that currently contains over 60,000 posts.
5) Dashboard

Salehoo's dashboard is easy to use – it will constantly display the three essential elements for every seller ( suppliers, products, training).
That dashboard will let you store and save all suppliers you work with for later use – not going back all the time to find their details matters since it will save you the time you'll spend better on building relationships.
Every time you receive an order or message from a supplier, it will show in your dashboard.
Exchanging DMs, tracking interactions with suppliers, and looking at the forum are all possible inside the dashboard.
6) Salehoo Dropshipping Supplier Directory
Without a doubt, the Salehoo Supplier Directory is the platform's most impressive feature.
I mean, that feature alone will save you tons of time researching verified dropshipping suppliers since it will provide you with a list of the best of them.
The Salehoo Suppliers Directory contains essential data such as contact information, product ranges, shopping policies, ad customer reviews.
Besides, Salehoo constantly evaluates the international delivery of the supplier to provide you with a wider international selection.
Expect additional features that will help you manage supplier lists, and notes, and contact suppliers.
Salehoo Pricing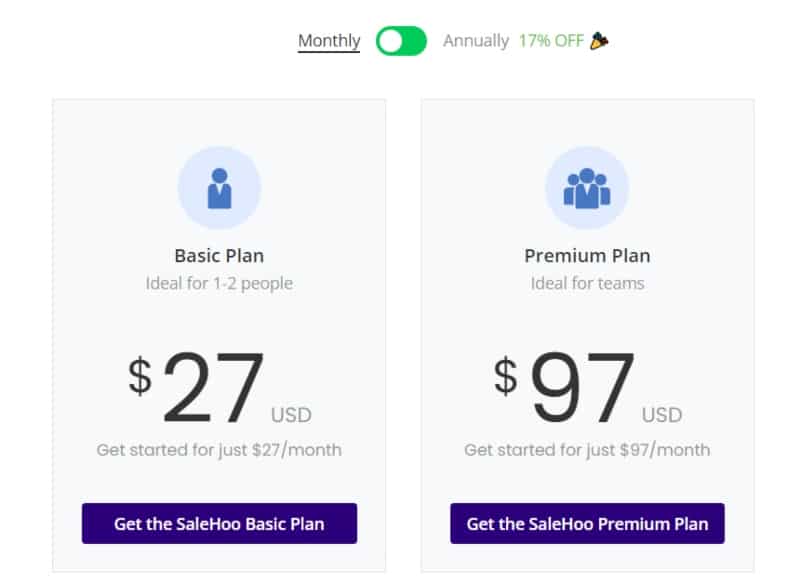 At the time of writing this Salehoo review, the platform offers two pricing plans.
Paying $67 will give you full access to everything Salehoo offers for one year. Once the year is over, you'll have to renew your Salehoo subscription.
However, if you can afford to pay a one-time fee of $127, you'll gain lifetime access to Salehoo.
Needless to say, the second pricing plan is the better option investment-wise.
Salehoo Pros And Cons
Pros:
Step-By-Step Training And Video Lessons: Salehoo comes with plenty of learning materials you can use to advance your business.
Perfect For Beginners: The platform is an invaluable assistant to anyone who wants to build an e-commerce and dropshipping business.
Verified Suppliers: Work with the best and most-trusted suppliers once you join the platform.
Valuable Features: All features of Salehoo bring a lot to the table – it's hard to find a similar platform that offers as much to its customers.
Fantastic Market Research Lab: Quite frankly, the Market Research feature is enough of a reason to join Salehoo.
There Are No Hidden Fees: Once you pay the price of becoming a member, Salehoo won't ask you for additional investment.
Affordable Cost: Considering how much Salehoo delivers, its price is more than reasonable.
Money-Back Guarantee: Feel free to ask for your investment back, and you'll receive it.
Some Of The Biggest Brands Trust Salehoo: And if Salehoo is good enough for Sony, Adidas, and Disney, it will be good enough for you too!
Training And Support: Being a member of Salehoo means you'll always have someone to help you with your business.
Cons:
Marketplace Fees: If you use Amazon or eBay to sell products, your profit margins won't be that great.
Difficulties With Branding: Actually, the difficulties with building a brand are more of a wholesale issue than a problem of Salehoo specifically.
Is Salehoo Worth It?
By all means, the most important takeaway from this Salehoo review is making up your mind about whether joining Salehoo is worth it or not.
I think that becoming a member of Salehoo is more than worth it:
Above all, the platform offers so much to dropshipping and e-commerce business owners. Plus, paying a one-time fee of $127 for lifetime access is a smart investment, to say the least.
You already know everything Salehoo brings value-wise.
But do you know that the platform will also protect you against fraudulent activities?
Unfortunately, there will always be suppliers who will try to sell you fake products.
That's something you'll never have to worry about as a member of Salehoo:
Protecting you from fraud is one of the reasons Salehoo stands out from its competition.
Taking away any possible risk for you by checking the legitimacy of products and suppliers makes the platform invaluable.
SaleHoo Success Stories
Even though my Salehoo review might seem glowing, the platform is not perfect. And that would be because there is no such thing as the perfect wholesale directory.
Still, Salehoo over-delivers most of your expectations.
At least, that's what its users have to share!
There are many testimonials and success stories on Salehoo's site.
Feel free to browse through them when you can spare a minute.
SaleHoo Review: Similar Services To Salehoo
Firstly, we have Worldwide Brands.
For those of you who don't know, Worldwide Brands are probably SaleHoo's biggest competitor.
By all means, they've built quite a name for themselves – the platform is well-known online and quite popular.
I mean, just research it for a while – there are tons of Worldwide Brands Reviews already, and most of them are positive.
With that said, you need to know that Worldwide Brands is expensive -its one-time fee costs three times more than what SaleHoo will cost you.
Next, there is Doba – a platform that offers similar services to SaleHoo, but with a twist:
Doba is more of a middleman between you and the supplier.
What else can I say about Doba vs. Salehoo?
Honestly, I'm not a massive fan of Doba – they're more expensive than SaleHoo, and not beginner-friendly.
Is SaleHoo A Scam?
No, Salehoo is not a scam.
On the contrary – the platform is a legitimate wholesale directory that will help you establish and develop your e-commerce or dropshipping business.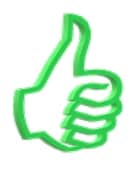 Salehoo comes with a money-back guarantee – you can receive your investment back.
So, joining Salehoo is risk-free.
Salehoo Reviews – Frequently Asked Questions
Does Salehoo Integrate With Shopify?
Yes, Salehoo integrates with Shopify – the process is simple and easy to manage.
You'll need to create a Salehoo account and link it to your Shopify store.
Once you complete that, you can start adding products from the Salehoo directory to your Shopify online shop.
Related Read:
Does Salehoo Work With eBay?
Currently, the Salehoo Supplier Directory partners with eBay and Amazon Merchants too.
Is Dropshipping Legal?
Dropshipping is a legitimate business model (e-commerce fulfillment model) thousands of global retailers use to make money online.
How Much Can You Realistically Make Dropshipping?
On average, dropshipping business owners make around 30% profit from each sale.
While dropshipping is a business that requires paying fees, you can earn up to $100,000 a year.
If you take your dropshipping business seriously, expect to make between $1,000-$5,000 a month.
My Closing
At this stage of my Salehoo review, you already know all the essential facts about the platform.
Again, Salehoo wholesale directory is worth every penny:
The platform goes above and beyond to satisfy every possible need of your e-commerce business.
Plus, it comes at a reasonable price, so joining it is a must, in my opinion.
But these are my thoughts about Salehoo.
Would you like to share yours in the comments section?
I'll be happy to read anything you have to say about Salehoo!
More Ideas From Cash Embrace You Might Like: