Low Hanging System Review: Is Rachel Rofe's Course Legit?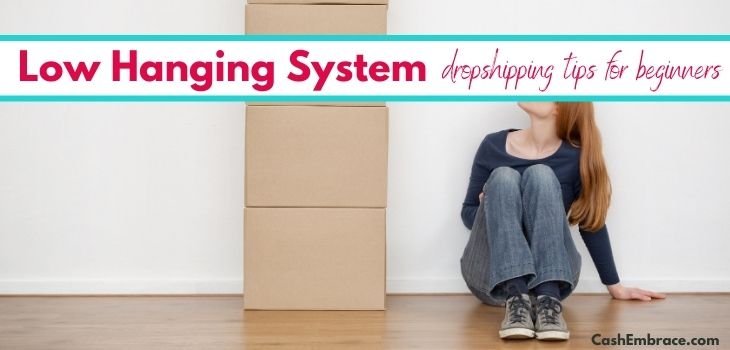 For starters, I doubt that my Low Hanging System Review is the first piece of content you read about the course:
The Low Hanging System is Rachel Rofe's hugely popular training that teaches beginners how to make money online with Print-On-Demand.
Also known as Low Hanging eCom and Low Hanging eCommerce, Rachel's course keeps attracting the attention of aspiring online business owners.
Today, I'll do my best to tell you everything there is to know about the Low Hanging System:
What is the Low Hanging System, and how does it work?
Can you make money with the Low Hanging System?
How much does the Low Hanging System cost?
Is the Low Hanging System a scam?
Disclaimer: Each fast you'll read in this article comes from research on information in the public domain. I'm not an affiliate of the Low Hanging System, so there will be no affiliate links in this post.
Recommended Read:
Low Hanging System Review – The Basics

Website: lowhangingsystem.com (now lowhangingecom.com)
Creators: Rachel Rofe and Don Wilson
Price: Free Webinar To Start, Three Fee Instalments Later (more on that below)
When the Low Hanging System launched a few years ago, the course was very different than the one available today.
After giving it a complete makeover, this Rachel Rofe course has much more to offer these days.
Before we dive deep into the Low Hanging System training, I have to clarify something:
More often than not, people research the course through search queries, such as Rachel Rofe Mugs or Rachel Rofe Review, and manage to land on the correct page.
However, many users confuse the Low Hanging System with other teaching programs, such as Steady Ecom or Dropshipping For A Week.
If you arrived at this post searching for Steady Ecom Reviews, feel free to look for them elsewhere:
We'll be only talking about the Low Hanging System here!
Is Low Hanging System Legit?
In short, yes – the Low Hanging System is a legitimate training program.
As soon as you invest in the course and use the Low Hanging System Login, Rachel Rofe will show you what you're getting in exchange for your money.
And you're getting quite a lot:
These days, the Low Hanging System is one of the most extensive online courses that teach e-commerce and Print-On-Demand business.
Related Read:
What Is Low Hanging System?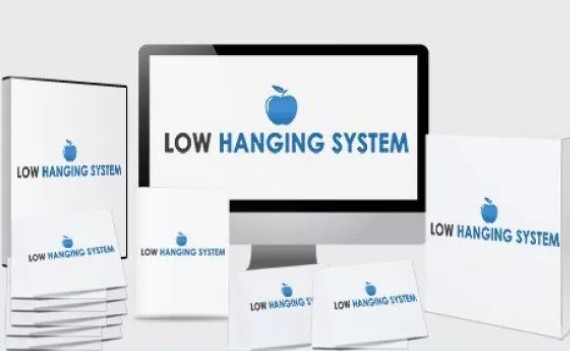 Basically, the Low Hanging System is an online training platform that will teach you how to launch, develop, and successfully run an eCommerce business using the Print-On-Demand model.
This comprehensive course takes an in-depth look at making money on sites like eBay and Amazon via POD.
For those who don't know, the Print-On-Demand business requires creating designs (graphics) to place on different products, such as mugs, T-shirts, pillows, etc.
Print-On-Demand has many advantages – you won't have to build a product until there is an order or keep products in inventory.
Also, owning a POD business means that you don't have to do most of the work:
When a customer buys one of your products, a fulfillment service will print your design on it and ship it on your behalf.
Inside Rachel Rofe Low Hanging System Course
At this stage of my Low Hanging System review, you know that the training program will teach you to create and sell Print-On-Demand products.
To clarify, you'll learn how to design and display text phrases on products you want to sell (mugs, jewelry, etc.).
Once you create your products, you'll begin selling them on Amazon, eBay, and other platforms.
With that said, the Low Hanging System offers more than training materials – it comes with the software.
That software is the tool you'll use to find profitable niches – it works with GearBubble.
I like that the Low Hanging System will walk you through GearBubble Amazon Integration.
It's worth mentioning that the course will help you find manufacturers and design ideas if you can't come up with any on your own.
What Is GearBubble?
GearBubble is a combination of a Print-On-Demand company and an online marketplace to sell your products and have them shipped to your customers.
Nowadays, GearBubble can help you increase your sales (GearBubble Pro), design mugs/T-shirts, and learn to sell on Amazon, Etsy, and eBay.
Is GearBubble Legit?
Most customers using the GearBubble services leave more than favorable reviews (which indicates they're satisfied with the platform).
On that note, GearBubble has a consumer rating of 4.08 stars.
Long story short, GearBubble is a legitimate online platform anyone can safely use.
What Does The Low Hanging System Work?
Rachel Rofe has developed a Low Hanging Strategy:
The Low Hanging Strategy is a seven-step system that will walk you through the process of building a successful POD business by selling physical products.
Let's take a closer look at these seven steps:
1) Find A Profitable Niche
By all means, you can't start selling before you decide what to sell.
That's why your first step is to select a profitable niche.
But how would you know if your niche idea will be profitable?
If you have experience in the print-on-demand business, you know what's selling well and what's not.
Then again, most of the people taking Rachel's course are complete beginners, and she keeps that in mind:
For newbies starting this type of business for the first time, her advice is to go with an already proven-to-work idea instead of a random one.
Her Low Hanging System has generated significant online revenue by working within a lucrative niche market.
Finding such a market is easier than ever, considering Rachel will give you access to the SpotWins Research Software – an invaluable tool you can use to locate profitable niches fast.
2) Search For Great Inspirational Phrases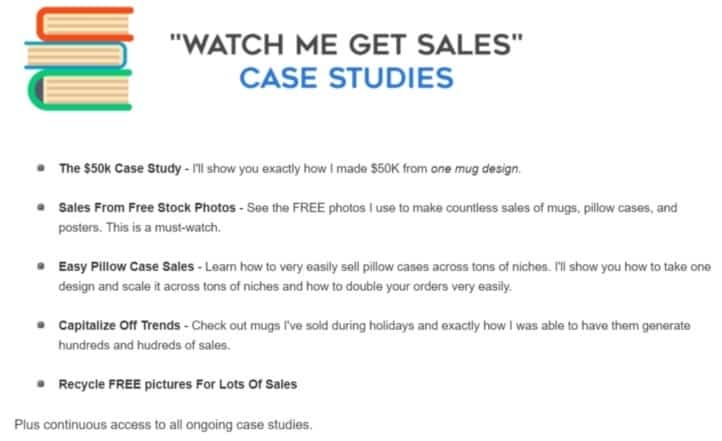 Step number two of the course will teach you to look for, spot, and select catchy phrases to place on mugs or other physical products you want to sell.
Don't underestimate the importance of this step:
While going through tons of inspirational quotes can be fun, you should learn to pick phrases that convince customers to buy your products.
Feel free to go down memory lane and dig up sayings or memes that left an impression on you in the past.
Now, this section of the training contains a Holiday Guide you'll appreciate since the holidays have a major positive impact on such a business.
In addition, you'll gain access to the Watch Me Get Sales case study – an incredibly helpful instruction.
3) Create A GearBubble Account
Alright, my Low Hanging System review is moving on to the next step of the training – setting up a GearBubble account.
You'll be able to watch a short video that will walk you through the process of signing up for a GearBubble account.
Again, GearBubble is the site where your products will be printed and shipped from – it's also the place to help you make more sales.
4) Find Keywords To Use
The fourth step of the training will teach you to find and use profitable keywords on all major eCommerce platforms so that clients will easily locate your products.
No matter what, don't skip a beat from this training section:
Being able to select the proper keywords will greatly impact your business – it might make the difference between success and failure.
5) Set Up Your Amazon Business
During the fifth training section, you'll learn how to launch your business on Amazon.
Utilizing the power of the Low Hanging System and GearBubble will deliver significant results:
After all, you won't have to wait for ages until your Amazon Seller Account gets approval.
Step five of your training will also bring you user-friendly mug description templates you can use to boost your sales on Amazon.
6) Post & Promote On Other Platforms
Let's face it – Amazon is not the only site you can rely on to sell your products:
There are other online platforms you can take advantage of to promote the items you're selling.
For instance, you should post and promote your products on Etsy, eBay, Bonanza, and a few other marketplaces.
Expect to receive a checklist that won't allow you to miss any essential steps.
7) How To Use GearBubble To Fulfill Orders
I'm not sure if I mentioned this earlier in my Low Hanging System review, but the training will give you free access to GearBubble for one year.
Prepare to leave 90% of the work to GearBubble – they'll complete everything once you provide them with the customer order.
Low Hanging System Features And Bonuses
These are the features and add-ons of the Low Hanging System:
Easy Integration With eCommerce Sites
As mentioned earlier in this Low Hanging System review, the system integrates with all major eCommerce platforms.
You can list and market your products on any of these eCommerce sites:
Shopify
eBay
Etsy
Amazon
GearBubble
It's worth mentioning that the Low Hanging System provides one-click connectivity that will help you reach thousands of potential clients.
Related Read:
SpotNiches And SpotWins Software
Currently, the Low Hanging System has a couple of versions you can purchase.
Some of them will give you access to SpotWins and SpotNiches software.
Keep in mind that working with this software is not mandatory:
Many manual methods will help you find the same items a software can locate.
However, manually doing such work will take you longer.
Forecaster Software
To clarify, Forecaster Software is a tool that calculates the number of designs you'll need to launch daily to accomplish your sales goals.
Again, you can do your job perfectly fine without such a tool.
Holiday Success Blueprint
Everyone shops more around the holidays – we all know that.
Your business will greatly benefit from the Holiday Success Blueprint – the tool will assist you with taking full advantage of the holiday season.
Inventory Management
Scroll down your Low Hanging System menu, and you'll notice the Inventory Management Tab:
That tab will allow you to track your orders, sales, and inventory.
Low Hanging System Bonus
Everyone who becomes a member of the Low Hanging System course will receive these bonuses:
5 Boxes Of Free Mugs
Most people call this bonus the Rachel Rofe Mugs!
I understand the logic behind this statement:
Once you purchase the Low Hanging System, you'll get five free boxes of mugs (each contains 180).
Whether you give these mugs for free or sell them is up to you.
But if you decide to profit from the mugs, you should know that your profit margin will be around $14 per mug.
Do the math, and you're looking at earnings of $2,500 from this Low Hanging System alone!
Done-For-You Designs
Enjoy 100 free done-for-you designs you can place on mugs, pillows, T-shirts, etc.
Who Are The Creators Of The Low Hanging System?
While the Low Hanging System is known as the Rachel Rofe Course, she didn't create the system alone:
Don Willson is the co-creator of the platform.
Let's take a look at who these people are, shall we?
Who Is Rachel Rofe?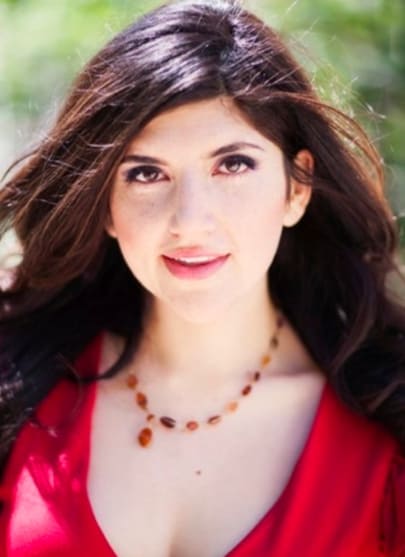 By all means, Rachel's life story is quite impressive:
This lady has done very well through the years:
She is a published author with many books covering almost all areas of life.
Her most prominent works are Take Control Of Your Life, Websites That Make Life Easier and Don't Get Sucked Into Bad News.
Five Minute Morning Boosters deserves an honorable mention too.
Rachel has created 40 digital products and 30 Kindle Books:
As a result of her achievements, she has been featured in Fox News and the Entrepreneur.
Nowadays, Rachel's company has over 120 employees.
Who Is Don Wilson?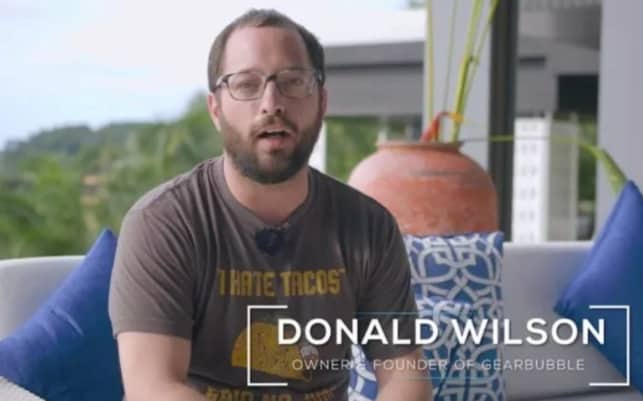 Donald (Don) Wilson is the founder of GearBubble.
An interesting fact about Don is that he is not only a business partner of Rachel but her boyfriend as well.
But let's keep our focus on Don:
Well, his company GearBubble has generated over $100 million in sales.
So, Don knows how to do an online business successfully!
I have to mention that Don has created other training courses and software.
How Much Does Low Hanging System Cost?
Before I proceed to cover the Low Hanging System Cost, let me spare a second to tell you something:
Many Low Hanging System Reviews online claim that the price is $297.
That's the price you'll most likely stumble upon if you type search queries such as Low Hanging System Reviews Reddit or just Low Hanging System Reddit.
Now, $297 was the price of the training when the course was launched for the first time.
Nowadays, the total listed price of Rachel Rofe's course is $1,491 – you can pay that price in three installments of $497.
You'll have to pay the first installment right away, the second after one month, and the third 30 days after you pay the second installment.
Is There A Low Hanging System Discount?
Considering the Low Hanging System is already discounted (from $2,997 to $1,491), there are no further discounts at the moment.
Low Hanging System Refund Policy
Unfortunately, I couldn't find any Refund Policy while researching this Low Hanging System review.
In other words, the Low Hanging System doesn't provide any returns or refunds, so think long before you decide to invest in this training course.
Can You Make Money With The Low Hanging System?
Yes, you'll be able to make money with the Low Hanging System, in my opinion:
The course contains tons of valuable information. Plus, Rachel and Don provide tons of tools and features to help you establish a successful dropshipping business.
With that said, you should know that Prin-On-Demand is already a saturated business model millions of people try to work:
Expect tons of competition to deal with and extra investments on your part (ads, marketing, etc.).
Low Hanging System Pros And Cons
Pros:
A detailed and highly-valuable training – an in-depth course that will teach you how to start a profitable print-on-demand online business.
Easy-to-follow lessons – the video format will help you absorb the information fast.
Practical examples, tricks, and strategies – the course is not simply a theory.  No, it's more of a standing-over-the-shoulder training that will advance your business.
Beginner-friendly – it's suitable for complete newbies.
The creators are hugely successful – Rachel Rofe and Don Wilson have a lot of achievements to back up their words.
Bonuses – free mugs and free done-for-you design templates
Free webinar – you don't have to pay anything upfront – you can start with free training to test the water.
Cons:
There is work involved – just like building any other online business, your success and earnings won't happen overnight.
Not that affordable – once the free webinar is over, you'll have to pay if you want to receive the full product.
Is Low Hanging System A Scam?
The Low Hanging System is not a scam.
On the contrary – the program provides extensive and in-depth training you'll greatly benefit from once you decide to join it.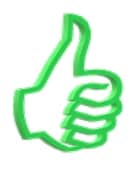 However, you'll have to be sure that you want to learn the craft behind making money with dropshipping and eCommerce from the Low Hanging System:
As you already know, the course doesn't have a refund policy.
My Closing
OK, I'm done talking about my Low Hanging System review.
A lot of work, research, and building an online store went into this article, so I hope you'll find it useful.
Again, as valuable as the course may be, you can cut down on your expenditures and build your print-on-demand business for fewer costs.
Still, the decision is up to you.
Are you going to give the Low Hanging System a try?
Let me know in the comments section – I can't wait to read your replies!