The Commission Code Review: Scam Or Easy Income Of $1,266/Day?
The Commission Code Review you're about to read is here for a reason.
And a big one of that, if I may add:
Currently, thousands of people are voicing their dissatisfaction with this online platform.
They find it not just misleading but damaging in plenty of ways as well.
Do they have a point? Or maybe they didn't give the program enough time and effort to see it working?
What's the undeniable truth?
Is the Commission Code capable of helping you earn online legitimately?
Today, I'll show you all the facts about this product:
What is the Commission Code, and how does it work?
Can you make money online with the Commission Code?
How much does the Commission Code cost?
Most importantly, is the Commission Code legit or a scam?
Disclaimer: I'm not an affiliate of the Commission Code system. There will be no affiliate links within this blog post.
The Commission Code Review – The Basics
Before I begin unraveling the mystery the Commission Code currently is, I think you'll benefit from me clarifying a few things first:
For some reason, many readers tend to confuse the Commission Code with other products with similar names.
Such products happen to be CB Cash Code and Ecom Cash Code.
Both might appear in the search results if you type in Cash Codes Review as a search query.
To avoid that, always stick to Commission Code Reviews if you decide to investigate the platform further.
Another thing that will help you avoid any confusion is knowing the exact address of the program's official website – thecommissioncode.com.
Now that you're aware of this introductory information, let's get into the essential portion of the Commission Code review.
What Is The Commission Code?
Basically, Commission Code is an e-business and marketing product available for purchase on ClickBank.
Its creator is William (Bill) Mcrea.
Allegedly, his program is an online platform that will allow you to start making over $1,200 a day with only ten minutes of work.
The opportunity to earn an online income fast shouldn't surprise you:
Commission Code is a fully-automated system that will barely need your presence or effort to work.
As such, it will present you with the chance to build a passive income stream quite easily.
Furthermore, the product doesn't deal with blogging, trading, or cryptocurrencies.
In other words, Bill markets his creation as the complete make-money package for beginners.
So far, that package seems way too similar to Silk Road Effect, Profit Genesis 2.0, or Viral Cash App.
These programs are not of supreme quality, though.
Does this mean Commission Code is not either?
You'll find out the answer to that question later on in the Commission Code review.
How Does Commission Code Work?
A second ago, I did say a few words about the nature of the Commission Code.
However, my initial explanation is short on details. So here are a few more:
By all means, Commission code is an online earning platform that relies on list building to help you make money online.
It also uses the affiliate marketing model as a foundation for your future online business.
By using the program's tools and resources, you'll allegedly start making affiliate sales from your email leads.
Here is how all that will come together to produce the desired results:
Firstly, you'll use squeeze pages to collect as many email addresses as possible. Those squeeze pages are a part of the whole package you'll receive when you join the program.
Secondly, the people who provide you with an email address will land on a sales video that shows more about the products you'll be promoting. Most of these products will be the hottest and best-selling offers available on ClickBank at the moment.
Lastly, your leads will decide whether they want to purchase any of your offers. If they don't buy anything, they'll receive follow-up emails encouraging them to invest in other systems.
How To Set Up The Commission Code
In my opinion, the setup process is not something you wouldn't be able to handle.
On the contrary – putting the system to work is quite simple.
These are the steps you'll need to take to set Commission Code in motion:
Sign up for GetResponse (an email service provider), and connect it to Commission Code via an API code.
Create an account on ClickBank (if you don't have one already) and save your ClickBank ID in your Commission Code account.
Install your landing page – or both of the pre-made landing pages you'll receive.
Get your subdomain and name it as you wish.
Once you complete all that, you'll be on your way to earning money while promoting a variety of ClickBank products.
Related Read:
Inside Commission Code Members' Area
Now that you know how the product works, let's take a look at everything you'll have access to when you log into your members' area.
At the time of writing the Commission Code review, these are the resources you'll receive from the platform:
done-for-you landing pages (you'll get two of them)
web hosting
email marketing sequence (that sequence will last for 45 days)
traffic generation methods
That's the whole content of the Commission Code, and now I'll tell you more about each of its parts:
1) The Landing Page Templates
Whether you would like to call them landing or squeeze pages, it doesn't make any difference:
Your templates might look familiar if you know a thing or two about using solo ads.
Basically, their purpose is to boost the number of your opt-ins to the fullest. That idea is the core of their design.
More often than note, visitors landing on such pages after watching a solo ad tend to stay on them for less than a minute before they decide to sign up.
And Bill keeps that in mind – it's evident from the sales copy alone.
Heads up – both of the available templates bet on over-hyped income claims – earning $1,000 from commissions until the end of the day.
Tools And Resources To Increase Your Affiliate Commissions:
 2) Traffic Generation Recommendations (Solo Ads)
Currently, Commission Code recommends using four different solo ads traffic resources:
Traffic For Me – Its official website is TrafficForMe.com. If you research this source, you'll read many reviews, most of them on the negative side. As far as I know, the solo ads here are infamous with poor opt-in rates.
The MLM Traffic Center – Buying 100 Commission Code Clicks will cost you $0.59 per click. Purchasing more than that will get you a bigger discount.
Wayne Crow – Wayne is a popular internet marketer. He knows how to sell online, that's for sure. Subsequently, expect to receive traffic from him that most likely will respond well to your offers.
Udimi – Udimi is not a bad solo ad marketplace, in my opinion. I recommend looking into the feedback ratings while you're searching for great sellers. Another plus is that Udimi will analyze the traffic of every seller for you.
With that said, you should know that working with solo ads has both advantages and disadvantages.
Sure, they're capable of bringing you fast results. And you won't have to use every marketing trick in the book to make them work.
However, there is the issue of targeted traffic. Meaning, solo ads might deliver you visitors that have zero interest in your offers.
3) Email Marketing Sequence – The GetResponse Integration
Prepare yourselves – this will be the most important paragraph of the Commission Code review.
The revelation that is about to follow will go beyond your expectations. Not in a good way, if I may add.
But let me start from the beginning:
As you already know, an essential step to make the Commission Code work is integrating it with GetResponse, the email marketing service provider.
Doing that will deliver 45 follow-up emails to your account.
So, all you need to do is sign up for GetResponse (there is a 30-days free trial). When the free trial is over, you'll have to pay $15 per month to keep using the autoresponder.
You may be wondering – what's wrong with that?
Here is what:
By all means, the only source of your eventual affiliate commissions will be the follow-up emails. Naturally, you would think that each of them will contain your unique affiliate links.
Unfortunately, that's not going to happen:
Each of the emails has Bill's name behind it and his own affiliate link, not yours.
What does this mean?
Well, it means the creator will get you to spend all this money on a product to earn cash for him, not for you!
Can You Make Money With The Commission Code?
Quite frankly, I don't think so.
At least, you won't be earning cash in the way you expect:
Since you're already familiar with the way the creator will take advantage of you, the idea of banking in over $1,000 a day in commissions seems to be fading away.
However, I can see two possibilities to earn some money from Commission Code:
Firstly, you might be able to go manually through each of the follow-up emails and replace Bill's affiliate link with yours.
Secondly, you can start making money if you decide to become an affiliate for the product.
Heavily promoting this system will bring you up to $115 per referral.
Keep in mind – none of these methods has anything to do with the original promise of the official sales presentation!
I Earn Such Affiliate Commissions Every Month. See How You Can Do The Same!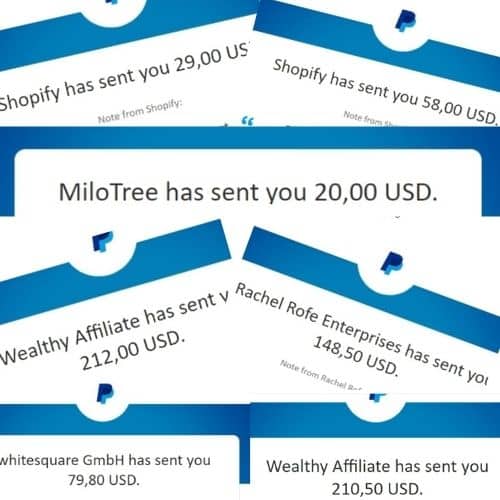 Commission Code Cost And Price Structure
Personally, I can't imagine that you would invest in this platform knowing what you know so far.
Let's imagine that you'll give it a try, though:
How much does the Commission Code cost?
To become a member, you'll have to pay $9 for the first two weeks. After that, staying a member will cost you $47 per month.
Now, you have to pencil in the other expenses you'll face.
For example, you must pay $15 per month for the email service provider and tons of money for solo ads.
Similar Programs To Avoid:
The Commission Code Review – Pros And Cons Of The Product
Pros:
Commission Code uses email marketing and affiliate marketing – both provide legitimate ways to make money online.
There is a 60-day money-back guarantee – you won't be happy with the product, but you'll be able to ask and receive your investment back.
Cons:
Unrealistic income claims – you'll never be able to earn over $1,200 a day the way the product claims you will.
No valuable training – the system recommends using solo ads while there are many better ways to drive traffic to affiliate offers.
Deceptive – the whole idea behind the platform is using you to make money for the creator instead of you.
Fake testimonials – as you can see from the image above, Commission Code uses actors from Fiverr instead of real customers for the testimonials.
Too expensive – there is no reason to pay a recurring fee for such a product.
Extra expenditures – don't forget that you'll need to spend extra money on paid traffic and email service provider.
You'll have to spam people – if you try to make the product work, you'll have to spam your email leads with offers for low-quality systems.
Not a unique product – feel free to see the Commission Code as a copy of platforms like the Click Wealth System and Perpetual Income.
Is The Commission Code A Scam?
Honestly, the only reason I can't call the product a complete scam is the existence of a money-back guarantee.
Other than that, Commission Code has all the traits of a scam.

Subsequently, I would strongly advise you to avoid it.
Why should you waste your time and money on a product that will never get you anywhere?
Other Scams To Stay Away From:
A Better Way To Make Money Online
First and foremost, don't let the reality of the situation with the Commission Code discourage you from following your goals.
If earning a living online is what you would like to do, you don't need scammy systems to help you do that.
Instead, you need a favorite topic, consistency, and desire to work hard.
Do you have all three of these?
Great, then build an online business on your own!
Even if you have no previous experience, you can launch a business and turn it profitable.
How do you do that?
Well, before you make any move, you have to get familiar with the process.
You can do that by simply reading my free guide to building a successful business online.
That guide will show you the steps you need to take and the exact order of taking them.
It's perfect for beginners – I can't see you being unable to follow it!
My Closing
Alright, the Commission Code review is about to be over.
My only hope is that you won't go against my advice and purchase the product anyway.
The Commission Code is not worth it, and it will never be worth it.
Maybe you feel different about it?
Would you like to share with me?
Feel free to use the comments section below, and we'll discuss the system further!
More Ideas From Cash Embrace You May Like: