EZ Bay Payday Review – Scam Or Super Easy $500 Daily?
This EZ Bay Payday Review will cover a money-making system that utilizes the marketing power of eBay to earn you an income fast.
And not just a few extra bucks, but at least $500 per day.
That sounds exciting!
But how much of it is actually true?
Is EZ Bay Payday one of those products that allow newbies to make money online in a legitimate way?
Or maybe its whole sales pitch is built on half-truths at best and inexcusable lies at worst?
Stick on this page for a while, and I'll tell you all there is to know:
What Is EZ Bay Payday?
How does it work?
Will you make money using it?
EZ Bay Payday – legit or scam?
Disclaimer: there are no affiliate links within this article. The content you'll read is a product of research on information available in the public domain.
EZ Bay Payday Review – The Basics
Above all, eBay is a cash cow that makes money left, right, and center – we all know that.
According to the statistics, the platform has generated over $10 billion in revenue in the past year alone.
In short, it's safe to say that using the site to earn online is not just a vague possibility – it's an everyday reality for many.
Now, EZ Bay Payday claims to help you become of those many people.
Allegedly, it will allow you to make over $500 each day without putting in tons of effort.
Yes, the product is pretty convincing when telling its future members that they would never work for more than 20 minutes a day.
A stream of passive income is what you need if you want to make money while you sleep.
Everything coming from the system so far sounds enticing.
Let's start searching for answers to whether we should sustain our excitement or not, shall we?
What Is EZ Bay Payday?
Quite frankly, what helps EZ Bay Payday to stand out from the crowd is its alleged exclusivity:
During the sales presentation, the spokesperson repeats over and over again the most extraordinary thing about the system.
And that would be that the product uses a secret method to tap into a little-known, largely overlooked, but highly authoritative website.
However, the spokesperson doesn't bother to reveal which website he is talking about.
I watched and rewatched the sales video half a dozen times, and I'm still confused.
The only website he mentions regarding the system is eBay – and eBay is anything but little-known.
Anyway, the creator claims EZ Bay Payday is a well-functioning money-making product that will teach you how to earn online fast.
If we are to believe him, the program will show you how to make $180,000 per year.
By all counts, that's a lot of money.
What makes that amount looking even better is the promise that you'll earn the first $500 of it in just 24 hours after getting the product.
OK, let's see how is that going to happen:
How Does EZ Bay Payday Works?
Listening to everything the creator has to say in the promo video will make your day.
Of course, that would be if you're a newbie online and don't know any better yet. More about this a bit later.
For now, this is how the product works according to the person who owns it:
Firstly, the system is beginner-friendly. Apparently, anyone can use it without having any previous marketing experience.
Secondly, all that it takes for the program to deliver results is five clicks on the mouse and around twenty minutes of work each day.
Thirdly, EZ Bay Payday will not ask you to launch a blog or create your own digital products to sell.
Lastly, you'll start earning pretty much immediately after joining the platform – the setting up process will take no longer than 17 minutes of your time.
Quite frankly, if that's not the easiest way to earn $500 per day, I don't know what is.
With that said, I would suggest keeping your excitement down.
Don't rush to buy the product before you read this EZ Bay Payday review to its very end.
Inside EZ Bay Payday Members' Area
How about we take a closer look at what this miraculous system has in the store for you?
At the time of writing this article, the program comes with training.
That training contains 11 modules that will teach you through videos. Each video is between 1-2 minutes long.
Here is what to expect from the modules:
An Introduction – the first module is a welcome video that will introduce you to Toni, who is very successful at doing dropshipping online (3 videos).
What Is eBay – the second module will try to convince you that starting a dropshipping business on eBay is an excellent idea (3 videos).
Setting Up A PayPal Account – this module will walk you through setting a business PayPal account (2 videos).
Creating an eBay Business Account – here, you'll learn how to set up an eBay account, choosing a name for your business, and filling your profile (4 videos).
General Tips And Ideas – you'll get expert advice on choosing products to sell in your eBay store (2 videos).
Listing Your Products – you'll see how to list your products in your online shop (4 videos).
Using Software To Enhance Your Listing – the info inside this module is self-explanatory (3 videos).
Optimizing Your Title – there is no need of a detailed discussion on that (1 video).
Making Sales – the training will show you how to use cash-back sites to boost your income (3 videos).
Tracking Your Products – the final module will teach you how to track the performance of your items (1 video).
In addition to the training modules, you'll also gain access to bonus materials.
EZ Bay Payday Bonuses
Basically, I'm not sure what's the point of the bonus resources.
They have nothing in common with the main product:
Earn Online With UserTesting.com
Work And Make Money As A Freelancer
I guess the creator wants to provide you with extra options to boost your monthly income.
But let's keep our focus on EZ Bay Payday:
After seeing what the training is teaching, we finally know how the product will help you earn $500 per day:
You'll be doing dropshipping on eBay – buying and reselling products for a profit.
How Much Does EZ Bay Payday Cost?
Currently, the price of the product is $47.
However, that one-time payment is not the only offer you'll have to take under consideration.
As soon as you become a member, expect to receive an invitation to invest in a couple of upsells:
100 x Special Traffic
Gold Upgrade
Platinum Upgrade
Titanium Upgrade
If you decide to purchase all of the upgrades + the main product, you'll end up spending hundreds of dollars.
Now, it's time for my EZ Bay Payday review to do the heavy lifting:
I'm about to tell you why you shouldn't buy the product or any of its upsells.
What I Don't Like About The Product
Honestly, I'm having a hard time thinking of one thing I like about EZ Bay Payday.
It's not a quality system, and it doesn't work the way the creator swears it does.
And now I'll reveal all the red flags that lead me to this conclusion:
1) The Sales Pages Is Over-Hyped And Misleading
Let's forget for a minute about the numbers they're throwing at your face and focus on the main information.
Basically, every word from that sales presentation is either a lie or a half-truth that will mislead you.
For example, the spokesperson claims that you'll take advantage of a secret untapped source of an online income.
Later on, it becomes obvious that he is talking about eBay!
Are you wondering what's so secretive about eBay?
That's right – nothing at all!
Another example – the creator is selling you the idea that you'll earn tons of money online fast.
But you need to buy the program to find out that you'll be starting a dropshipping business on eBay.
How come the owner is not transparent about that from the start?
Also, the way he uses eBay's name to market his system is not just unethical – it's outrageous.
It's common knowledge that eBay gets millions of visitors daily.
Whoever is behind EZ Bay Payday wants you to believe that his product has a secret way of redirecting all that traffic to your newly created business.
In reality, there is no chance of that happening.
2) The Income Claim Is A Lie
So, the one thing that makes the program fascinating at first is its alleged ability to help you earn $500 a day.
After everything I told you so far in this EZ Bay Payday review, you already understand that this is not true.
When you start working online, it won't take you ages to discover that there is no such thing as getting rich quickly.
No, building a substantial source of income requires hard work for months.
Therefore, you should never trust systems that promise to cut the process short.
Moreover, if a product claims to make you hundreds of dollars in a day, 99% of the time that product is a scam.
Don't get me wrong, dropshipping is a legit business model, and you can earn money using it.
But the process doesn't look like the one EZ Bay Payday is painting for you – not even close!
More Dropshipping Systems To Avoid:
3) The Program Promotes Too Many Affiliate Offers
OK, I probably should have mentioned this earlier in my EZ Bay Payday review, but I think now is a better time:
The system is quite heavy on affiliate promotions. Meaning, the platform acts as an affiliate for too many high-ticket programs.
When you start going through the training, your first stop will be the welcome video.
Normally, a welcome sequence is an introduction to what you can expect from the training.
Here, though, the welcome video will invite you to watch a free webinar. That webinar promotes John Crestani's course – The Super Affiliate System.
While John's training is of high quality, it's all about making money with affiliate marketing.
Considering EZ Bay Payday is supposed to help you build a dropshipping business on eBay, I don't see how these two courses are related.
Well, they are not – the creator of the product is just trying to earn an affiliate commission at your expense.
That's why he will ask you to invest in The CB Cash Code as well – and that's not a decent product at all.
Also, EZ Bay Payday will provide you with a free, done-for-you website to promote your dropshipping business.
The thing is, that website is not exactly free – you'll have to pay monthly fees for its web hosting.
Don't worry – the course will present you with plenty of options.
And each link that will lead you to a hosting provider is an affiliate one.
Yeah, EZ Bay Payday doesn't even hide the fact that it will push as many affiliate promotions on you as possible.
4) The Creator Is Unknown
Since I keep mentioning him over and over again, let's discuss who the person behind the product is.
According to the official website, the owner of EZ Bay Payday is Steve Richards.
But if you pay close attention, that same website will let you know that the creator uses a pen name.
Wait, what?
Why does the owner feel the need to hide who he really is behind a pen name?
Furthermore, if Steve Richards doesn't exist, who is the person in the photo above?
Too many uncomfortable questions, but I can answer one of them:
By all means, the man on the screenshot has nothing to do with EZ Bay Payday.
Doing a simple reverse image search will tell you that this is just a random photo you can find online.
Now that we know that, the credibility of the product becomes pretty much non-existent.
5) The Training Is Low-Quality
Actually, it's outdated, incomplete, and useless, in my opinion.
Nothing you'll learn from the 2-minutes long videos is something you can't find online for free.
Moreover, the training modules don't even begin to cover everything you'll need to know to build a profitable business.
Making thousands of dollars from dropshipping is possible.
However, you'll need to master the business model inside and out first.
And that's not going to happen if you rely on EZ Bay Payday alone.
Nowadays, there are many valuable training platforms that can teach you how to do business online.
Some of them will even start training you for free – this platform is where I did begin my own training without paying anything at all.
6) The Testimonials Are Fake
Does this even surprise you at this point?
I mean, the owner is fake, the income claim is fake as well.
Subsequently, what could possibly make you believe that the testimonials would be real?
They are not, and I can prove it to you:
Yeah, paying actors from Fiverr to say nice things about your product is pretty common these days.
Finding out about it is not that difficult, though!
6) The Upsells Are One-Click Purchase
Let's say that you decide to ignore all those red flags and purchase the product anyway.
Personally, I believe that's a bad idea – that much should be clear at this stage of my EZ Bay Payday review.
Anyhow, it's your money and what you do with them should be your decision.
Still, let me warn you about something you have no way of knowing just yet:
All the upsells available are one-click upsells.
What this means is that you'll purchase the upgrades just by clicking on the links.
An unethical marketing practice, I know.
But many low-quality systems are still using it.
What I Like About The Product
Generally, don't expect to see a lot in this paragraph.
My opinion about the system is kind of obvious already!
With that said, these are the facts I like about EZ Bay Payday:
It Promotes Legitimate Business Model – dropshipping is one of the most popular legit ways to make money online.
There Is A Money-Back Guarantee – if you are not happy with the training, you can get your investment back.
Unfortunately, that's all I had to say here!
Are You Tired Of Systems That Don't Work? Find Out How I Make Such Commissions Each Month Here.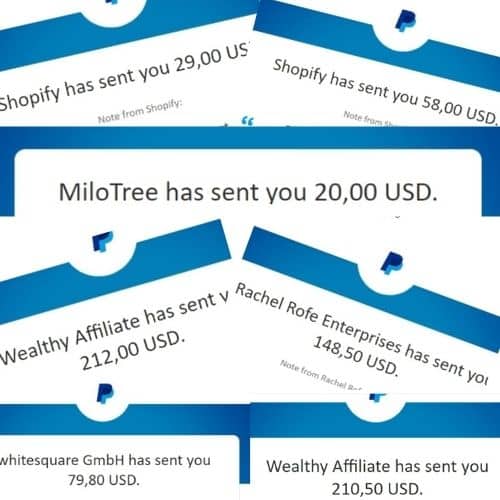 Is EZ Bay Payday A Scam?
Feel free to consider it one.
In all fairness, I can't call the product a total scam because of the money-back guarantee.
However, EZ Bay Payday has all the traits of a scam system.

Nothing you'll hear from the official presentation will turn out to be remotely true.
So, I'll suggest keeping a distance from the course at all costs!
Other Scam Products To Avoid:
EZ Bay Payday Alternative
Quite frankly, anything will be a better alternative if you want to earn online.
Seriously, what could be worse than a system with a fake owner, fake testimonials, and fake income claims?
The truth is, you don't need EZ Bay Payday to assist you with starting your own online business.
Instead, what you need is an understanding of the process and a bit of guidance while you go through it.
Here is such guidance – a Free Guide To Building A Profitable Online Business.
This guide will show you the blueprint I personally followed when I was on the verge of starting this business.
It contains easy-to-follow steps that will help you become a business owner as fast as possible.
My Closing
OK, that's a wrap on this EZ Bay Payday review.
Hopefully, I managed to deliver, and now all of your questions have been answered.
But just in case they are not, feel free to ask them in the comments section.
It may take a day, but I'll answer them as soon as I can!