Ecom Cash Crusher Review: Scam Or $40K/Month From Dropshipping?
You see a headline like Ecom Cash Crusher Review, and you already know that we'll be talking about making money dropshipping.
And that's an excellent topic to build a discussion around:
Nowadays, dropshipping is one of the most lucrative online businesses a person can start with low start-up costs.
Launching an online store could potentially bring you a full-time monthly income. Or you could make much more than that – if you do it right.
Is getting Ecom Cash Crusher the one step you need to take to do it right?
That's what you'll find out today, among other facts regarding:
What is Ecom Cash Crusher, and how does it work?
How much money can you make with Ecom Cash Crusher?
Should you start your dropshipping business on this platform?
Plus, is Ecom Cash Crusher a scam or legit?
Disclaimer: I'm not an affiliate for Ecom Cash Crusher. The affiliate links in this article are to Shopify. Learn more about it from my affiliate disclosure.
Ecom Cash Crusher Review – The Basics
If you think of Ecom Cash Crusher as somewhat of a recent system, you wouldn't be far from the truth.
With an official launch in 2018, the platform is still relatively new.
In its early days, it got tons of attention from people interested in dropshipping worldwide.
So many newbies were investing in the product, driven by their desire to succeed in the eCommerce field.
Gradually, though, ECC started to lose most of its heat.
Personally, I think that's one of the reasons why the team behind it reduced the product's price from $37 to $9.
That's a drastic decrease, no doubt about it.
Does this mean joining the platform is not worth it anymore?
Maybe, maybe not.
You'll have a chance to form your own opinion if you keep reading my Ecom Cash Crusher review.
What Is Ecom Cash Crusher?
First and foremost, feel free to skip visiting the official website of the product.
I'll summarize the sales pitch for you, and that would save us both a lot of time:
Basically, Ecom Cash Crusher is an online earning platform that would be a good fit for stay-at-home moms, wannabe marketers, and unemployed individuals.
The system is a suitable money-making program for almost anybody since it doesn't require any tech knowledge or previous experience.
Next, ECC will provide you with a legitimate way to earn from home.
Since it has nothing to do with forex trading, binary options, Bitcoin, or anything else people may see as illegal, you don't have to worry about breaking the law.
Let's see, what else?
David, the name the alleged owner uses to introduce himself, gets quite personal while sharing his life story:
There is a lot of talk about his alcoholic father, struggling mother, and a life-changing conversation with Sandra – a woman he met by chance.
If we're to believe David, Sandra revealed to him all of her strategies and secrets that have made her a millionaire. Just like that!
In the end, everything that happened to David and all he managed to learn resulted in the creation of Ecom Cash Crusher.
His earning platform will allow you to earn at least $40,000 a month by doing dropshipping on Shopify.
So, the product will show you how to make tons of money online by starting and developing an online store.
Lucrative Business Ideas You May Like:
Inside Ecom Cash Crusher
Up until now, the platform does present itself as an effective way to earn online without putting in tons of effort.
The truthness of that statement is yet to be determined.
Seeing up close everything the system has to offer will definitely help you form an opinion about it.
How about we do that?
As soon as you sign up for Ecom Cash Crusher, you'll gain access to the members' area.
Once inside, the first thing you'll have to do is receive your own commission site for free.
However, that site is not exactly free of charge – you'll still need to pay for a domain name and web hosting.
Next, you're on your way to begin the working process.
ECC comes in both PDF and video lessons format.
You'll gain a better idea about the quality of the training if you know what the lessons are going to cover:
Ecom Cash Crusher Tools And Training
Alright, here is an overview of the teaching material inside the platform:
Setting Up Your Goals – The video that covers your first lesson will bring you a Workbook and a Niche Selection Sheet you can download. I think starting the course with goals setting is a great way to begin the learning process. Coming up with a plan and working toward achieving it is the way to go with business start-ups. After all, a goal without a deadline is just a dream.
Foundation Setup – It's time to find out how to lay the foundation of your online store, pick a niche, and the main website to use. (Six lessons).
Dropshipping – This is the beginning of all the Shopify talk you'll need to hear while going through the training. During this training, you'll learn about the best places to find products to sell. (Two lessons).
Shopify Setup – Don't expect to receive tons of knowledge here. Instead, you'll discover how to set up your Shopify store. Plus, the spokesperson will walk you through fixing the settings of your shop and picking a theme.
Shopify Apps – Three videos about the best Shopify apps your shop needs are the content of this training section.
Shopify SEO – Expect to see strategies that will help you drive traffic to your store, including a few words about optimizing a title and meta description.
Using Facebook – You're at a stage where you have to acquire knowledge about Facebook Marketing. Also, this part of the training will teach you a bit about graphic design.
Help – That's not a lesson, but a place where you can find some assistance. Feel free to ask for tech support or professional help if you think you need some.
In addition, you'll gain access to other learning materials.
For example, you'll learn about Facebook Ads and Dynamic Ads (set up, targeting, and SEO).
Plus, there is a couple of words about creating and optimizing YouTube videos.
Obviously, the product will get you involved with utilizing the power of YouTube to increase your earnings.
Earning On YouTube Related Content:
Can You Make Money Online With Ecom Cash Crusher?
Quite frankly, there is no easy way to answer that question.
Dropshipping is a legitimate way to earn on the web. It's becoming more and more popular – who doesn't do at least a bit of shopping online?
Furthermore, Shopify is the leader in the e-commerce industry. The platform will get you everything you may need to build a successful online store.
Besides, the fact that Shopify offers a free trial doesn't hurt either.
With that said, will you be able to make money with Ecom Cash Crusher or not?
Quite frankly, just because the system places Shopify in the midst of its training, it doesn't mean it's good enough on its own.
To be honest, I find the training material inside the members' area basic and outdated. You can learn more about the dropshipping business model if you just visit the dropshipping category on this site.
On top of that, there are a few troubling facts about the program you need to know. I'll share all about them a bit later in this Ecom Cash Crusher.
Ecom Cash Crusher Cost And Price Structure
As you already know, the price of the product is $9.
Pretty cheap and more than affordable, isn't it?
Well, that's because the nine dollars are just a starting point of the system's sales funnel.
Meaning, the team behind ECC starts selling it way cheaper than it probably should be in an effort to excite you and lure you in.
Once they hook you up, the real selling will begin.
I'm talking about the available upgrades the platform will bring to your attention:
1st Upsell – Premium eCom Package ($197) – This upsell will give you access to more professional and in-depth training on Facebook Advertising and other ways to drive traffic to your store. Allegedly, investing in it will give you the chance to earn an extra $91,000 a month. If you decline this upgrade, a pop-up will appear, offering the same option with a discount of $100.
2nd Upsell – Targeted Traffic Booster ($196) – That upsell is also about traffic generation, but the training will cover Bing and Google Ads. Here, the promise is that going through that training will increase your monthly earnings at least five times.
Again, what you see is a common sales funnel – a popular marketing tactic almost every product owner uses at some point in time.
It's no different than the funnels other similar platforms are offering:
What I Like About Ecom Cash Crusher
Unfortunately, not that much.
This is everything I find decent about the platform:
Dropshipping is a legit business model – And ECC uses it to make money for its members.
Cheap Product – The price of $9 is more than affordable, in my opinion.
There is a 60-day money-back guarantee – Investing in the system could potentially only lose your time, but not your cash.
What I Don't Like About Ecom Cash Crusher
I have much more to say in this section of my Ecom Cash Crusher review.
You see, the product looks like a promising system at first.
It has an enormous income potential – making it work is as simple as it can get, and it costs less than ten bucks. Of course, you'll pay that amount if you skip on the upsells.
However, once you dig a little deeper, you'll discover facts you can't afford to ignore.
Spare a few minutes to see them all below:
1) The Sales Page Builds Unrealistic Income Expectations
At this point, you already know that drop shipping could become more than a lucrative source of passive income for you.
There are so many success stories you can read online. They all come from people who currently make five and even six-figure monthly income from their stores.
With that said, there is a difference between the way these people do their business and the way ECC suggest you do yours:
They know that building a profitable business from nothing requires a lot of effort, hard work, and time.
Likewise, it won't happen overnight – the way Ecom Cash Crusher wants you to believe it will.
If you pay close attention to the sales page, it does leave the impression that the program is a secret money-making machine no one knows about.
In reality, that's just not true.
2) There Is No Professional Training
By all means, building a six-figure income stream through dropshipping is not something you'll be able to achieve in a day or two.
Making it happen for you would be that much harder without top-notch training.
Unfortunately, the education Ecom Cash Crusher will provide you with is anything but top-notch.
While some of the info is useful, most of it covers only paid sources of traffic. And relying on them will cost you extra every month.
Furthermore, the lessons Ecom has for you are available online for free. A bit of research on Google or YouTube might even deliver better results.
With that said, if you're ready to start professional business training, you can do so for free here.
Or you can read all the extensive training sections Shopify has made available online for everyone to see.
3) The Testimonials Are Fake
Truth be told, the majority of low-quality earning systems are unable to deliver genuine testimonials on their pages.
When a product is not good enough or simply a waste of a webspace, who would like to sign their name under it?
Only paid actors from Fiverr would – and that's why they do testimonials so often these days.
Ecom Cash Crusher is not an exception.
Don't take my word for it, have a look for yourself:
Personally, this fact alone is enough to put me off the product for good.
But if you need to see other reasons not to buy it beyond this one, I'll suggest reading this Ecom Cash Crusher review to its very end.
4) The Owner Is Unknown
No matter how hard you may try, you won't discover who the creator of Ecom Cash Crusher is.
How do I know that?
Well, I put a lot of effort into finding the system's owner myself.
Each time I thought I was getting close, though, I slammed into a proverbial brick wall eventually.
It is what it is:
Hiding the true identity of the creator is one of the signs you're dealing with a scam.
We may not like it, but it happens all the time, unfortunately.
More Online Platforms With Unknown Creators:
5) The Platform Will Sell Your Personal Data
Unless you want to see many unfamiliar offers spamming your email inbox, you shouldn't become a member of ECC.
Such companies tend to sell the personal data of every person who provides them with the information.
Those who find that hard to believe may visit the official website and see the statement.
Again, that's not a pleasant experience or a fact that would make you see the program in a favorable light.
At the same time, are you even that surprised after everything you've read so far in my Ecom Cash Crusher review?
I Earn Such Affiliate Commissions Every Month – And You Can Too! Find More About It Now.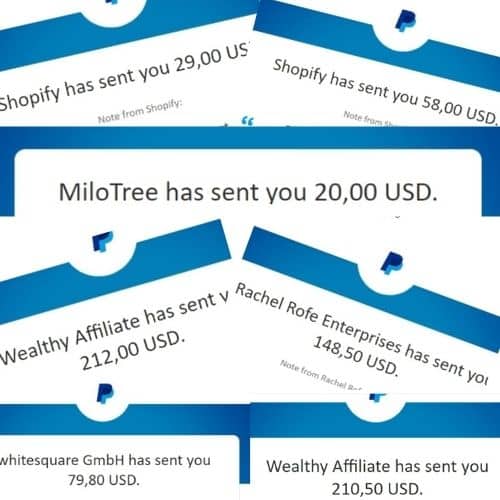 Who Is Ecom Cash Crusher For?
Honestly, I don't think the product would benefit anyone, especially in the long term.
Are you a newbie who is just starting to work online?
A system like this one will create unrealistic income expectations you won't be able to reach. Subsequently, that would leave you crushed and disappointed.
Maybe you're ready to build an online business for the very first time?
That's great, but Ecom Cash Crusher is not the best guide to follow while you work to develop your business further.
How To Make Passive Income
Here is the deal:
No source of income is truly passive at the beginning – you have to work on it for a considerable amount of time first.
Eventually, if you do everything right, your chosen cash source will start to earn you money while you sleep.
Now, how do you get there?
Well, you'll have to begin with the harder part of the project first – launching your own online business.
You have no idea how to do that?
Then, make some room in your day, and devote it to my Guide To Starting A Business.
The guide explains the steps you need to take to build a solid business online.
Is Ecom Cash Crusher A Scam?
No, it isn't – and I'm not saying that just because of the money-back guarantee.
I can't deny the fact that the product delivers a certain amount of value to its members.
However, the value provided is not enough to justify the time and money you'll have to invest when you purchase the system.
Even more, you need to keep in mind the fake income proof and testimonials while making a purchasing decision.

And something else:
Ecom Cash Crusher used to be on ClickBank, but it's not there anymore.
These days, you can find the system on ClickBetter.
What's with the sudden movement?
ClickBank doesn't just throw away merchants without a solid reason.
As far as I know, ECC is no longer in its marketplace due to a high refund rate.
You can make your own conclusion about the product now that you know all the facts.
More Scams To Avoid At All Costs:
My Closing
That is it for today and my Ecom Cash Crusher review.
Hopefully, you'll remember it the next time you read or hear about the program.
How about I give the word to you?
What's your opinion about Ecom Cash Crusher?
Do you have any experience with the system? Are you feeling differently about it?
Let me know in the comments section below!
Ecom-Related Content You May Love: