Ecom Cash Code Review: Scam Or The Real Deal To 5-Figure/M?
I probably shouldn't be writing this Ecom Cash Code Review.
Some individuals are not going to like it.
A lot of behind-the-scenes stuff and uncomfortable truths will come out in this article. You'll learn facts the people behind the system would prefer to stay hidden.
Anyway, here we are, and it's time to start investigating whether Ecom Cash Code is a legitimate platform that will help you earn well online.
Today, I'll address all questions this program ignites online:
What is Ecom Cash Code, and how does it work?
How much does Ecom Cash cost?
Can you make money with Ecom Cash Code?
Is Ecom Cash Code legit or a scam?
Disclaimer: I'm not an affiliate for Ecom Cash Code. The facts you'll read in this article come from research on information available in the public domain.
Ecom Cash Code Review – The Basics
At a certain point in life, once you gain some life experience, you'll become painfully aware of the reality:
If something is too good to be true, it probably is.
Funny enough, the too-good-to-be-true slogan is an essential part of Ecom's marketing campaign!
Is its creator revealing the truth without really revealing it?
Let that sink in for a minute until I clarify something real quick:
Although there are similarities in the names, Ecom Cash Code and Ecom Rush are two different platforms.
So, if you're looking for information about the Ecom Rush, you'll not find it on this page.
Maybe you should try search queries like The Ecom Rush Reviews or The Ecom Rush Scam?
Also, the Ecom Good Life is another product too. Likewise, the people researching it should exit this post and type Ecom Good Life Review (example).
Since there is no more room for confusion, let's get this Ecom Cash Code review moving, shall we?
What Is Ecom Cash Code?
Watching an official presentation is one of the best ways to get familiar with a product.
It doesn't look like that applies to Ecom Cash Code:
Feel free to see the sales video as many times as you like – it still won't tell you a lot about the nature of the system.
Unless you provide your personal data to fill up a form, you'll never fully know what Ecom Cash Code is.
With that said, you don't have to give away your name and email address:
Considering I have insight info to share with you, keep your data intact.
Alright, here is the first thing to know about Ecom Cash:
According to the sales pitch, this is an online platform that will show you how to start earning thousands of dollars fast online.
Allegedly, anyone can take advantage of the business marketing tactics the product reveals to all its members:
You can benefit from them too – even with no technical skills or previous experience working online.
Furthermore, you can still keep your current full-time job if you have one:
Ecom Cash will not disrupt your daily activities since you'll only have to spare less than an hour on it each day.
OK, the platform makes itself sound like a wonderful opportunity to earn online, especially for newcomers.
But how much of that is true?
Keep reading this Ecom Cash Code review, and you'll find the answer!
How Does Ecom Cash Code Work?
OK, this is what you'll learn about the product from its official presentation alone:
Firstly, Ecom Cash Code is a revolutionary system that uses the marketing power of companies like Amazon to make profits for its members.
If you choose to become such a member, expect to earn over $300,000 in less than a year.
Secondly, that delicious amount of income will be yours once you legally tap into the purchases of customers all over the world.
Lastly, getting to the finish line where all that money is waiting for you will happen more or less on autopilot.
After all, Ecom Cash uses a simple code that will allow you to sit back and play.
So, how do you feel about that? Do you surrender yourself to disbelief?
Those of you that heavily question the legitimacy of the program should hear what else Teo has to say:
He claims he has a secret code that helps him earn more than $200 every 24 hours. Needless to say, the same code is the heart of Ecom Cash right now.
In my opinion, that last piece of information got everything even more confusing than it already was.
Up until now, the platform presents itself as an easy way to make money fast.
It doesn't seem any different than 7 Minutes Daily Profits, Bulletproof Profits, or Ecom Cash Crasher, for that matter.
At the same time, we still have no idea how it works!
Since Teo is not big on clarifications, I'll be the one to tell you that Ecom Cash uses the affiliate marketing business model.
Wondering why he didn't start with that right off the bat?
You'll find out in the following section of this Ecom Cash Code review.
How Does Ecom Cash Code Really Work?
I doubt this will come out as a surprise, but the product doesn't work as advertised, not even close!
Once you buy it, you'll find out that all you are going to receive are basic guidelines about starting a dropshipping business.
Meaning, you'll not make money from affiliate sales, but you'll build an online store instead.
Keep in mind, affiliate marketing and dropshipping are both legit business models, but they don't have that much in common!
Affiliate Marketing Content You May Like:
What I Like About Ecom Cash Code
It's working with a legitimate business model – dropshipping is a popular business model many people use to make money online.
There is a 60-day money-back guarantee – Ecom is selling on ClickBank, and all products there come with a money-back guarantee.
What I Don't Like About Ecom Cash Code
Quite frankly, there is a lot wrong with this online earning platform.
Despite my best efforts to find enough reasons to like the product, that is just not going to happen.
And here are all the reasons why:
1) Ecom Cash Code Is Not Even A Product On Its Own
When you invest in a money-making system, you expect to receive a whole program that delivers the value it's supposed to.
Unfortunately, your expectations will fall short with Ecom:
Entering your email address to buy it should bring you to the checkout page.
However, that's not what will happen:
Instead, you'll arrive at a landing page for a different system where you'll receive a message from Rocky Lin.
To clarify, Rocky Lin associates himself with plenty of products of questionable quality.
Anyway, Ecom Cash Code is the starting point of sales funnels to a product called My Ecom Club.
Yes, our subject exists mainly to convince you to invest in that other product!
2) The Testimonials Are Fake
Boy, do I have to say a lot about that!
You see, it's not just that the testimonials of the product are completely fabricated.
What's even worse, they're entirely identical to the ones provided for another product called "Get The Discovery".
And when I say identical, I mean identical to the last word!
Chances are, you might be wondering:
How is it possible for two different products to have the exact same testimonials?
It's quite simple actually:
Teo is behind both of them!
It looks like the man is busy getting out as many systems as possible, all aiming to squeeze you out of your hard-earned cash.
3) There Are Too Many Upsells
First and foremost, the fact that you'll pay $47 for a product that it's not even a product is not the only bad news here.
On the contrary, if you jump on Teo's ride, it will cost you much more than you can imagine.
As I've just mentioned in the previous paragraph of this Ecom Cash Code review, the creator has at least five similar low-quality systems.
And he'll use the moment you're on the Ecom's page to try and sell you all of them.
In case he succeeds, it will cost you over $2,000:
Just the upgrade My Ecom Club is $1,997!
Also, you should know that there are a couple of Ecom Cash Code complaints online.
Each comes from clients who tried to use the money-back guarantee and were left empty-handed.
One of the main reasons Ecom is currently under investigation is that there are multiple complaints about it on the Better Business Bureau.
4) The Owner Has A Bad Reputation Online
Actually, Teo Vee doesn't just have a bad reputation – many people consider him a scammer.
Here is the place to mention that Teo Vee is not even his real name (Teo Vanyo).
What's with the change?
Well, It might be a case of liking one name more over the other.
But judging by the quality of his products, he's just hiding his true identity.
None of his other creations is surpassing Ecom in any sort of way.
And that alone says enough, doesn't it?
More Similar Products To Avoid:
5) The Sales Pitch Is Controversial And Over-Huped
Quite frankly, it's not just controversial – it doesn't make sense at all!
Firstly, Teo is trying to convince you that he's the only person in the world who has a secret code or plugin that will allow you to cut a profit from people's online purchases.
Secondly, he'll reassure you that building a business in such a manner is completely legal when it's not.
Thirdly, Ecom is supposed to be earning you thousands of dollars in affiliate commissions.
Instead, the system will teach you the ins and outs of dropshipping!
I Earn Such Affiliate Commissions Every Month. Find Out How Now!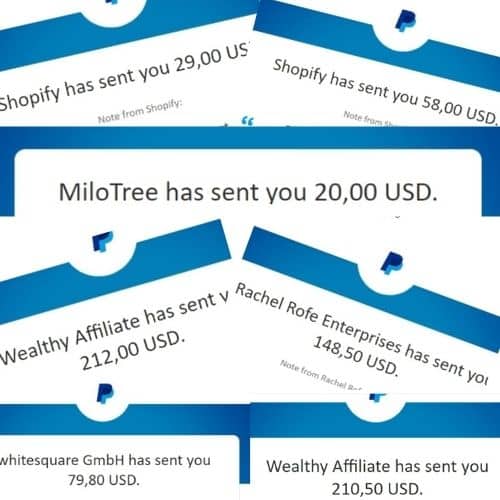 Is Ecom Cash Code A Scam?
Considering there is a money-back guarantee, I can't address this product as Ecom Scam.
With that said, I would very much like it if you think of it as a scam.
Buying the Ecom Cash Code won't deliver the product you think you're buying – it won't deliver a product at all.

Add the fake testimonials and the upsells, and you'll get the big picture.
Now, it's safe to say that ignoring the product and its existence will be one of the smartest choices you'll ever make!
Other Scam Systems To Stay Away From:
The Right Way To Make Money Online
By all means, you don't need Ecom Cash Code or any similar product to earn on the web if that's what you would like to do.
No, you can build a profitable online business on your own.
Sure, I'll be the first to tell you that it won't make you a 5-figure income in a matter of days – let's be clear about that!
But if you work hard to develop the necessary skills, you will earn a full-time income eventually.
So, if you're up to the challenge, but you need help along the way, you can start your journey by reading my Free Guide.
It has all of the steps you'll need to take to start a business online.
And I've done my best to explain the process in a way that won't confuse you or overwhelm you if you're a beginner.
My Closing
I guess it's time to bring this Ecom Cash Code review to an end.
Hopefully, you already know better than to believe Teo's empty promises.
Is there anything you would like to ask me about today's topic?
Maybe you have some experience with this platform and want to share it with me?
Anything you have to say is more than welcome on this blog!
So, don't hesitate to use the comments section below.