Is Profit 365 A Scam Or Your Best Shot To Make $2,800/Day?
This article will answer an important question – is Profit 365 a scam or legit?
Actually, it will do much more than that:
Jamie Lewis's newest system is here, and you need to know all about it.
Marketed as a ground-breaking earning program, Profit 365 seems like a product you'll be crazy to dismiss.
When facing the opportunity to start making money online easily, most people wouldn't think twice about jumping on the bandwagon.
But is that what Profit 365 is?
Does this product deserve a spot among the most effective sources of online income?
Or maybe it's just another example of false advertising?
Wonder no more, I'll provide with you all the facts:
What is Profit 365?
How does it work?
Is Profit 365 legit?
And how much money can you make with Profit 365?
Disclaimer: I'm not promoting Profit 365 for an affiliate commission. There are no affiliate links within this blog post – only information available in the public domain.
Profit 365 Review – The Basics
Before I start moving in the direction of is Profit 365 a scam, a quick clarification is in order:
You can find the program we're talking about today on its official website – Profit365.co.
Also, many internet users think Profit 365 and Perpetual Income are the same product.
While there are some similarities, these two systems are different online platforms.
So, if you're looking for information about 365 Global Income or the Perpetual Income 365 software, you'll not find it on this page.
But feel free to read my take on the Perpetual Income 365 Brand New Version This 2021!
With that said, let's go back to our topic today, shall we?
In short, Profit 365 is a money-making program that claims to earn you $2,800 per day in affiliate commissions.
Yes, Jamie is ready to provide you with a passive income stream with unlimited earning potential.
How about we take a closer look?
What Is Profit 365?
To sum up, Profit 365 is not your typical earning platform. No, Jamie goes about his products differently than its competition online.
More often than not, his sales pitches are a bit vague and leave something to be desired, but still!
Anyway, Profit 365 will allow you to launch and develop a lucrative online business.
What makes it unique is that you don't have to work to build that business from the ground. Instead, you'll be replicating Jamie's entire business model, and you'll be rebranding it as your own.
Wait a minute – isn't copying someone else's business structure a shady way to profit online?
Well, in some cases, it is, but not this time:
Since Profit 365 is actually an affiliate marketing program providing Jamie's very own training and pre-made campaigns, you're not getting involved in Multi-Media Marketing.
Meaning, if you think of the product as Jamie's affiliate system he is allowing you to borrow, you wouldn't be wrong.
Simply said, Profit 365 is your opportunity to copy the creator's money-making sales funnels and using them to start earning online fast.
Now, what should you make of all that information?
Is Profit 365 a scam? Or does it happen to be the one-of-a-kind earning opportunity you've been looking for all along?
Keep reading, and you'll find out!
Affiliate Marketing Related Content:
Inside Profit 365
As I've mentioned earlier, most sales pages Jamie produce don't shed enough light on the products he sells.
Unfortunately, Profit 365 is not an exception.
Then again, Jamie is quite an experienced marketer, and he is taking full advantage of every marketing trick and tactic he knows.
So, it shouldn't come as a surprise that he bets on limited information, evoking curiosity to influence his audience into making a purchase.
I don't like it any more than you do, but that's pretty much how the marketing world operates in the time we live.
But it doesn't matter anyway since I know what Profit 365 contains, and I'm about to share that information with you:
Over the course of his marketing career, Jamie has created a good number of hugely successful affiliate campaigns that promote products on Clickbank, JVZoo, and Amazon.
Basically, Profit is a clone of these campaigns. Anyone can get it today to start making affiliate commissions through sales funnels that will convert.
With that said, the sales funnels are not all you'll receive:
You'll also gain access to detailed marketing training that will show you how to use them.
To conclude, here is everything you can expect to get from Profit 365:
Sales funnels – done-for-you affiliate marketing campaigns
Video training
Traffic generation training
Fully-customized website templates
Email swipe materials (for email marketing campaigns)
Keep in mind, Jamie's training covers only the working process with Profit 365 from start to finish. It's not step-by-step affiliate marketing training to teach you the business model as a whole.
If you want to start a top-notch business and marketing training, you can do so for free here.
How Does Profit 365 Work?
According to the creator, Profit 365 works in a way that will help you become financially independent in no time.
Considering you'll receive a done-for-you affiliate marketing-based business, you'll skip the entire process of working on creating it.
Jumping straight on the finish line, you're in a position to start profiting immediately.
How do you do that?
Here is how:
Place your own affiliate links within the campaigns – feel free to promote any product you'll find on Shareasale, JVZoo, Clickbank, and Amazon.
Send visitors to these campaigns – you'll do that through the traffic sources Jamie recommends (Solo Ads and Pay-Per-Click Advertising).
Earn affiliate commissions – this part doesn't need any further clarification, does it?
Now, a word about the sources of traffic for those unfamiliar with them:
A Solo Ad is what you'll use to handle your swap emails. You can purchase Solo Ads through different online platforms.
Pay-Per-Click Advertising (PPC) is a method many marketers count on to boost the traffic to their offers. Think of it as a way of buying page views for your promotions (you'll have to pay a fee every time your ad gets a click).
Also, I have to mention that Profit 365 will provide you with a package of 40 Solo Ads templates. Each of them targets a highly lucrative keyword for the digital product you're promoting.
Apparently, the owner has done the research for you, so you don't have to do it yourself. He'll advise you what affiliate programs are profitable enough and deserve your attention.
How To Make Money With Profit 365?
No worries, I haven't forgotten that you need an answer to the question is Profit 365 a scam. That answer is coming a bit later in this Profit 365 review.
For now, let's talk about whether you'll be able to make money with the system or not.
In my opinion, it's possible to earn some cash when you follow Jamie's strategies.
With that said, there are a couple of things you should consider:
By all means, what makes Profit 365 irresistible to newbie marketers is also what will complicate their earning process.
Let me explain what I mean by that:
1) Profit 365 Provides You With A Duplicate Earning System
Just think about it:
Every single person who purchases Profit 365 will receive the exact same money-making platform. Jamie will not personalize yours for you!
Subsequently, you'll have to work with the same campaigns, email swipes, and traffic generation sources every other member uses.
As a result, what you'll get out there as an affiliate promotion is nothing other than duplicate content.
The search engines will ignore it. Therefore, you'll never see any organic traffic to your offers.
Moreover, you'll have to compete for affiliate sales with every other member of Profit 365. Considering you'll be using the same promotional materials Jamie has used over and over again, you'll have to go against him too.
In short, the affiliate marketing ground you'll find yourself in doesn't get any more saturated than that.
2) Investing In Paid Advertising Will Increase Your Business Expenditures
I do affiliate marketing on this blog since 2018, and I'm not using Solo Ads or Pay-Per-Click campaigns to boost my affiliate earnings.
I'm not saying I'll never do it, but I don't consider it necessary for the moment.
Why am I telling you all that?
Well, once you learn how to optimize original content to rank on Google, you'll be in a position to get unlimited organic traffic.
Paying lots of money for something you can get for free doesn't make any sense, does it?
Unfortunately, driving free targeted traffic to your affiliate pages is not an option with Profit 365.
Due to the duplicate nature of its content, the only way to attract visitors is by investing in paid advertising.
Doing that over a long period of time will cost you thousands of dollars:
Using Solo Ads will require contacting well-established marketers and paying them to send your offers to their email lists.
And PPC campaigns come at a certain cost as well. That cost might not look a lot when you're starting, but your expenses will quickly pile up.
2) Using Swipe Emails Is Not The Best Way To Do Email Marketing
Is Profit 365 a scam?
Chances are, you're already forming an opinion on that subject.
Making your mind up further would become easier once we start discussing Jamie's email strategies.
One of the most common ways to collect email leads is by placing opt-in forms on your site. The people who like and appreciate your content will most likely subscribe.
Make no mistake – when readers are willing to give you direct access to their inbox, that means they're already drawn to everything you have to say.
Can you guess what will happen when your affiliate offers reach people who have no personal connection to you whatsoever?
Yes, you're looking at an entirely different ball game.
You see, you have no idea how those people became subscribers to the email list of the marketers you'll work with. There is no way of knowing what kind of offers turn them into subscribers in the first place.
As a result, they might have zero interest in the affiliate promotions you're planning to send to them.
In other words, using someone else's email swipes is not an efficient way to do email marketing – not even close!
I Make Similar Affiliate Commissions Every Month – Learn How You Can Do The Same Here!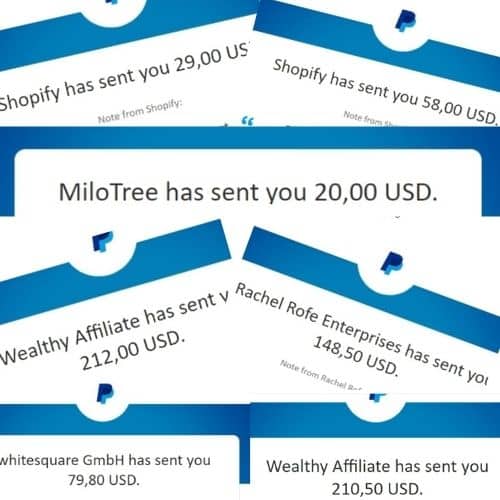 Profit 365 Cost And Price Structure
OK, it looks like it's time to talk about the price of the product.
At the time of writing this Profit 365 review, you can become a member of the platform for $37 through the JVZoo marketplace.
Paying this amount will grant you access to the core system and the training videos.
With that said, you should know that there are also a couple of upsells available for purchase:
1st Upgrade – full access to Jamie's previous AdWords campaigns – $94
2nd Upgrade – an invite to watch live webinars with Questions and Answers section – $174
3rd Upgrade – an opportunity to get your new Profit 365 business completely done for you by the creator and his team – $194
None of these upsells are mandatory.
It's up to you to decide whether you would like to invest in any of them or not.
Refund Policy
You'll be glad to find out that there is a working refund policy:
Profit 365 comes with a 60-day no-questions-asked money-back guarantee.
Meaning, if you buy the product and you're not happy with it, you'll receive your investment back.
Of course, you'll have to ask for it no later than two months after completing your purchase.
Who Is Jamie Lewis?
Considering I've been mentioning him since the start of the conversion about is Profit 365 a scam or not, let's see who the creator is.
These days, Jamie Lewis is one of the most controversial marketers you can learn from online.
I mean, he'll be the first to tell you that he is lazy as hell!
Still, the perks of his personality don't make him any less successful or experienced.
Starting from zero over 15 years ago, Jamie managed to build quite a fortune for himself.
Thanks to his marketing and product creation skills, he is doing more than well money-wise.
Some of his other products are Push Quick, Profit Injector, and Auto Chat Profits.
If you take the time to read the reviews, you'll discover that these products are not of very high quality.
While they deliver some value, there is also a big room for improvement!
What I Like About The Profit 365
A Legitimate Way To Make Money Online – affiliate marketing is one of the most popular ways to monetize web content.
Video Training – the lessons are easy to follow and suitable for beginners.
Mostly automated product – Profit 365 will cut your working process by half.
It's Possible To Make Money – you might earn some cash using the system.
There Is A Money-Back Guarantee – you'll receive your investment back if you're not satisfied with the product.
Jamie Lewis Is An Expert In His Field – the man knows a lot about creating products and profiting from their marketing.
What I Don't Like About Profit 365
The Sales Page Is Over-Hyped – while the product allows you to earn online, you won't make over $2,800 a day.
No Detailed Affiliate Marketing Training – the platform will only show you how to operate with the system and nothing else.
Duplicate Content – you won't receive a unique business, but the same system every other member will get.
You Don't Own Your Business – Jamie does, and you're leaving your whole business future in his hands.
Extra Expenditures – since the program works only with paid traffic, you'll have to spend lots of money advertising.
There Are Upsells – upgrades are not always a bad thing, but the ones coming from Profit 365 are not that valuable, in my opinion.
Who Will Have The Best Use Of Profit 365?
Quite frankly, I don't think anyone would be fully satisfied using this system.
In my opinion, the idea behind it is great.
After all, Jamie wants to provide his students with a fully automated program that does most of the work for them.
As a concept, there is no better way to build a lucrative stream of passive income.
However, the execution of that idea could use a lot of improvement.
Using just paid traffic sources to promote products that are a hard sell will not lead to outstanding marketing results.
Furthermore, there is also the issue of duplicate content. And that is not something you can afford to underestimate.
To sum up, I believe everyone deserves a better chance to earn online than that.
Is Profit 365 a Scam?
No, it isn't.
On the contrary, it's a legit program that will most likely allow you to make some cash.
Do I recommend it, though?
Unfortunately, I can't – it's simply not good enough.

While I respect everything Jamie has achieved as a marketer online, this product of his does not cut through the red tape.
That's the only reason why I'm placing Profit 365 in my Online Scams category:
Not because it is a scam, but because it's not transparent enough about the earning potential it will bring to your table.
Scam Systems To Avoid:
How To Make Money With Affiliate Marketing If You're A Beginner
I was a wannabe marketer not that long ago.
But even with the mind of a newbie, I knew that I shouldn't rely on programs like Profit 365 to help me make money online.
If something is too good to be true, it probably is!
So, I did a lot of research, looking for legitimate training to teach me the craft of affiliate marketing inside and out.
Gladly, I found it.
After learning as much as I could, I created this business that allows me to earn my living from home.
In case you want to follow the same path, I can walk you through the process:
You can start by reading My Free Guide To Launching And Developing Successful Business.
It will show you the steps you need to take to start building passive income for years to come.
My Closing
Ultimately, the whole point of this article doesn't come to whether is Profit 365 a scam or not.
Instead, what I'm aiming at is for you to decide if that's your best option to make an income online.
After reading all that information, I hope you understand that it's not.
Maybe you feel differently about it, though?
Share with me your thoughts on Profit 365, and we'll discuss the product further.
Related Articles You May Like: