Spring Profits Review: Scam Or Make $25K/Week Selling Online?
This Spring Profits review will introduce you to a system generating no small amount of controversy online.
While the product is not brand new on the market, fresh opinions about it keep popping up every other day:
Heads up – the majority of the Spring Profits reviews online are all over the place.
Some marketing experts see the system as a reliable source of online income – others tend to view it as a waste of time.
Today, you'll find out which side of the argument makes more sense. And I'll help you do that by showing you facts instead of rumors.
In the next few minutes, you'll learn everything there is to know about Spring Profits:
What is Spring Profits, and how does it work?
Can you make money with Spring Profits?
How much do Spring Profits cost?
Is Spring Profits legit or a scam?
Disclaimer: I'm not an affiliate of Spring Profits. Every fact you'll read today comes from research on information available in the public domain.
Spring Profits Review – The Basics
First and foremost, the official website of the product is springprofits.com.
There is quite an interesting fact about that site, and I'll tell you all about it later in my Spring Profits review.
For now, let's concentrate on the marketing message the owner keeps repeating through the sales pitch:
Allegedly, Spring Profits is a revolutionary profit-generating platform anyone can use to earn over $20,000 in the first week alone.
Doing the math in your head will help you realize that the program promises $1,000,000 to its members in a year after joining it.
So far, Spring Profits seems like any other get-rich-quick scheme users come across daily:
After all, its pitch is not that different than the claims of Easy Retired Millionaire, Millionaire Society, and Million Dollar Replicator.
Furthermore, the owner sounds a lot like the inventors of Passive Profit Pages, Commission Code, or CB Cash Code.
Now is the time to tell you that all these products exhibit signs of a typical scam.
Does this mean you shouldn't get your hopes up about the earning power of Spring Profits?
Keep reading, and you'll find out!
Is Spring Profits Legit?
Before we go any further, let's discuss the legitimacy of the program first.
I mean, there is no point staying on this page if Spring Profits is not even a legit platform, is there?
Alright, here is the deal with the system:
Currently, Spring Profits comes with a 30-day money-back guarantee.
Members who are not happy with its results would be able to receive their investment back.
As a result, we can't see the product as a scam.
With that said, there is so much more you need to know before you're in a position to make a purchasing decision.
Let's start with that facts, shall we?
Recommended Read:
What Is Spring Profits?
Basically, Spring Profits is an online training platform anyone can join to start making money online.
Your current location and level of expertise don't matter at all:
According to the creator, his product is a suitable solution for complete beginners who would like to begin earning cash on the web.
Next, working with the program will not take a lot of your time.
On the contrary, you'll need to devote no more than 20 minutes to Spring Profits every day.
Also, it's important to know that the system has nothing to do with bitcoin, pyramid schemes, or MLM (Multi-Level Marketing).
Instead of going into such risky income avenues, you'll focus your effort on the e-commerce field.
Long story short, Spring Profits will teach you how to build a profitable online business by selling T-shirts on Teespring (currently Spring).
To clarify, Teespring is one of the largest platforms you can use to create and sell print-on-demand products.
Who Is Spring Profits For?
The way I see it, the target audience is individuals willing to start an online business with no previous experience.
More specifically, Spring Profits is here to serve people who want to conquer the e-commerce field.
Quite frankly, getting into this niche is not a bad idea:
These days, e-commerce is one of the most lucrative industries you can jump in.
Purchasing items online is more popular than ever.
For obvious reasons, people prefer it over the option of shopping in a physical store.
Does this mean that becoming a member of Spring Profits will be one of the best decisions you'll ever make?
Actually, you'll have to read the rest of my Spring Profits review to get an answer to that question.
Other Platforms To Teach You About Starting A Business Online:
Inside Spring Profits
OK, let's have a look at what is waiting for you once you gain access to the members' area:
Once you purchase the product, you'll receive its content.
And that content happens to be an e-book that comes in the form of PDF documents.
You'll be able to learn how to make $25,000 per week from three PDFs:
1) Spring Profits
Unsurprisingly, the first PDF has the same name as the platform itself.
Spring Profits is a 51-page long e-book that has the following chapters:
Introduction to building a T-shirt business
Market research
Keyword research
Copyright and trademark research
Where you can find T-shirt designs
Listing T-shirts on Teespring
Marketing and branding
2) Content Crusher
Now, Content Crusher will bring a total of 25 pages to your attention.
Have a look at what you should expect from the second training e-book:
Content marketing for Teespring
Developing a content strategy
Scheduling and publishing content
More platforms and sales channels
Email marketing
3) Third e-Book
Well, I apologize for calling the last part of the training the third e-book.
Unfortunately, I don't have the option to call it something else – there is no name for the final part of the documents.
Anyhow, the third e-book contains 28 pages that cover promoting your business on Social Media:
Spring Profits social
Facebook marketing strategies/Facebook paid promotions
Instagram marketing strategies
Pinterest marketing strategies
Creating your first mockup ad
Spring Profits Tools And Support
At this stage of my Spring Profits review, you're already familiar with the tools and training you'll receive as a member of the platform.
With that said, let's address the support, shall we?
No matter how hard I look on the official website, I can't find a link to a page that will get you in touch with a support team.
However, there is an email address (support@springprofits.com) you can use if you need any assistance.
One email address is better than no email address, in my opinion.
It may not be a lot, but at least you'll have a way to connect with a person behind the program in case you need to do that.
I Make Such Sales Every Month. Find Out How To Do The Same!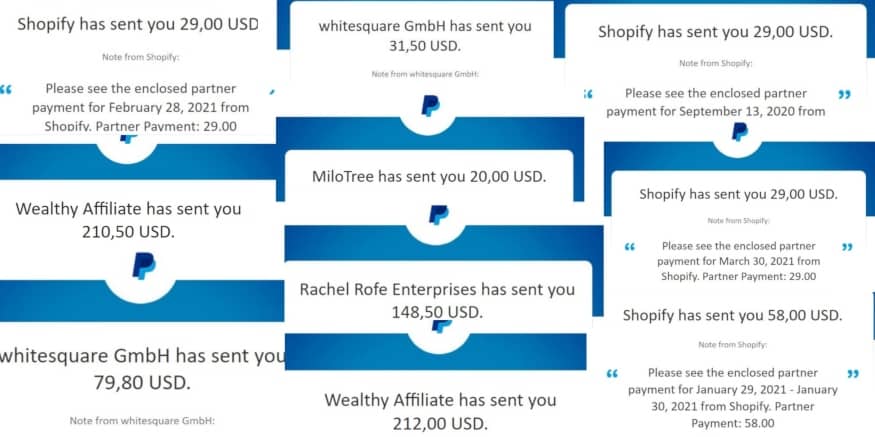 How Does Spring Profits Work?
Considering your new business is about selling designs on Teespring, your first step will be to create an account on the website.
Joining Teespring is free of charge – anyone can become a seller without paying anything at all.
So far, so good – what happens next?
Firstly, you'll log in to the members' area. There, you'll find access to the system's T-shirt and printing service.
Before you move on to design your first product, you'll create a custom logo.
When your logo is ready, the real work will begin:
Feel free to create as many designs as you wish.
If you ask me, you should create tons of designs:
After all, the more products you have, the bigger your chance for sales will be.
As soon as the creative part of the job is over, you'll go back to the training.
According to the creator, Paid Advertising and Social Media Marketing are the most efficient strategies to bring potential clients to your products.
How To Make Money With Spring Profits
It doesn't take a genius to see where your income will come from while using Spring Profits.
But considering many of you might be beginners, it won't hurt to learn more about the business side of selling through the platform:
Your profits will come from the difference between the cost of creating a t-shirt and the final price a customer is paying.
The printing process doesn't start until a customer orders a t-shirt.
You don't ship products to the customers – that's the responsibility of the printing company.
No payment to the printing company will take place before a person buys any of your shirts – you'll be paying a commission afterward.
More often than now, you don't have to produce thousands of sales to earn well with this business model.
Spring Profits Cost And Price Structure
Currently, you can buy the product for $37.
By all means, the price of the program is affordable.
Be that as it may, you might have to spend more if you decide to invest in the available upgrades.
Just one of them will cost you an extra $197. Plus, there is another one that will ask you to join the Super Affiliate System – a course by John Crestani.
Now, be extra careful when you land on the page that will give you access to the upgrades:
All of them are one-click upsells:
Clicking on the link will result in a hefty charge on your credit card.
What I Like About Spring Profits
The platform teaches e-commerce business: As you already know, e-commerce is a legitimate business model to earn online.
There is some value in the training: Sure, some videos would be nice to go along with the e-books. Still, the PDFs do a decent job of explaining the process of launching a business with Teespring.
Spring Profits comes with a 30-day money-back guarantee: Feel free to ask for your investment back if you're not happy with the system.
What I Don't Like About Spring Profits
Generally, there are certain red flags about the platform I have no choice but to bring to your attention.
While earning over $20,000 a week is as enticing as it might be, you should resist the urge to become a member of the platform.
Here are all the reasons why purchasing Spring Profits is not as good of an idea as you may think:
1) The Product Creates Unrealistic Income Expectations
Should I tell you once again that Spring Profits paints itself as a reliable path on your way to becoming a millionaire?
You do remember that the creator promises $25,000 in pure profits in a week to all its future students, correct?
Unfortunately, I don't see that happening any time soon:
Earning that much from a brand new business is not how the web works.
Launching a store on Teespring is not enough to help you make thousands of dollars in a week.
While you might be able to reach that kind of income at some point, you'll have to do the work first.
And that amount of work will require a considerable amount of time and effort on your part.
More Earning Platforms To Avoid:
2) The Sales Page Is Over-Hyped
Until I'm on the topic of working time, allow my Spring Profits review to reveal to you the second misinformation coming from the sales pitch:
Allegedly, the platform will never require more than 20 minutes of your time every day.
According to the owner, less than half an hour a day is enough to build a profitable e-commerce business.
That is not true.
As someone who has had an online business for a few years now, I can tell you that it takes much longer to launch, build, and develop a successful business on the web.
Sure, 20 minutes might be enough to come up with a name for your business.
But you won't be able to accomplish much more in that window of time!
3) The Training Can Use Some Improvement
Don't get me wrong – the e-books and PDF documents are not totally useless.
On the contrary, they contain a bit of valuable information about the process of starting an e-commerce business from scratch.
With that said, one would expect much more in-depth business training from a product that makes such bold statements.
Do you think you'll see thousands of dollars in your bank account if all you have to work with is the content of these e-books?
Becoming financially independent requires a deeper knowledge than the general introduction to e-commerce Spring Profits provides.
These days, you can find better tutorials that will teach you more about the business on YouTube for free.
Recommended: Find Out Where You Can Start Marketing Training For Free
4) The Testimonials Are Fake
A quick question:
Can you trust a product if its own testimonials are coming from actors on Fiverr?
Personally, I would never invest a dime in a system that uses fabricated testimonials.
It all comes down to a single thought:
If the platform is as good as the creator makes it sound, why would he need to pay someone to say so?
Should there be genuine testimonials from real students and members?
And if none of them is willing to do that, why could that possibly be?
5) The Creator Uses A Pen Name
Up until now, I mentioned the owner of the product more than once in my Spring Profits review.
It's time to take a closer look at him:
During the sales video, a man introduces himself as the creator of the platform. His name is Daniel Green.
However, I believe that such a person does not exist:
There is no photo, credentials, or personal details about Daniel on the official website of the program.
The way I see it, Daniel Green is just a random name the owner uses to hide his true identity.
Then again, that's a popular practice many low-quality earning platforms use nowadays.
See some of those platforms below:
6) Spring Profits Uses Scarcity Tactics To Push You Into A Quick Purchase
What is a scarcity tactic?
Basically, creating scarcity is one of the oldest marketing tricks many business owners rely on when promoting their offers.
For example, phrases like "there is only one item left" or "this offer will disappear at the end of the day" fall into the category of scarcity marketing materials.
Here, the platform relies on them to influence your purchasing decision:
To sum up, the idea is for you to buy Spring Profits before you have the chance to research the product in-depth.
Needless to say, you should not do that!
Is Spring Profits A Scam?
Quite frankly, I can't say that the system is a scam.
I mean, the product comes with a money-back guarantee. Subsequently, I have no right to call it a complete scam.
Be that as it may, I would like you to think of it like one:
No matter what, Spring Profits doesn't work the way it says it does.

Therefore, investing in it will not be a smart decision on your part.
An Important Update:
Right now, accessing the official website is not possible most of the time. Even worse, it seems like the domain is for sale.
Also, Spring Profits is not available on ClickBank or ClickBetter any longer.
So, the best thing you can do is move on to better opportunities to earn online!
Other Scams To Avoid:
How To Build A Profitable e-Commerce Business
Generally speaking, you don't need Spring Profits or any other similar platform to help you launch an online business.
Believe it or not, you can do that on your own.
Yes, the whole point of having a business is to create a source of passive income.
And that is not as difficult as it may seem at first glance.
All you need to start an online career is the right blueprint that will show you the steps.
I happen to have such a guide – feel free to read it and take the necessary action once you know what to do!
My Closing
Alright, this is all I have to say in my Spring Profits review for now.
Hopefully, my article will convince you to save your money and avoid the product.
Considering the site will sell your personal data to a third party for a profit, I doubt you need any more convincing.
Now, do you have any questions on this topic?
Is there something you would like to ask me further about it?
In case that you do, visit the comments section below and share anything you would like to share.
Nobody says that this Spring Profits review has to be over, correct?