Silk Road Effect Review: Scam Or The Secret Of $1,800/Day?
This Silk Road Effect Review is about a product that is not the center of the popular book The New Silk Roads: The Present And Future Of The World.
Many people tend to mistake these two.
While the names are similar, the common ground ends there.
Hopefully, you haven't had the chance to read the rest of the Silk Road dropshipping reviews:
In my opinion, most of them are doing a good job of twisting the facts.
That's what happens when online content creators surrender to the desire to score affiliate sales.
Unfortunately, they don't care if the system they promote will provide the readers with a legitimate way to earn money from home.
Today, I'll tell you all about the Silk Road Effect platform:
What is Silk Road Effect, and how does it work?
Can you make money with Silk Road Effect?
How much does the Silk Road Effect cost?
Is Silk Road Effect legit or a scam?
Disclaimer: I'm not an affiliate for the product. Every fact you'll read in this article comes from research on information available in the public domain.
Silk Road Effect Review – The Basics
For starters, the official website of the product is silkroadeffect.com.
ClickBank's marketplace is where Silk Road was for sale in the last couple of years.
Recently, the owner of the system moved it to ClickBetter.
Whether that made the program more desirable is a different topic for another time.
After all, this is not a ClickBetter review – you can find plenty of those if you research ClickBetter com reviews online.
Another clarification I would like to make is that this article is not the latest take on content such as Is Brandyourself A Scam.
Quite frankly, I have no idea why this search query keeps coming up in relation to Silk Road Effect.
Now that there is no more room for confusion, let's get this Silk Road Effect review moving!
What Is The Silk Road Effect?
After watching the official sales presentation, I can't help but admire on some level the effort the creator has put into it.
During that sales pitch, Steven Jenkins emphasizes that Silk Road offers an exclusive way to earn online a couple of times.
According to him, the money-making strategies you'll find inside the platform have managed to stay hidden in plain sight for centuries.
Apparently, he is the first person who thought about taking advantage of them.
Chances are, that's why he decided to name his miraculous system the Silk Road Effect:
It has a connection with the famous Silk Road in Asia – an ancient trade route linking China with the West.
Is your interest picking after reading all that?
Well, the creator knows that evoking curiosity is a priceless marketing tactic that works every time.
To keep your attention in a tight grip, he shares that Silk Road Effect is responsible for his last-year earnings of $1,4 million dollars.
By all means, that's enough to prompt you to learn more about it, isn't it?
How Does Silk Road Effect Work?
OK, let's start unraveling the mystery behind the opportunity to earn over $1,800/day the product promises.
Since the sales video is short on useful information, I'll provide you with it myself.
Basically, the Silk Road Effect is an online training platform that teaches beginners how to make money online in a simple way.
Its teaching materials are easy to follow, so you don't need any previous working experience to benefit from the system.
And what you'll have to do as a member to start earning thousands of dollars every day?
What the program will teach is how to build an online business that deals with buying products at a low price and selling them at a much higher one.
So, this is an online course about developing a profitable dropshipping business from scratch.
Another detail you should be aware of is that you'll be purchasing cheap products in bulk from China and selling them to clients in the USA.
Now, here is the place to mention that there is nothing illegal about that business model:
Many people have been using it to make money for years. Likewise, there is nothing exclusive about it either.
Maybe you're wondering when the creator will reveal the big secret he mentions in the sales pitch?
Well, that's not going to happen until you join the platform, that's for sure.
Don't do that just yet – there is so much more you need to learn first:
Inside Silk Road Effect
Up until now, the platform doesn't seem any different than Profit Genesis 2.0 or EZ Bay Payday.
Both of these earning systems are more hype than substance, though.
Does this mean our subject today will not get you anywhere money-wise?
It starts to look that way, but you may want to keep reading this Silk Road Effect review before you form a final opinion.
As you already know, the course will walk you through the process of building a dropshipping business online. Meaning, you'll learn how to start a successful online store.
Once you purchase the training, you'll gain access to the members' area.
There you'll find all the teaching materials – they come in the form of PDF documents and videos.
The main section covers the fundamentals of doing e-commerce business online.
Expect to receive a 3-page long PDF that contains information I see as an overview of the concept of dropshipping.
How To Make Money With The Silk Road Effect Program?
According to the creator, you'll be able to build a lucrative e-commerce business if you follow his instructions.
He'll show you how to lay the foundation of your new online venture in a way that will improve your odds of success.
For example, you'll see how to:
Set up your online store
Choose and order the most profitable and best-selling products
Market the product you sell in your shop to a worldwide audience
Find suppliers to will sell you products at the lowest price possible
Drive traffic to your store
Again, the business model behind Silk Road Effect is an arbitrage method many business owners have been relying on for years.
In some ways, you can achieve similar results if you start doing affiliate marketing and join programs like Amazon Associates.
Sure, earning affiliate commissions by driving traffic to Amazon products is a valid option. But your income will not reach nearly $2,000 a day – that's a fact.
Doing Silk Road dropshipping will allow you to become a product owner listed on the Amazon Marketplace. That way, you can make much more considering you and other people will promote the products in your store.
Silk Road Effect Cost And Price Structure
At the time of writing this Silk Road Effect review, the price of the product is $17.
Personally, I find the cost more than affordable – we're talking about less than $20 for a whole online training.
With that said, you can also invest in the available upgrades:
Silk Road Effect Deluxe Club ($197) – Receive two e-books. Shopify Secrets happens to be one of them.
Amazon Affiliate Blueprint ($200) – That upgrade will teach you to make more money by increasing your affiliate commissions when you promote Amazon products.
If you decide to buy the main system and both upgrades, you'll have to spend about $500.
An Important Info:
Currently, you can order the book Amazon Blueprint on Amazon itself, and you'll end up paying less than $10.
What I Like About Silk Road Effect
The training will teach you valid information – you'll learn the basics of building a dropshipping business and opening an online store.
It teaches a legitimate business model – dropshipping is one of the most popular ways to make money online.
There is a money-back guarantee – if you're not happy with the product, you can contact ClickBetter, and you'll receive your investment back.
What I Don't Like About Silk Road Effect
Everything on this page so far is an indicator that there are a lot of things I don't like about the platform.
While it looks promising at first, the system is taking a turn for the worst once you start looking closely.
And you'll see every detail about that once my Silk Road Effect review continues below:
1) The Sales Page Is Misleading 
Don't get me wrong – misleading doesn't mean illegal.
As I've mentioned a few times so far, Silk Road Effect will present you with a legitimate opportunity to earn online.
However, I have no other choice but to acknowledge the fact that the earning potential of the product is over-hyped, to say the least.
With rare exceptions, making nearly $2,000 as soon as you start working online is impossible.
Furthermore, earning that much in less than a day is just a ridiculous statement that holds no merit.
Long story short, you can't afford to believe that you'll become a millionaire if you rely solely on the Silk Road Effect alone.
Becoming that wealthy this fast doesn't work that way online.
Related Read:
2) Steven Jenkins Is A Pen Name
Unfortunately, we will never know the real person behind the program.
Sure, the man talking during the sales pitch does his best to convince you that his name is Steven Jenkins.
Quick research on the product's official website will make you doubt that.
I mean, there is no photo of him, contact information, or any credentials that will allow us to confirm that Steven is who he says he is.
But if you have some experience while trying to earn online, you already know that happens a lot these days.
I'm talking about the fact that many earning platforms hide the identity of their creator.
Now, why could that possibly be if the Silk Road dropshipping products are as outstanding as the narrator of the sales video makes them be?
You can come to a conclusion on your own – I'm sure of that!
3) The Income Proof Is Fake
Let's pause this Silk Road Effect review for a second and talk about the money, shall we?
Silk Road Effect markets itself as a system that will help you make at least $2,000 a day.
To support that claim, the sales presentation provides income proof:
Does this income statement look legitimate to you?
Honestly, I don't see it as a fact that proves anything at all.
On the contrary, it's obvious someone is showing a random amount of money in a bank account for everyone to see.
Of course, that amount is above million dollars:
You have to believe that the money came from using Silk Road Effect.
Can you be sure of that? Do you see somewhere proof that will convince you Silk Road is the source of income?
No, you don't. Therefore, you should ignore the numbers and focus on the facts.
Similar Earning Systems:
4) The Training Is Very Basic
Earlier, I said that the training of Silk Road would teach you the fundamentals of the e-commerce business model.
I still stand behind my opinion.
With that said, all you'll be able to learn is just that – the basics of starting a dropshipping business.
The teaching materials don't go deeper than that.
Currently, you can gain access to more detailed information for free on Google or YouTube.
To be able to earn well online, you need top-notch business training that will help you develop the necessary marketing skills to succeed online.
5) Silk Road Effect Uses Scarcity Tactics To Push You Into Purchase
Basically, the platform puts a lot of effort into convincing you that there is no time to waste.
According to the sales video, you should act fast and buy the training as soon as possible.
That same sales video uses phrases like "time-sensitive" and "you'll never see this offer again" every chance it gets.
In reality, you can watch that presentation at any given moment:
It has been online for years. And anyone who wishes to access it can do so at all times.
By all means, a scarcity tactic can push you into making a purchase before you even think to check the product's reviews.
I Earn Such Commissions Every Month. See How To Do The Same!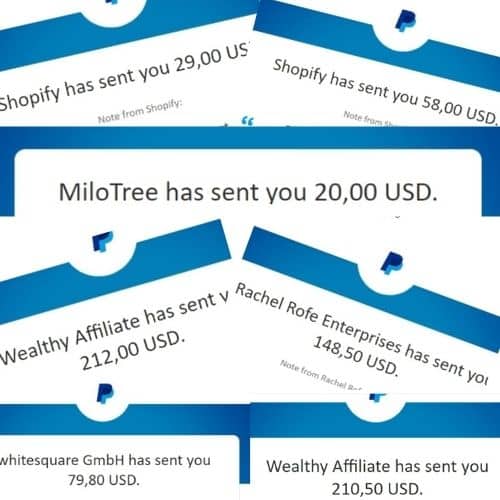 Is Silk Road Effect BBB Accredited?
For those who don't know, BBB stands for Better Business Bureau – the place to visit if you have doubts about any business.
At this time, Silk Road Effect is not accredited on it?
Does this mean the product engages in illegal activity?
Well, no – it doesn't.
Not having a place on BBB might be due to the nature of the product:
Many Internet Marketing Courses are not accredited on BBB, and there is nothing wrong with them.
Is Silk Road Effect A Scam?
Actually, I can't say that Silk Road Effect is a scam.
Considering the system offers a money-back guarantee, the opportunity to call it a scam becomes non-existent.
However, the platform is of low quality, in my opinion.

There is no way you'll be able to earn thousands of dollars every day, thanks to the methods you'll find inside the program.
They are simply not good enough!
Scam Products You Should Never Buy:
A Better Way To Make Money Online
Quite frankly, you should never rely on products like Silk Road Effect to help you build a successful business online.
Such systems tend to disappear as quickly as they pop up on the web.
Betting on them is not a long-term earning strategy that will lead you to financial independence.
What are you supposed to do then?
Here is an idea:
How do you feel about starting a business on your own?
While that's not the easiest thing to do when you lack experience, it's not impossible to pull off.
All you need to begin is the right assistance and help to guide you through the process.
I can help you by providing such help:
Take the time to study my Free Guide To Launch An Online Business.
It will show you the steps you need to take to develop a stream of passive income.
My Closing
Alright, my Silk Road Effect review is coming to its end!
Naturally, I would love to write much brighter and hopeful reviews, but when a product is that bad, I don't really have a choice, do I?
Before I leave you today, let me ask:
Do you have any questions regarding this system, or maybe just an opinion you would like to share?
Leave them in my comments section, and we'll discuss them.