Is Viral Cash App A Scam Or Your Top Option To Make Money Now?
Is Viral Cash App a scam? That's the question at the center of this article.
Answering it will not be as simple as many of you probably think.
Matthew Neer is behind Viral Cash – the one system that still provokes heated discussions online three years after its launch date.
It seems like a lot is happening underneath the surface of that system!
So, it's time to face the music:
Viral Cash App – a trusted source of online income or a low-quality earning platform that will get you nowhere?
Today, I'll answer that, plus other similar questions:
What is Viral Cash App, and how does it work?
How much does the Viral Cash App cost?
Can you make money with the Viral Cash App?
If yes, what amount should you expect?
Disclaimer: I'm not earning affiliate commissions by promoting this product. All the facts within this blog post come from information available in the public domain.
Viral Cash App Review – The Basics
Before this Viral Cash App review goes any further, there are a few issues I need to address.
First and foremost, the program I'll discuss today has an official website you can find at viralcashapp.com.
For some reason, thousands of people believe that the Viral Cash App, the Viral Income System, the Viral Pay, and the TopOption App are one product.
Well, they are not!
Subsequently, the content on this page will not circle queries such as:
Is Viral Pay Legit?
Viral Pay Scam?
Topoption scam?
In case any of these platforms is on your mind, feel free to research them elsewhere!
Shall we move on?
OK, is Viral Cash App a scam or not – that's not supposed to be the number one question today, but it is.
Allegedly, the product is a no-fail option to receive a delicious piece of a $70 billion industry.
Shouldn't that be more important?
Personally, I think that it should.
Who in their right mind would say no to such an offer?
At the same time, that offer needs to go through a validation if the creator wants us to take it seriously.
Will Matthew's product fill up your bank account before the month is even over?
Or is there much more to the story?
Let's find out!
What Is Viral Cash App?
Quite frankly, it would be easier to learn what the system is if you first understand what it is not.
According to the owner, the Viral Cash App has nothing to do with Bitcoin, cryptocurrencies, advertising, or search engine optimization.
It's not about creating an online store or taking surveys either.
You should relax, knowing the product is not a pyramid scheme and has no Multi-Level Marketing structure.
Alright, I get that Matthew wants to reassure you his program will not involve you in anything you may consider illegal.
But in what will involve you then?
Assuming that you decide to trust the creator, you'll be able to start using the Viral App as soon as today.
Once you do that, you'll be on your way to receiving a share from a lucrative traffic source no one knows about, but it's free to use.
Apparently, you're not making any real money online yet because you're not aware of the secret commission network Matthew will bring to your attention.
A quick recap:
Until now, the Viral Cash App doesn't seem that different than the 5 Figure Day, Ecom Cash Code, or 7 Minutes Daily Profits.
Bear in mind – those three are of an extremely low quality.
Does this mean the Viral Cash App is too?
It's early to come to this conclusion, so you might want to keep reading!
How Does Viral Cash App Work?
So far, you know the platform will help you build a profitable business by using an enormous source of organic traffic.
There is no need to start a blog – that is not required at all.
You'll not have to pay anything when working with joint partners or affiliate programs.
And you'll not face an unbearable amount of work – most of the heavy lifting will be on Matthew's and his team's shoulders.
Now, I know that this doesn't explain a lot about the system, so let me give you the rest of the details:
Firstly, leveraging the program to your advantage does require you to have a website as a foundation of your business, but you won't have to build it yourself.
Instead, Matthew will give you a site that is all set and ready to go.
Secondly, your new line of work will be sharing videos on your website.  It's important to mention that every video you post is already hugely popular online.
In a nutshell, think of videos that have already gone crazy viral!
To clarify, you'll never have to script, shoot, or produce the videos – that work will go to Matthew and his team.
Lastly, you'll only work with the highest quality viral content. Such content will naturally bring you viral traffic.
And viral traffic is one-half of what you need to make money.
What about the other half?
I'll tell you all about it when the topic (is Viral Cash App a scam) continues to unfold!
Inside The Members' Area
During the sales presentation, Matthew doesn't keep numb about the way his platform operates.
That alone is such a nice surprise:
Most income-earning online programs are not that transparent.
Bulletproof Profits, Ecom Cash Crusher, and Auto Chat Profits come to mind!
Anyhow, I would like to share with you a tiny portion of the sales pitch:
Millions of people spend a long time watching videos on Facebook and YouTube every day. Who would argue with that?
But do you know that while you're enjoying watching these videos, the platforms you're on are getting paid?
They most certainly do!
Once your viral videos start to attract an audience, you'll be able to profit as well.
Do you have a hard time believing all that? Maybe you need more details?
Here are a couple of facts that will shed more light on your future working process:
Matthew's app will build you a website and fill it with viral videos of your choice.
You'll share those videos on Social Media.
Every time a person clicks and watches the video, you'll earn an income.
Is Viral Cash App a scam?
Hold on, that's not the right question – at least, not yet.
What you should be wondering right now is about the money's source.
I have an answer – you'll generate income by displaying ads and adding affiliate links to your videos.
Yes, we're talking about affiliate marketing once again!
Related Read:
How To Make Money With Viral Cash App
At this point, you already have a pretty good idea about the nature of the product.
Be that as it may, there are a couple of questions about the earning process you probably would like me to answer.
Allow me to do that:
Viral Cash App is cloud-based – Meaning, there is no need to install any additional software to use it. As a result, you won't have to pay for web hosting or anything else that will manage your site. Just log in and choose a category!
You'll Pick Your Target Keywords – Your dashboard will provide you with tons of profitable keywords. A lucrative keyword has a high search volume and high-income potential. After you choose a keyword, the app will create and host many pages that will target it.
Monetize Your Offers – Matthew will promise you once again that the earning potential of his system has no limits. Thousands of people will watch your videos, and the monetization options are countless.
An Important Info:
Don't worry about your traffic sources.
According to the creator, you'll receive an unlimited amount of traffic – it's self-generating!
Viral Cash App Cost And Price Structure
Currently, the Viral Cash App costs $47.
However, paying that amount is not your only option.
If you try to exit the sales page without buying, you'll have the chance to purchase the product with a discount.
When that happens, the platform will let you know about the existence of upgrades.
In other words, you'll be able to invest in the upsells if you decide that they are valuable.
Basically, getting everything Viral Cash App has to offer will cost you a couple of hundred dollars.
What I Like About Viral Cash App
It uses affiliate marketing to earn money for its members – and that business model provides a legitimate way to make cash online.
There is a money-back guarantee – the product is selling on marketplaces like ClickBank, and they offer the opportunity to receive your investment back.
What I Don't Like About Viral Cash App
Is Viral Cash App a scam?
The answer to that question is getting dangerously close to yes.
Chances are, it will do even more so once you see all the red flags:
1) Most Of The Sales Video Is A Lie Or A Fiction
An official presentation has to introduce you to a product and explain what that product does.
OK, it has a few other functions as well!
None of them is to create a false idea about what you'll receive, though.
Unfortunately, that's what the sales pitch of Viral Cash App does:
Barely a few seconds in, news coverage will happen on the screen. Later on, YouTube millionaires can't praise the system highly enough.
As you can guess, all that is a fictional story that has nothing to do with reality:
Someone has cut bits of ABC News and has edited them together. His goal is to make it look like the news anchor is talking about the Viral Cash App.
Apparently, the same goes for the vloggers as well.
Matthew wants you to believe that his program is good enough to appear on national TV! Plus, he needs you to know that some YouTubers are now wealthy after using his app.
Another lie is that if you're watching the sales presentation, the only reason must be an exclusive invitation. Anyone with access to the Internet can see that video!
Make Money On YouTube Ideas:
2) There Is No Such Thing As Self-Generating Traffic
Once you start working online, you'll quickly realize how crucial web traffic is for the success of your business.
Remember when the creator told you not to worry about pageviews? His system will bring you traffic that self-generates, right?
Considering Viral Cash App doesn't work with Google traffic, it seems like you'll be relying on Social Media.
In the era of total TikTok domination, the owner wants you to look into Facebook!
Do I have to comment on how dated such advice is?
And something else – getting a piece of content to go viral is getting more and more difficult as we speak.
Personally, I don't think you'll have huge success if you share videos hundreds of other people are sharing as well.
3) You'll Not Earn Lots Of Money
Don't get me wrong – using the Viral Cash App might help you score a sale or two.
There is no way you'll make thousands of dollars, though.
One of the reasons is that Matthew's monetization strategy is not good enough.
His advice is to display ads on your website through Google AdSense and earn a fortune that way.
Here is the problem with that:
Firstly, getting into Google AdSense is not that easy – the approval process is way more complicated than you may think.
Secondly, the earning potential is low – you'll need tons of traffic to earn a decent income.
4) The Income Proof Is Fake
Until we're on the subject of money, let's discuss the income proof for a second.
During the sales presentation, you'll see what looks like a pretty convincing income statement.
The numbers are impressive, I won't argue with that.
Instead, I'll argue that they are not a reality thanks to the Viral Cash App.
Matthew brags about the earnings of a vendor, not of an affiliate!
He owns a few products, let's factor that in as well.
How can you be sure what he has sold to reach such numbers?
You can't!
5) Matthew Neer Has An Interesting Reputation Online
To clarify, that's me being more on the polite side than on the honest one.
Now that I think about it, let's forget about being polite for a minute:
It's a fact that Matthew Neer has years of marketing experience behind his back.
Such a long career is why he now owns a few products (Speed Wealth, Commission System).
With that said, none of his products are of the highest quality. And that's a general opinion online.
Many of his customers are complaining that what he sells is more of an idea than an actual product.
Looking at the Viral Cash App, I'll have to say that I agree with them.
An interesting fact:
The official sales pages of Viral Cash App and AppCoiner are suspiciously similar.
Maybe Matthew is behind another product that delivers no value?
I'll let you be the judge of that!
6) Affiliate Marketing Doesn't Work As The System Suggests
Looking at the way Matthew wants you to build your affiliate marketing business, I can't feel anything other than disappointment.
After all, he presents himself as an affiliate marketing guru.
Shouldn't he do a much better job while teaching you the secrets behind affiliate commissions?
I think that he should.
By all means, you need free professional training that will show you more than how to insert affiliate links in the description of your videos!
Do You Want To Earn Like That As Well? Find Out How Today!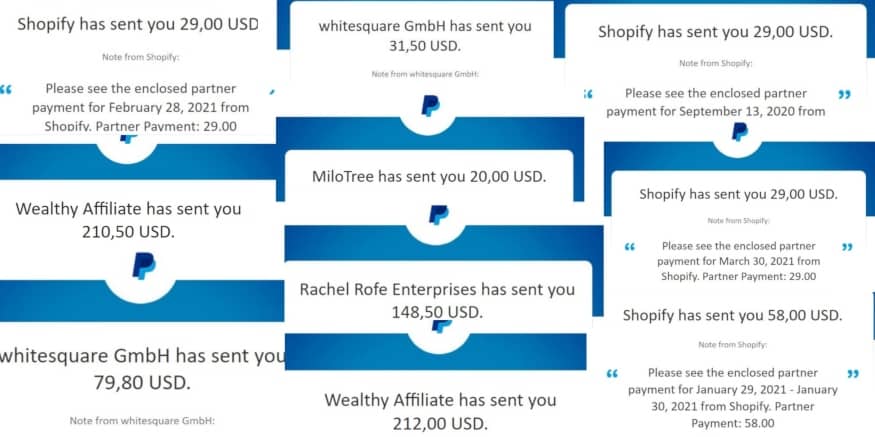 Is Viral Cash App A Scam?
Quite frankly, I would love to say that it is.
But there is a money-back guarantee, so I can't do that.
Still, think of it as a scam, and you won't regret it.

At the end of the day, Viral Cash App is big on promises that will never be able to back up.
And you deserve better than that!
Other Scam Systems To Stay Away From:
A Better Way To Earn Online
Chances are, some of you might be disappointed after reading this review.
What are you supposed to use if the Viral Cash App is not worth it?
Your brain – that's the only thing you need to use to think about for a minute:
You don't need a low-quality earning system to help you make money online when you can learn how to build passive income yourself.
It all starts with launching a business of your own.
Sure, that may sound scary at first, but you'll overcome your fear once you know what to do.
I can help you with the last part – I give you access to my guide.
That guide will walk you through the process of building a successful business, even if you have no previous experience.
My Closing
Is Viral Cash App a scam?
Correct me if I'm wrong, but that question doesn't need any further discussion.
Right now, you know more than enough about that earning platform.
Maybe not?
Then ask me anything you want, and I'll answer it to the best of my abilities.