Is AppCoiner a Scam? (You Know, If It Walks Like a Duck…)
Is Appcoiner a scam or a legitimate website that will pay you to test mobile apps and write reviews?
Currently, you can find soo many opinions on this topic online:
The Appcoiner reviews are literally everywhere. However, not all of them reflect the whole truth you should before you join the site.
My Appcoiner review will not leave any stone unturned. After all, that's the only way to make sure you'll only work with legitimate platforms to earn online.
Today, I'll share with you everything there is to know about App Coiner:
What is Appcoiner, and how does it work?
How much does Appcoiner cost?
Can you make money with Appcoiner?
Will the Appcoiner payout make you worth a while?
Appcoiner is real or fake?
Disclaimer: I'm not an affiliate of Appcoiner. All facts you'll read in this article come from research on information in the public domain.
Appcoiner Review – The Basics
These days, you can find thousands of earning opportunities online. Most of them come with flexible working hours and don't require special skills or experience.
Believe it or not, you can start making money without doing much at all.
Some popular earning ideas are taking surveys, completing small tasks, and using Get-Paid-To sites USA.
Just type Paid Surveys USA in Google's search bar, and you'll discover tons of easy money-making ideas.
While many GPT sites will not allow you to earn more than a few dollars a day, some will surprise you with an excellent payout.
App coiner claims to be a platform anyone can use to make a decent income from home.
Should you trust such a statement?
Well, you're not here to play the guessing game, so let me get you some answers!
Is Appcoiner Legit?
Before I begin explaining what AppCoiner is, I want to say a few words about the legitimacy of this program.
I mean, my title reads is Appcoiner a scam. Therefore, the company's legitimacy is one of the major points in this article.
With that said, I can't call App Coiner a scam. Technically, the system is a legitimate one:
It comes with a money-back guarantee.
In other words, purchasing AppCoiner allows you to receive your investment back if you're not happy with the product.
As a result, I have to conclude that Appcoiner is a legitimate earning platform.
Recommended Read:
What Is AppCoiner?
Here is an idea:
Let's put the question of is Appcoiner a scam or not on hold for a while and take a closer look at the system.
Basically, AppCoiner is a website that will allow you to make money by reviewing mobile apps and providing honest feedback.
Many companies hire individuals to test their apps before they're released to the audience officially.
Testing eliminates any possible error an app may have and improves its quality.
If you decide to work with Appcoiner, you'll earn cash for testing different mobile apps and writing reviews about your experience with them.
Up until now, Appcoiner seems like an easy opportunity to boost your income in your spare time.
You can find the Appcoiner login at the official site (appcoiner.com).
However, I suggest reading this Appcoiner review further before you do that.
How Does The Appcoiner Work?
Unfortunately, the sales presentation doesn't say that much about its working process.
But that's what you have me for, and I'll share all the details:
To become a member, you have to go through a sign-up process.
Once you provide your basic data (name and email address), you can proceed to the Appcoiner login.
Next, you should choose an app, test it, write a review about it, and receive cash for the effort.
To only thing you need to complete your tasks is a mobile device and a decent internet connection.
By all means, that's the overall working process you can expect as a member of App Coiner.
Upon further investigation, I can confirm that making money with the program is a bit more complicated.
Is Appcoiner A Scam? (Inside Appcoiner Members' Area)
As you already know, Appcoiner is one of the most popular USA survey sites available for users worldwide.
The screenshot above describes the same working process you see in my previous paragraph.
At this point, you're aware that you'll have to try harder than that if you want to make money from the program.
What do I mean by that?
Well, the second step lets you know that you need to provide a review. But the site doesn't bother to explain that you'll do that on your own website.
So, every member of App Coiner receives a custom website where they'll share the app reviews.
Alright, let's discuss that in detail, shall we?
How To Make Money With AppCoiner?
Assuming the sign-up process is complete, you're on your way to earning with the platform.
How about I walk you through that earning process from start to finish?
1) Go To The Appcoiner Login To Choose An App To Review
Before you start reviewing apps, you'll have to create free accounts on ClickBank and JVZoo (if you don't have any).
Right after, you'll upload your unique affiliate ID into AppCoiner.
That step is necessary to be able to receive your earnings properly.
Related Read:
2) Access Your Review Website
Each person who becomes an Appcoiner member gets a welcoming message to let them know that their app review website is all set.
To clarify, you don't have to do any work on that website – App Coiner takes care of creating and launching your new blog.
You'll be able to see the URL of your site. It will be unique, but popularreviewer.com will follow, so your website is actually a subdomain.
Expect to receive a user name and password that will allow you to log into the WordPress admin area of the blog.
3) Download Mobile Apps To Review
Your review website will give you direct access to plenty of different apps.
Choose an app that interests you and download it on your mobile device.
Test the app on your phone and form an opinion about it.
4) Provide Feeback On The Apps
Naturally, the next step of your working process is to describe your experience with the app.
Doing so is quite simple:
Log into your App Coiner site and press the button you'll find below the app.
A new page will open where you'll write your honest opinion (500 words) about the mobile application.
5) Drive Traffic To Your App Reviews
Is Appcoiner a scam?
Unfortunately, this question raises its ugly head again as soon as you arrive at the point where you have to get visitors to your site's pages.
According to App Coiner, the product contains in-depth SEO training and instructions that will teach you about free traffic generation.
However, the only thing these instructions will tell you to do is to post a 500-word app review.
These days, uploading such a short review is nowhere near enough to rank it well on Google.
Furthermore, Search Engine Optimization is a complicated process that takes a lot of time and effort to master.
Also, Appcoiner claims that its system will automatically do SEO for you, but that is not true.
Still, let's imagine that your app review gets to rank high on the search engines, and it's getting you tons of organic traffic.
How you'll earn from that?
Recommended: Where To Get Free Marketing Training
6) Monetize Your Blog Traffic And Make Money
Basically, Appcoiner uses the affiliate marketing business model to monetize the traffic your review site will receive.
While the platform won't offer you advanced marketing strategies, it will suggest three earning methods:
Banner Ads: The product will fill your site with banner ads of money-making offers the readers might like. These banner ads will contain your unique affiliate ID. When a visitor clicks on a banner and completes a purchase, you'll earn an affiliate commission.
Email Opt-Ins: Your site will have an opt-in form that prompts the audience to discover other mobile apps. After a reader subscribes to receive the incentive, Appcoiner will send it. Later on, the platform will keep sending emails to the visitor. Those emails will be about relevant affiliate offers that contain your affiliate ID. If the person places an order, you'll once again make an affiliate sale.
App Download Buttons: Appcoiner will add app download buttons to your reviews. When the visitors click on them, that person will land on a page with more banner ads that include your affiliate ID.
Long story short, you'll create reviews on a freelance basis for the Appcoiner, and the product will monetize your work through affiliate marketing.
Related Read:
Appcoiner Payment Methods
Currently, Appcoiner pays its members via bank deposits, checks, and Payoneer.
There is no option to receive your earnings via PayPal.
It's worth mentioning that there is a minimum payout threshold.
How Much Does Appcoiner Cost?
Before I start addressing is Appcoiner a scam or legit, let's talk about the system's cost.
At the time of writing this Appcoiner review, the price of the product is $27.
By all counts, that's more than an affordable price.
With that said, the system comes with a couple of upsells:
20 Ways To Make $100/Day – $9,95
Appcoiner Express Pass VIP Membership – $97
50 Done-For-You App Review Articles – $27
As you can see, the upsells are about additional ways to make money online.
If you decide to invest in all of them plus the core product, you'll have to pay over $200.
What I Like About Appcoiner
Quite frankly, I'm not a fan of the platform, and the reason will become evident in the next paragraph of my is Appcoiner a scam case study.
Let's look at the product's advantages first, shall we?
It's possible to make money with Appcoiner: Earning might be more complicated than you think, but it's an option.
The system uses a legitimate business model to allow you to earn: Affiliate marketing is one of the most common ways to profit online.
There is a money-back guarantee: Feel free to ask for your investment back, and you'll receive it.
What I Don't Like About Appcoiner
Alright, I have a lot more to say here.
Bullet points will not do, though – I'll need paragraphs to express my honest opinion.
Here is everything that is wrong with the App Coiner:
1) The Sales Page Is Misleading
App coiner presents itself as a program people can use to make money by writing app reviews, but that's partially true.
Once you become a member, it won't take long to realize that the earning process is not that simple.
Instead of being paid per review, you'll have to rely on affiliate marketing to bring you income.
And that is not going to be easy:
A visitor has to land on your review, click on a banner ad, and complete a purchase.
Anyone trying to earn with Appcoiner is doing the same thing as you. So you'll have tons of competition that make ranking on the search engines extremely difficult.
Similar Earning Platforms To Avoid:
2) You'll Have To Pay For Traffic
​
According to the sales video, the product does all the work for you.
However, placing your affiliate ID into the banner ads covers just the technical side of the job.
What about the traffic?
Unless you have a decent knowledge of keyword research and SEO, ranking your product reviews on the first page of Google will not happen.
Subsequently, your reviews will never attract thousands of page views, and you'll not earn a decent income.
Of course, you can always pay for traffic.
That will cost you extra money, and I'm wondering why the platform doesn't share this fact upfront?
As you can see, giving a positive answer to the question is Appcoiner a scam becomes a nearly impossible thing to do.
3) You Don't Own Your Cloud-Based Website
The spokesperson makes it clear that Appcoiner will create, host, and manage your review website.
On one side, that's a good thing:
You don't have to pay for web hosting, and there is no need to worry about any tech issues that may occur.
But on another side, you'll be able to access your subdomain only as long as Appcoiner exists.
What happens if something goes wrong with the company?
Well, you'll see your business disappear in thin air.
In other words, the fate of your income source will not be in your hands but in the hands of the people behind Appcoiner.
4) The Owner Is Unknown
Since we're on the subject of ownership, let's discuss the other big issue people have with the program:
There is no way of knowing who the creator of Appcoiner is.
All my efforts to find him led me to a dead end.
And that's never a good sign.
Why does the creator feel the need to hide their identity?
If the system is of high quality, wouldn't they be proud to place their name behind it?
By all means, the lack of transparency is troubling – there is no doubt about that.
So, is Appcoiner a scam?
Stating that Appcoiner is legit becomes harder and harder as this App Coiner review keeps unfolding!
Other Earning Products To Avoid:
5) There Are Upsells
More often than not, upsells are no fun. Most people find them annoying, especially if the core product is not that good in the first place.
Honestly, I don't see the point of the upgrades Appcoiner is offering you.
They don't have much in common with the main system, so we can't consider them ad-on.
For example, let's talk about the upsell that will automatically fill your site with 50 done-for-you reviews.
It sounds tempting, but I wouldn't go for it:
Don't kid yourself thinking that done-for-you means unique and original content.
No, you'll get the same stuff as anyone buying that upsell gets (duplicate content).
6) AppCoiner Is Almost Identical To Write App Reviews
In case you have a minute, you can visit the official website of Write App Reviews.
Once you do that, you'll notice that the site is suspiciously similar to Appcoiner.
Even more, both programs lead to the same system and provide access to the same review sites.
My guess is that these two low-quality earning systems have the same owner.
7) Most Appcoiner Reviews Online Are Negative
Is Appcoiner a scam?
You can easily come up with your own verdict if you check the rest of the App Coiner reviews on the web.
With rare exceptions, they are more than negative.
Feel free to look for any genuine testimonials and trustworthy social proof, but I can tell you from now that you won't find any.
I Earn Such Affiliate Commissions Every Month. Do You Want To Do The Same? Find Out How Here!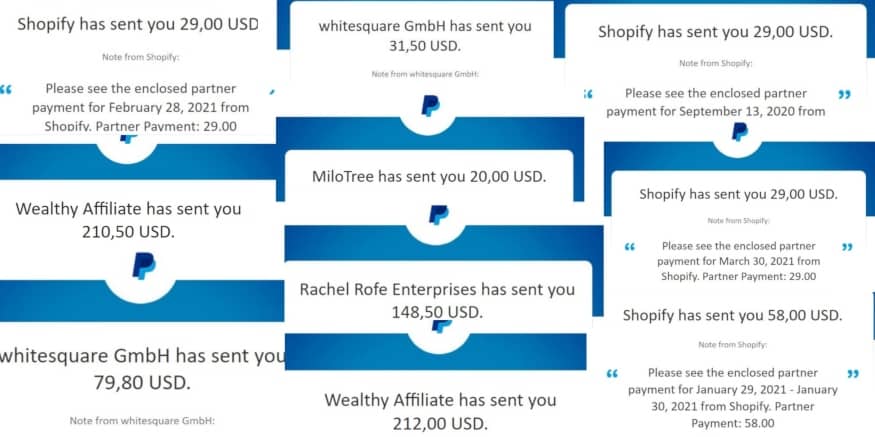 Is AppCoiner A Scam?
Generally speaking, Appcoiner is not a scam.
Firstly, you have a chance to make money by using the program.
Secondly, there is a money-back guarantee.
With that said, I strongly recommend avoiding Appcoiner at all costs.

Just because the site is sort of legitimate, it doesn't mean that you should close your eyes to all its faults.
It's not a decent money-making product.
More Low-Quality Money-Making Products To Avoid:
Appcoiner Alternative
Nowadays, there are so many better ways to make money online.
Instead of investing in questionable systems, you can build a source of constant income on your own.
Starting an online business is easier than ever today – you don't need a business degree to do it.
No, you need a detailed blueprint that is tested and proven to work.
I can get you access to such blueprint since I've written one myself.
If you're ready to start earning your living online, I suggest taking the time to read my Free Guide To Starting An Online Business.
This guide contains all the steps you need to take to launch a business as soon as possible.
I've done my best to explain them in a way that is suitable for complete beginners.
Is Appcoiner A Scam? (Frequently Asked Questions)
Appcoiner Is Real Or Fake?
Appcoiner is a legitimate earning system anyone can join to make money from home.
However, the system has a lot of issues, and investing in it might not result in increasing your monthly income.
Is Appcoiner Genuine?
No, Appcoiner is not genuine with its potential users.
The sales presentation of the system establishes unrealistic income expectations.
Also, the programs lack the most trustworthy aspects of a genuine business, such as testimonials and social proof.
Will Appcoiner Pay You To Test Games For Money?
No, Appcoiner doesn't offer payments for testing games.
Nowadays, the members of Appcoiner earn money for testing mobile apps and providing feedback on them.
Is AppCoiner One Of The Best Get Paid To Sites USA?
Actually, Appcoiner quite fits in the category of Paid Surveys USA Sites.
Right now, the platform offers earning opportunities to people who want to test mobile applications.
Where Can I Find The Appcoiner Login?
You can find the Appcoiner login at appcoiner.com.
My Closing
So, there shouldn't be any confusion left if you're still wondering is AppCoiner a scam or legit.
Remember, just because a product can pass as legitimate doesn't make it good enough.
Now, I would like to find out your opinion about this system.
Do you love it or hate it?  
My comments section will welcome all sorts of opinions!
More Ideas From Cash Embrace You Might Like: