Home Job Stop – Is This For Real?
There is a little doubt that Home Job Stop will have something to do with job opportunities.
Even if this is the first time you're reading about it, the name gives it all away.
These days, everyone is on the lookout for well-paying work from home jobs.
Most of the time, they come with a flexible schedule and hourly rate that can measure up to the income you're earning from a nine-five job.
Is Home Job Stop a good option you should consider if you're searching for new employment?
Today, I'll tell you everything you need to know about this platform:
What is Home Job Stop?
Does Home Job Stop allow its audience to find legitimate side hustles?
How much can you make with this site?
Is Home Job Stop a scam or legit?
If you can spare ten minutes of your time, I'll get you all the answers.
Home Job Stop Review – The Company At A First Glance
When I wrote my first article on this website (homejobstop.com) a few years ago, the most popular way to access it was through ClickBank.
Now, you may not be aware of it, but ClickBank doesn't have the best reputation for a marketplace offering products and services.
More often than not, the money-making opportunities ClickBank presents to its users are not worth the second look.
With that said, Home Job Stop was an exception.
Right now, this platform no longer exists on ClickBank. It seems like its owner has taken her business elsewhere.
And what all that means for the people who are just finding out about it?
Maybe leaving a marketplace that is notorious for low-quality systems and services is good news?
Or probably Home Job Stop has declined so bad that even ClickBank doesn't want to have anything to do with it?
As promised, I won't make you wait long for the answers:
What Is Home Job Stop?
To sum up, the platform is an online job board portal.
Chances are, you might be sick of hearing about job portals offering a variety of work opportunities. I'll be the first to say that those seem to be everywhere nowadays.
Unfortunately, many job portals happen to be get-rich-quick schemes dressed as legitimate career options.
But not all of them will disappoint you, and that's something worth mentioning.
Anyway, back to Home Job Stop:
The company was created way back in 2000 by Rita M Woods. More about her a bit later.
So, the website has been working steadily for over 20 years now.
No matter what your opinion will be about the platform by the end of this article, being in the business for that long is quite an achievement.
What Kind Of Jobs Can You Find On Home Job Stop?
At the time of writing this post, the website clearly states that it only works with legitimate companies looking to hire serious workers.
Basically, the main idea behind the platform is to collect all types of work opportunities in one place.
Say what you will, but that's a time saver by all counts.
Currently, you can find both part-time and full-time jobs. These jobs are available on a contact or a freelance basis.
Keep in mind – most of the jobs will allow you to complete them without ever leaving your home.
Also, you won't have to invest in any special equipment. As long as you have a laptop and a microphone, you're good to go.
Inside Home Job Stop Members' Area
Alright, let me give you a closer look at the inside of homejobstop.
Once you register at the site, you can start browsing in the search for the perfect job.
All work opportunities are available in 12 categories. While the main focus falls on telecommunication jobs, you can find openings in so many different areas.
Such as:
Business
Clerical
Finance
Customer Service
Engineering/Programming
Creative Art And Design
Human Resources
Miscellaneous
Sales/Marketing
Medical Transcription
Web Development
Some of the jobs may require a specific qualification or previous experience. But most of them don't.
The last time I checked, there were over 100 jobs available in the writing category alone. In that category, you can also find proofreading jobs.
When you click on a listing that interests you, you'll be able to see the job's title, description, requirements, payment, and other details.
Ultimately, all jobs go through a screening and approval process before they appear on the site.
With that said, the platform takes pride in the fact that it's completely free of commercial advertising. Meaning, don't expect to see ads ever on it.
How To Make Money With Home Job Stop?
Well, the process of working with the platform is pretty straightforward.
Let's say that you would like to try your hand with freelance writing.
And you should if you:
are knowledgeable on a topic, or you have the desire to learn more about it
can edit or rewrite articles
have no problem writing product reviews
Just click on the writing category and look through the available jobs until you find one you want to complete.
As you can see, you won't have to go out of your way to make Home Job Stop work to your advantage.
With that said, there are a couple of things you need to know when you're applying for a job through the website.
Firstly, showing an interest in a position doesn't guarantee that you'll get it. That's because the platform acts as a middleman. Therefore, its purpose is to connect you with companies looking to hire employees.
Whether you'll get hired or not, it's not up to Home Job Stop.
Secondly, no website will ever be able to deliver money in your pocket if you're not willing to do the work.
Lastly, each of the companies has its own hiring process. Don't be surprised if some of them ask you to do an interview.
To clarify, being a member of HJS doesn't mean that you'll be completely on your own.
On the contrary, the platform offers tons of help to its members.
Once you join it, you'll have access to an eBook that is available for download.
This eBook contains tips to help you write your resume, prepare for an interview, suggested rates, etc.
Who Is Rita M Woods?
Rita M Woods is the creator of Home Job Stop.
Becoming a mother nearly 20 years ago prompted her to start looking for a decent online job.
Working from home while taking care of her daughter was her main priority.
Purchasing an online course that would teach her how to make money online was her first step.
But that course turned out to be a scam, and Rita was left empty-handed.
Instead of giving in to desperation, she begins researching different opportunities to make money from home.
All the knowledge she gained through that process helped her to lay the foundation of Home Job Stop as we know it today.
Home Job Stop Review – What The Members Are Saying?
By all means, it looks like the members are more than satisfied with the program.
One of the first things you see when you visit the official website is this:
Not bad, is it?
Keep in mind, that's a real testimonial from a person who is actively using the platform.
It's nice knowing that you will not come across an actor from Fiverr reading of a script!
While the overall response to the website is more than positive, there are some negative opinions too.
​The Home Job Stop Complaints
You can't satisfy every single person who is using your service – that goes without saying.
That's why I'm not surprised that the company has received some negative feedback through the years.
Some of the most common complaints I see about Home Job Stop state that:
Many job listings are expired
There is not enough live monitoring of the jobs
The website is down often
Personally, I think the company should try a bit harder to resolve those issues.
For a job portal that has been in the business for that long, one would expect a better user experience.
Other Online Jobs To Avoid:
How Much Does It Cost To Join Home Job Stop?
At the time of writing this article, the cost of becoming a member is $18.
Apparently, that is a limited offer that allows you to join the platform for a reduced price – the regular cost is $36.
Also, once you pay $18, you'll receive lifetime access to the job portal.
Don't expect to pay any additional fees – the price is a one-time payment.
What I Like About The Platform
A Legitimate Job Portal – HJS has been working steadily since 2000.
Real Jobs From Legitimate Companies – every job opening goes through an approval process before.
Many Categories To Choose From – anyone can find suitable work-from-home opportunities in a variety of industries.
You Decide On The Form Of Employment – whether you would like to work on a contract or as a freelancer, the choice is yours.
No Unrealistic Promises – the platform clearly states that it offers work-from-home jobs and not a chance to make you rich overnight.
Rita M Woods Is A Real Person – the creator doesn't hide her identity, and that's always a good sign.
Good Testimonials – the members who have shared their experience with the platform are giving it positive feedback.
Your Data Under Protection – the email address you'll use to sign up for the program will not be used in an unethical manner.
It's Affordable – the cost of joining the site is $18. That's a one-time fee that will give you lifetime access to HJS.
There Is A Money-Back Guarantee – feel free to ask for your investment back if you're not happy with your membership.
What I Don't Like About The Platform
Sometimes Jobs Listings Are Expired – some people are complaining about that, and rightfully so.
No Real-Time Support – you can send an email if you face any issue, but no support you can contact at any given time.
You Have To Pay For Work – as cheap as the membership might be, you still have to pay to get a job.
Is Home Job Scam Or Legit?
Probably I should have mentioned this earlier, but I'm not an affiliate for Home Job Stop.
Meaning, I won't benefit if you decide to join it after reading this blog post.
With that said, I believe the platform is not a scam.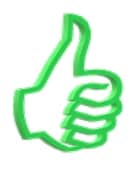 It's a company that has been working for many years with a legitimate owner behind it.
Plus, there is a money-back guarantee, so you're not in danger of losing your money.
Still, my main issue with HJS is that you have to pay to find a job.
Sure, the platform makes it easier for you by collecting tons of job opportunities in one place.
Is that a good enough reason to join it?
In my opinion, it isn't – not when there are so many well-paying work-at-home jobs you can start for free.
High-Paying Work-At-Home Jobs You Might Like:
Home Job Stop Alternative
Let's face it, HJS will allow you to find a job if you're willing to pay the price of joining it.
But you'll still work for someone else.
If that's what you would like to spend your days doing, great!
What if you don't, though?
I mean, what if you want to create something for yourself? Your own business to allow you to work when you want and earn as much as you want?
Then, I'll suggest taking a minute to read my Free Guide To Starting An Online Business.
That guide is a detailed blueprint that will show you how to start earning commissions similar to mine: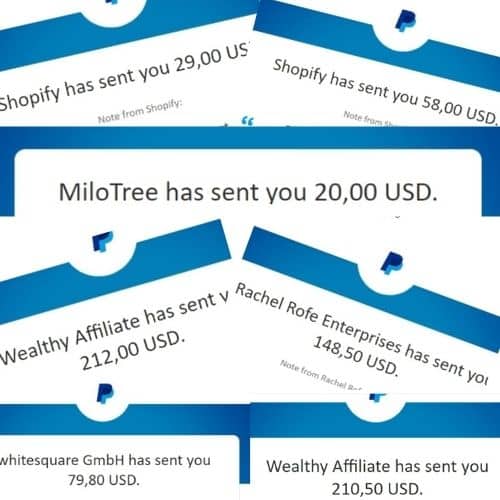 Each month I receive commissions like that for the work I'm doing on this blog.
And now you can do the same!
My Closing
Alright, that is everything I had to say about Home Job Stop.
Again, it's not the worst opportunity you can take to make money from home.
With that said, it's not the best one either.
Care to share what your opinion about it is?
Let me know in the comments section, and we will talk more about this topic.
More Money-Making Ideas You'll Love: