eCom Profit Sniper – Worth Your Money?
It doesn't seem like eCom Profit Sniper is going anywhere any time soon. Shall we talk about that?
Considering this is not a brand new product, one would expect the hype around it to die down at some point.
Unfortunately, that's not the case – Profit Sniper is attracting a whole new audience of enthusiastic buyers these days.
Why do they believe that the system is their best shot at making money online legitimately?
You'll find out the answer to that question before this eCom Profit Sniper review is over.
Today, you'll learn everything there is to know about this program:
What is eCom Profit Sniper, and how does it work?
Can you make money with eCom Profit Sniper?
How much does eCom Profit Sniper cost?
Is eCom Profit Sniper legit or a scam?
Disclosure: I'm not an affiliate of eCom Profit. This post contains affiliate links only to Shopify – you can read my affiliate disclaimer.
eCom Profit Sniper Review – The Basics
When you think of a sniper, you probably imagine something that never hits and misses.
At least, that's the mental image that pops in my mind every time I hear the program's name.
The creator of the system wants you to hold on to that image for as long as possible.
Speaking of the owner, I should mention that his name is Tom Parker. He is a well-known marketer who sells a couple of other products besides eCom Profit.
Tom claims that his program will earn you over $40,000 a month with only 20 minutes of work each day.
More importantly, he is inviting you to take advantage of the opportunity for $37.
That's the price of his product, and you can get it at ecomprofitsniper.com.
Paying so little for a program with enormous earning potential helps eCom sell itself effortlessly.
By all means, that's a simple marketing trick you can easily overlook when you're a potential customer.
I mean, investing $37 to be able to earn over $2,000 looks like a no-brainer!
After all, that's a tiny investment if you compare it to the monetary benefits you'll get to enjoy.
Don't do it just yet, though:
Wait until you read everything I have to say about Profit Sniper.
Is eCom Profit Sniper Legit?
Quite frankly, you shouldn't waste your time reading about an earning platform unless it will allow you to make money legitimately.
With that said, I should address the platform's legitimacy before we go any further:
At the time of writing this eCom Profit Sniper review, the product comes with a 60-day money-back guarantee.
So, if you buy it and you're not happy with its results, you'll be able to receive your investment back.
The existence of a refund policy leaves me with no other choice but to categorize the system as a legitimate one.
However, this doesn't mean that investing in it is a good idea:
What Is eCom Profit Sniper?
To sum up, Profit Sniper is an online teaching platform that will allow you to live a life of financial freedom and security.
Allegedly, it will show you how to start earning at least $40,000 per month as soon as you begin using it.
Doing the math in your head will tell you that you're looking at an online income of over half a million dollars in the first year alone.
Yes, Tom doesn't shy away from big promises. Apparently, he can back them up as well (more about this later).
Right now, you probably have a thousand questions in your mind. Watching the sales presentation will not answer them, though.
However, the sales pitch will bring quite an interesting fact to your attention:
You'll earn that incredible amount of money by using a secret website.
Other than Tom, not too many people are aware of that site's existence.
At least, that's what he claims over and over again during the sales video.
Can you trust him? Is he telling the truth?
Let's investigate further, shall we?
Related Read:
How Does eCom Profit Sniper Work?
According to Tom, eCom Profit Sniper (EPS) has nothing to do with bitcoin, binary options, or pyramid schemes.
Allow me to translate that:
He wants you to know that his program will not push you into activities that some people may consider illegal.
By using the secret website, you'll create a profitable online business, and you'll make it successful in no time.
Remember, you're not supposed to work for more than 20 minutes a day!
But what is the secret website? Does Tom reveal more about it at some point?
Well, he does. And it turns out that the secret site he's talking about is Shopify.
Hold on, Shopify is anything but a secret. Nowadays, the platform is one of the most popular sites you can use to build an online store:
Millions of people trust Shopify to help them create lucrative online shops.
Long story short, the creator is either over-reacting or being deceitful during the sales pitch of his product.
Anyhow, you now know that EPS will teach you how to make money online by doing dropshipping.
Dropshipping is a popular way to earn from your home, and it doesn't require you to create products of your own.
Tom will walk you through the process of setting up a Shopify store, buying products from Ali Express, and selling them for profit.
Inside eCom Profit Sniper
Tom targets mainly complete beginners, so it makes sense that he includes training within his product.
At the time of writing this eCom Profit Sniper review, the training has four teaching modules.
Each of them contains a couple of video lessons students can go through at their own pace.
Let's have a closer look at these training lessons, shall we?
The eCom Profit Sniper Training
1) Introduction To eCom Profit Sniper
Setting Up Your Shopify Store
Finding Images
Notes About Settings
Video About Settings
Theme Settings
Extra Video About Theme Settings
As you can see, the first training module covers what Shopify is, how to build your online store, add product images, and choose a theme to use.
2) Categories And Products
Using The Shopify Extension Oberlo
AliPay And Oberlo
Creating Your First Collection
Adding Products To Your Shopify Store
The second training module will introduce you to Oberlo and AliPay. Also, this section of the training will show you how to add products to your store and create collections.
3) Product Categories
Selecting Your Category
How To Find Products For Your Store
Here, the third training module talks a bit more about categories, products, and using Oberlo and AliPay to source items for your shop.
4) Facebook
Facebook Pages
Creating Facebook Posts
Working With Facebook Pixel
Well, the last training module will cover setting up a Facebook Business Page, creating Facebook posts, and using Facebook Pixel.
Does The eCom Profit Sniper Training Work?
Quite frankly, the training does a decent enough job of introducing you to the fundamentals of doing dropshipping on Shopify.
It will show you how to launch your store, add products, create collections, and use tools like Oberlo and AliPay.
With that said, a basic introduction to Shopify dropshipping is all you'll receive from Tom Parker and his product.
More importantly, you can find all that information (and more) online for free if you decide to do a quick research.
In my opinion, the biggest flaw of the program is the lack of training on traffic and conversions.
There Is No Traffic And Conversions Training
No matter how you want to look at it, any training is useless if it doesn't teach you about driving traffic to your offers and getting that traffic to convert.
Without traffic, there will be no visitors. Subsequently, no audience means no chance for sales.
Everyone knows that – even the beginners do.
But Tom Parker doesn't care enough to provide you with the kind of knowledge that is essential for the success of your new dropshipping business.
Make no mistake – driving thousands of page views to your product pages will be the most challenging part of your job.
Once you learn how to do that, you'll need to expand your education to other aspects of your business.
For example, you'll have to learn how to optimize your offers, perform A/B testing on your landing pages, increase your conversion rate, etc.
Unfortunately, you're on your own with that – Tom has no interest in helping you in that department.
I Earn Such Affiliate Commissions Every Month. See How You Can Do The Same!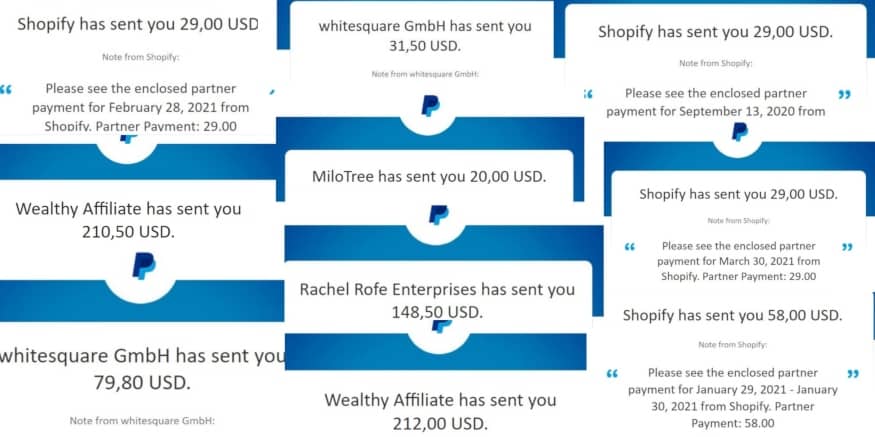 What I Like About eCom Profit Sniper
The product teaches how to do dropshipping on Shopify: Dropshipping is a legitimate business model anyone can use to make money online.
Profit Sniper comes with a 60-days money-back guarantee: If you're not happy with the product, you'll be able to receive your investment back.
What I Don't Like About eCom Profit Sniper
Making over $2,000 a day while working only 20 minutes sounds like a dream come true.
However, eCom Profit will not help you turn that dream into a reality.
Have a look at all the reasons why you shouldn't invest in this product:
1) The Training Is Basic, Outdated, And Incomplete
Since you already know what the training modules include, I won't focus on what they're teaching you.
Instead, let's talk about what they are not:
By all means, the training is more of a basic introduction to the dropshipping business model than a valuable educational program.
It takes so much more to make a dropshipping business work than knowing how to create an online store.
There is no information that will show you how to deal with shipments, returns, cancelations, etc. Also, let's not forget that the whole chapter about traffic generation is missing.
Who relies on a Facebook Business page to do dropshipping nowadays?
Even if you decide to use Facebooks Ads per Tom's suggestion, the visitors you'll manage to attract will be nowhere near enough to make tons of sales.
We can't ignore the fact that Facebook Advertising will cost you quite a lot of money.
Why should you pay for traffic when there are free ways to attract an audience?
2) The Identity Of Tom Parker Is Unknown
The man narrating the video introduces himself as Tom Parker.
Everyone watching has no reason to doubt that he is the creator of eCom Profit Sniper.
Well, not everyone:
I have my doubts, and so do all the marketers with solid experience.
How can anyone be sure who Tom is when he doesn't show his face in the sales video?
Quick research will tell you that no Tom Parker with association with eCom Profit Sniper exists.
Tom is just a random pen name the owner uses to protect his real identity.
Naturally, you may wonder why does he need to do that?
If the product is as good as he says it is, wouldn't he be proud to let the world know that it's his?
Popular speculation online claims that the man behind EPS is Bill McRae, who happens to be the creator of Passive Profit Pages.
At this time, I could neither confirm nor deny that – there is not enough evidence, in my opinion.
What I can say for sure is that the male voice narrating eCom's sales pitch is quite familiar:
You can hear it in many other low-quality money-making systems:
3) The Sales Page Is Misleading And Contains False Information
Do you mind telling me again why anyone would think of Shopify as a secret website?
Nobody ever will because there is nothing secretive about an online platform that is the leader in the dropshipping industry.
One would hope that this is the only false claim coming out of Tom's mouth, but it isn't:
What about his statement that you'll manage to build a successful online business with only 20 minutes of work each day?
Or that you can earn over $40,000 in your first month of using eCom Profit Sniper?
Knowing what quality that product has, you now understand that you can't trust any of the claims coming from the sales pitch.
The way I see it, Tom is trying to market his product as the next best money-making system that will turn you into a millionaire fast.
On that note, his platform is not that different from the Easy Retired Millionaire, the Millionaire Society, or the Million Dollar Replicator.
All these three programs are of even lower quality than eCom Profit, though.
4) The Income Proof Is Fabricated
Honestly, the income proof would be hilarious if it wasn't so tragically unconvincing!
Let's break it down, shall we?
So, Tom shows earnings of $44,000 in a month.  For the sake of argument, we'll accept this as the truth for now.
Take a look at that screenshot once again, and you'll notice something very important:
By all means, the amount of money you see is a total of his sales, not his pure profit.
Chances are, the products may have cost him $25,000 to buy.  Add the cost of shipping, and his profit margin is barely existing now!
Counting on the fact he's talking to complete beginners, Tom believes you wouldn't catch on to that.
Furthermore, he claims that you'll be hitting such numbers in just a few days.
Unless you're planning to invest thousands of dollars in advertising, that's not going to happen.
And if you do, your profits will go down even further.
5) Your Personal Data Is At Risk
Allow me to share with you a little-known fact about sites like eCom Profit Sniper:
They'll try to get as much money out of you as possible. Here is one of the ways they'll do that:
You have to provide your name and email address if you try to purchase Profit Sniper.
Once you see the quality of the product up close, you'll decide to use the refund policy.
What do you think will happen to your personal data once Tom realizes that he won't be getting any money from you?
I'll tell you what – he will sell your personal details to third parties for profit.
As a result, you'll start receiving hundreds of emails selling similar products.
It might not be right, but it happens all the time nowadays.
Similar eCom Products To Avoid:
6) The Testimonials Are Fake
During the sales video, you'll hear many testimonials from what looks like satisfied customers.
Well, the people you'll see are not students of Tom Parker – they're actors you can hire on Fiverr.
Anyone who pays their fee can make them say anything they want them to say.
I can't help but wonder why so many shady companies do that when it's so easy for us to find out.
Maybe Tom will have a better chance to fool you if he hires actors we don't already know?
Then again, he is fake, and his income proof is fake, so why would the testimonials be any different?
How Much Does eCom Profit Sniper Cost?
Alright, let's discuss the product's price structure for a minute:
Earlier in this eCom Sniper review, I mentioned that you could get the system for $37.
But that's not all you'll have to pay if you decide to build your business through this platform:
You have to prepare to cover some extra expenditures as well.
For example, you'll need to invest a considerable amount of money for Facebook Ads and other forms of paid traffic.
Also, Shopify comes with a free trial. Once that trial is over, you'll have to choose a Shopify plan – the cheapest one starts at $29 a month.
Currently, eCom Profit Sniper comes with a couple of available upgrades:
Premium eCom Package – $197, but you can get it for $97 with a discount.
Targeted Traffic Booster – $196, but you can get it for $96 with a discount.
Unfortunately, that's not all:
After you purchase eCom and log into the members' are, the first thing you'll receive is your free commission website.
That site, however, is not entirely free – having it requires hosting that will cost you an extra $4 per month.
Besides, Tom will invite you to watch a VIP Members Workshop – an hour-long sales pitch for John Crestani's Super Affiliate System.
While the course is valuable, it's all about doing affiliate marketing.
What does making money from affiliate commissions have to do with dropshipping?
Related Read:
Who Will Have The Best Use Of eCom Profit Sniper?
In my opinion, no one should invest in this training platform.
Yes, the program will teach you a couple of things if you're a total newbie in the world of dropshipping.
However, you can learn much more on your own without paying anything at all:
Both Google and YouTube have tons of info that covers in detail the process of building a profitable dropshipping business.
It's worth mentioning that working with AliExpress might not be the best thing you can do.
While it will allow you to find plenty of cheap products to sell, the delivery time is kind of long.
Keep in mind that Amazon does next-day and even same-delivery.
Offering a much longer delivery time won't do a lot for your competitive power.
Is eCom Profit Sniper A Scam?
Generally, I can't say that this product is a scam.
By definition, to identify something as a scam, it will have to steal your money and give you nothing in return.
That's not what's happening here – you'll receive a product in exchange for your cash.
Still, getting that product will be a mistake you'll regret.

eCom Profit Sniper is all hype and not enough substance.
Other Scams You Should Avoid:
A Better Way To Make Money Online
You don't need to invest in eCom Sniper or any other similar product if you want to earn your living online.
Instead, you can launch an online business on your own.
The first step is learning how to develop an online business that will have the best chance at success.
If you need help with that, I suggest reading my Free Guide To Starting A Business.
It will walk you through the process and show you all the steps you need to take to become a business owner.
My Closing
So, you now know all there is to know about eCom Profit Sniper.
Do yourself a favor and don't fall for its big numbers and empty promises:
Both of them will only waste your time.
Now, are there any questions that you would like me to answer?
Or maybe you have a completely different opinion about eCom that you're dying to share?
I would love to read anything you have to say, so use the comments section below!