Easy Cash Club Review: Welcome $379/Day Without Any Efforts?
First and foremost, this Easy Cash Club Review will cover an online platform that teaches the craft of making money on YouTube fast.
Allegedly, the system provides its students with tried and tested blueprint they need to follow to earn nearly $400 a day.
Earning that much online is nothing out of the ordinary for many people these days.
The web offers plenty of legitimate opportunities to make a living from home.
Now, is the Easy Cash Club a reliable source of online income?
Today, I'll answer plenty of questions about it:
What is the Easy Cash Club?
How does it work?
Can you make money using it?
Is Easy Cash Club legit or a scam?
Disclaimer: I'm not an affiliate for Easy Cash Club. Everything you'll read in this post comes from research on information available in the public domain.
Easy Cash Club Review – The Basics
Chances are, this article will make some people pretty uncomfortable.
And by some people, I mean the creator of the program.
When a product promises an easy way to make money online to its users, the person behind it has to be ready for some intense scrutiny.
After all, earning a full-time income online is possible, but not without its challenges.
Normally, it takes a long time to become financially independent on the web.
But here, we have a platform that is trying to convince you otherwise.
Does the owner of Easy Cash Club know something none of us do yet?
Has he discovered a loophole that will put all the traditional ways to make money online to shame?
It seems that way by the looks of the product's official website.
At the same time, we all know that sometimes things are not what they appear to be.
So, let's look closely at the Easy Cash Club and discover if its sales pitch is a fact or a fiction, shall we?
What Is Easy Cash Club?
For starters, Easy Cash Club is a relatively new online teaching platform – it exists since 2019.
Originally, the product was selling on the marketplace of ClickBank.
Currently, it's not available there anymore.
Is that a good thing or a bad thing?
ClickBank is notorious for marketing low-quality money-making systems to its audience.
With rare exceptions (CB Passive Income, Affiliate Bots, Super Affiliate System), the majority of products for sale on ClickBank are a huge no-no.
What does this mean? Should you feel relieved that Easy Cash Club is no longer on that network?
To answer that question, I'll have to share with you everything there is to know about the program first.
Basically, Easy Cash Club is a product that will teach you how to earn over $350 per day on YouTube.
You don't need any previous experience to make it work.
Anyone can take advantage of the platform and start making lots of money almost instantly.
According to the creator, Easy Cash Club will not take a lot of your time. Most importantly, it will allow you to earn cash passively.
In other words, the system will help you create a source of passive income.
And will do that by providing you with a fully automated business that will earn for you through affiliate marketing on YouTube.
Articles About Affiliate Marketing You May Like:
How Does The Product Work?
Honestly, I hate when a product's official presentation does everything to avoid explaining how the system works practically.
This one is not much different – it's like I'm watching the sales pages of CB Cash Code or Easy 1 Up all over again.
Anyway, we already know that the program exists to allow its members to make money on YouTube fast.
Steve (the creator) doesn't provide plenty of other details, but my Easy Cash Club review will:
By all means, investing in the system means investing in software.
That's right – Easy Cash Club is a software that will assist you with the creation of YouTube videos. It uses AI (Artificial Intelligence) to create tons of videos with electronic voiceovers and images that match the content.
Apparently, Steve has spent ages perfecting the product that now works on both PC and Mac.
OK, how will that software deliver over $300 a day in online income?
Well, here is how:
Each time you create a video through the software, you'll upload it on YouTube and monetize it through affiliate marketing.
Probably you already know that Google owns YouTube.
Since Google runs the advertising company Google AdSense, you'll be using it to earn from each click your viewers perform on the ads in your videos.
Long story short, the way you'll make money with the Easy Cash Club is monetizing easy to create videos by placing ads within them.
More Content About Making Money On YouTube:
Easy Cash Club Review – Inside The Members' Area
Quite frankly, working with the product seems pretty straightforward to me.
Then again, Easy Cash Club doesn't hide that it's a system for complete beginners.
As such, its members have access to detailed training and education that walks them through the working process step-by-step.
How about we take a look at what those steps are?
1) Complete The Training
Earlier in this Easy Cash Club review, I mentioned that the program is a training platform.
And it is:
Aside from the software, you'll receive access to a decent amount of training videos.
These videos will show you how to set up the software to have the best chance for ultimate results.
The lessons will teach you how to use the software and will explain how Artificial Intelligence works.
2) Start Using The Software
In my opinion, nothing is intimidating about working with AI.
By the looks of it, Easy Cash Club feels the same way – the product boils down the working process to these simple steps:
Type the content you want to be the topic of your video into the software.
Watch the program adding a human-sounding speech to avoid the narration sounding like a robot voice.
Your audio file or written text will become a professional video in less than a minute.
Polish your content by adding images of your choice.
Sign up for a free YouTube account and create your channel.
Begin uploading videos to your channel.
May I remind you – you don't need to have any tech knowledge or experience to make Easy Cash Club work.
Editing and polishing your video content is something the software will do for you.
3) Place Your Affiliate Links
Again, you'll be taking advantage of the enormous amount of traffic YouTube gets daily.
When a viewer clicks on your affiliate links and completes a purchase, you'll be earning affiliate commissions.
After all, that is affiliate marketing 101.
Considering the business model is one of the most popular methods to earn online, it's easy to see why the program relies on it.
Through the training, you'll get the chance to learn how to add affiliate links in the description of your videos for the best results.
4) Sign Up For Google Adsense
As you already know, affiliate marketing is just one of the monetization methods you'll be using as a member of the Easy Cash Club.
We already established that the other one is Google AdSense.
Content creators who would like to use this service can do so for free.
Once you have Google AdSense installed, each viewer's click on any ads will earn you money.
Depending on how much traffic your videos are getting, the amount of cash you'll make will vary.
Easy Cash Club Cost And Price Structure
So far, it seems like earning thousands of dollars with the system will be a child's play.
However, that's not entirely true. More about this a bit later.
For now, let's see how much gaining access to the product is going to cost you:
At the time of writing this Easy Cash Club review, the price of the program is $37.
To clarify, this $37 is a one-time payment you'll need to deliver.
With that said, if you try to leave the sales page without placing an order, you'll have the chance to get the product at a 20% discount ($17).
In addition, you'll be able to take advantage of the upgrades the platform is offering.
Currently, three upsells are available for purchase:
$97 upfront + $17/month fee
$77 – without any monthly fees
$47 – without any monthly fees
Unfortunately, it's not clear what extra value you'll receive if you invest in each of these upgrades.
Bonuses
Easy Cash Club comes with a total of four bonuses.
Have a look at the content of these free extra materials:
60 Seconds Money Making Strategies – exclusive video lessons that will teach you how to generate more sales.
Free Content To Make Videos – more ideas for your future videos.
Get Paid To Surf The Net – a list of websites that will pay you to complete small tasks.
Free Updates For Life – it goes together with tech support to help you with any program-related issue you may have.
What I Like About Easy Cash Club
While it may seem like the product is heaven on earth for newbie marketers, my in-depth research on it will prove otherwise.
Before I show you all the red flags about this platform, let's discuss its positive aspects:
The Product Uses Affiliate Marketing And Ads Display As Monetization Methods – and both of them provide legitimate opportunities to earn online.
It's Possible To Make Money With The System – scoring some affiliate commissions is an option.
There Is A 60-Day Money-Back Guarantee – if you're not happy with the results you're getting, you'll receive your investment back.
What I Don't Like About Easy Cash Club
As promised, you'll receive much more information in this section.
Although the idea behind the system works, its execution is not on a good enough level.
Furthermore, the program has faults that I have to bring to your attention.
Allow me to show you everything that is wrong with the Easy Cash Club:
1) The Sales Page Creates Unrealistic Expectations
Unfortunately, Easy Cash Club is one of those products that promise fast financial gain but is unable to deliver practically.
Don't get me wrong – I'm not denying the possibility of making thousands of dollars on YouTube daily – many people are earning that much these days.
But do you honestly believe they achieve such results by simply using software and spending less than 30 minutes each day?
It doesn't work that way.
And I know that because I've been working online for years now.
Just think about it:
You need to have at least 4,000 hours of watched time and 1,000 subscribers before YouTube allows you to monetize your content.
Even if you use automated software to help you create videos fast, it will take a while to hit these numbers.
Therefore, the idea of making nearly $400 a day from the get-go is a daydream you have no chance of achieving.
So, it turns out that the whole sales pitch of the product is nothing but a marketing tactic to get you to invest in a program that doesn't work as advertised.
Similar Get-Rich-Quick Schemes:
2) The Income Proof Is Fabricated
Hey, maybe I'm wrong and Easy Cash Club is every bit as good as it says it is.
That has to be the case since the creator provides an income statement that proves the capability of his product.
Let's take a closer look at that income proof, shall we?
Does this look even remotely authentic to you?
Well, it doesn't to me.
Firstly, all you see are numbers. There is no way of knowing where these sales are coming from and if they are from selling Easy Cash Club alone.
Secondly, how can you be sure that these earnings are legitimate? Assuming that the screenshot is valid, it shows commissions made from promoting ClickBank products.
Again, what this has to do with making money on YouTube?
​Lastly, if Easy Cash Club is responsible for this money, why does the sales page present it as a program that will make you around $400 per day?
I mean, you see numbers that reflect thousands of dollars in earnings daily.
Is the creator downplaying the earning power of his system?
Considering how over-hyped the sales page is, I don't think he suffers from false modesty.
More likely, we're looking at a miscalculation that somehow the people behind the platform missed.
3) The Testimonials Are Fake
At this stage of my Easy Cash Club review, the fact that the testimonials are fake should not be a surprise to anyone.
Since the income proof is not valid, why would the testimonials be genuine?
They are not, and I'm sure of it because of the Google reverse image search tool.
When you visit the official site of the product, you see plenty of photos of smiling clients.
Allegedly, they are more than happy to share the incredible success they're having with the system.
But none of what they're saying is true:
The images you see are just screenshots of random people that have nothing to do with Easy Cash Club.
Unfortunately, using fake testimonials is a common technique all low-quality money-making products rely on these days.
After all, they have to provide validation of the capability of whatever they are selling.
And when no real member would do that, what other choice do those owners have?
4) The Identity Of The Creator Is Unknown
Until I'm on the subject of product creators, let's talk about Steve Johnson.
According to the sales page, that's the name of the owner of Easy Cash Club.
However, I seriously doubt that.
Why wouldn't I?
There is no information about Steve on the system's website.
Other than his name, I can't find a single piece of info about him.
No photo, no history, no credentials – there is nothing of substance that could prove Steve's existence.
My guess is that's because Steve Johnson doesn't exist.
Another trait scam products are sharing is using a pen name instead of the creator's name.
I guess whoever is behind Easy Cash Club prefers to keep his identity a secret.
If his product is as good as he says he is, would he do that?
More Low-Quality Systems To Avoid:
5) The Upgrades Are 1-Click Upsells
Quite frankly, the way the upsells work is what I consider the most outrageous fact in this Easy Cash Club review.
A legitimate upsell will allow you to get familiar with its content before you make a purchasing decision.
With that said, none of the upsells the Easy Cash Club offers to its members is legit.
No, all of them are 1-click upsells. Meaning, just clicking on their links to see what they are all about will result in a charge on your credit card.
Correct me if I'm wrong, but that's stealing, isn't it?
In my opinion, such upsells should not even be legal.
Knowing how they operate is enough of a reason to avoid them at all costs.
6) The Product Uses False Scarcity Tactic To Push You To Buy It
Alright, it's safe to say that the creator of Easy Cash Club knows a thing or two about marketing a product:
The system relies on scarcity tactics to influence your purchasing decision.
Going back to the official site, you'll notice a message that urges you to buy the product until the end of the day.
Allegedly, not taking advantage of the offer will close the door to the discounted price in your face forever.
That couldn't be further from the truth:
You can visit the official site (easycashclub.com) tomorrow, and the discount would still be there.
Using fake scarcity to push you into a purchase before you have the chance to read the Easy Cash Club reviews online makes sense, given the value of the product.
Is Easy Cash Club a Scam?
To sum up, I would strongly encourage you to think of Easy Cash Club as a scam.
While the existence of a money-back guarantee prohibits me from calling the product a scam out loud, I consider it one.
Nothing that comes out of its official page is remotely true.
All statements the spokesperson makes during the sales pitch are either over-hyped or purely false.

Adding the fake creator, income proof, and testimonials, you can see the big picture.
Even the training provided is not enough to change my mind about the Easy Cash Club.
That is not professional business training that will teach you how to start earning online legitimately.
Even more, all of its information is available online for free.
Other Scam Products That Don't Work:
How To Make Real Money Online
Now that you know Easy Cash Club is not the kind of product you should invest in, let's discuss alternative methods to earn online.
By all means, you don't need this product or any similar one to start making money from home.
I've never used such low-quality earning platforms, and I still receive affiliate commissions in my PayPal account every month: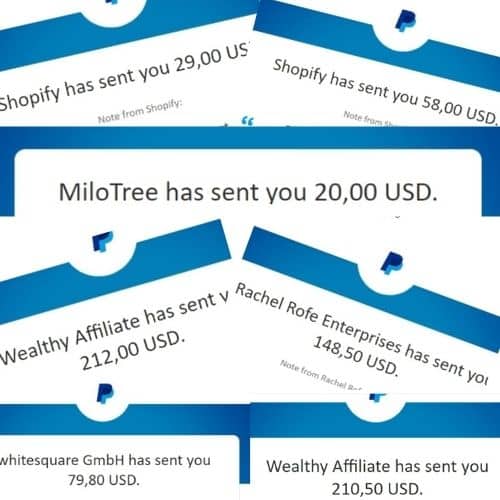 How do I do that? More importantly, how can you do the same?
Well, the answer to that question is simple – you can launch your own business online.
While it won't make you hundreds of dollars overnight, it will bring you to the point of earning a living online eventually.
And I know that because that's what this business is doing for me.
OK, and how do you begin developing a reliable source of income through an online business?
Reading my Free Guide To Starting A Business would be a great start.
I created this guide to help my readers build their own passive income machine.
Feel free to get familiar with the steps that will allow you to join all business owners making a living from their homes.
My Closing
Since this Easy Cash Club review is almost over, there are just a few things I would like to say.
Hopefully, you now understand that buying the product is not in your best interest.
Believing software will make you a millionaire on YouTube is an insult to all people capable of brain activity.
Again, that is just my opinion.
What is yours? Do you think I'm wrong about the Easy Cash Club?
Let me know – I love nothing more than connecting with my audience!