Click Wealth System Review: Scam Or Easy Income Of $10,000/Month?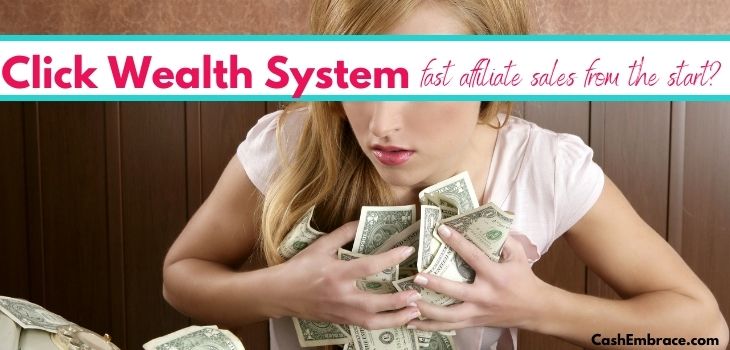 This Click Wealth System Review will dissect an online earning platform that promises newbie marketers to help them make over $10,000/month.
That's a lot of money.
Banking that much when you have no working experience seems like too good of a deal to dismiss.
And most of the Click Wealth System reviews online will encourage you to jump into the opportunity with both feet.
Not mine, though:
I'll hit pause on all the hype and reveal to you whether the system provides a legitimate way to earn online.
Today, you'll learn everything there is to know about this program:
What is the Click Wealth System, and how does it work?
Can you make money with the Click Wealth System?
How much does the Click Wealth System cost?
Should you trust the available Click Wealth System Reviews online?
Is Click Wealth System legit or a scam?
Disclaimer: I'm not an affiliate of the platform. The facts you'll read in this article come from researching information available in the public domain.
Click Wealth System Review – The Basics
Before I start with all the details, a few clarifications are in order.
First and foremost, you can find the Click Wealth System Official Website at clickwealthsystem.com.
I'm not providing you with a direct link to clickwealthsystem.com login for reasons that will become obvious as this article unfolds.
In case your curiosity doesn't allow you to wait, feel free to type in clickwealthsystem review on Google and get a link from another blog post.
However, doing that would not be a smart move on your part:
Many of the Click Wealth System reviews come from affiliates of the product.
Such content is often not about honesty and transparency. No, it's more about influencing you to buy the program so the author would earn an affiliate sale.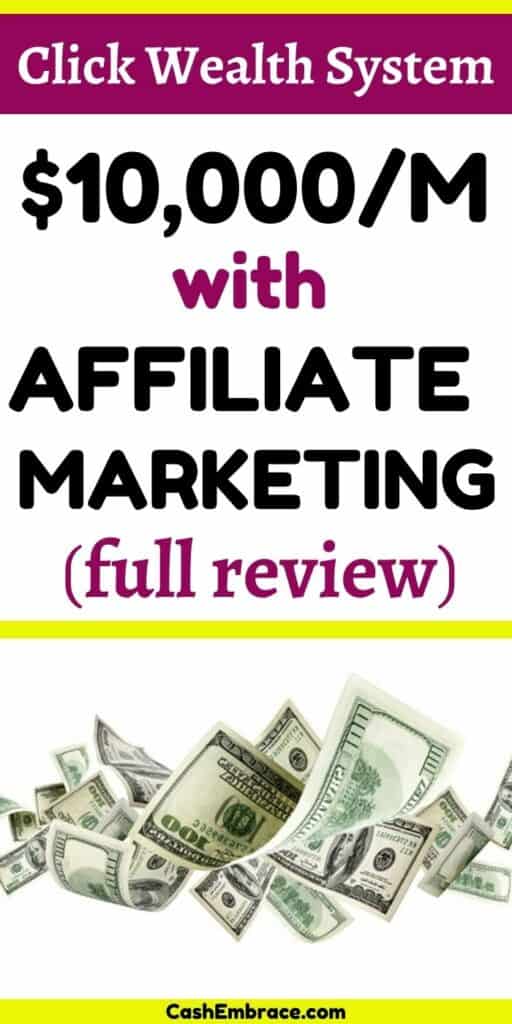 Don't say I didn't warn you if you decide to go against my advice and your better judgment, for that matter!
Now that I got all this out of the way, let's start getting closer to the truth about Click Wealth System, shall we?
What Is Click Wealth System?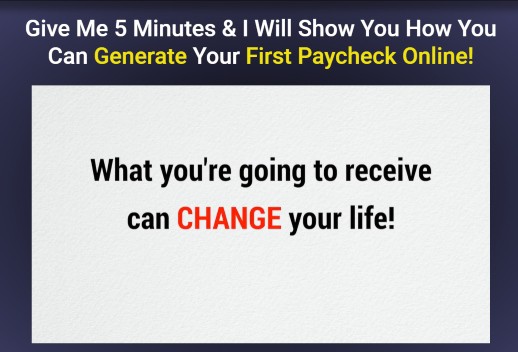 According to the creator Matthew Tang, his program is not for people who enjoy working for somebody else and are fond of their nine-to-five job.
Right off the bat, he makes it clear that the product is suitable only for individuals who want to take control of their financial future.
So, if you're ready to pay off your debt and start living the laptop lifestyle, the Click Wealth System is what you need to help you do that.
Allegedly, investing in it means that you'll receive a step-by-step income-generating machine.
Having access to such a machine will allow you to earn at least $10,000.
More importantly, you'll see that amount of money in your bank account thanks to Matthew's secret earning method.
Yes, it looks like the CWS will allow you to build passive income in a way the general public is unaware of at this point.
This Click Wealth System review is getting interesting:
How Does Click Wealth System Work?
For starters, the Click Wealth System is an all-in-one package.
Once you purchase it, you'll receive the software that will provide you with everything you need to earn an online come fast.
Keep in mind – the product doesn't deal with taking surveys online, bitcoin, or even forex. Likewise, that makes it the perfect earning option for complete beginners.
Matthew will gladly share that many self-made Internet millionaires have used it to build an incredible fortune.
Now, his secret method to make money online immediately is the foundation of the software.
That method has a name (Customer Middleman Arbitrage), and it works in three simple steps:
Choose a verified customer source from Matthew's insider list.
Create a website using the program's cloud software.
Become the middleman once you start directing the customer source to your site.
What does all this mean?
Well, it means that the creator likes to use fancy words to dress one of the most popular business models these days – affiliate marketing.
Yes, the special earning method is no secret at all:
You'll have to become an affiliate marketer to make the Click Wealth System work!
Inside Click Wealth System
As I've mentioned earlier in this Click Wealth System review, you don't have to join the platform.
I'll show you the essential details of the members' area.
Have a look at the first thing people see once they invest in the CWS: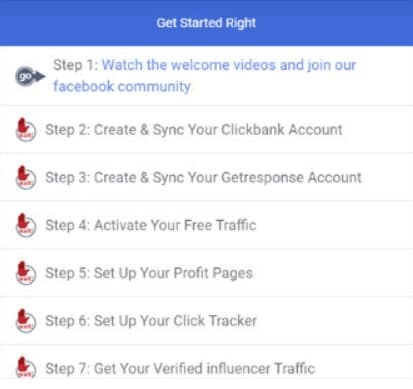 Sure, the training lessons don't look that complicated. In the interest of full disclosure, I'll have to say there are not:
Each step contains a link that will redirect you to YouTube videos you need to watch. These videos do a good enough job explaining the basics of affiliate marketing.
During the training period, you'll prepare the software as well.
OK, what happens next?
One would think that the creator will start teaching you how to find, join, and promote the most profitable affiliate programs currently.
After all, that's what will allow you to make lots of money from affiliate sales.
Unfortunately, no such thing will occur. Instead, you'll come to realize that the whole training centers around promoting Click Wealth System itself.
Affiliate Marketing Ideas You May Like:
How Much Does Click Wealth Cost?
Before you jump to any conclusions, let's make sure you know all the facts.
The official website of the product sells it for $9.
That's more than the affordable cost, isn't it?
Be that as it may, you might end up spending much more:
Similar to low-quality products like Silk Road Effect, Profit Genesis, and Viral Cash App, the Click Wealth System comes with available upgrades:
Profit Activator ($147) – Expect to receive another software that uses Social Media to increase your affiliate commissions. If you click away, you'll have the chance to get this upgrade for a discount of $50.
Click Wealth Multiplier ($148) – That's a fully automated email marketing software that will allegedly boost your affiliate earnings to at least $2,000 a month. Refusing the offer will once again bring a discount of $50 for the same product.
With that said, your expenditures don't stop here. There are extra costs you need to keep in mind:
GetResponse ($15/Month) – You'll have to pay that amount of money for an email autoresponder that will help you build an email list.
Solo Ads (A Few Hundred Dollars/Month) – Matthew will present you with marketing strategies that teach using only paid sources of traffic. He'll suggest getting paid traffic from RaySolos.com. And he'll do that because he'll earn 20% of anything you spend on the website since he is an affiliate.
I Earn Such Affiliate Earnings Every Month. Find Out How Today!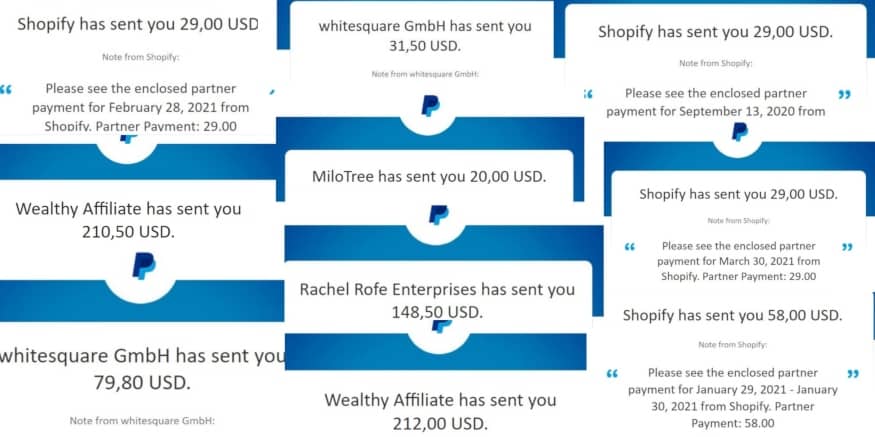 What I Like About Click Wealth System
CWS teaches a legitimate way to earn online – affiliate marketing is one of the most popular business models people use to make money from home.
There is a 60-day money-back guarantee – the product is for sale on ClickBank, and that's why you can get a refund if you choose to do so.
What I Don't Like About Click Wealth System
Chances are, you already know that this paragraph will be much longer than the previous one.
Reading my Click Wealth System review so far must be telling you that I'm not a fan of the product.
Here are all the reasons why you shouldn't be either:
1) The Sales Page Creates Unrealistic Income Expectations
Let me get this out as fast as possible:
Unless you're some freak genius who manages to discover the next revolutionary earning method online, you'll not start making $10,00 a month instantly.
Everything Matthew tells you through the sales pitch is over-hyped at best and a pure lie at worst.
Considering his secret is nothing other than affiliate marketing, don't expect to see quick cash in your bank account.
While affiliate marketing will help you make money legitimately, the business model doesn't produce results that fast.
At some point, it will, but not before you gain experience and master the model through hard work.
Long story short, Click Wealth System will not turn you into a millionaire in a year. Expecting to be one will only crash your hopes and dream of financial abundance!
More Products Like This One:
2) Matthew Tang Is A Questionable Figure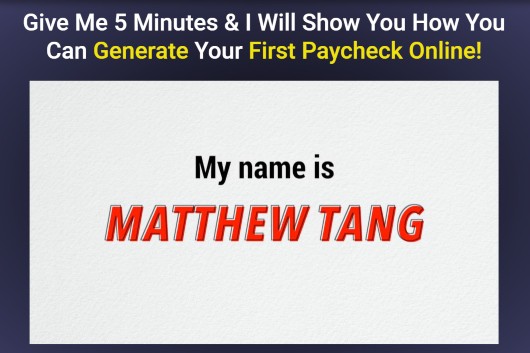 Right now is an as good time as any to tell you more about the creator of the platform.
I mean, I keep mentioning his name through this article, so you should learn something about him other than his name!
Here is an interesting fact:
Matthew likes to call himself the daily profit maker. And that probably doesn't come as a surprise to anyone:
After all, he claims that he is a millionaire thanks to his Click Wealth System.
However, I can't find any substantial proof to support that statement.
But let's imagine that he is.
Even if there is a slight possibility that Matthew is as rich as he says he is, the CWS is not responsible for that, in my opinion.
Such low-quality systems are infamous online due to their high refund rate.
3) Click Wealth System Is Too Expensive
Before some of you point out that the product costs $9, let me ask you:
What about the upgrades?
Paying for CWS and its upgrades will make you spend around $500.
Add the extra expenditures to that amount (email autoresponder, paid traffic), and your start-up investment will grow drastically.
A quick math exercise will show you that the system will cost you up to $1,000 to get your business going.
Considering the upgrades are useless, in my opinion, spending that much with no possibility to make your money back is insane.
Other Low-Quality Platforms To Avoid:
4) The Product Uses Scarcity Tactics To Influence Your Purchasing Decision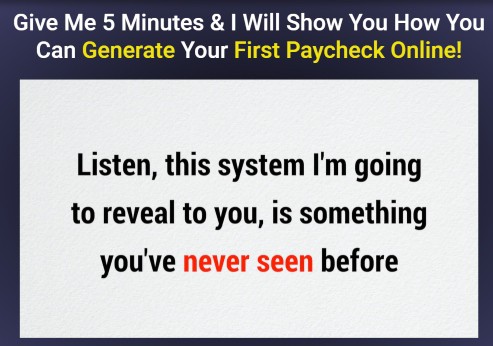 Personally, I don't mind seeing scarcity when it makes sense for the sales pitch.
With that said, the sense of urgency Matthew creates is completely redundant.
His use of phrases like "only 100 spots are available" or "one day only" becomes laughable once you get familiar with the platform.
The truth is, the Click Wealth System will still be there no matter how many days you postpone buying it.
Of course, the creator hopes to get you to invest in his program before you have the chance to realize that.
Hopefully, you'll never give him that satisfaction once you read this Click Wealth System review to its end.
5) The Training Is Basic And Incomplete
By all means, one of the biggest problems I have with the product is that its training doesn't provide enough value.
Actually, it barely contains any useful information at all!
Sure, it will teach you the basics of affiliate marketing.
But it doesn't go deeper than that:
These days, you can learn more valuable information on Google or YouTube for free.
Then, why should you invest hundreds of dollars into a program that won't help you become a professional marketer?
Well, you shouldn't!
If you want to start a top-notch business training for free, see where I'm getting mine!
Heads up, it will teach you much more than paying for traffic:
You'll see how to get thousands of page views without paying a cent.
Click Wealth System Review – Who Is This Product For?
Basically, I don't think anyone should invest in the Click Wealth System.
Yes, the official video does its best to convince you that the system is perfect for beginners.
Is it, though?
Will you learn essential business lessons that will help you build a successful brand online?
I don't think so:
The only thing you'll take away from the training is how to spend a lot of money on a business venture that is doomed from the start.
An Interesting Fact:
Programs like the Click Wealth System tend to disappear as quickly as they come to life.
When the platform goes down, so will your business too.
Is Click Wealth System A Scam?
Hear me out:
Generally, I can't say that the Click Wealth System is a scam.
There is a money-back guarantee that comes with it, so I have no choice but to state that it's legit.
However, that doesn't mean the program is worthy of any consideration.

Since you already know why that is, I won't repeat it.
Also, you should know that asking for a refund after you buy the CWS will prevent you from ever getting it again.
And I see that as a good thing!
More Scam Systems You Should Know About:
A Better Way To Make Money Online
If you're a beginner, you can forget about making $10,000 per month from the start:
Building a successful business online doesn't happen that fast.
With that said, you can start earning an extra and even a full-time income if you work hard and develop the necessary skills.
None of that would ever be possible if you choose to invest in get-rich-quick schemes that will lead you nowhere.
To avoid falling into their trap, you have to make sure that you're building something on a solid foundation.
How do you do that? Furthermore, what blueprint should you follow to have the best chance for success?
Well, there are many sources of information that will allow you to start walking on the right track.
For example, you can read my Guide To Starting An Online Business.
That guide comes from personal experience. It will show you all the steps I took while developing that business of mine.
My Closing
I really hope that neither one of you will purchase the product we're talking about today.
If I did a good job with this Click Wealth System review, you wouldn't need any more convincing that this system is bad news.
Now, what do you think about it?
Is there anything you would like to ask me?
The comments section below will welcome all of your messages.
More Content From Cash Embrace You May Like: