CB Passive Income 4.0 Review – Are You Better Off Without It?
This CB Passive Income 4.0 Review will cover an online platform that claims to provide you with the incredible opportunity to make money while you sleep.
Building a sustainable stream of passive income is not something any person in their right mind will disregard:
Can you think of anything better than not having to work actively for a cash flow?
With that said, not every earning program will allow you to make money legitimately online.
Today, I'll share everything there is to know about CB Passive Income:
What is CB Passive Income, and how does it work?
Is CB Passive Income legit?
Will you make lots of money using the product?
How much does CB Passive Income cost?
Disclaimer: Some of the links in this post are affiliate ones. Read my affiliate disclosure for more information.
CB Passive Income 4.0 Review – The Basics
Before we go any further, I have to clarify a couple of things so there would be no confusion while you're reading this article:
If I have to guess, you're checking the rest of the CB Passive Income reviews as well, not just mine.
As a result, you might be wondering what's the difference between CB Passive Income, CB Passive Income 4.0, and CB Passive Income 5.0.
Well, there is no difference:
Checking all these search queries online will lead you to the same product – CB passiveincome.
Patric Chan, the creator of the system, releases new versions of his core system, hence the numbers (4.0 and 5.0).
Now, shall we move on and open the discussion already?
Is Passive Income Legit?
In my opinion, reading a product review of a system that turns out to be illegal in the end is a pure waste of time.
Nobody appreciates that – well, I know I don't!
So, to save you such an unpleasant experience, I'll start this CB Passive Income 4.0 review by addressing the legitimacy of the program.
Yes, CB Passive Income is a legitimate training platform.
Currently, the product is selling on the marketplace of ClickBank, and it comes with a money-back guarantee.
When a system gives you the opportunity to receive your investment back, there is no reason to think of it as an illegitimate one.
Does this mean buying CB Passive Income will be a smart decision on your part?
You can't make such an assumption until you know all the facts, so let me provide them for you.
What Is CB Passive Income 4.0?
CB Passive Income is an earning platform that will show you how to make money online by replicating Patric Chan's personal blueprint for success.
Patric Chan is a ClickBank millionaire, so listening to what he has to say is worth the effort, to say the least.
Even more, you'll do much more than just listen – you'll use the exact same system he relies on to earn his income every month.
In other words, getting the CB Passive Income means that you'll make money without putting in 90% of the work necessary to earn them.
The product uses the affiliate marketing business model to help you build passive income streams.
Long story short, the program will transform you into a successful affiliate marketer even if you have no experience in the field.
Related Read:
Who Should Use CB Passive Income?
Hopefully, you won't mind me putting this CB Passive Income 4.0 review on hold for a second to address something I consider important:
More often than not, people who start an online business for the first time don't fully understand what making it successful will entail.
To turn a brand new marketing business into a profitable one, you'll have to spend time on all of the following:
Later on, you can even create digital products yourself or set up a membership site.
As you can see, the job of an online marketer is a never-ending process.
However, CB Passive Income will cut this process short:
By completing most of the tasks for you, Patric Chan will put you in a position where you'll be able to start making money right off the bat.
With that said, CB Passive Income 4.0 is for everyone who doesn't want to lose any time building a business from scratch.
After all, investing in it means that you'll buy Patric Chan's entire business model and let it work for you.
How Does CB Passive Income 4.0 Work?
Quite frankly, the screenshot above is pretty self-explanatory.
Be that as it may, I'll still go into all the details about the way CB Passive Income operates:
Once you join the platform, you'll receive the 3-step system Patric has been using for years to make money on ClickBank.
That system will provide you with a landing page, offer page, and email sequences.
You'll send traffic to your offer pages and start collecting emails (turning readers into subscribers).
The first email sequence will promote one product, while the second one will introduce relevant offers.
Considering Patric knows the value of the email list, your subscribers will receive tons of helpful content in the form of PDF reports and mini-eBooks.
Chances are, you're wondering how you'll earn from all that.
Well, every product Patric mentions in the email sequences will contain your affiliate link.
When a reader clicks on any link to buy a product, you'll receive an affiliate commission.
Recommended Read:
Inside CB Passive Income Tools And Training
I have to give credit where credit is due in this CB Passive Income 4.0 review:
Patric Chan knows that traffic generation is a challenging part of a marketer's job.
To make the working process easier for you, he doesn't sell his product on its own:
No, he offers in-depth training that covers efficient ways to drive traffic to your landing pages.
Have a look at everything you'll receive once you gain access to the members' area:
Webinar: Everyone who signs up for CB Passive Income will have the chance to watch a Free Webinar first. That webinar explains everything you'll need to do to make the system work.
Product And Tools: CB Passive Income is not the only program you'll get. On the contrary, Patric will provide you with a couple of other tools as well, such as a Digital Cover Creator.
Traffic Training: The latest version of CB Passive Income has more training sections on traffic generation. You'll learn how to drive traffic to your offers using Bing Ads, YouTube Ads, Solo Ads, and Vimeo.
Automated Sales Funnels With High Conversion Rate: There is no need to do any work for your email marketing campaigns.
Tech Support: Currently, every marketer who joins CB Passive Income will have access to the full support team.
Who Is Patric Chan?
Nowadays, Patric Chan is someone who doesn't need a formal introduction.
Why would he?
Staring his career in 2003, Patric Chan managed to turn his first business into a profitable venture in less than two years. That business made him $20,000 in profits in just a few short months.
As an international speaker, he has visited more than ten countries after an invitation to share the secrets behind his marketing success.
On top of that, Patric is a best-selling author – Clicking Cash is one of his most popular works.
How Much Does CB Passive Income 4.0 Cost?
Right now, you can purchase the product for a one-time fee of $97.
Of course, you don't have to pay anything just yet:
Use this link to watch the Free Webinar first. After you see for yourself what the product is all about, you can decide whether you want to invest in the whole system.
Again, the product comes with a 30-day money-back guarantee, so you won't lose anything by giving it a try.
What Is CB Passive Income Elite?
Basically, CB Passive Income Elite is the latest product of Patric Chan.
While all previous versions of CB Passive Income focus on promoting solely ClickBank products, Elite will teach you how to make money by marketing any product you want.
With that said, CB Passive Income Elite is way more expensive:
It will cost you $497. Chances are, you'll spend even more if you decide to invest in any of the available upsells.
Other Platforms Teaching Affiliate Marketing:
Can You Make Money With CB Passive Income?
Yes, you can earn more than well if you decide to purchase CB Passive Income 4.0.
Using Patric Chan's entire business model will allow you to make money without doing most of the work yourself.
His email campaigns have been tested and improved multiple times over the years. These days, they deliver quite impressive results.
Feel free to do more research and read the success stories of Patric's students:
Just type search queries like cbpassiveincome.com review or CB Passive Income reviews, and you'll gain access to a wealth of first-hand information.
How To Become CB Passive Income Affiliate?
Generally, every person who is a member of the platform will have the opportunity to promote it.
In case you want to become an affiliate of CB Passive Income, you'll be able to do so.
Promoting the system itself will allow you to increase your monthly income, so you may want to give that a try.
What I Like About CB Passive Income 4.0
1) CB Passive Income Provides A Legit Way To Make Money Online
As you already know, the product uses affiliate marketing as an earning business model.
Affiliate marketing is one of the most popular ways to earn online nowadays.
It's perfect for beginners and people with no online working experience.
2) The Product Relies On Doing Email Marketing
Believe it or not, email marketing is still one of the most effective types of marketing you can do.
Patric Chan knows that. He goes above and beyond to provide you with everything you may need to sell products via email marketing.
More importantly, every email sequence you'll receive is already fully-automated and optimized for a higher conversion rate.
Keep in mind that you can use the email templates in any type of business you decide to build in the future.
3) Patric Chan Is a Successful Marketer With Years Of Experience
Investing in CB Passive Income will give you the chance to replicate the business success of its owner.
And you already know that Patric is a person with great business achievements behind his back, including being a best-selling author.
4) The System Is Suitable For Beginners
By all means, CB Passive Income 4.0 is all about automation – you'll barely have to do a thing to make it work.
Avoiding the effort that goes into launching an online business on your own will allow you to start making money pretty much from the get-go.
5) CB Passive Income 4.0 Comes With Training
Well, traffic generation is a tough job – no argument about that!
But you won't have to handle it on your own:
Buying CB Passive Income 4.0 will give you the earning system and in-depth training about how to use it.
6) It Starts With A Free Webinar
In my opinion, one of the best things about CB Passive Income 4.0 is the opportunity to watch its free webinar first.
You don't have to invest any money before you see that webinar.
Going through it will give you enough time to decide whether you want to pay for the whole system or not.
7) There Is A 30-Day Money-Back Guarantee
Since you already know how a money-back guarantee works, I won't dwell on it any further.
I Make Such Affiliate Sales Every Month. Learn How To Do The Same!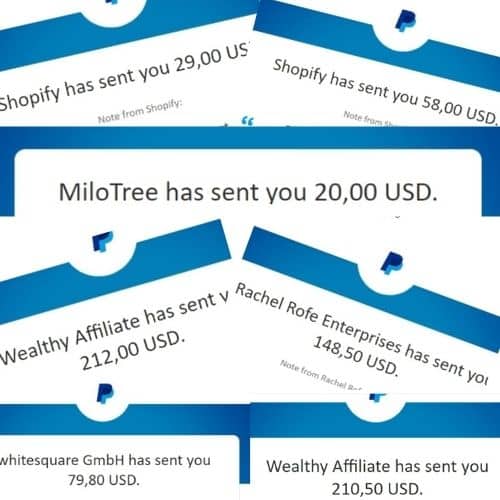 What I Don't Like About CB Passive Income 4.0
1) You Can't Build Your Own Email List
A huge part of the working process of CB Passive Income is Patric Chan sending email campaigns on your behalf.
Not doing email marketing will save you time, but it's not without flaws:
The biggest disadvantage of such a business model is the inability to build an email list of your own.
2) You Can Only Promote ClickBank Products
Unfortunately, working with CB Passive Income 4.0 means that your business will only market Internet Products available on the ClickBank marketplace.
I hate to be the one to break it to you, but most of them are not high-quality systems.
Prepare to face a hard time while you try to sell them.
Low-Quality Earning Products To Avoid:
3) You'll Have To Pay For Traffic
So far, I mentioned a few times in my CB Passive Income 4.0 review that the traffic generation training you'll receive is more than decent.
However, I have to acknowledge the fact that you'll need to pay extra to drive page views to your offers.
YouTube Ads, Solo Ads, and Facebook Ads cost money, and you have to consider that fact before you invest in the program.
Is CB Passive Income A Scam?
No, CB Passive Income is not a scam.
It's a legitimate earning platform you can use to make money online.
With that said, you'll have to decide whether creating a business by using Patric's blueprint is the best option for you.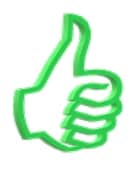 At this point, you're aware of both pros and cons of trusting the platform, so you can make an informed decision.
Popular Scams You Should Know About:
An Alternative Way To Make Money Online
First and foremost, there is more than one way to earn cash legitimately online – that goes without saying.
You can use a platform like CB Passive Income that will do most of the heavy lifting for you, or you can build a business on your own.
Doing it alone is a preferable choice for thousands of people.
If you're one of them, you'll most likely need some help and guidance to point you in the right direction.
Feel free to read my Free Guide To Building A Business.
That guide will walk you through all the steps you'll need to take to develop a successful business from home.
My Closing
Alright, I'm afraid I have nothing else to share in this CB Passive Income 4.0 review.
Patric Chan likes to improve the platform quite regularly.
I'll make sure to update this article every time the creator does as well.
Until then, I'll give the word to you:
What are your questions about CB Passive Income?
Write them down in the comments section, and I'll get you some answers!
More Ideas From Cash Embrace You May Like: