Auto Chat Profits Review: A Scam Or The Easiest $423/Day Ever?
I think you'll find this Auto Chat Profits Review amusing on many levels.
Writing it this way was not intentional, but it happened once I found out what Auto Chat is.
And what kind of product might that be?
Allegedly, it's a system you can use to earn over $400 a day – the process seems fully automated.
Is today the day to get rid of all your financial problems? The program makes it look that way – no argument here.
But before you start looking for the Auto Chat Profits login, you need to make sure the platform provides a legitimate way to earn well online.
How will you do that?
Well, you can read this article – I'll show you everything you need to know about:
What are Auto Chat Profits, and how do they work?
Can you make money with the Auto Chat Profits system?
Should you invest in it?
Plus, is Auto Chat Profit legit or a scam?
Disclaimer: I'm not an affiliate of Auto Chat Profits. Everything you'll read in this post comes from research on information available in the public domain.
Auto Chat Profits Review – The Basics
First thing first, the official website of the product we'll be discussing today is autochatprofits.co.
More often than not, many people mistake Auto Chat Profits for 1 Page Profits and vice versa.
Despite sharing similar names, these two programs don't have a lot in common.
If you're on this page expecting to read a 1 Page Profits Review, you'll have to look for it elsewhere.
With that said, let's bring your attention back to Auto Chat Profits (ACP):
The platform was launched in September 2018. At the time, it was the hottest release on the market.
Even though it's not anymore, Auto Chat Profits still manages to gather a lot of attention.
Why would that be?
Probably it has something to do with the official sales pitch:
By all means, Auto Chat Profits is a time-efficient earning program that helps thousands of people build a passive income stream in a couple of clicks.
At least, that's the official statement coming from the website.
Can you trust it or not?
Let's see about that when this Auto Chat Profits review continues!
What Is Auto Chat Profits?
Auto Chat Profits is an online platform anyone can join to start earning money online fast.
At its core, the system is a software program that relies on the latest robot technology to do its job.
And what is the job?
Basically, Auto Chat Profits will help you launch an online business that will earn you profits using the affiliate marketing business model.
To clarify, investing in ACP will provide you with software that will create a done-for-you website you'll monetize through affiliate sales.
According to the sales pitch, the whole process of setting the system up will take you a bit over 5 minutes and just 14 clicks.
Creating a business that fast is impressive, but it's just one of the product's advantages.
It turns out there are many others.
For example, Auto Chat Profits is not only a site builder. No, it's also an all-in-one solution considering everything the platform will do for you:
You'll receive landing pages, set up email marketing campaigns, learn how to drive traffic to your offers, and go through training.
While all that is happening, the chatbots will manage the sales part for you.
Ultimately, the selling would be that good that it will result in over $400 per day in pure profits for you.
That's the promise coming from the team behind the product.
No worries, you'll find out what's the real deal behind that promise before this Auto Chat Profits review is even over!
Do You Want To Increase Your Affiliate Income? Read The Content Below:
How Does Auto Chat Profits Work?
So far, Auto Chat Profits sounds like a pretty sweet deal, especially for beginner affiliate marketers.
If you don't have to do the heavy lifting and constantly discover new marketing strategies to boost your sales, the job won't be that hard, correct?
Well, that seems to be the case!
See for yourself the steps you'll need to take to make money with Auto Chat Profits:
Sign up for the free trial on the official website.
Create an account on Clickbank – that one is free of charge since Clickbank is one a wide-known marketing network.
Pick a website name – you'll receive a done-for-you business blog, so all you have to do at this stage is name it.
Choose an email service provider to work with – that's unavoidable, considering collecting email addresses will play an essential role in the earning process.
In other words, you'll go through a preparation process that looks exactly like the image above.
Quite frankly, the launch part is as easy as it can get.
Now, what happens once the set-up stage is over? How is all that going to work so you would be able to earn $400 in a day?
How To Make Money With Auto Chat Profits?
It's time for robot technology to come in and do its magic:
Firstly, an automated chatbot will start a conversation with your visitors once your webpage is getting traffic. The chatbot will engage your audience and answer any questions the readers may have.
Secondly, the chatbot will collect the email address of any reader that shows interest in your affiliate offers.
Lastly, depending on the answers the chatbot got from that person, Auto Chat Profits will start sending them related offers they'll most likely buy.
Each of these offers will contain your affiliate link. When the reader places an order, you'll receive an affiliate commission.
Long story short, Auto Chat Profits combines the power of affiliate and email marketing to deliver profits to its members.
It's a smart take on doing affiliate marketing promoting Clickbank products, in my opinion.
More Ways To Make Money With Affiliate Marketing:
Auto Chat Profits Cost And Price Structure
At the time of writing this Auto Chat Profits review, you don't have to pay anything to try the product out.
You can become a member by taking advantage of the free trial that lasts for 14 days.
Once the free trial is over, you'll have to pay $17 each month to keep using the system.
Yes, we're talking about recurring fees here, so you need to keep these future expenses in mind.
Also, the team behind the product will bring a couple of available upgrades to your attention:
Faster Profits ($197, one-time fee) – paying for this upsell will result in you receiving a fully developed business. That website business will contain done-for-you articles, product reviews, landing pages, etc. Not to mention, it will have all your affiliate links already in place. Feel free to think of this upsell as a lesser version of Human Proof Designs.
Double Your Profits Site ($187) – going for this upgrade will get you the same product and materials as the previous one, but there are some extra perks included here.
Traffic Tsunami ($97) – it's obvious that this upgrade is all about helping you increase the targeted traffic to your offers.
How about a quick math exercise?
Don't do it – I have the numbers already:
Purchasing the core product and all its upgrades will result in a nearly $500 charge on your credit card.
And that doesn't include the monthly recurring fees you'll have to pay to stay a member of Auto Chat Profits.
It doesn't include the money you'll spend on Solo Ads to take care of your traffic needs either.
I Earn Such Affiliate Commissions Every Month. See How You Can Do The Same Here!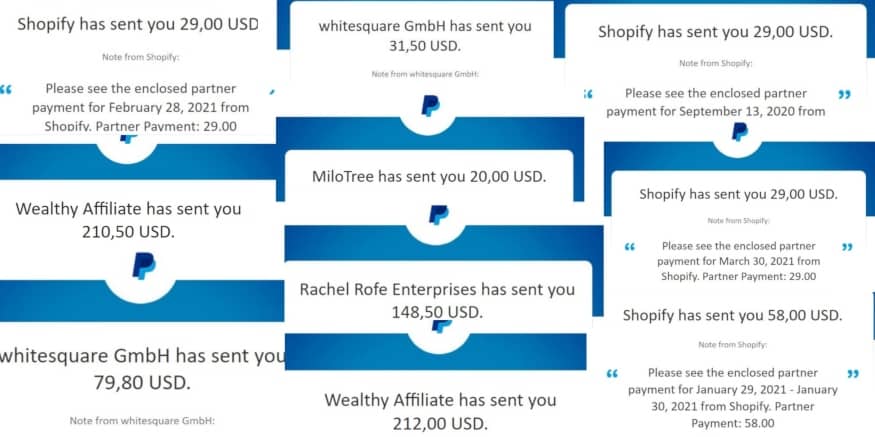 What I Like About Auto Chat Profits
The system uses affiliate marketing to make money for its members – and that business model is a legit and quite popular way to earn online.
It's easy to set up and put in motion – and that makes it an excellent choice for beginners with no marketing experience.
A 24/7 access to tech support – you can get help on any issue you may have at all times.
There is a money-back guarantee – if you're not satisfied with the program, you'll receive your investment back if you ask for it in 60 days after you purchased it.
Bonuses – the product comes with a couple of bonuses that will help you polish your email marketing campaigns.
What I Don't Like About Auto Chat Profits
Prepare yourself – this is going to be probably the longest paragraph of my Auto Chat Profits review.
As amazing as the product may seem, that's not what the real deal is once you look beneath the surface.
Unfortunately, there are a good number of red flags about the system you need to be familiar with before you make a purchasing decision.
Here they are:
1) The Sales Page Is Misleading
For starters, let's try to imagine that the system works quite well.  Likewise, you have a real chance to earn a good amount of money while using it.
Do you really believe that it will be that much?
After all, we're talking about $420 a day – a consistent income you'll allegedly earn with nothing more than AI and robot technology.
Furthermore, we need to take into consideration the fact that you're not supposed to spend more than 20 minutes on your Auto Chat Profits business each day.
Most importantly, the people behind the product are giving away such a miraculous system for $17 a month?
Color me suspicious, but I don't believe that's what is going on here.
And I'm saying that as someone who has over three years of marketing experience doing business online:
Gaining easy profits passively through a chatbot might work on a fully established business. But it's not a replacement for that business as a whole.
2) There Is No Valuable Training
Actually, I can't say that there is training at all.
Auto Chat Profits may provide you with a done-for-you business, but you'll still need to learn how to make it work, right?
Despite the program's best efforts, the claim that you'll learn traffic generation inside and out turns out to be false.
The only thing the system will show you is how to use Solo Ads (a source of paid traffic).
Relying constantly on paid traffic is a risky move, and it will cost you.
Then again, Auto Chat Profits leaves you with no other choice:
Your business blog is not uploading any original content, so you can forget about ranking on Google.
Until we're on the subject of training:
If you want to start a professional marketing education and learn how to build a profitable business, you can do so FOR FREE here.
3) The Income Proof Is Fake
During the sales presentation, you'll have the chance to witness proof of how efficient Auto Chat Profits are.
Do you see what I see? Because what I see is more than disappointing.
Firstly, there is no way of knowing how these sales were made. We can't be sure whether they come from selling a single product (ACP) or multiple other ones.
Secondly, the program teaches its students to work mainly with Clickbank. It's common knowledge that many of the e-products the networks offers are a hard sell.
Don't take my word for it. Instead, have a look at the quality yourself:
The bottom line is, earning thousands of dollars promoting only Clickbank products through a chatbot is highly unlikely, in my opinion.
4) You Don't Own Your Business
You're probably wondering, how is that even possible?
Well, it's not only possible – it's a fact.
That's always the issue when you're paying to receive a whole online business some has done for you.
Let me explain what kind of situation you're going to face when purchasing products like Auto Chat Profits.
When you're choosing a domain name for your pre-built website, it will come from a list suggested by the system.
However, registering an online business this way doesn't make it automatically your own.
Instead, you're leaving the faith of your business in the hands of the people behind Auto Chat Profits.
What happens if one day the program disappears?
If that becomes a reality, you'll part ways with your business for good.
Since you didn't have any control over it in the first place, there is nothing you can do about it.
5) The Owner Is Unknown
I don't think I mentioned that up until now in this Auto Chat Profits review, but there it is:
According to the sales page, the owner of the product is Samantha Smith.
Allegedly, this is what she looks like:
But I can't guarantee that any of this is true.
No matter how hard I looked, I couldn't find a single fact to confirm that information.
Why is that?
Well, it's because Samantha Smith is a pen name the creator is using to hide their identity.
How do I know that?
A simple Google image search will show you that the photo you see above is a stock image anyone can purchase online.
Probably you find this hard to believe if you're just starting to work online.
It happens quite often, though:
Who Will Have The Best Use Of Auto Chat Profits?
In my opinion, nobody.
While the product is a good fit for beginners in certain ways, I can't recommend investing in it.
Sure, setting the chatbot up and letting it work is as easy as it can get.
However, that's where the good news ends:
Above all, the system won't provide you with a good enough way to build a solid online business. Not even close!
Is Auto Chat Profits a Scam?
No, it isn't.
If a product comes with a money-back guarantee, there is no way to see it as a total scam.
With that said, I would strongly encourage you to avoid it.

Auto Chat Profits will not deliver the results it's supposed to deliver.
Therefore, purchasing it doesn't make any sense business-wise (and money-wise as well).
Other Scam Systems You Need To Know About:
How To Make Money Online For Beginners
Here is an idea for those of you who are ready to abandon their intention of buying Auto Chat Profits:
Since you already know that you don't need the program, why not create something on your own?
Yes, I'm talking about starting your own online business.
There is no need to freak out from the thought of becoming a business owner:
It didn't know the first thing about it, and now these website allows me to blog for a living without having to hold another job.
So, if that's the path you want to choose for yourself as well, I can help you by providing some guidance:
Take your time reading my Guide To Launching A Successful Business from scratch.
That guide contains all the steps I took while I was building this business.
Considering my business works quite well, I'm sure yours will too once you take the necessary steps.
My Closing
Hopefully, my Auto Chat Profits review managed to convince you that this product doesn't deserve the benefit of the doubt.
In case it didn't, maybe you should give it another read?
Anyhow, do you have any questions about the system?
I'll find the time to answer them if you drop them in the comments section below.