7 Minutes Daily Profits Review: Scam Or $500/Day With No Work?
This probably isn't the first time you're reading a 7 Minutes Daily Profits Review.
The product is not brand new on the market – it has a few years of history already.
A few years should be enough time for people to become fully aware of the quality of a product, right?
Apparently, not:
Thousands of newbies still wonder if 7 Minutes Daily Profits is a kick-ass legitimate platform that will help them earn thousands of dollars.
Considering the opportunity to make $500 fast is what the marketing of the product relies on, their expectations come from solid ground.
When will the truth finally appear?
Today, if you take a few minutes to learn everything I have to say about:
What is 7 Minutes Daily Profits?
How does the system work?
Can you make money with 7 Minutes Daily Profits?
Is 7 Minutes Daily Profits legit, or is it a scam?
Disclaimer: I'm not a member of the product's affiliate program. Meaning, I won't receive any commission if you purchase it after reading this article. Every fact on this page comes from researching information available in the public domain.
7 Minutes Daily Profits Review – The Basics
First thing first, the official website of the system is 7minsdailyprofits.online.
While its name shares similarities with Bulletproof Profits and Auto Chat Profits, these are all separate earning platforms.
On that note, don't mistake 7 Minutes Daily Profits with Profit 365 either – the latter is also a different money-making platform.
With that said, let's concentrate solely on our topic today:
7 Minutes Daily Profits is an online earning program that will teach you how to earn $500 in no time and through a couple of clicks on your laptop.
At least, that's the promise Vince Howard, the creator, stands by to this day.
Personally, I think a promise of such magnitude doesn't mean much unless there are solid facts to back it up.
Do you think so too?
Great, then stay with me to the end of this 7 Minutes Daily Profits review, and I'll tell you everything I know to be true about this platform.
What Is 7 Minutes Daily Profits?
Before we go any further, here is a piece of advice:
Don't bother watching the sales presentation of the product. It's way too long, and it barely gives away any information about the core system.
Instead of telling us what the program does, the spokesperson circles around without pressing it.
For example, you'll find out that 7 Minutes Daily Profits is a newbie-friendly earning platform that will benefit anyone who joins it. Yes, even people with no working experience will make money with it right off the bat.
Next, you'll hear that the platform doesn't deal with paid surveys, Bitcoin, Forex, or any other similar ways to earn on the web. Its structure has nothing to do with Multi-Level Marketing, so you don't have to worry about doing something illegal.
Furthermore, all current members are earning at least $500 in less than 7 minutes. All that it takes for them to cash in such an amount of money is seven clicks on the laptop.
Now, some people refuse to believe any of that is even possible. Others tend to get over-excited from the financial possibility they see as existing.
No matter which category describes you best, don't form any conclusion before you know all the facts.
And you'll discover these facts before my 7 Minutes Daily Profits review is even over.
Inside 7 Minutes Daily Profits
First thing first, let me start by revealing an essential fact about the product:
7 Minutes Daily Profits is software – but that's not all you're getting when you purchase it:
The system offers training and learning materials that will teach you how to use it.
How about I give you all of the details?
Here is everything you'll receive as soon as you buy 7 Minutes Daily Profits:
1) A Welcome Page
Generally, a Welcome Page is supposed to give you a quick introduction and tease you about what's coming your way.
But that's not what's going on here.
Instead, you'll get an invitation to watch Chris Luck's Masterclass.
That Masterclass is an hour and a half long.
Not to mention, it serves as a landing page for Chris's product that is currently selling on ClickBank for $1,400.
In addition, you'll see more money-making products you may be interested in buying.
Long story short, you'll be asked to spend more and more cash on products you may have never heard of before from the get-go.
Other Earning Systems You Should Know About:
2) Traffic Sources
Basically, if you hope to learn how to drive organic traffic to your offers, you'll have to adjust your expectations quickly.
Everything the product will teach you traffic-wise will cost you extra.
Meaning, it covers only paid traffic generation.
Allow my 7 Minutes Daily Profits review to break down what you'll find in this section of the product:
Introduction – a short overview of Solo Ads, Solo Ads tracking spreadsheet, and access to ClickBank groups.
Sales Funnels (5 Videos) – what a sales funnel is, why you should do email marketing every day, sending broadcasts with GetResponse, and Seinfield email sequence.
Advanced Training (Being A Solo Ad Provider) – 7 videos will cover the basics of Solo Advertising, tracking your results, importing your email lists, and more.
 3) Starting Your Site
Now is the time to discover that working with the product is impossible unless you create a website.
But let's be clear on something:
The product will teach you to create a landing/squeeze page rather than a blog.
I mean, this is what you'll have to complete at that section of the training:
Choose your page template – you'll receive six available options.
Create your squeeze page.
Sign up for an account on GetResponse (not free of charge).
Integrate GetResponse.
Before you move on to the next section, you'll be able to view your site, a.k.a – you'll be allowed to access your landing page.
4) Unlimited ROI Traffic
Alright, here is all the knowledge you'll get from the training on "unlimited traffic":
Ad Swaps (6 videos) – swaps and solo ads, what you must look for in partners and sellers, and what you should never do with your solo ads.
Social Media Traffic (3 PDFs) – learn how to boost your website traffic, traffic overdrive, and how to get traffic to your website as fast as possible.
Traffic Hacks (10 PDFs) – driving traffic from Pinterest, Facebook, Twitter, YouTube, Instagram, and other Social Networks.
In addition, you'll receive a single PDF that talks about driving traffic from Google.
Considering you already know that the product focuses mainly on paid traffic, you won't learn a lot here!
Plus, the traffic section comes with upsells on its own:
Profit Booster – $147, but you can grab it for $97 if you wait for the discount.
Commission Activator – $127.
Why The Product Doesn't Work
After watching the sales presentation, you believe that the program is free software anyone can receive to start earning money online.
Even more, the spokesperson says that over 1500 people are already generating full-time income after investing in the system.
None of that is true, though.
It turns out there are many red flags around this platform – things you need to know about before you form a purchasing decision.
And my 7 Minutes Daily Profits review will show you all of them:
1) The Sales Pitch Spreads False Information
Let's see, where should I start covering this one?
Firstly, the product swears it has nothing to do with anything a person can consider illegal.
Not sure what's illegal about bitcoin, but that's an entirely different topic.
Anyway, 7 Minutes is not only legal:
Allegedly, it's a revolutionary system that will make you at least $500/day if you click on your laptop seven times.
But what you're getting once you complete your purchase is software and training on paid sources of traffic?
How do these two have anything in common?
Furthermore, considering the amount of knowledge you'll have to gain to make the product work, your job will require more than seven clicks.
The spokesperson contradicts himself with every word he says during that sales presentation.
Secondly, why do you have any price at all when the program is allegedly free of charge?
Vince wants you to believe that the fee you're paying will cover the cost of the server where the software is.
OK, it's a fact that there are always hosting fees.
Still, I don't understand why he's telling you that you'll get the product for free when that's not the case.
2) The Income Potential Of The Product Is Unrealistic And Over-Hyped
Once you begin working online, you'll soon realize that there is no such thing as fast profits.
No matter what kind of business you're building, earning $500 in less than a day is just not realistic.
Especially, if you hope to make that amount of money in less than 10 minutes, and seven clicks.
It will become possible eventually. But not before you work hard to develop the necessary skills.
For people with marketing experience, it's easy to see that 7 Minutes Daily Profits is targeting newbies who don't know better yet.
Also, it's highly unlikely to earn passive income the way the system suggests.
While 7 Minutes uses affiliate marketing to make you money, turning an active source of income into a passive one takes a long time.
Related Read:
3) The Training Is Outdated And Incomplete
To be honest, the training of 7 Minutes Daily Profits offers a bit of value. I mean, it's not entirely useless.
With that said, we can't ignore the fact that it only covers the paid sources of website traffic. They'll cost you a certain amount of money every month.
Then again, I can see why the product doesn't bother to teach you about driving organic traffic to your offers.
After all, it's not going to give you a fully-functioning site. Instead, you'll receive a landing page.
Considering every other member of the platform will get the same page, you are now a proud owner of something that displays duplicate content.
Make no mistake – the search engines don't rank such pages. Likewise, they don't send any free traffic to them.
Hence me saying why 7 Minutes deals with paid traffic only!
Do you want to start professional blogging and affiliate marketing training for free? Learn about Wealthy Affiliate University and claim your free website today.
4) The Testimonials Are Fake
If you think the testimonials are genuine, you set yourself for disappointment.
Once again, you'll see actors from Fiverr smiling at you from the sales video.
I'm wondering when the people behind the low-quality affiliate programs are going to learn that we're familiar with Fiverr?
When you have to pay actors to pretend that they love your product, it's a game over – at least, it should be for us!
Low-Quality Money-Making Programs To Avoid:
5) There Are Upsells
As I've mentioned earlier in this 7 Minutes Daily Profits review, the traffic section of the product's training is coming with a few available upsells.
You may find this hard to believe, but these upgrades are not the only ones.
No, the product will offer you a couple more before you even get the chance to realize what's going on.
It's not a secret that every money-making system that doesn't provide tons of value is big on upsells.
Ask yourselves, if the core product is not excellent on its own, what possible good the upsells will do for you?
In my opinion, none whatsoever.
6) The Owner Uses A Pen Name
So, who is Vince Howard, the creator of 7 Minutes Daily Profits?
What do we know about him really?
For starters, he's kind of good at establishing empathy among his audience.
Make no mistake, the only reason he's sharing the sad story of his family and his personal struggles is to connect emotionally with his potential buyers.
I don't trust a single word coming out of his mouth regarding his family and financial situation.
After reviewing tons of similar products, I can tell you this much:
All of their sales videos contain touching stories that have two things in common:
Firstly, they are not real.
Secondly, they're a part of the video presentations for the sole purpose of making the supposed owner look down to earth and someone just like you.
Anyway, you don't get to see his face during the sales pitch, and you never will:
Vince Howard as the man behind 7 Minutes Daily Profits does not exist.
Instead, the people who own the product use the name to hide who they really are behind it.
7 Minutes Daily Profits Cost And Price Structure
OK, you already know that the price of the product is $9 – that seems like a steal, doesn't it?
No, it doesn't, actually:
You'll have to pencil in all the other expenditures you'll face once you invest in the program – traffic, for example.
And if you decide to get the upgrades as well, you'll spend a couple of hundred dollars.
That may not look like a lot to some of you.
However, paying any amount of money for a system that doesn't work is too much, in my opinion.
I Make Such Commissions Every Month. Find Out How Today!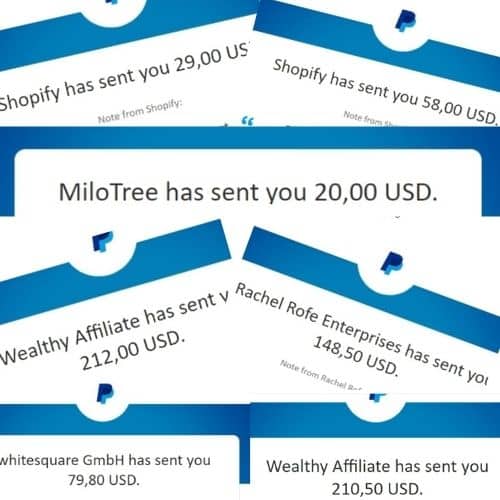 Is 7 Minutes Daily Profits a Scam?
There is a money-back guarantee that prevents me from calling 7 Minutes Daily Profits a scam.
At the same time, I'll advise you to consider it one.
Even though the training provides a bit of value, it's not enough to make up for the rest of the product's shortcomings.

Factor in the fake testimonials and the hidden identity of the owner, and you'll be able to see the big picture.
An Important Update:
As of right now, 7 Minutes Daily Profits is not selling on ClickBank anymore. It's not on the marketplace of ClickBetter either.
Basically, it doesn't like the product is for sale at all any longer.
Why is that happening?
After reading my 7 Minutes Daily Profits review thus far, I'm sure you can come up with an answer on your own.
More Scam Products To Stay Away From:
How To Make Money Online For Beginners
Quite frankly, you don't need 7 Minutes or any other similar program to help you earn online.
All you need is something you're passionate about and can discuss for hours at a time.
Seriously, is it that simple?
No, but it's enough to get you started:
When there is a topic you love talking about, there is a solid ground to build a business around it too.
Alright, and what you should you do next?
Take a look at the process inside my Free Guide To Building A Business Online.
Believe it or not, it's not as complicated as you may think right now!
My Closing
I truly hope that my 7 Minutes Daily Profits review satisfied your curiosity regarding this product.
But maybe not?
Let me know in the comments section below!