30 Minute Money Methods – What A Joke!
This 30 Minute Money Methods review will discuss an online platform that allegedly delivers tons of cash in 30 minutes to all its users.
Actually, that's obvious just by looking at the product's name.
What is not clear yet is how well the system works.
More importantly, will you legitimately earn thousands of dollars by using it.
Doing some quick math will tell you that 30 Minute Money Methods promises to make you over $1,000 in a day.
After all, if you'll be earning $500 multiple times a day, the total amount of your profits will surpass the $1K mark in no time.
Before you start seeing dollar signs everywhere, let's discover how trustworthy the system is.
Today, I'll tell you all about:
What is 30 Minute Money Methods?
Does The Product Really Work?
Are All 30 Minute Money Methods Review Online Wrong?
Is 30 Minute Money Methods Legit Or A Scam?
Around ten minutes of your time is what it will take to get the answers to these questions.
Disclaimer: I'm not an affiliate of 30 MMM. The information in this article is a product of research and reflects facts available in the public domain.
30 Minute Money Methods Review – The Basics
For starters, you can find the product at its official website www.30minutemoneymethods.com.
Interestingly enough, the system is not one of the hottest launches right now:
It exists since 2017.
Shelly West is the name of the owner. You'll find out all the juicy details about her later on.
With that said, a quick clarification is in order:
Don't mistake 30 Minute Money Methods with Money Press Method.
While the names are similar, these are two entirely different systems.
So, there won't be any discussion today about does the Money Press Method work.
I'll probably publish a Money Press Method review eventually, but it's not going to happen today!
Anyway, let's keep the focus on our topic, shall we?
What Is 30 Minute Money Methods?
As you already know, 30 MMM is an online platform that allows its members to earn cash in 30 minutes.
These days, many systems promise the same thing.
What helps this one to stand out from the crowd?
In my opinion, what makes 30 MMM different is the claim that you'll score $500 repeatedly within a single day.
But that's not the only factor that adds to the hype around the program:
Another huge advantage is the fact that the platform is the perfect choice for complete beginners. Meaning, you don't need any previous online experience to make it work.
Moreover, profiting from 30 Minute Money Methods doesn't require a lot of effort or time spent.
No, you'll have to deal with it for half an hour each day.
Of course, all that is according to Shelly.
But should you trust her? Or is everything she is telling you a bit too good to be true?
There is no room for guessing in this 30 Minute Money Methods review, so let's start unraveling the mystery:
How Does The Product Work?
If you ask me, don't bother watching the sales video. It's way too long, and it doesn't provide plenty of facts about 30 Minute Money Methods.
During that sales presentation, Shelly mentions the secret website just enough times to make sure that it picks your interest.
To clarify, the secret website she is shoving down our faces is the same one she uses to make her own money.
Allegedly, once she discovered it, she was able to earn over $2,000 the first day and nearly $50,000 by the end of the month.
However, that's about it – she doesn't say anything else that would give you a better idea about that site.
Instead, Shelly goes on and on about her struggles as a single mom of two and how hard their lives were for the longest time.
We got it – she discovered the secret website, and all her financial worries were gone for good.
Telling a story everyone can relate to is a common marketing tactic business owners often use to connect with their audience.
That makes the selling process way easier than it would be otherwise.
Don't fall for it.
Most of the time, such stories are simply not true or way exaggerated.
OK, how about we take a look at what Shelly's mysterious website is capable of doing?
Inside 30 Minute Money Methods Members' Area
First and foremost, the only way to find out more about Shelly's site is to become a member of 30 MMM.
Meaning, you have to join the platform, and that comes at a price. I'll tell you more about the product's cost later in this 30 Minute Money Methods review.
For now, let's see what the creator's big money-making secret is at last.
Since I have an insight look, there is no need for you to purchase the system.
And you'll be more than glad that I'm preventing you from buying it once you see what the system contains:
Unfortunately, there is no secret website.
What you'll receive as a member is an access to 4 different money-making methods.
Here they are:
I guess Shelly will try to weasel her way out of her own deception by telling you that she is providing not one but a total of four secret websites.
Considering I know what these websites are, she will have to try harder!
By all means, these are the four secret ways the creator is using to earn thousands of dollars each month:
Get Paid To Play Games Online
Start Working As A Freelancer
Sell Stock Photography
Make Money Doing Voice Overs
You tell me – what about any of these earning opportunities screams of a secret even remotely?
Believe it or not, it gets worse:
While you might be expecting detailed training about each of the methods, there isn't going to be one.
No, what you'll get are PDFs containing links to other sites that will allow you to earn from the mentioned methods.
A Word About The Creator's "Little-Known" Methods To Make Money Online
Some of you might be thinking:
"OK, it's not nice that Shelly is lying about her methods, but they still work".
Well, they do, so let's discuss that for a minute:
1) Get Paid To Play Video Games
These days, many websites will allow you to earn extra money by playing video games.
There is nothing wrong with this side hustle idea – it's a legitimate way to earn a bit of extra cash.
With that said, proceed with caution while you're looking through the sites offering such earning opportunities:
Basically, many of them are scams.
One that comes to mind is the Appcoiner – reading this review will explain why you should avoid it at all costs.
2) Freelancing
Currently, there are tons of ways to make a living as a freelancer.
I'm doing it thanks to the work I produce for this website.
Anyone can start working as a freelancer on a part-time or full-time basis.
Websites like Freelancer or UpWork will help you find a well-paying work-from-home gig.
And if you want something with bigger and constant income potential, you can build your own business online.
Quite frankly, the possibilities for freelance jobs are countless.
3) Sell Stock Photography
Selling high-quality images online is also a legitimate way to earn.
Depending on your photography skills and where you're selling them, your income will vary.
It may be hard to believe, but some freelance photographers make up to $100,000 per year.
Keep in mind, though – each of those people has spent years working hard on polishing their skills.
More importantly, I doubt any of them has ever worked for the site Shelly is suggesting.
If your love for the camera is undeniable, try to sell your images on the highest-paying photography websites.
4) Voice-Over Jobs
Working as a voice-over actor is a lucrative opportunity.
Feel free to visit my Work-From-Home Jobs category to read all about it.
Professional voice-over artists earn as much as $100 per recording.
However, becoming a pro at voice-acting jobs takes time, hard work, and effort.
Certainly, it takes more than clicking the link Shelly has provided for you!
What I Like About 30 Minute Money Methods
Chances are, you're feeling the vibe of my 30 Minute Money Methods review, and you understand that I don't like this product a lot.
Actually, I don't like it at all.
Still, if I have to think of something positive about the system, that would be it:
It's Possible To Make Money With The Platform – the earning methods the creator is suggesting might earn you some cash.
It Promotes Legitimate Ways To Earn Online – all four money-making ideas Shelly is offering you are legit.
What I Don't Like About 30 Minute Money Methods
I have much more to say here.
There are so many red flags about this system.
And I'll break each of them down:
1) The Sales Page Is Over-Hyped And Unrealistic
Let's face it, Shelly is trying to sell you a product that makes money fast, with no effort, and without fail.
Kudos to her for doing her best to sound as convincing as possible!
But we see right through her desperate attempt to market a program that pretty much doesn't exist.
Because there is no such thing as earning lots of money with a couple of clicks on your computer.
While there are many legitimate ways to earn online, none of them will work if you don't try hard to make them work.
Basically, the creator is selling the idea of trouble-free financial life and not a real product capable of achieving it.
Similar Programs With Unrealistic Income Claims:
2) The Comments On The Sales Page Are Fabricated
When you visit the official page of the product, you'll notice plenty of comments.
It looks like satisfied customers can't wait to share their excitement with the product and how helpful it turned out to be.
At a first glance, it seems there is nothing out of the ordinary about them.
However, quick investigation work on my part confirms that all comments are fake.
How do I know that?
Well, if you try to leave a comment of your own, the page will refresh and it will bring you to the checkout page.
What does this mean?
Simply said, it means the comments are pre-made and published by the people behind the system to make it look credible.
3) The Income Proof Is Fake
During the sale presentation, Shelly is bragging about the amount of money she was able to earn thanks to 30 Minute Money Methods.
She fills the screen with an image that shows some staggering numbers to you.
Unfortunately, that income proof is as fake as the comments she is leaving on the page while impersonating happy customers.
Just look at this thing:
Does it look valid to you?
If everything is right about her earnings, why does she needs to blur all the info about them?
You can't see where the money is coming from. So, how can anyone be sure that 30 MMM is responsible for that income?
3) There Are Upsells
Up until now in this 30 Minute Money Methods review, I haven't said anything about the product's cost.
At the time of writing this article, you can join the system for $37.
At least, that's what it looks like at first.
While you can become a member for this amount, prepare yourself to spend much more.
The thing about products like 30 MMM is that they also come with plenty of upsells.
Usually, an upsell has to be an add-on that increases the value of the core product.
Here, though, the "time-sensitive" upgrades exist for the sole purpose of gaining as much money from you as possible.
Since the main program is of such low quality, how valuable do you expect the upsells to be?
4) The Testimonials Are Fake
Let me ask you – does this surprise you?
I mean, the comments, income proof, and the whole sales pitch are nothing but non-sense.
Therefore, the fact that the testimonials are fake is pretty much a given.
Personally, it doesn't cease to amaze me how low-quality products keep using actors from Fiverr to deliver their testimonials.
After all, discovering such a deception only takes a minute.
In my opinion, Shelly hopes that no one would bother to check.
5) Shelly West Is A Fictional Character
During this whole 30 Minute Money Methods review, I keep mentioning the creator of the product.
According to the official site, her name is Shelly West.
Through the sales presentation, you can hear her life story and personal details.
But you will not find a photo of her and any other proof that such persona exists.
There is just a female voice narrating the sales presentation. That voice could belong to anybody.
So, what do we have here?
Honestly, I believe that Shelly West is not the owner of 30 MMM. And I'll keep saying that since there is no proof to the contrary.
How Much Does 30 Minute Money Methods Cost?
You already know that the price of the product is $37 + the upsells.
If you decide the purchase everything, it will cost you hundreds of dollars.
I wouldn't that do if I were you.
Firstly, because 30 MMM is of extremely low quality. The earning methods may bring you some cash, but it won't be $500 multiples times a day.
Secondly, all the info you'll find inside the members' area is available online for free. Why should you pay for it when you can discover it on your own?
Thirdly, there is no high-quality business training to teach you how to make money online for the long haul. See where you can start such training for free here.
Ultimately, you can learn much more about earning online from doing simple research.
For example, I earn consistent affiliate sales like those every month: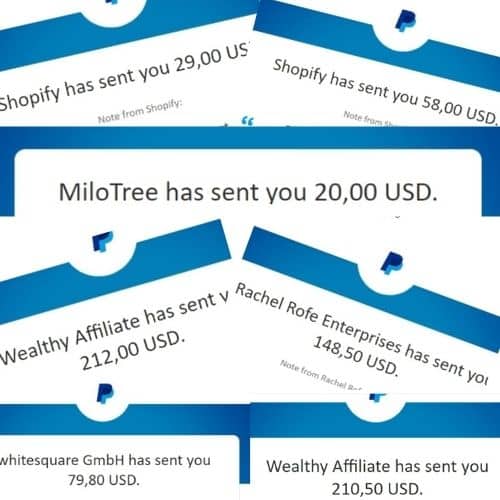 To find out how you can do the same, all you need to do is read my free guide to starting an online business.
It contains a couple of simple steps you can take to create a source of passive income for years to come.
Is 30 Minute Money Methods A Scam?
Yes, it is.
Normally, I wouldn't go as far as calling a low-quality product a scam as long as there is a money-back guarantee.
However, I can't say for sure if there is such a guarantee right now.
When the product had its launch, it was available for sale on ClickBank.
But it doesn't look like it's there anymore.
ClickBank is cleaning house at the moment, so it's not surprising that the network doesn't allow 30 MMM on its marketplace any longer.

Long story short, don't bother with this system at all.
I'm pretty sure that if you invest in it, you'll live to regret it.
Other Scam Products To Avoid:
My Closing
Above all, I hope that you find my 30 Minute Money Methods review is a valuable read.
Remember, the only people who will make money from this product are the owner and the affiliates promoting it.
Spare yourself a headache or two and look the other way when you hear the program's name.
You don't need to sign up for something that will sell your email address to a third party for profit, do you?
Now, what do you think about 30 Minute Money Methods?
Share your opinion with me, and we will discuss the system further.